Project Gallery
Hi, I'm Serena! Here at Thrift Diving, I have been known to hoard furniture from the thrift store. I love painting and refinishing furniture, building awesome stuff with power tools, and coming up with out-of-the-box craft ideas for the home. When I bought my old 1973 four years ago, we had no furniture. I'm talkin' bare rooms that felt cold and uninviting. But thanks to my love of thrift stores, I am transforming my house into a place that feels more like HOME, while flexing my creative muscle ;). (Find out more about this blog).
If you're new to DIY, be sure to check out my Getting Started With DIY page.
And remember to enter your name and email to subscribe so that you can get 5 free ebooks, printables, and checklists delivered right to your inbox as a "thanks" for subscribing!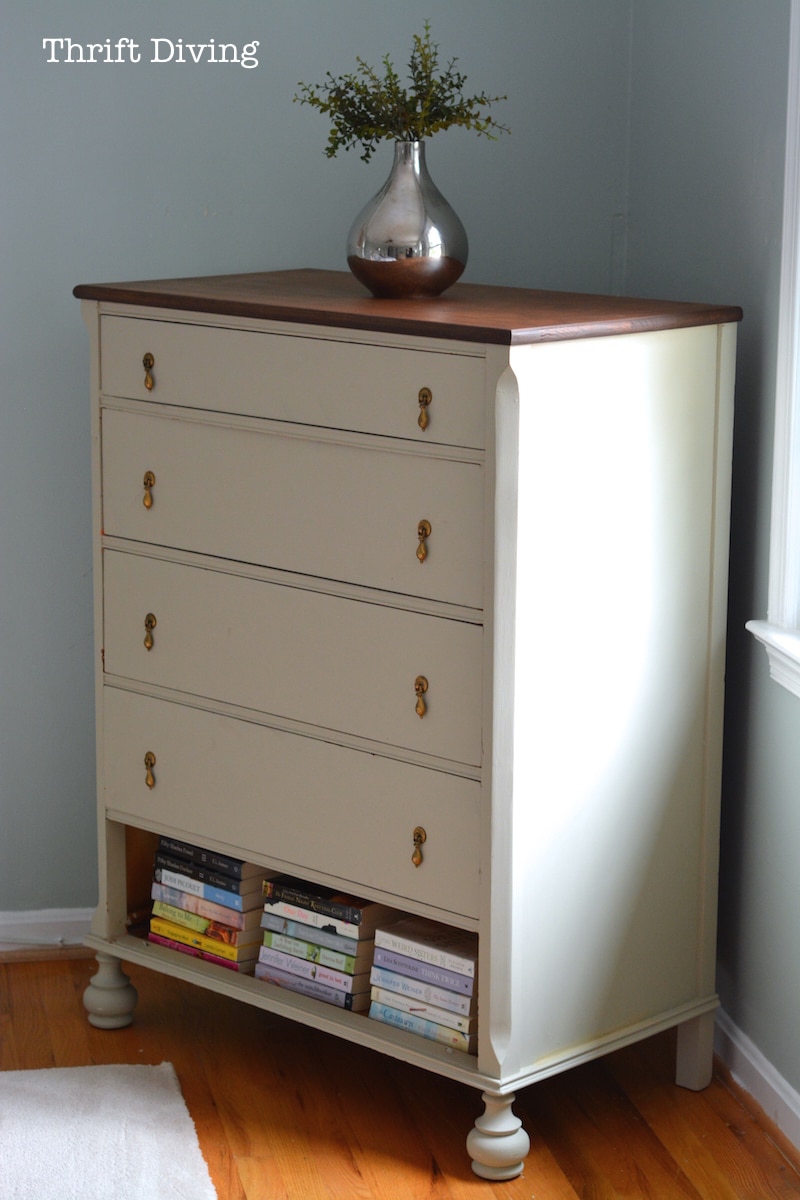 Completed DIY Projects This Month
Newest Projects!
Right here you'll find all the latest projects!
Dressers and Side Tables
Typically I love white bedroom furniture. It just looks so fresh! But these projects below are definitely not white! Ombre is always a fresh idea, too. Why not try lining some fabric to the front of your night stands, like I did below? Upholstered headboards are always a great design feature!
Desk & Shelves
Room Makeovers
I have to admit that I always have trouble finishing a room in my house. I started my 30-Day Room Makeover series where me and my readers sign up to commit to transforming a room in our house in 30 days. It's hard! But with a deadline and a group of people working on their rooms at the same time, you'd be surprised how much you can get done! Considering signing up to join us next go 'round! 🙂
Chairs
Reupholstering a chair is intimidating. Especially if you've never done it before! Check out this video I did (7 Tips for Easy Chair Makeovers) to help get you started:
Craft Projects
Every now and then I like to roll up m sleeves and get a lil' crafty. My most popular craft is How to Make a Gift Box From Scrapbook Paper! You can watch the video HERE.
Tables
My first re-staining job almost ended up in disaster! Read more to find out how I almost had to scrap it!
Lighting
Who doesn't love an awesome lamp?? They bring light into a room and help set the tone. Make your own DIY pendant lamp by following this video tutorial:
My Most Popular Articles
I don't do just projects. I also write articles! There's plenty here to enjoy! My favorites are: 10 Questions You MUST Ask Before Buying a House and 10 Comebacks to Rude Insults About Thrift Stores! 😉
Home Improvement Projects
One of my most popular videos on YouTube is How to Paint an Old Brick Fireplace. You won't believe how great it turned out! Find out more below:
For the Kids
Doing projects for kids is so rewarding! It gives you an opportunity to be even more bold than you normally would with your own pieces of furniture.
 My Favorite Things
Sometimes it's a paint sprayer. Sometimes it's a steam cleaner. But these things get the job done in half the time!
Need ideas for thrifty decorating? I'll email them to you. Subscribe now!
Download the 5 freebies!
Thrift Diving inspires women to decorate, improve, and maintain their home themselves...using paint, power tools, and thrift stores! Use these 5 printables, checklists, and ebooks to get started!