My Pretty Lavender Bathroom Makeover: BEFORE & AFTER
Dare I scream it from the rooftops that my pretty lavender bathroom makeover is finally done??!! You'd think that small bathroom makeovers are quick and painless, but this one was challenging.
What was supposed to be a 30-day master bathroom makeover turned into a 3.5-month makeover!
I did something I never thought I could do: I built my DIY bathroom vanity from scratch! Each step of the process was wrought with obstacles that made me question whether I could successfully complete it. But I forged ahead and I absolutely love how the whole lavender bathroom makeover turned out.
I have been waiting months for this reveal!
So prop up your feet and let me tell you a little story about the time I spent a quarter of a year doing a master bathroom makeover. HA!
LISTEN TO THE AUDIO
No time to read this post? Just listen to it!
Let's just jump into the embarrassingly ugly pictures of what my master bathroom looked like before I got started.
BEFORE
As you can see, the old peel-and-stick floor tile had been turning yellow over the years and was in horrible condition.
The vanity had been painted twice since moving in, with a top that was also stained and outdated.
What you can't see tucked back to the right was the 1970's turquoise shower.
In the past, I have tried to deal with this bathroom the best way possible–through cover-ups and camouflage.
But there comes a time in a bathroom makeover where you can no longer ignore the fact that you've got to make real improvements and not just little cover-ups. Sometimes those improvements are costly. And sometimes you can do them on a dime.
With this room, it was going to be a little bit of both.
AFTER: Pretty Lavender Bathroom!
Anyhow, in just over three months, my master bathroom is now fresh, clean, and it feels amazing when I walk into it!
I'm very partial to lavenders and pinks for small bathroom makeovers and laundry rooms because it makes them feel like a private oasis, evoking a sense of calm, well-being, and serenity.
Plus, if you knew me in real life, you'd know that I'm a big tomboy!
Although I love getting dirty and doing traditional "manly" things, there is a raging girly-girl inside of me that absolutely loves anything soft, pretty, romantic, and feminine! So you'll notice that many of my room makeovers take on that vibe. 🙂
The color was perfect: Behr Mulberry Stain!
Since there is a lot to share with you about this master bathroom makeover, I've broken it up into sections. Feel free to click and jump around to read more about each element in this room!
CONTENTS
The Shower Makeover
The Closet Makeover
The Flooring Makeover
The Toilet Makeover
The Vanity Makeover
It's Okay If It Takes Longer Than 30 Days
A Special Thanks
SAVE THIS PROJECT
The Shower Makeover
If you can actually believe it, I painted my shower and it turned out awesome.
When we moved in, this shower stall looked even worse. You can see how horrible it looked when we moved in.
BEFORE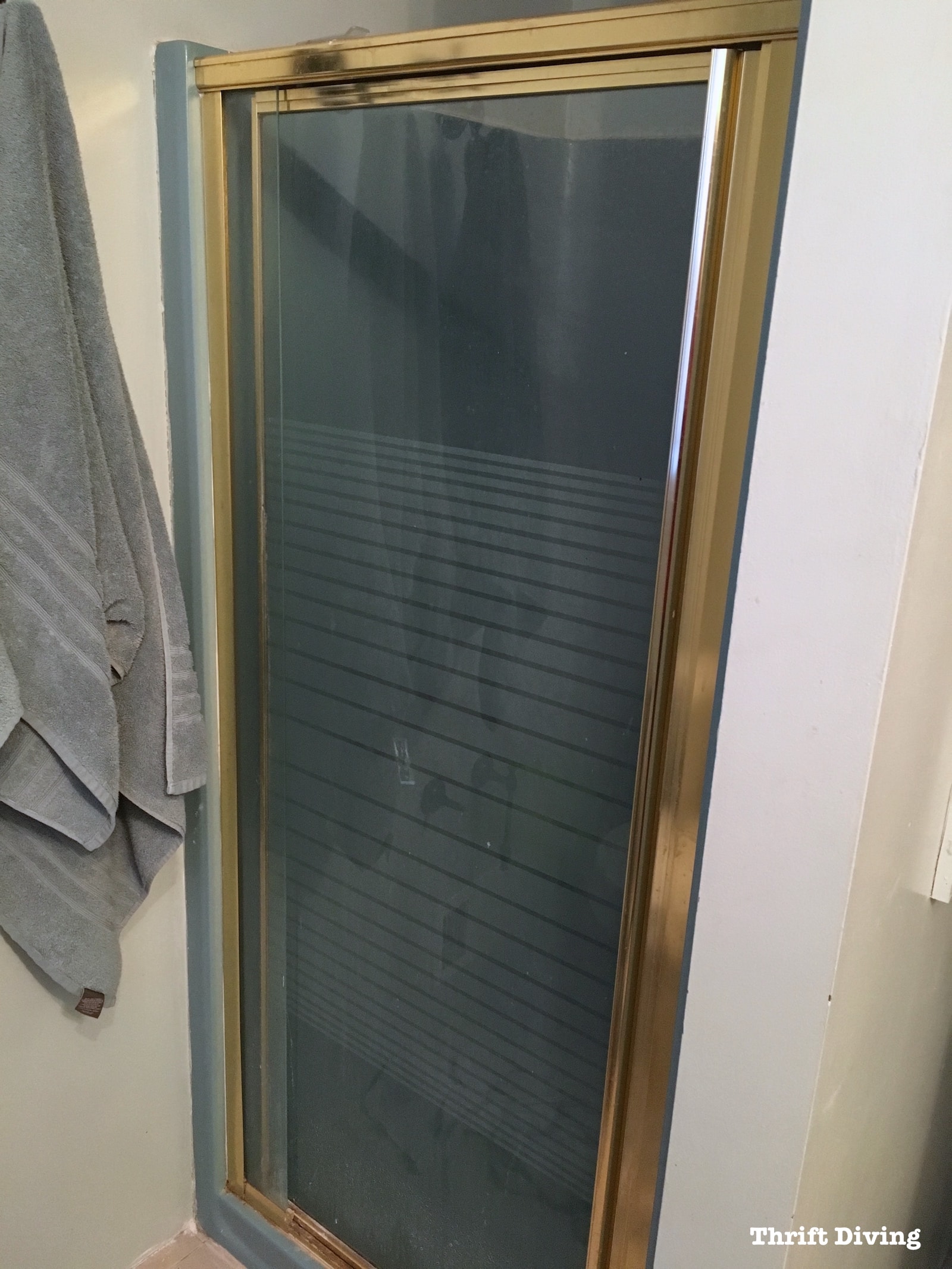 It wasn't difficult to unscrew the shower stall and remove it. I just had to be careful it didn't fall on my head or toes.
AFTER!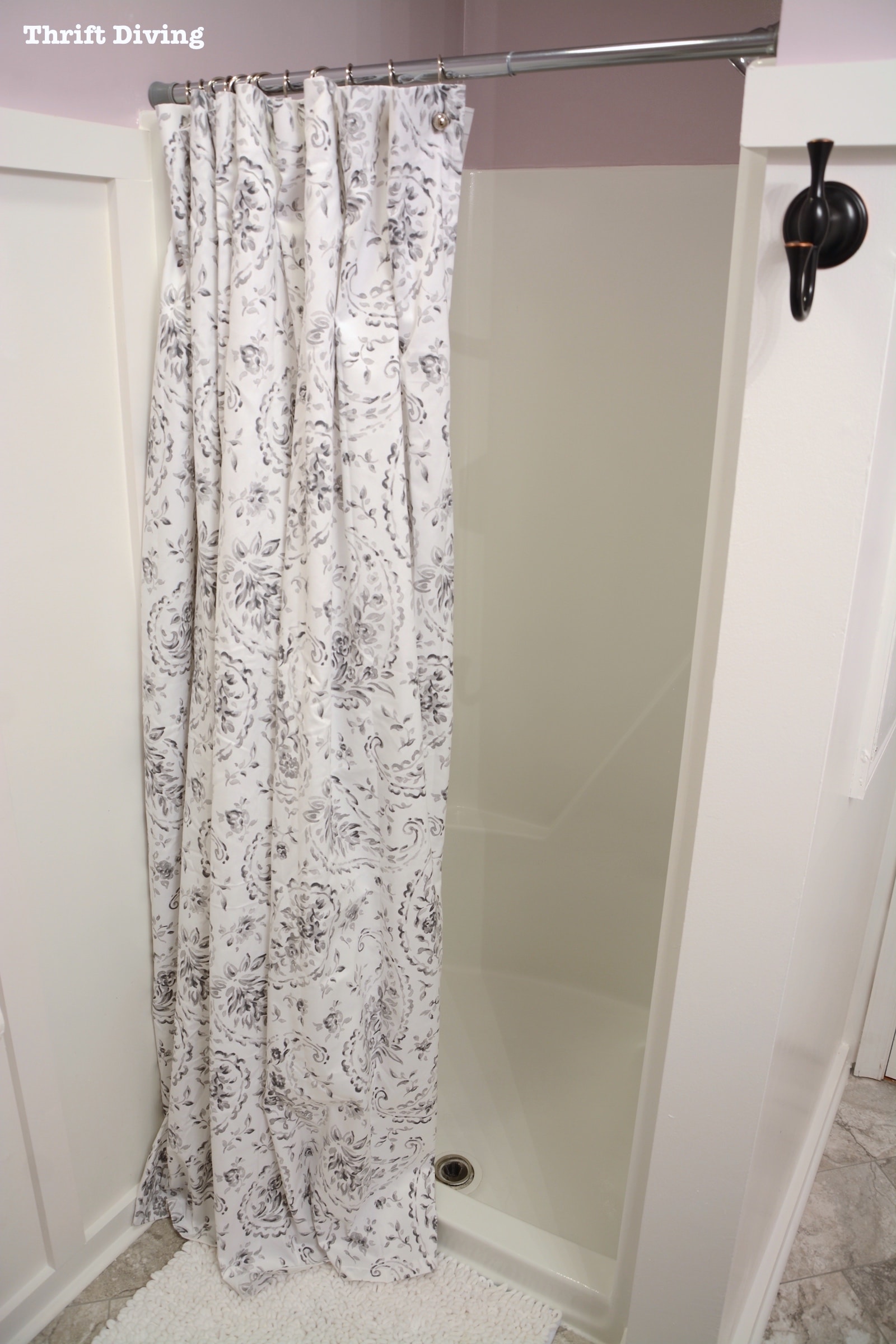 I knew that when I made this bathroom over, those ugly shower doors were coming down and a shower curtain was going up.
The problem with old shower doors is that they amass so much gunk and disgusting stuff in the cracks and crevices, most of which you can't see until you start removing them!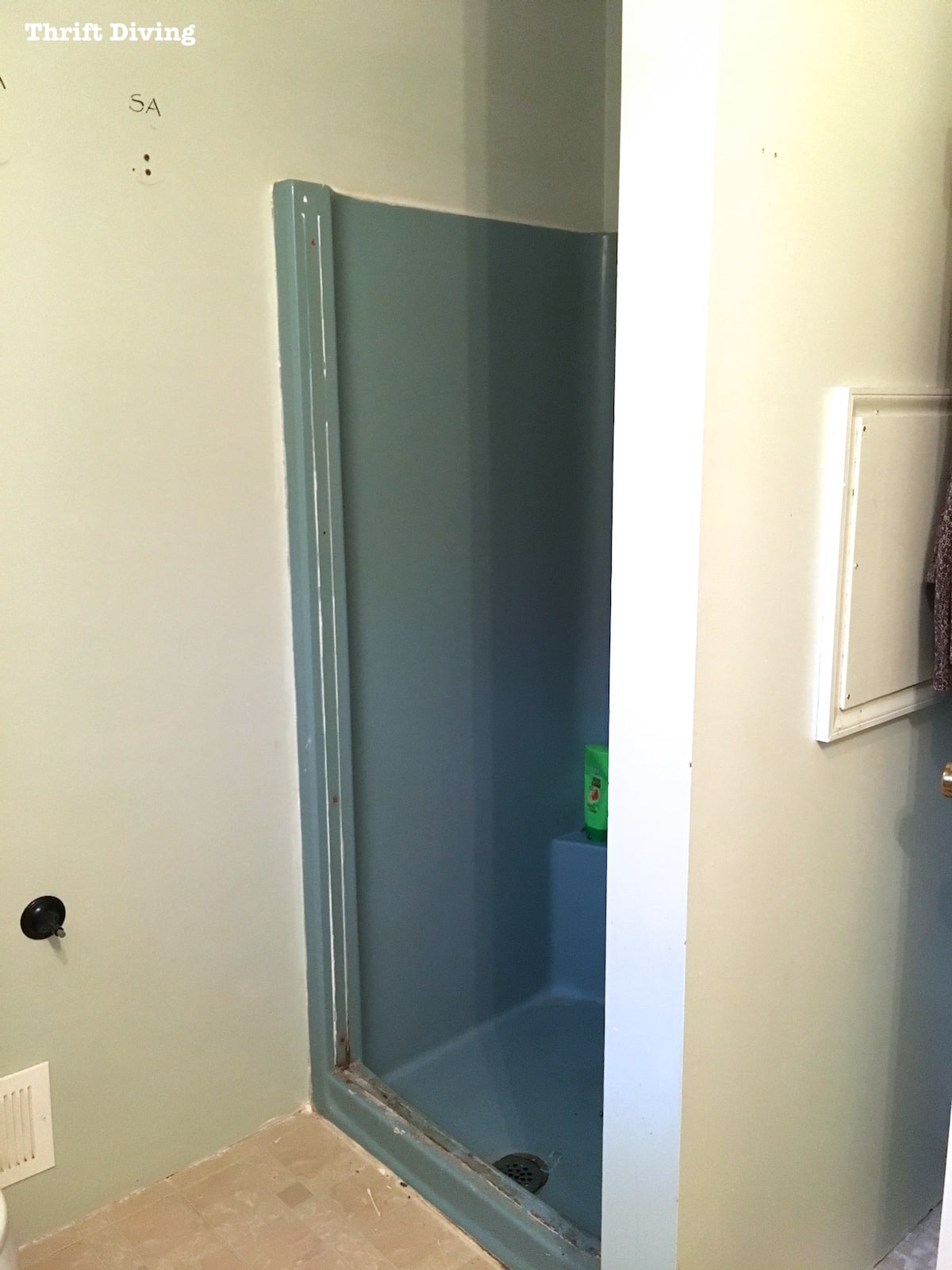 And this is why I will never have a framed shower.
Ever again.
Knowing what I know now, how in the world could I have showered there and felt clean!? Gross!
There are hidden dangers of shower frames and shower doors, my friends!
BEFORE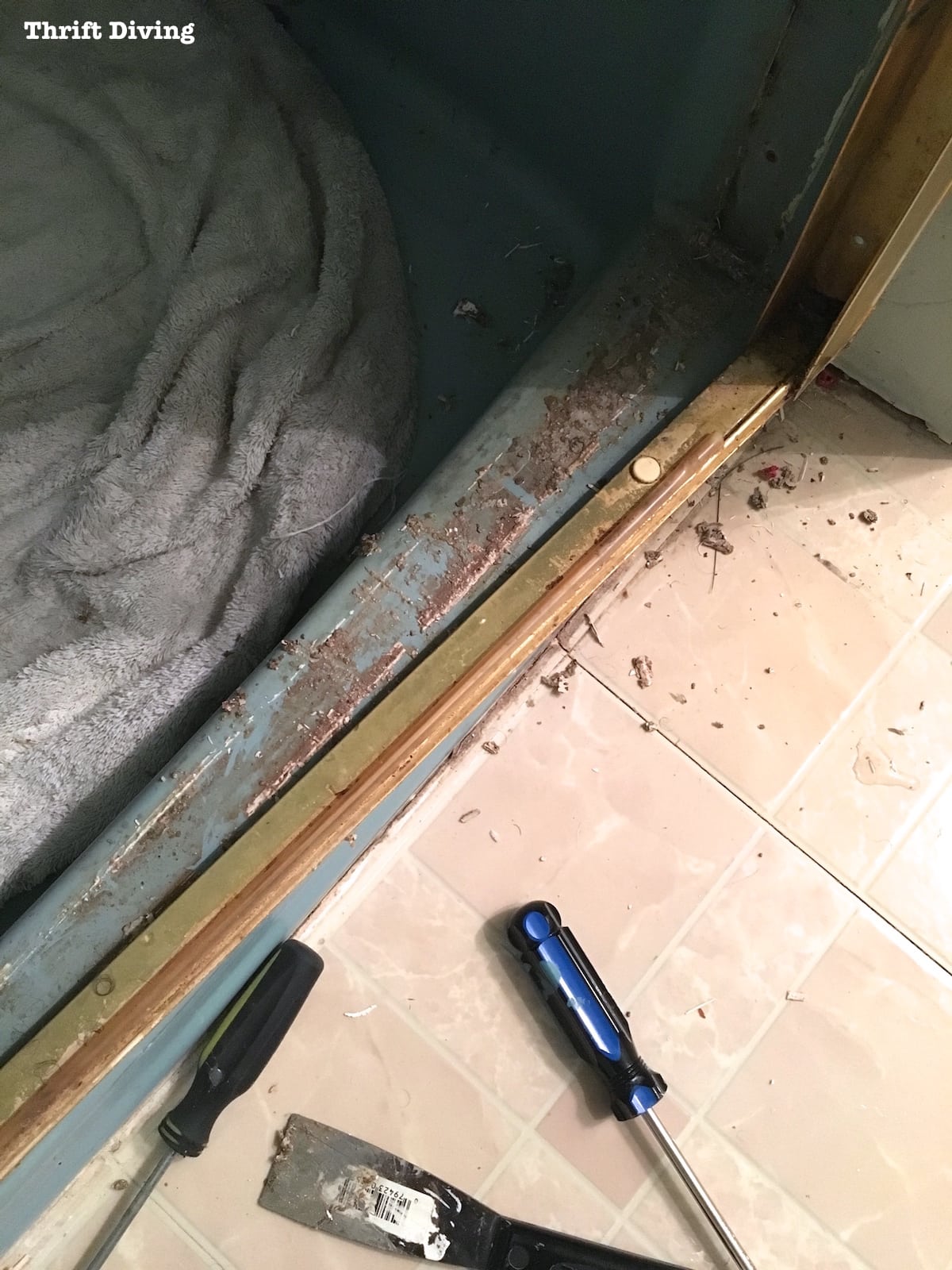 During this bathroom makeover, I toyed with the idea of just teaching myself how to rip out the shower and tiling it myself.
I mean, the quotes I got from professional installers were about $4,000 – $6,000. There is no way in heck I would pay that! You could buy a nice, little, used car for that price! LOL
So when Bath-Works reached out to me and asked if I would try their Bath-Works Bathtub Refinishing Kit, it was like the stars had aligned.
It was the solution that made the most sense financially and time-wise.
Plus, I figured that if it didn't work out, I had nothing to lose.
And I was right–my tub and shower refinishing looked amazing!
(Watch this video to see how this painted shower looked 10 months later!)
AFTER
After getting the new floor and painting the shower with Bath-Works bathtub refinishing kit, it looks like a whole new bathroom!
BEFORE
AFTER!
I picked up this cute little shower curtain from Home Goods.
With the shower stall frame and door removed, I put up a cheapie tension shower rod from The Home Depot.
I'd like to buy a nicer rod because this one reminds me of a geriatric orthopedic walker. Ugh! HA!
The Closet Makeover
When we moved in, the master bathroom closet had shelving that was covered with ugly contact paper.
In the previous makeover I did in this bathroom, I just left it–didn't change it. But that was years ago before I really knew anything about making over a room. I never focused on the smaller details like I do now.
I had even bought some cheap plastic buckets and called it "organized."
But clearly, I hadn't done a great job with the previous makeover.
Who in their right mind would do a makeover and leave the old vinyl floor moldings?! What was I thinking?? LOL
ICK!!
BEFORE
Removing the old sticky vinyl moldings was tough! There was lots of sanding and scraping (and a bit of cursing, too. LOL). I can't seem to find those pictures, but believe me–it wasn't the most fun part of this room makeover!
AFTER!
This time around, however, I found a bunch of baskets from Ross, cut fresh pieces of 1″ x 12″ pine boards, stained them, nailed them in place, and tossed out the other particleboard contact-paper-wrapped crap.
(Watch the tutorial to see how I did a similar kitchen pantry makeover in my kitchen!)
A coat of sealer using General Finishes High-Performance top coat (my favorite) will help to protect them.
I also installed new vinyl (aka: water-resistant) baseboard molding with vinyl shoe molding, using my brad nailer. Since this is a moist bathroom, it's better to use than MDF boards.
And instead of throwing our dirty clothes on the floor in the closet, I invested in this amazing Steele laundry basket from Home Goods!
When I saw it, I knew that I had to have it. There was something so alluring about the sturdy canvas, and the castor wheels were unbelievably silent!
But it cost $80. GASP!
I know…much more than I have ever spent on anything like this before.
But I couldn't walk away.
Anyhow, I paid the amount, kept it movin', and decided that I didn't have to justify my $80 laundry basket to anyone. LOL
The Flooring Makeover
Let's talk about flooring.
Because this was a biggie.
As I mentioned before, over the years, I simply disguised the floor with rugs.
But there comes a day when you realize that you just have to replace it.
I've worked with Carpet One Floor & Home on several other projects, so they wanted to team up with me for this project, too, to install Verostone flooring in my bathroom.
On Day 28 of this room makeover, they sent their guys over and ripped out this floor much faster than I ever would have been able to do it!
(Click here to read all about my flooring installation with Carpet One).
What they left behind was a beautiful clean slate on which I could start on the rest of the bathroom makeover!
How to Remove and Install a Toilet Yourself
At this time, I also removed the toilet and installed a new toilet myself.
This is the second toilet I have removed and replaced in my house, and I have to say, it's one of the easiest home improvements you can do!
You can see how nasty of a job it can be, with hidden, dried pee (I'm totally blaming that on the men in the house because no woman can anatomically create this same mess! LOL).
Related: 5 Tips for a Budget Bathroom Makeover That Will Save You a Ton!
You might need someone else help you remove the toilet if it's heavy.
I didn't wait for hubby because when you need a nasty toilet hauled away now, you need it hauled away right now.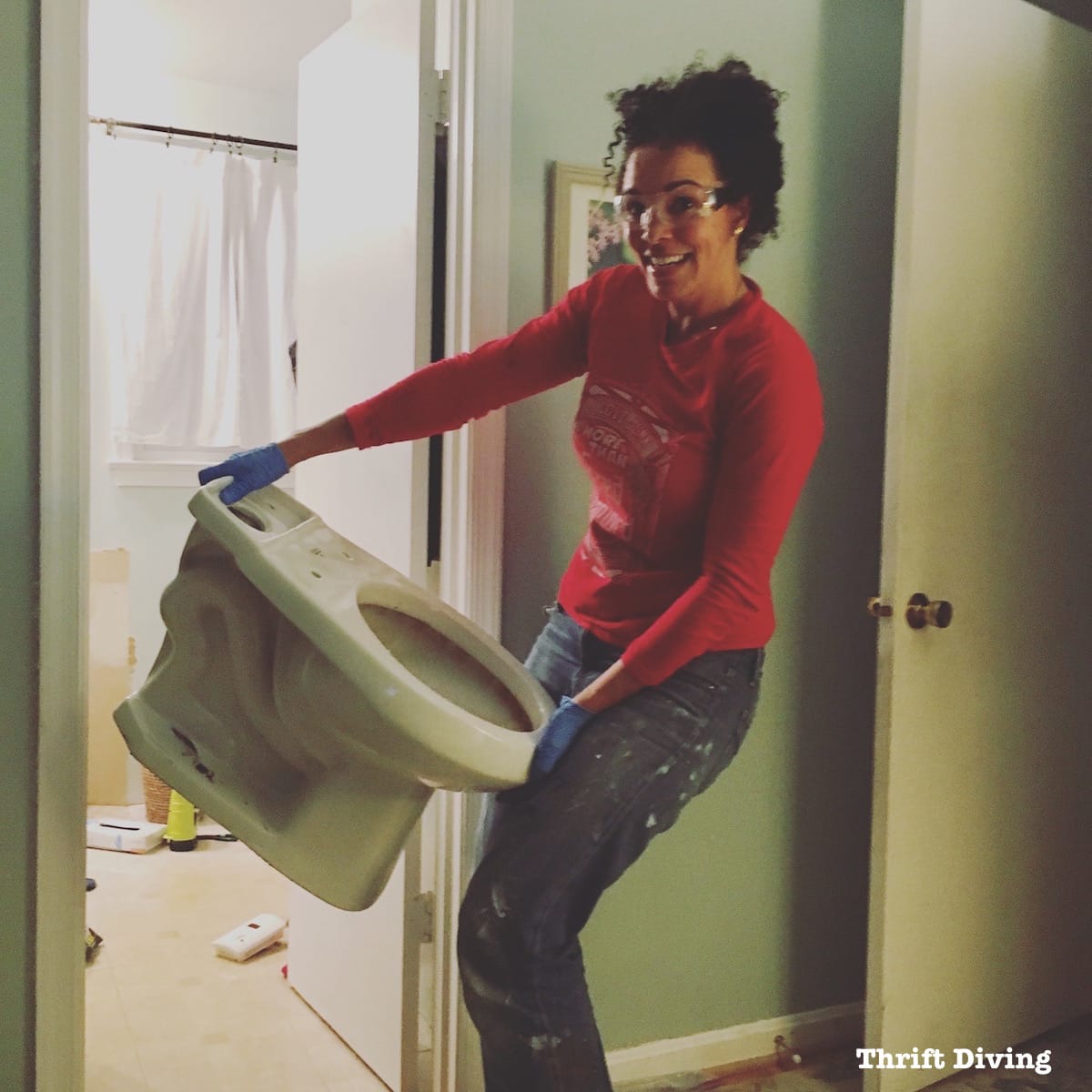 The new Denali toilet by Mansfield Plumbing that I installed was going to be lovely!
(RESOURCE: Click here to read more about the Denali toilet and learn how to remove and replace your own toilet)
The Vanity Makeover
The vanity was the biggest time-suck for this bathroom makeover!
Once the flooring was done, there were no other excuses for not moving faster other than my insecurity with making a wrong move and ruining the whole project!
Before I show you the finished vanity, let me show you its transformation over the years.
BEFORE
When we moved in back in 2010, it was clearly very 70's with its howdy-doody molding on the doors.
I had painted some things before, but I wasn't a die-hard DIY'er back then, so painting it white was the best option for me.
I don't know how readily available furniture paints were back then. But I did what I knew how to do: I just sanded, primed, and painted it a semi-gloss white.
The wallpaper came down…a new mirror went up…
…and the AFTER was pretty dramatic and clean!
(RELATED: Click here to learn more about this Sherwin Williams Sea Salt paint color).
I had painted it Sherwin Williams Sea Salt and I loved how zen-like it felt.
We lived with it like this for years, until last year I painted it gray and stenciled it. I filmed it during a YouTube tutorial on how to paint a bathroom vanity.
And while it looked good, we couldn't ignore the fact any longer that the floor was in really bad shape (see the flooring section above).
Since we were getting new flooring, everything was going to have to come out, anyhow.
I figured it would be a great opportunity to replace the vanity.
My friend Edmundo came over to help me take out the old vanity.
We had to cut that thing out of there! Otherwise, it wasn't fitting through the skinny bathroom door! LOL
(RESOURCE: Click to read my tutorial How to Remove an Old Bathroom Vanity).
I was left with this disgusting mess and 30+ years of dust that had collected underneath! ICK!!!
The wallpaper peeled off easily, and I taught myself how to repair huge holes in drywall.
(RESOURCE: Click here to read How to Repair Big Holes in Drywall).
I didn't want to look in the new vanity cabinet door and see big holes staring back at me! LOL
The Complete Tutorial – Building a DIY Bathroom Vanity
I won't go through each step of building the vanity since I have created separate posts for each step in the process. But you can check them out here:
BEFORE
Without further ado, here's how things turned out!
AFTER!
It turned out so cute!
I kept the same mirror and just used a couple coats of Beyond Paint on it, in the shade of Pewter.
I decided to go with the dark gray mat because….well….my 10-year-old son told me to. LOL
The kids went with me to Home Goods one day and I couldn't figure out if I should get the white or the gray rug.
He insisted on the gray, and I'm glad he did.
It feels like the gray rug anchors the vanity.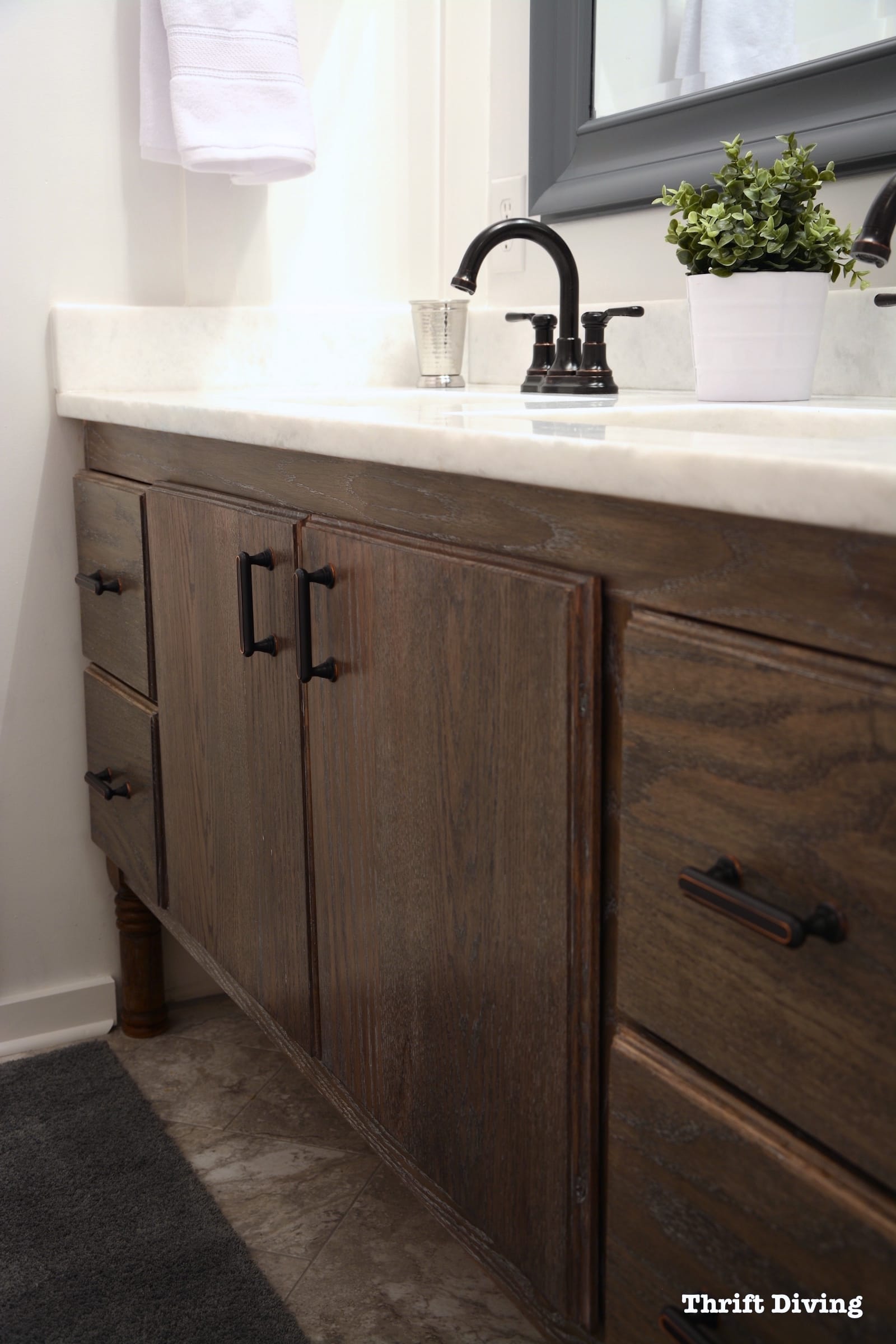 BEFORE
AFTER!
Now the new granite top looks a bit more modern and clean!
It took me weeks and weeks to get through all the steps of building a DIY bathroom vanity but the "trouble" was worth it!
Because not only did it turn out gorgeous, but I learned soooooo many important lessons about working with wood, refinishing wood, and tips I can use for projects in the future!
The final result of the vanity was a clean look with a rustic touch of limed Red Oak!
And you can see how much nicer these floors are than the flooring that was there!
(RESOURCE: Click here to learn how to use wood dye and liming wax to finish Red Oak).
I loved the swirls of gray and tan.
And because it had so much going on with the pattern, I knew that everything else would have to be simple.
Originally, I had planned to keep the vanity light, maybe even unfinished, yet with a liming wax to highlight the grain. But the more I experimented with finishing, I knew that if the vanity were light, the vanity would just disappear next to the floor.
So, I went dark and didn't look back!
The color of the wood dye I used was supposed to be Grey, but the process of finishing it turned it to a dark brown. I actually like this color better than the original Grey I was going to use!
The liming wax settled nicely into the grain and drew attention to the natural wood.
Hardware was purchased from the bath aisle at my local home improvement store.
When building the vanity, some of the Red Oak I used were two different hues. You can see that the doors have more of a reddish tone and the body is browner.
If you're going to be working with Red Oak, just keep that in mind, so that you don't end up with varying tones.
For me, I actually kind of like it. It makes it unique and visually interesting!
And if you recall, this is what the legs looked like before they were upcycled into the vanity legs.
BEFORE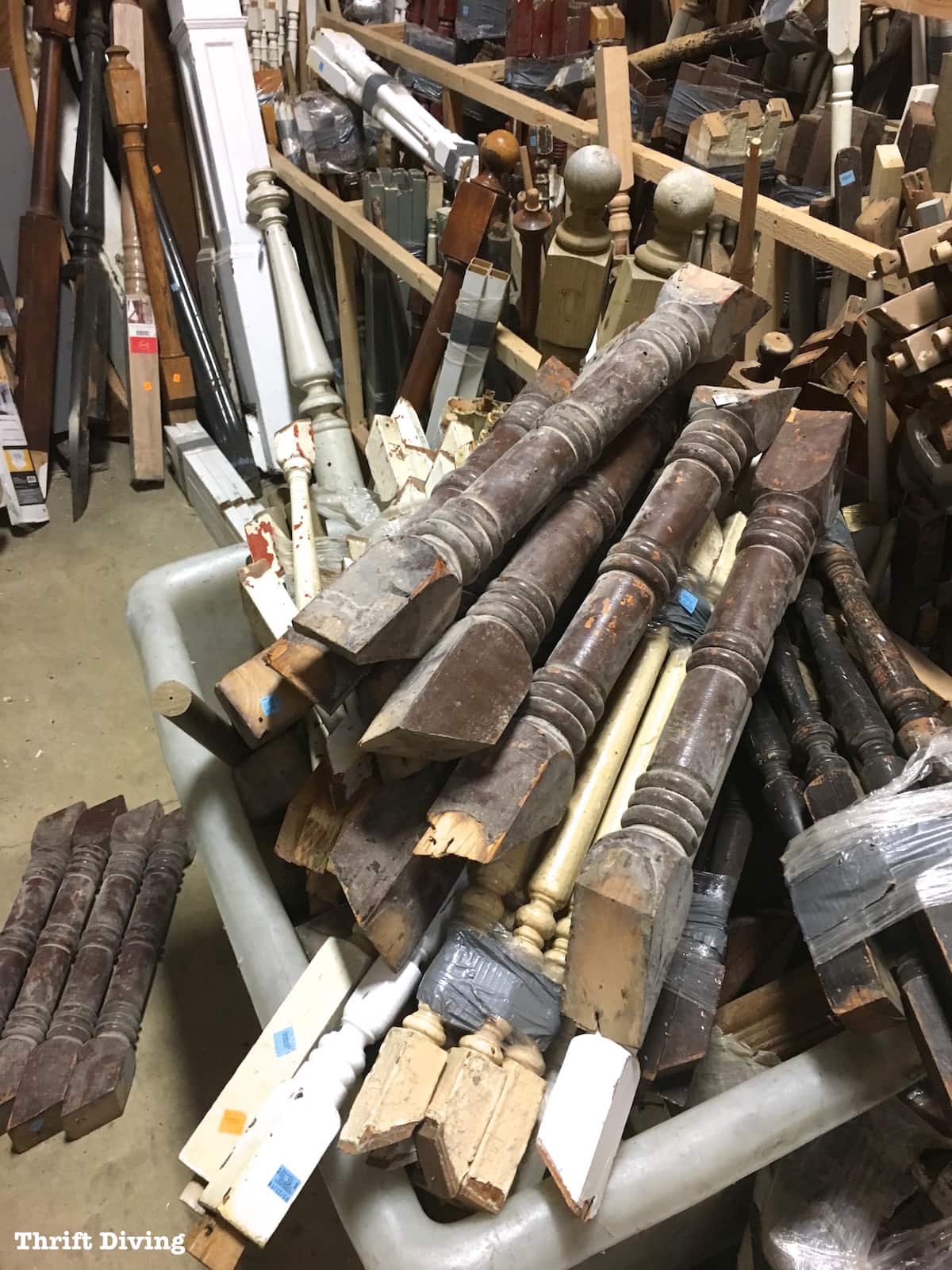 DURING
After cutting and painstakingly stripping them…
AFTER!
…they became the inspiration for the DIY bathroom vanity!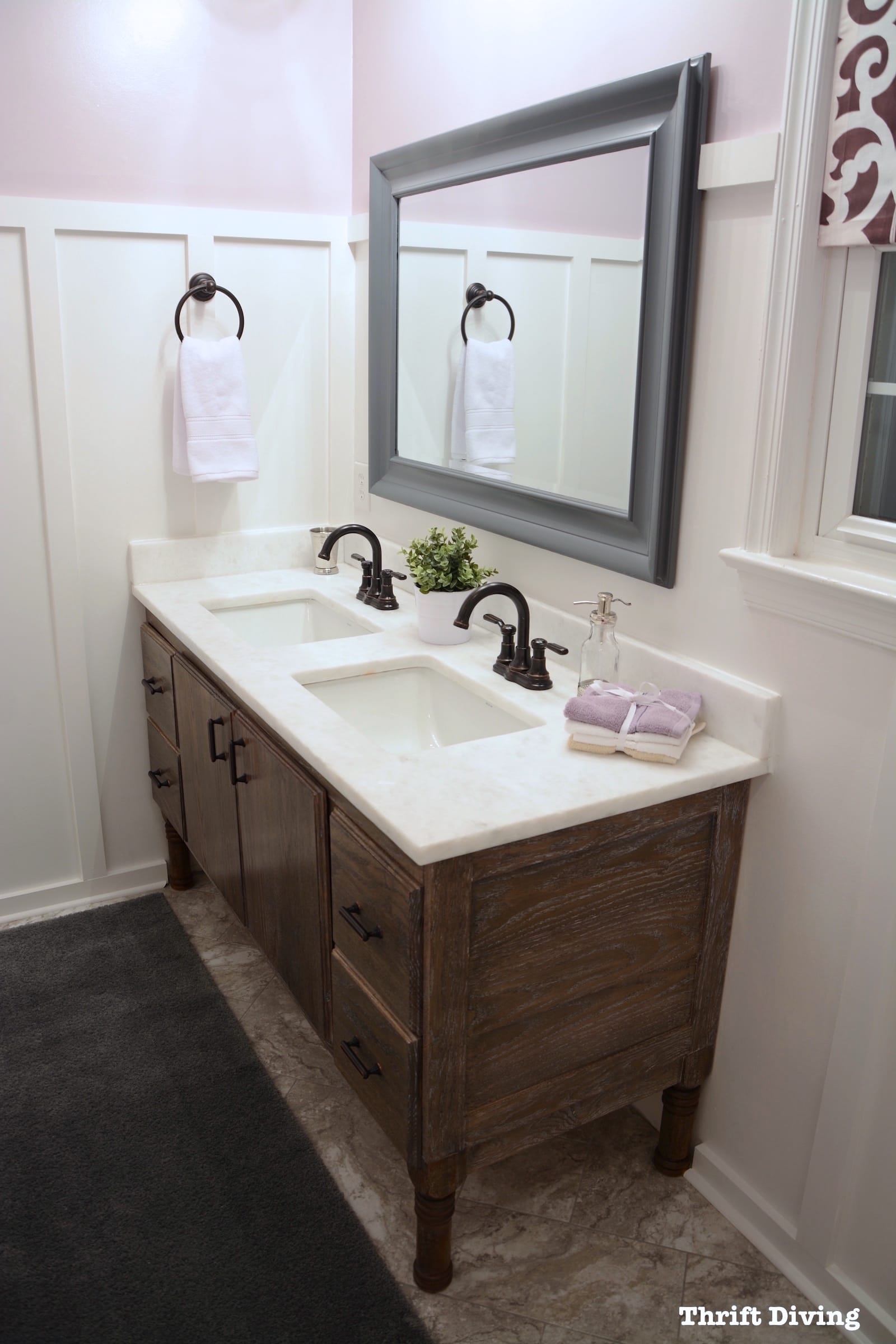 I may go back over some of the vanity with another coat of liming wax to fill in those areas. I was worried that some parts of the grain were taking up too much liming wax, and so I went back with a small brush and removed some of the wax.
Now, I think I may want to see more wax. But overall, I'm super happy with the DIY bathroom vanity!
I love the Kohler Worth 4 in. oil rubbed bronze faucets that I picked out!
(You can read more about the vanity faucets and granite top here.)
I go to IKEA for little accessories like this fake plant since Black Thumbs like me can't keep anything alive! 🙂
And please don't think I was able to execute this vanity 100% without mistakes! HA!
Oh….there were mistakes. Plenty of them!
The vanity is a little wonky in some spots. I feel like Harry Potter with the amount of magic I had to pull out of my butt to make it happen! HA!
Like this little gap here in the drawer.
I could get it to fit better if I make some adjustments to the drawer slides. This is why it's so important to check your right angles when building!
But at this point, I don't care–lesson learned.
I just want to move on!
If I never look at another bathroom makeover, it will be too soon. HA!

What I love is that absolutely no one else in the world has a vanity quite like mine!
It feels like such an accomplishment that I made this with my own two hands!
And the lessons I learned along the way made it that much more valuable.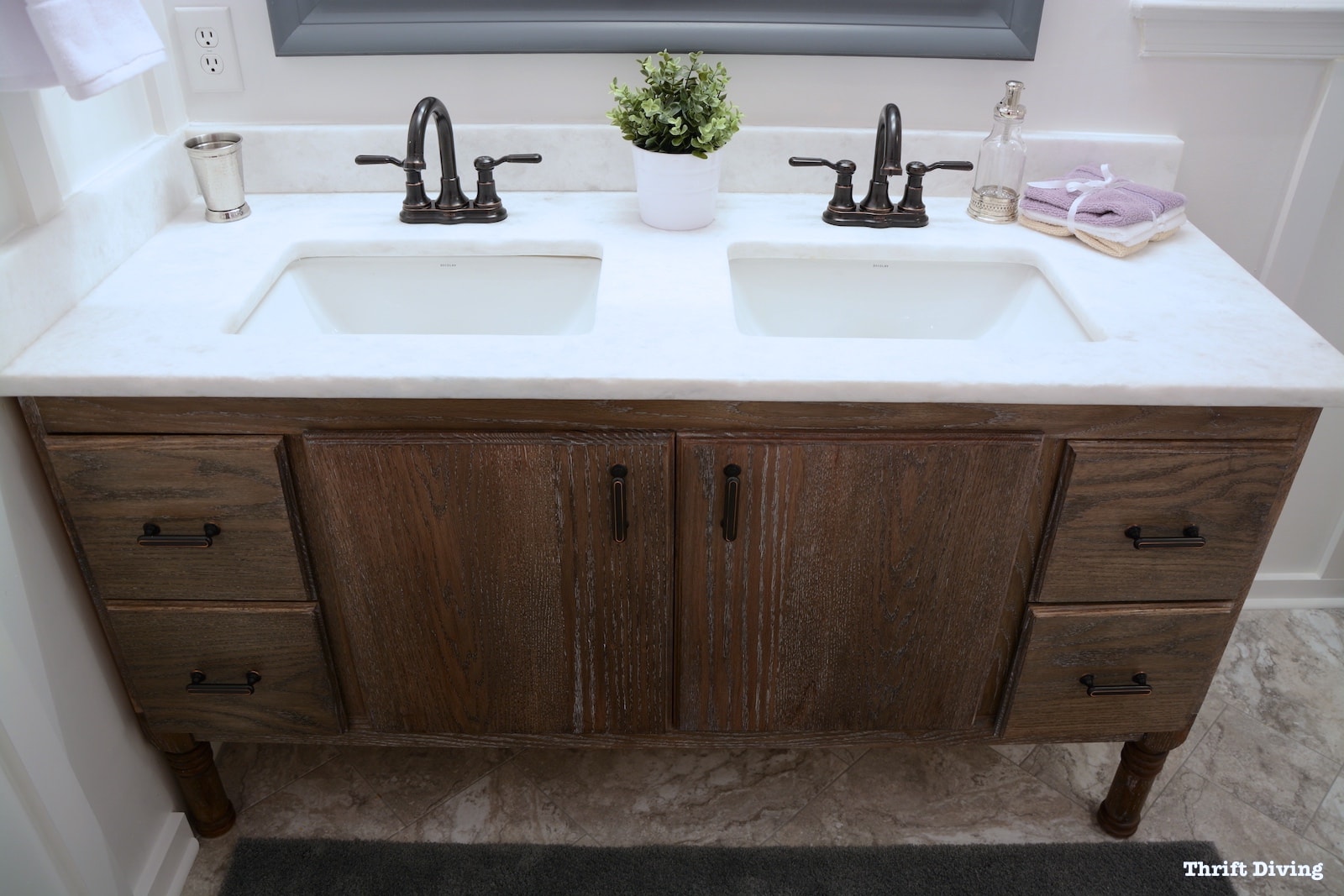 If you're interested in reading more about how I built and finished this DIY bathroom vanity, I wrote up a complete series, with each step going into detail about what worked well and what didn't work quite so well!
You can read more about the DIY bathroom vanity tutorial here.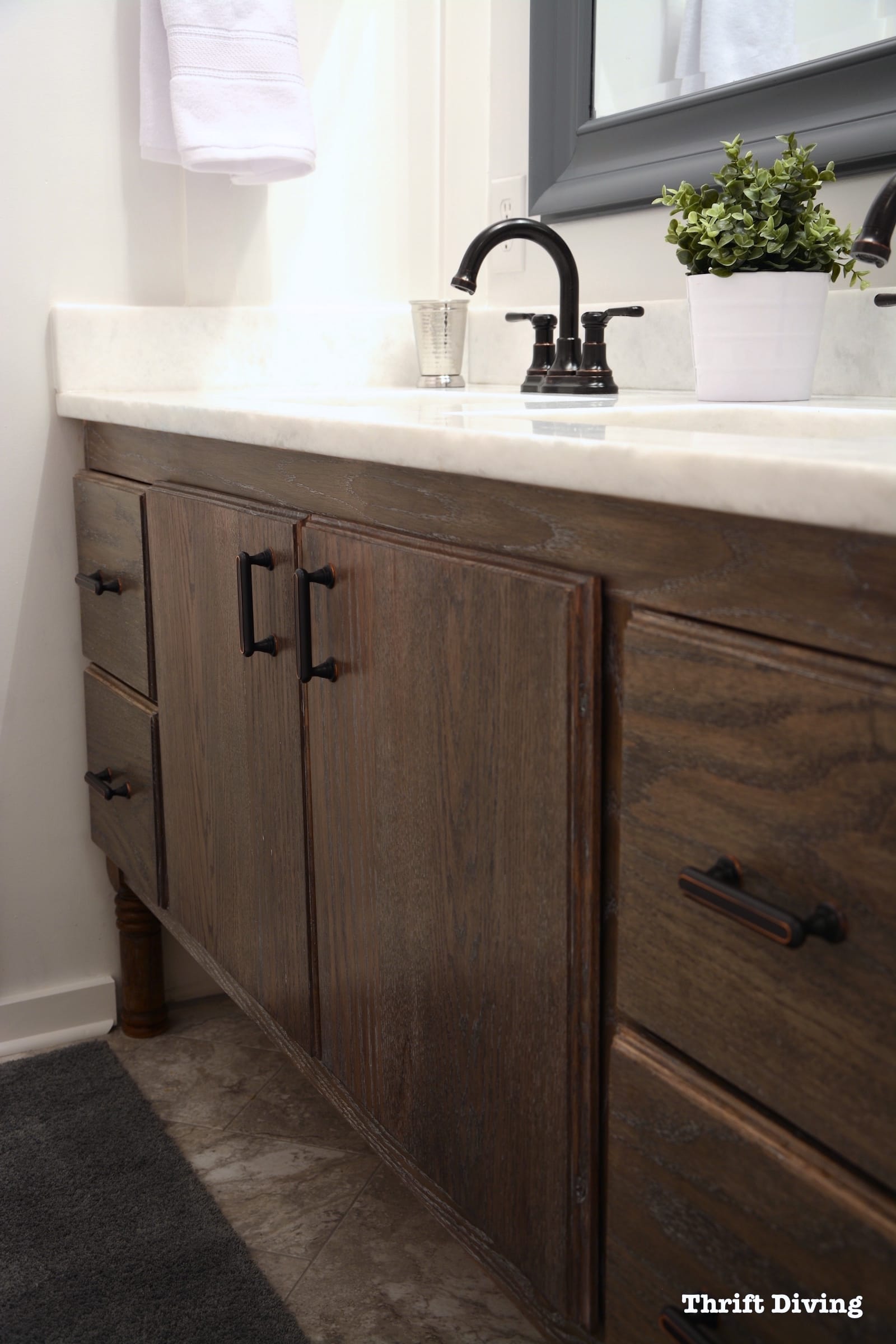 This is the other side of my lavender bathroom.
I love board and batten because it gives a room character without overwhelming it. I'm very simple when it comes to furnishings so the vinyl wall boards make a room feel dressier without overpowering it. (Be sure to use vinyl and not MDF boards because MDF will warp when exposed to water).
(See More: Check out the board and battens I did in my kids' bathroom makeover with a "Navigation" theme)
I decided to leave off the board and batten from behind the door because I felt like it was such a small wall, having two boards on there wouldn't have made much difference.
I tried to reuse as many of the hooks that I already had on hand. I hung these two on the door so that we could hang our towels off of them.
I still need to figure out artwork or an inspirational quote to go above this wall. For now, I've left that bare.
Edmundo is going to come over and help me wire a new vanity light over the vanity, too, which we really need.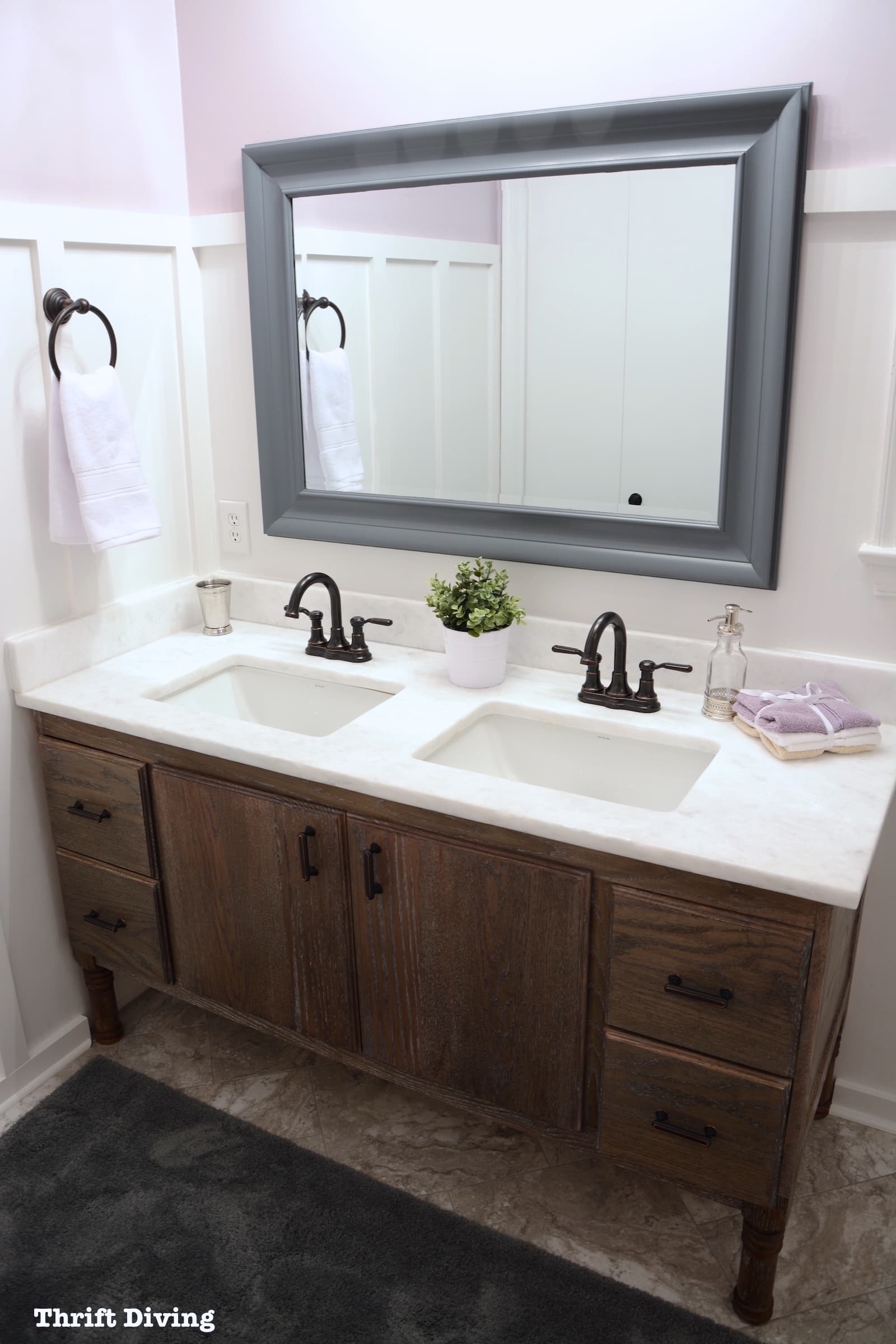 One of my favorite parts of this room makeover is the DIY window privacy screen that I made!
You can find complete instructions on how to make one by checking out: How to Make a DIY Window Privacy Screen.
It doesn't require any hardware for holding it up, either!
I can move it up or down, depending on how much privacy I want.
Someone had a great suggestion to attach Velcro to it so that you can change out the fabric for the seasons. Great idea!
What About Cost?
I say this every makeover: I didn't keep track of the costs.
I know….I know….You'd like to know that this didn't cost more than $50, right?
But that's never the case for me. I'm always updating structures, buying wood, and all of those things are expensive. They'd be even more expensive if I used professionals, so at least I save money by doing many things myself, right?
It's Okay If It Takes Longer Than 30 Days
If it weren't for these room makeover challenges that I do with readers, I really don't think I would have gotten any rooms in my house done! And I seriously mean that.
When we're all working on a makeover at the same time, it gives me fire and motivation to get it done. I know that you guys feel the same way! We feed off of each other, right? 🙂
As I mentioned, what started off as a 30-day lavender bathroom makeover quickly turned into over three months. And I wanted to bring special attention to this because, although I have been able to successfully get rooms done in 3o days (and with a lot of late nights), this room just couldn't be done that quickly.
TA-DA!
And If You Like Small Bathroom Makeovers…
…then you'll love my small half bath makeover! When we moved in, it was covered in ugly wallpaper! Click here to see the "AFTER" of my stenciled colorful gray half bathroom!
BEFORE
Special Thanks!
Carpet One was an amazing sponsor for providing the Verostone flooring! You should definitely check out your local Carpet One Floor & Home if you've got a flooring project, carpet project, etc.
Mansfield Plumbing was awesome to have sent me a Denali toilet to install in this bathroom! A big thanks to them for sponsoring it and giving one away to a lucky challenger.
This is the second toilet I have installed myself, and I am proud to say, I haven't noticed any leaking or anything unusual. 🙂
(TIP: Stop paying for plumbers. Read my detailed tutorial on how you can easily replace your own toilet. It's an easy job!)
This bathroom makeover wouldn't have been what it was without Bath-Works sending me the tub and shower refinishing kits to paint my shower stall! So thanks to them for emailing me with perfect timing!
So I have to know….what do you think of my pretty lavender bathroom?!?!?!
Leave a comment below this lavender bathroom and let's chat!
Love this lavender bathroom makeover? Go ahead and SAVE it!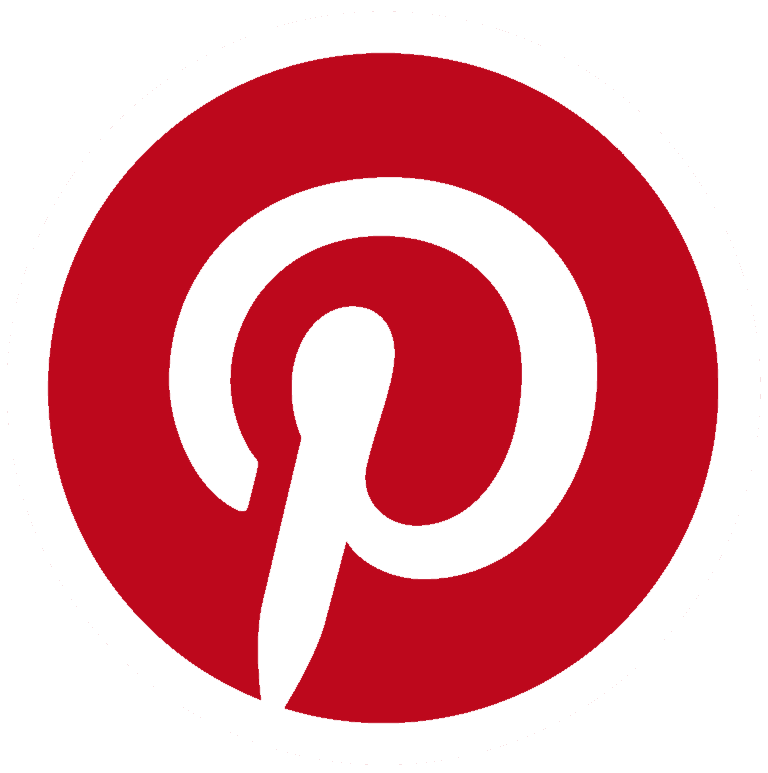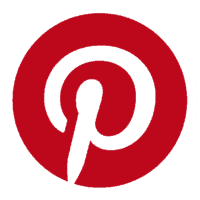 Download the 5 freebies!
Thrift Diving inspires women to decorate, improve, and maintain their home themselves...using paint, power tools, and thrift stores! Use these 5 printables, checklists, and ebooks to get started!