My bedroom has evolved since we moved in nearly 6 years ago. It was laden with wallpaper in every crack, crease, crevice of this old 1973 home. I know it takes time…..so finally, I have created a bedroom makeover that I have always envisioned!
When we moved in, though, this is what was waiting for us. Sexy throwback curtains and all.
BEFORE
BEFORE (back when intercoms were hot):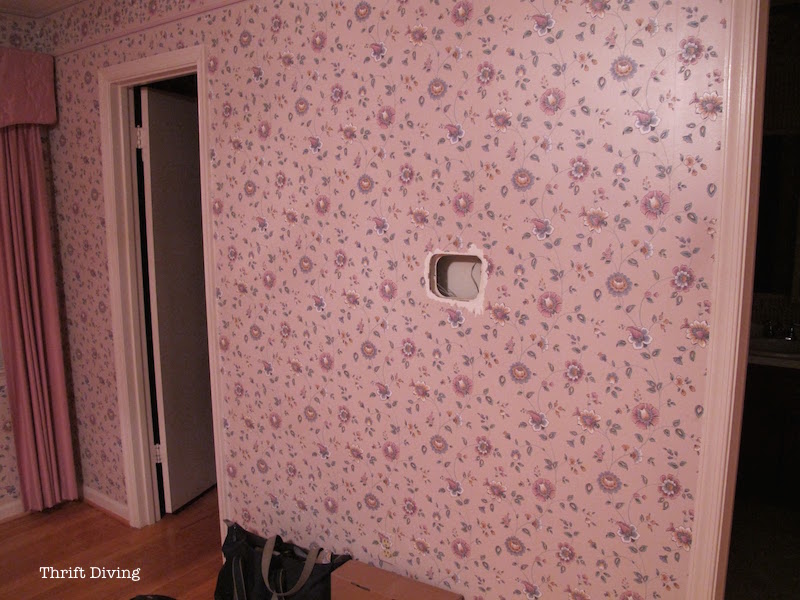 We worked to remove the wallpaper, which was tooorrrture….I wouldn't wish it on my worst enemy! LOL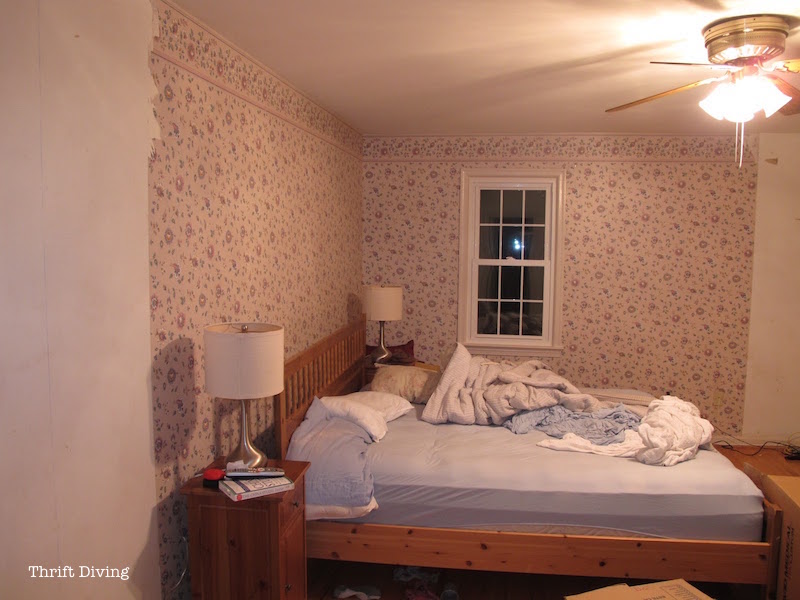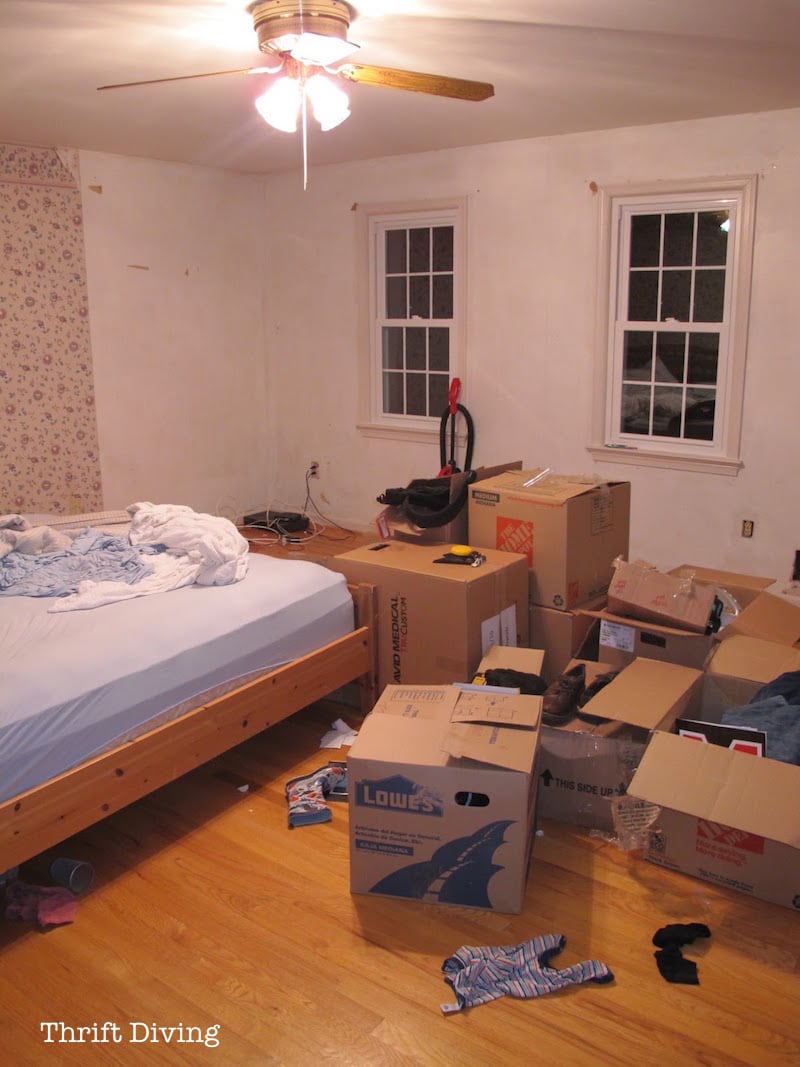 ….and when we were done with our "mini" bedroom makeover, this is what we were left with, which is virtually how our room has looked for the past 4 years: BARREN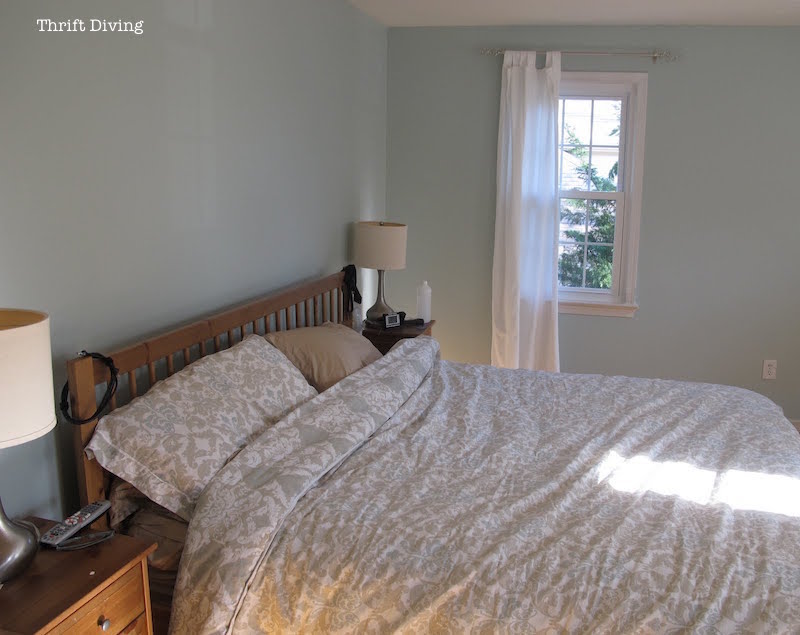 It needed something more, but it was only now that I had time to give a facelift: a large carpet, some wall art, new bedding, some paint on that dreadfully cheap pine wood….and crown molding!
(And P.S……we've been rockin' the same 'ole IKEA furniture since 2002. Yes, my friends, 13 years now we've owned this bedroom suite, despite its falling apart. HA! Who said IKEA doesn't last……….pssh!)
I'm happy to show you what our bedroom looks like now!
TODAY!
I'm sorry for the wrinkles, but busy chicks have better things to do than iron bedding :).
How It All Started
Not only was our bedroom boring, but it was cold. Literally cold. It's housed right over the garage, and if you know anything about bedrooms over garages, more often than not, you'll get frozen in the colder months. Walking to the bathroom was like performing an act in the circus: watch the woman tiptoe on ice, ladies and gentleman! 
Temperatures are starting to warm up, but I finally had time and money to upgrade our barren bedroom to something that felt more "homey" and warm.
The first step in creating my bedroom makeover was starting with was new carpet.
I headed to Carpet One because I've always great customer service there! Probably one of the best customer service experiences I ever had.
Okay, stop laughing. I'm completely serious!
I went to the shop twice–first, to check out what they had, and second, to make my selection after they came to do my free in-home measuring (they also offer free in-office measurements). Michael, the salesman, was sooooo nice! Imagine walking into the Big Box Home Improvement Centers and getting that same level of attentiveness. Highly doubtful.
Most of my Carpet One's customer are commercial, which could explain how both times I went, I was the only customer in the store.  I loved it!! No competition. I could ask 10,000 questions (read: individualized attention) and Michael patiently answered everything.  I walked away feeling warm and fuzzy, like I had just stopped in to my hometown "Mom and Pop" shop.
I couldn't believe they had so many options (and exclusive brands). My experience with flooring is almost nil, especially in the carpet arena. I wanted something light-color (despite having three kids–bad choice????) and not too expensive. I ended up finding the perfect remnant from this stock of remnants that they had in the back.
My bedroom is so large (almost 17′ x 17′) so buying the remnant was within budget at nearly $400. I bought a huge 12 ' x 12', and it came with a carpet pad. Pretty plush, actually.
I bought a floral runner for the entry to the room, for about $200. Altogether, I spent a little over $600 for flooring. Money well spent when my feet hit these babies first thing in the morning!
I thought the runner pattern would "clash" with my thrifted vintage dresser makeover, but it doesn't, thankfully!
Stay tuned later this week for more details about the rest of the room!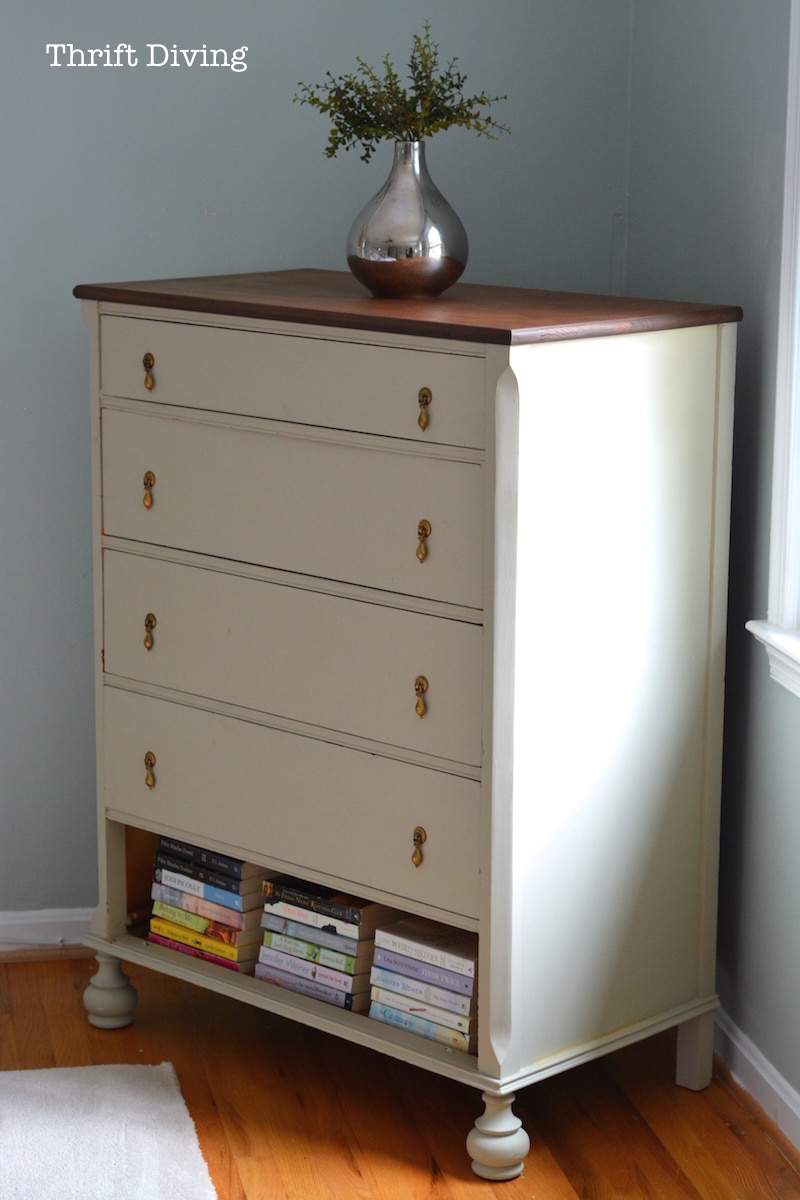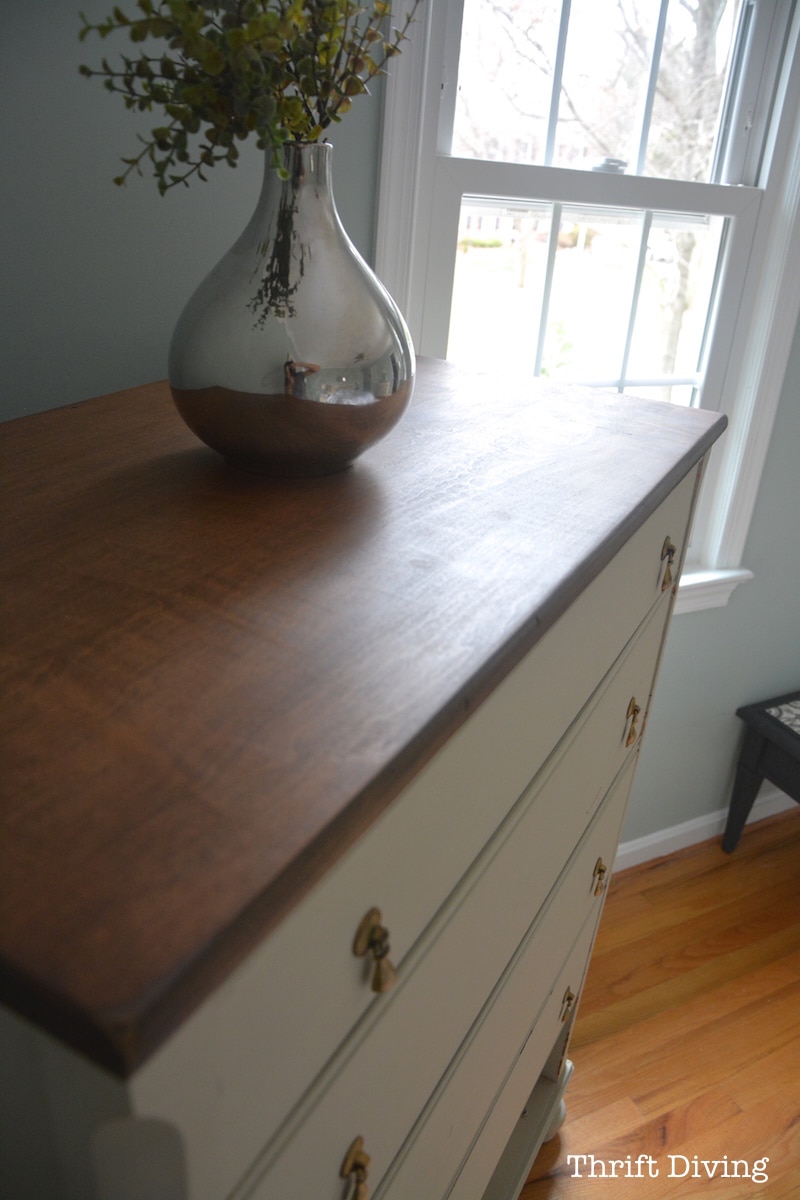 And with the new bedding and painted nightstands, it looks great! My little 3-year-old Kojo loves it, too!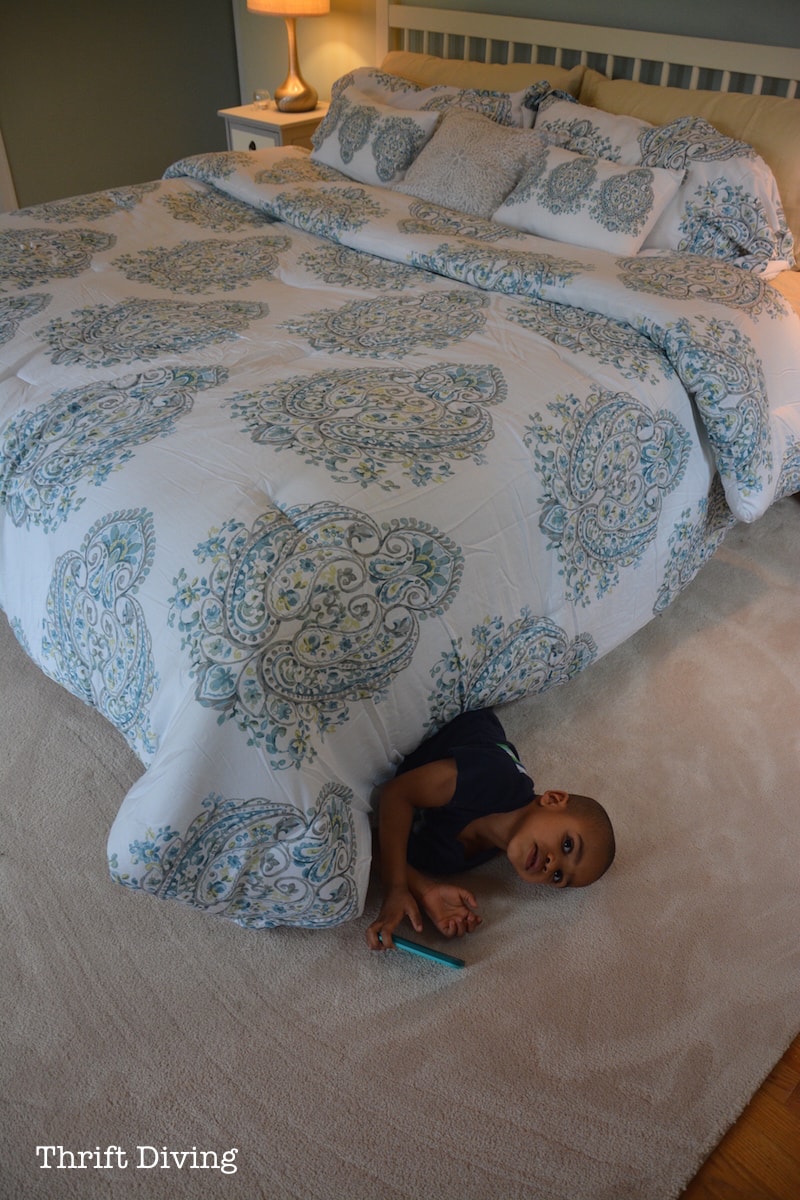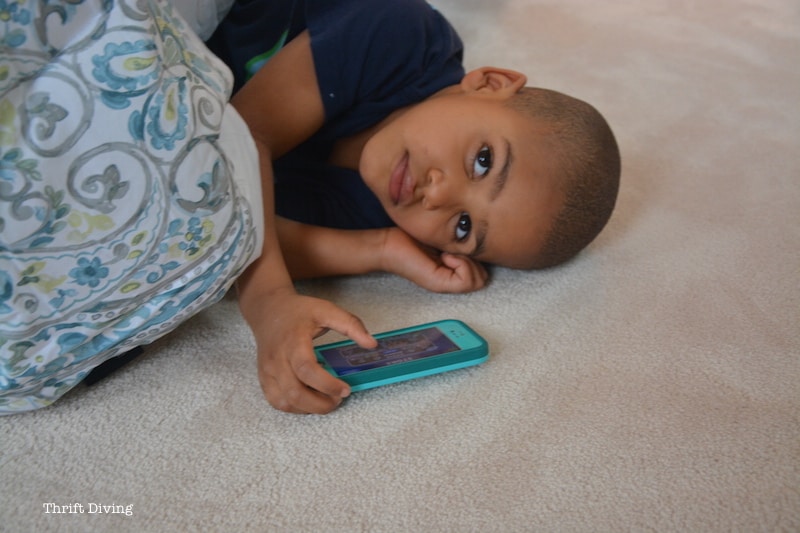 I love that my room feels so cozy now! It's the light-hearted, airy kind of room I've always wanted but never had.  Here's my 5-year-old, Ohene, chillin' on the new bed (did I mention it feels as soft and squishy as a marshmallow now?? LOL). The bedding is by Nicole Miller from Home Goods.


BEFORE
…with cold hardwood floors……
AFTER!
…warm flooring under our feet!
(P.S. f you love the bedroom paint color, click here to see my post on Sherwin Williams Rainwashed, which is my absolute most favorite color ever, hands-down!)
See The Other Project Makeovers In This Room
This post includes a 52-page guide to help you do it on your own!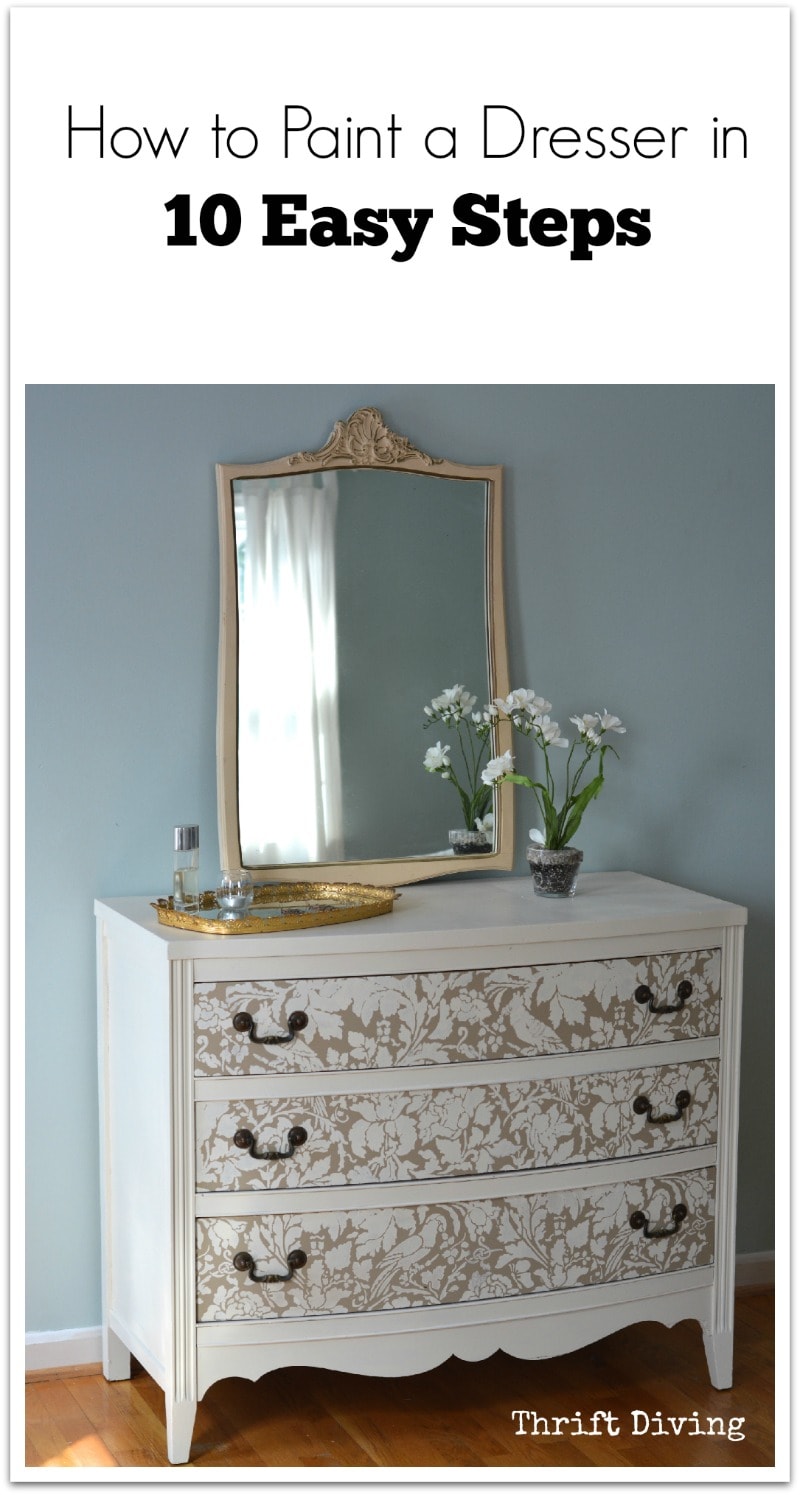 So what do you think?! Are you happy with YOUR bedroom flooring? Leave a comment below and add to the discussion!