Repurposed Toddler Bed Becomes a DIY Potting Bench: Trash to Treasure
Many people don't realize that they can repurpose their kids' furniture when they outgrow it, especially their toddler bed! If you enjoyed this project, be sure to check out how I repurposed a changing table into a desk, repurposed a crib into a coffee table, and more!
Watch This Project in Action!
There's something sad about getting rid of your kids' baby and toddler furniture, isn't there?
I'd put it up there with getting rid of their artwork: no matter how much you know you don't need it anymore, sometimes you just can't.let.it.go.
But this toddler bed??
It was time. It needed to go.
My youngest son hadn't slept in it for probably years, yet it took up a corner of their bedroom and became a DIY trampoline for naughty children who know they're not supposed to jump on the bed. HA!
I loaded it up into the van, with screws and bolts falling out of the sockets, just wanting to rid the house of things we no longer needed–including this bed.
I turned it into a potting bench!
So this is how the toddler bed looked beforehand, all packed up and ready to go.
BEFORE
But I knew the thrift store wasn't going to take it.
They're so "iffy" when it comes to taking kids' beds!
And don't even think about donating a crib. They'll turn you away faster than you can beg, "Just take my junk, please!!"
(Related: See how I repurposed my son's crib into a DIY patio table because I couldn't donate it).
As I was pulling it out of the trunk, bummed that I was stuck with it, thinking about the firewood it would make, an idea struck…
I Could Repurpose This Bed Into a Potting Bench!
And this, my friends, is how ideas strike.
You could be in the middle of being bummed about a problem and suddenly a problem turns into a slap-the-forehead kind of solution!
Because when I took the bed out of the trunk, I happened to set it down just like this:
BEFORE
And then–BOOM!
I can repurpose this toddler bed into a pretty potting bench!
Beyond Paint, the brand of furniture paint I have grown to love and prefer had sent me one of their colors I had never used before: POPPY.
So now I had the idea…the paint color…and I just needed to plan my attack.
At first, I considered making it a kid's potting bench. It was pretty short. Perfect height for a 5-year-old…
But honestly??
My 5-year-old wouldn't use it. He wouldn't even appreciate it. In fact, when I mentioned making him a potting bench, he replied, "Yeah! Then I can run my cars on it!!!"
Ummm….No.
This one's going to have to be for Mommy. LOL
Materials: Repurposed Toddler Bed
Here's what I used to repurpose the toddler bed into a potting bench:
(I participant in the Amazon Services LLC Associates Program and other affiliate advertising programs designed to provide a means for me to earn fees by linking to Amazon.com and affiliated sites).
Small roller
Scrap wood 2 x 4s
Cedar boards
Power drill with drilling and driving bits
Stencil (optional)
Metal washers
Tape measure
STEP 1: Clean the Toddler Bed
Go ahead and wipe down your furniture projects before you paint them. We're using Beyond Paint for this project, and they definitely recommend starting with a clean, dry, and oil-free surface.
I'll admit that I've been lazy in the past and simply painted over dirt. NOT RECOMMENDED! 🙂
Simple Green is what I generally use and I keep a big bottle handy. Do yourself a favor and get yourself one to keep around, too! Add some to a spray bottle to make it easy.
STEP 2: Taking Measurements
I'll be honest with you: I suck at taking measurements. I'm always a little off, somehow! Whether it's my measuring or my cutting, at times, I don't always get it right. LOL
Anyhow, I needed to build a platform to make this DIY potting bench taller. I wanted my platform to be as wide as the toddler bed, but I wasn't sure how high to make it.
It was just over 22″ high, so I added about 10 inches to make it around 32″ tall, which felt comfortable for my 5'10" self.
STEP 3: Cutting the 2 x 4s to Width.
Don't you love when the wood you need is sitting right there in your scrap wood pile?? 😉 I decided to make the base out of whatever I had on hand, and thankfully, I had some 2x4s already in the garage that I salvaged from the side of the road last summer!
(Who says hoarding materials doesn't have its benefits??)
I used my circular saw to cut four boards to width.
There was just enough left over to make four legs, as well.
STEP 4: Constructing the Base
To keep the 2x4s stable, I used some 3/4″ scrap wood to create a brace. I used exterior screws to join them together.
Washers are the perfect little spacers! I used them as spacers so water and dirt could fall through.
I wasn't using any particular method of building the base. I just used whatever I had on hand and what made the most sense logically.
Typically, when you're building "table" type things, you should build it with an apron, which helps to stabilize it and holds things together. But I didn't do it that way. Don't ask me why. At the time, it just made more sense to lay the board down flat and then attach 2×4 feet to it.
Whatever works, right?? 😉
I used pilot holes and exterior screws to join the boards together. To add the legs, I used my Kreg jig to make pocket holes to attach them for strength (details in the video tutorial).
STEP 5: Attaching the Repurposed Toddler Bed to the Base
Something went wrong in my measurements (see! I told you so!) and one leg….or two legs….must have been a shy shorter, because the base was a little wobbly, but hey–we're going with it! 🙂
Anyhow, this part was the crux of the whole project: trying to attach the toddler bed to the base so it A) wouldn't fall over, B) would be my height and not my son's height, and C) looked like it was all one unit.
The easiest way to attach pieces of wood together is with my Kreg pocket hole jig.
It's super simple to use and only requires a power drill and the Kreg attachment pieces.
I drilled pocket holes in the legs of the toddler bed, but it was a challenge!
Some parts of the legs were hollow due to the previous hardware! So I just figured out where the wood was most solid and then glued, screwed, and filled the holes with pocket hole plugs.
Once sanded, you couldn't even see the pocket holes. 🙂
I gave the whole thing a good sanding with my orbital sander to smooth everything out.
I realized that I didn't want the raw edges of the 2x4s showing. So I cut pieces of scrap wood to cover up those raw edges. I drilled pilot holes and attached them with exterior screws that won't rust.
It was looking pretty good!
Part of me really liked the natural wood look, but I was dying for some vibrant color!

STEP 6: Painting the Potting Bench "POPPY"
Finally! The easy part!!
Now that the potting bench was constructed and seemed to be all one cohesive piece, it was time to paint it and make it POP.
I have been using Beyond Paint furniture paint for several years now and absolutely love it!
What I love about it is that it's non-toxic and air pollutants-free, plus requires no stripping, no sanding, and no priming. You can paint nearly anything as long as whatever you're painting (e.g. wood, previously painted surfaces, glass, plastic, metal, masonry, etc.) is in good condition. I would definitely recommend using the Beyond Paint multi-surface sealer if the piece of furniture is going to be outside or if it's going to get a lot of "traffic" (i.e. heavy use).
With other paints I've used, painting takes forever! As much as I enjoy painting furniture, I don't want it to take all day. Building stuff usually takes that long! The painting part should be quick and easy, right??
RELATED: What's the Best Paint For Furniture?
This paint is best applied with a roller. I prefer doing it that way because it takes less time. For detailed or hard-to-reach areas, I use a brush to "smush" the paint into those areas.
Related: See how I used Beyond Paint on this $40 vintage china cabinet from the thrift store!
This potting bench had a lot of little areas that I needed to "smush" the paint into.
But the small roller worked well on all the other parts.
I like that this paint has more pigment for better coverage. I find it easier to apply than other paints! (It has what I like to call "spreadability.")
STEP 7: Add the Cedar Boards
Cedar is awesome for outdoor furniture!
So I knew I would want to pull in some cedar for the bench top and to stencil the word GARDEN.
While the paint was drying, I stenciled the top cedar board using the Bright White Beyond Paint and using a clear vinyl stencil I made with my Silhouette Cameo cutting machine.
What was really great is that the top groove of the bed was exactly the right width for sliding on this board! How perfect was that?!
To add the potting bench surface boards, I drilled pilot holes first before screwing in the exterior screws.
TIP: Cedar will crack if you don't drill pilot holes first before driving in your screws! (Yep….first-hand experience talkin'….LOL).
STEP 8: Sealing the Potting Bench For Outdoor Use
Whenever you're using Beyond Paint outdoors (or on countertops), it's always recommended to use their multi-purpose sealer for durability.
I brushed this coat on with a brush (I was all out of clean rollers). It goes on milky but dries clear. Just make sure you don't over-coat it or it could dry cloudy!
(Once it dries, I'll go back and add a second coat, just for extra durability).
STEP 9: Hanging Accessories
I had found this metal rail and white IKEA buckets hiding underneath my bathroom cabinet (unopened!) that had been sitting there since last year. Score!
When mounted underneath the surface, I discovered it made a great place to hang towels or even gloves!
The little white buckets hung perfectly from the slats of the potting bench!
I can even imagine planting little flowers in them and hanging them off of the sides!
STEP 10: Show It Off!
I absolutely love coming up with creative ideas like this!
And just to think, this toddler bed almost ended up in the trash! It goes to show you that trash really can become treasure when you've got paint, power tools, and a creative idea!
BEFORE
AFTER!
I moved the potting bench to my patio and discovered that the POPPY matched one of the colorful Adirondack chairs on my patio. How's that for serendipity?? 🙂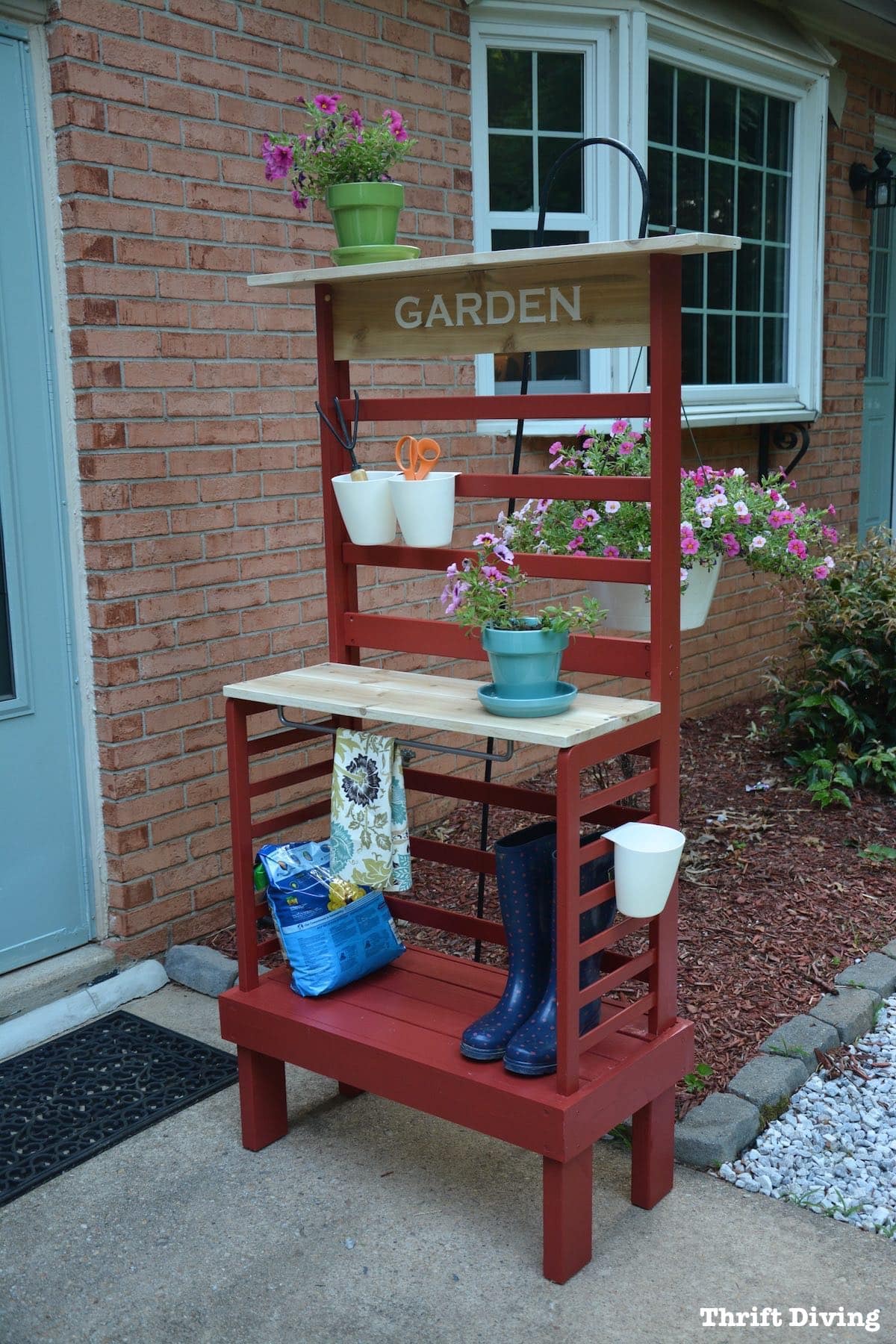 If you enjoyed this project, I'd love if you'd save it on Pinterest!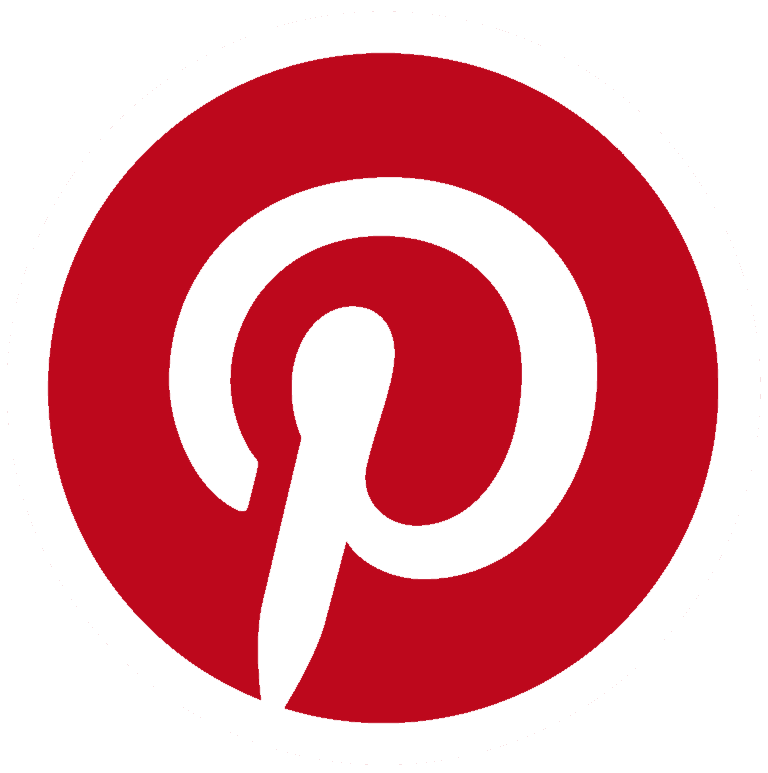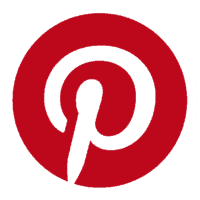 I'm totally geeking over this project just because I was >thisclose< to throwing out this old toddler bed, but instead I repurposed it into a fun POPPY piece for my patio!
So what do you think?? I hope you're as excited about it as I am!

Download the 5 freebies!
Thrift Diving inspires women to decorate, improve, and maintain their home themselves...using paint, power tools, and thrift stores! Use these 5 printables, checklists, and ebooks to get started!