Eat-In Kitchen Table Makeover: BEFORE & AFTER
Eat-in Kitchen Table Makeover: Watch This Project in Action!
Click below to watch this eat-in kitchen table makeover using an old drafting table!
If you've been reading this blog for a few months, you'll know that a few months ago I had turned an old drafting table from the thrift store into a chic, natural wood (solid oak!) workstation for my garage. I added unique caster wheels and fell in love with it!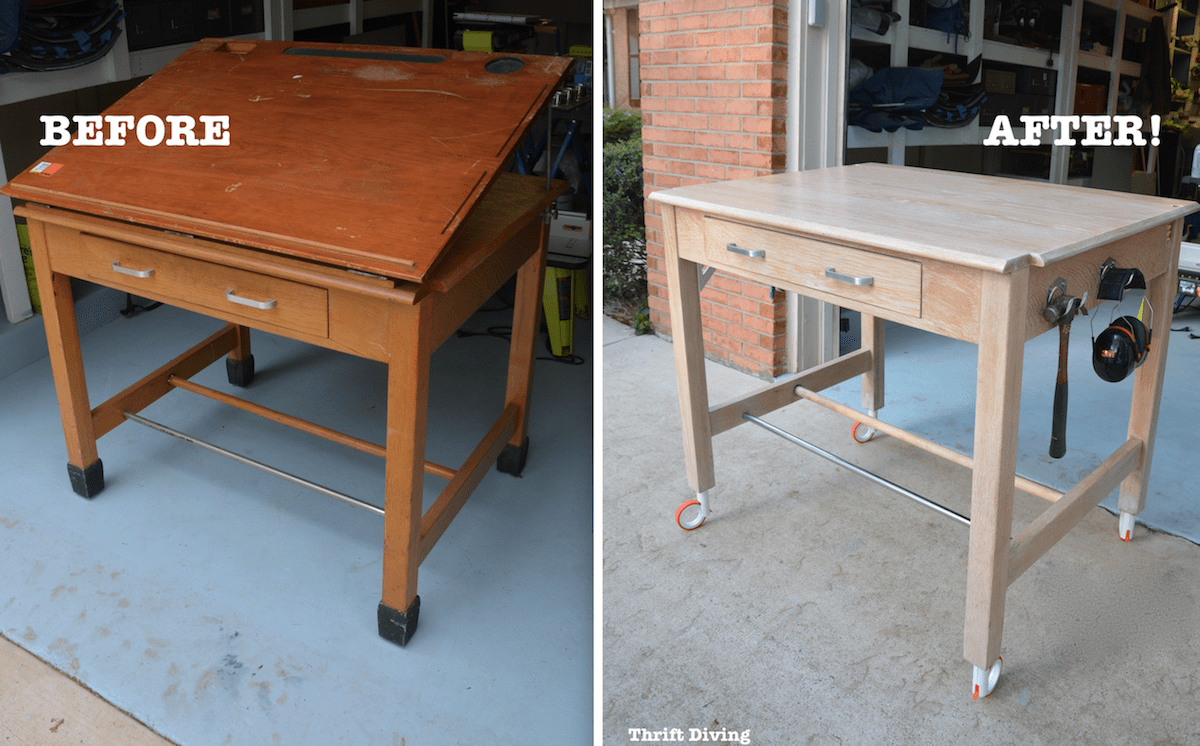 But if you'll remember, I set aside the drafting table top.
Several of you asked if I was going to do something with it.
But of course, you guys!! 🙂 The question wasn't if I was going to do anything with it, but rather, when.
And that time was this week when I turned the old worn drafting table top into a DIY eat-in kitchen table! that looked like this:
This is what it looked like before I started the project.
BEFORE
Afterward, it became this super cute functional eat-in kitchen table for the kids to eat and do their homework!
AFTER!
Those Yummy Wood Tones!
Let me start by saying that I've fallen in the "I love wood tones" camp now.
It doesn't mean I am throwing away my paint brushes. No, ma'am.
But it means that if I can try to refinish something to bring out those yummy wood tones and wood grain, I'll at least attempt it first–if I have the time and desire–especially if it's "good wood."
Looking at this old scratched up, beat up drafting table top, it's hard to imagine anyone would consider that to be "good wood."
But it was solid and heavy–not that cardboard stuff that big box stores sell and try to markup to make you think you're buying top quality stuff! LOL
Nope–this table top was real wood (although I have no idea what species). I was going to at least attempt to refinish it back to life.
I was going to at least attempt to refinish it back to life.
RELATED: Understanding Wood: 7 Things You MUST Know About Wood Before Refinishing or Building Your Next Project
After refinishing the top, I saw what gorgeousness was lying beneath the wear and tear and I knew I had made the right decision to not paint the top!
Look at that grain!
Read next: When Should You NOT Paint Wood Furniture?
The stools were an old estate sale find that I picked up years ago, but over time, they got beat up. They were in perfect condition when I bought them, but over the years, they became sloppily painted or used as pedestals when I needed to spray paint something or test paint colors. Can't you tell?? 🙂
Now it was time to give them a second lease on life.
BEFORE
And yes, you can shorten barstools.
As you see above, the one on the right is the original height. The bar stool on the left I shortened years ago. But now, making DIY eat-in kitchen table, I needed both bar stools to be the same height and to fit comfortably under the kitchen table.
The fun part is that I got the kids involved! Little Kojo (who just started Kindergarten this week, by the way!!) and his brother, Ohene, painted one of the stools and I did the other one.
Overall, I was super excited at how the new eat-in kitchen table turned out!
The blue is very vibrant outdoors in natural light and I like how it complimented the mahogany stain on the eat in kitchen table top.
I've been using Beyond Paint on furniture pieces for the last several years (they're awesome sponsors of some of my projects!). For this project, I told them I wanted to paint something this gorgeous Navy color, although I have no idea what it would be until the very last minute. LOL
Sometimes I just have to wait for inspiration to strike and after looking at that table top in the garage, I knew the Navy color would make an amazing table base color.
Isn't it gorgeous??
Inside, in the dim light of my kitchen (which feels like a dark cave sometimes, LOL), the Navy takes on a deeper color.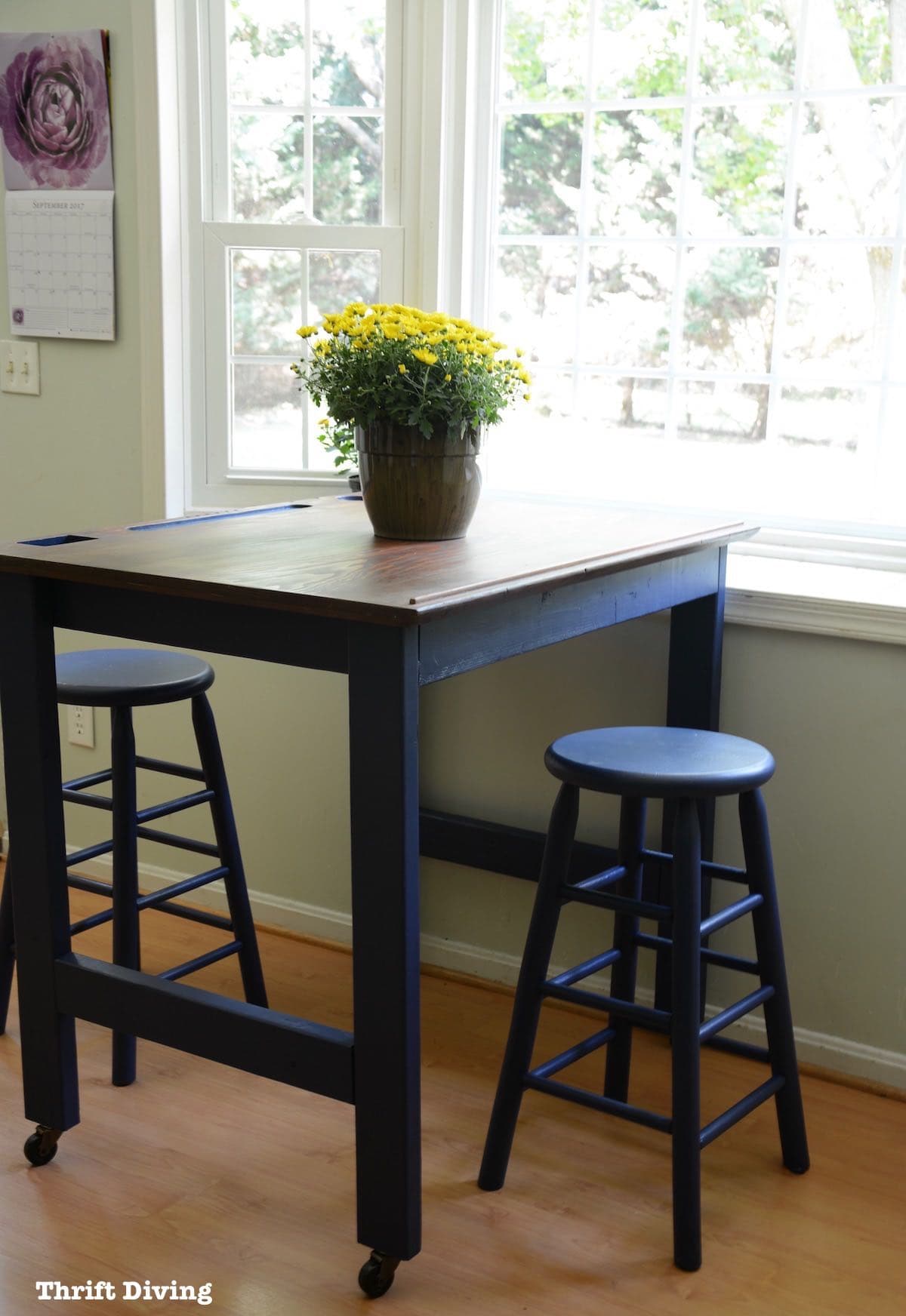 I Love Having an Eat-In Kitchen Table For the Kids!
It's embarrassing to say but my kids usually eat on the steps, like a pack of puppies at feasting time.
They're too messy to eat in the living room…and who wants to be away from the family in the lonesome dining room??
So the two step-down area of the kitchen that leads into my family room is where I've allowed them to eat in an attempt to contain their mess. But they don't deserve to be sitting there all cramped up, scooping their food off their plates like animals (well-loved animals, of course….).
With school starting, I wanted them to have a place to eat breakfast in the morning, a place to do schoolwork when they come home, and a place to sit and have a conversation while hubby or I am cooking.
(They look waaaay too serious here, LOL).
I like that the eat in kitchen placement is right next to the window.
It's right underneath this old pendant lamp that seriously needs a makeover or a replacement (much less a good wipe down!). LOL
Although I have done some things to the kitchen, it still needs a lot of sprucing up, such as a new pendant lamp, new ceiling lights, updated appliances, and new flooring. But those things will come in time.
Read more: How to Paint a Kitchen in Just a Few Hours
Next Steps for the Eat-In Kitchen Table!
The only thing missing from this eat-in kitchen table (that is bar stool height) is a foot rest.
My friend who you've known as Thrift Store Pete suggested I add a metal pipe with a metal flange like this one, so that it lends to the industrial look, makes it look cool, and provides a comfy place for people to rest their feet when sitting.
I'll have to head to the store to pick up those last materials. I also need a few more stools. Being a family of five, three of which are boys, two stools just ain't gonna cut it. LOL
But otherwise, I'm considering this eat in kitchen table done!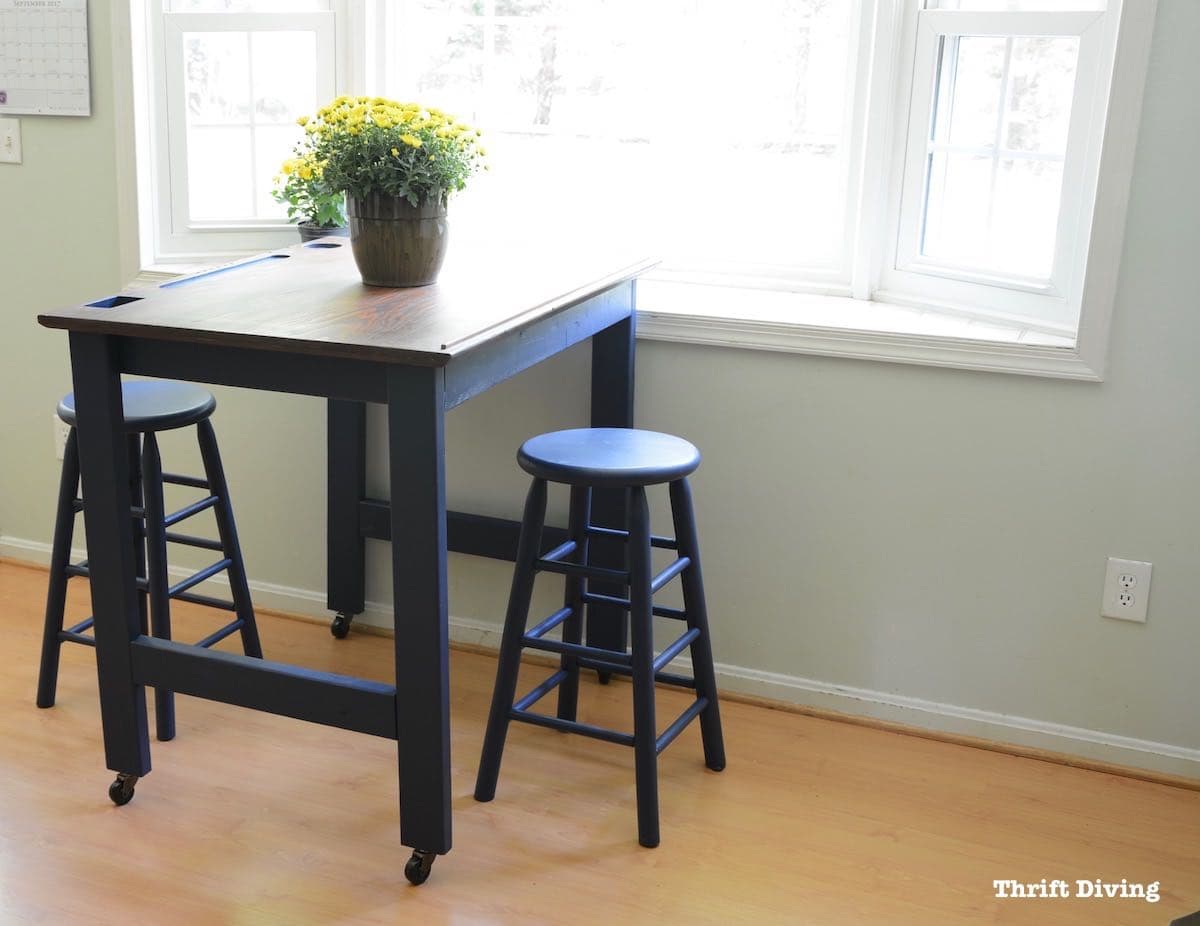 Do you like this project? Click HERE to pin it and show it some love! Save this pin for later!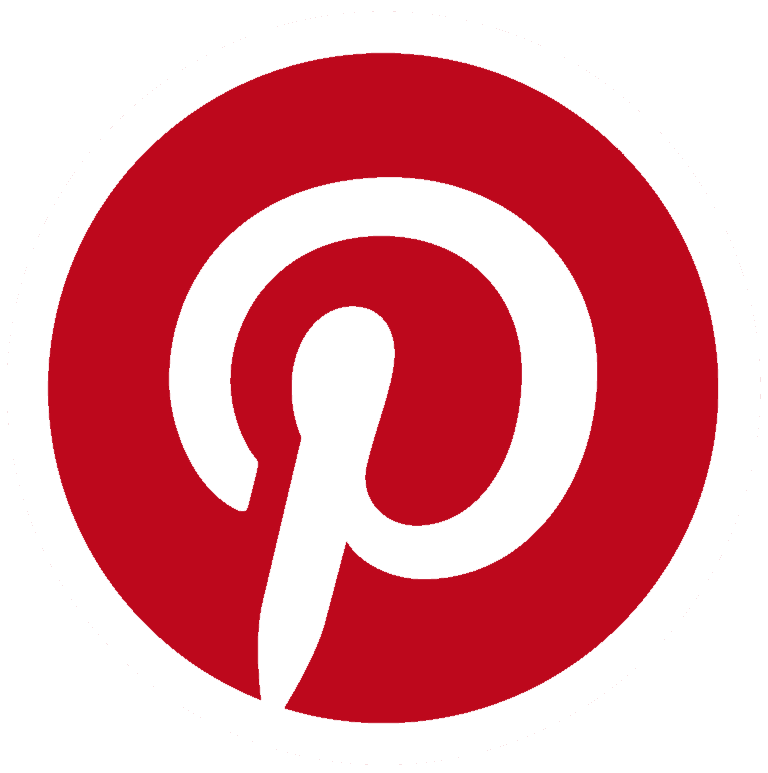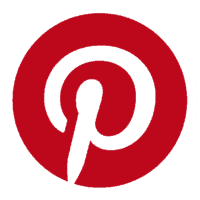 Get the Full Eat-In Kitchen Table Tutorial
This project was sponsored by Beyond Paint, with whom I love collaborating! I wrote up the full-length tutorial for this project over on their blog, which will be available next week!
I'll be sure to keep you posted when the written tutorial is available so you can pin it for later!
So What About You?
Do you have an eat-in kitchen table in your kitchen? Is your kitchen a place where your family gathers to eat, do homework, and socialize, too?
Leave a comment and let's chat about our eat-in kitchens!

Download the 5 freebies!
Thrift Diving inspires women to decorate, improve, and maintain their home themselves...using paint, power tools, and thrift stores! Use these 5 printables, checklists, and ebooks to get started!