I can't tell you how long I've been wanting to build a DIY fire pit in my backyard. But when you can barely manage to finish projects inside of the house, the outside seems that much less important, doesn't it?
This month is different, though.
My readers and I have been tackling our outdoors for this 30-Day Outdoor Overhaul Makeover Challenge, and if now wasn't the time to install a fire pit, when??
I'll admit that I'm not much of an entertainer. But a couple times a year, I love to invite friends and family over and just sit back and enjoy this part of our home that we don't use often.
I mean, we're paying property taxes for a quarter acre, so why the heck do we use only 500 sq. ft of our home on any given day?!
Makes no sense, does it?! 🙂
Plus, I envision sitting around the fire pit, sipping wine, reading a good novel, and just taking a load off.
Doing this project this month was the perfect opportunity to get it done once and for all. But the best part is that it that even the most tools-adverse homeowner can do it because I used an easy DIY fire pit kit that you can buy from any big box home improvement store.
And to top it all off, the day that I built this fire pit, my middle son, Ohene, stayed home with more for "Take Your Child to Work Day."
Of course, for him it was all about trying to get a day off from school.
But I was going to work his little butt. HA!
So let's jump into it!
Watch This DIY Fire Pit Tutorial!
How to Build a DIY Fire Pit In Your Backyard
The instructions for this fire pit kit says "1-hour beginner," but I can tell you that it took us all day. HA!
I'd like to blame it on Ohene slowing me down…
But without the distraction, I think it can easily be done in about 2 hours, depending on how fast you can move bricks, dig, and stack.
Here's what you'll need.
Materials for a DIY Fire Pit
Fire Pit kit (comes with 36 bricks and a fire pit ring insert)
Shovels
Tape measure
Gravel
Paver Sand
Tamper
Level
Tape Measure
Construction adhesive
Caulk gun
Mallet
Wheelbarrow
STEP 1: Call 811 Before You Dig
Did you know that before you dig anywhere on your property, you should call 811 in order to have someone come and mark on your property where your buried utility lines are??
Yep!
It doesn't matter if you're installing a mailbox…planting trees or shrubs…or installing a fire pit. You should definitely call just to be safe.
Because if you hit a utility, guess who's financially responsible to repair it?
You, my friend! 🙂
They usually come pretty quickly. And since you're building the fire pit in the backyard, it's unlikely (but not impossible) for the utility lines to run through your backyard. But juuuusssttt so you know.
STEP 2: How Far Will Your Fire Pit be From the House?
This is another thing you have to do before you build a fire pit: check your county code!
How far will your fire pit need to be from your house?
Here in Montgomery County, Maryland, the code says that fire pits must be at least 20 feet "from any structure."
Ummm….does that mean, 20 feet from the edge of my patio…? Or 20 feet from the brick of my house?
I had no idea what they meant by "any structure." I even tried to call for clarification, but they just kept repeating: any structure. Sounded like they really didn't know, either.
So to be safe, I decided to move my DIY fire pit back another 5 feet so that it was 20 feet from the edge of my patio.
I also made sure that it was 20 feet from the side fence.
I don't know about you, but I have some crappy neighbors who have been known to report me for insane things, like operating a business out of my home (totally legal to blog at home without a permit!). So I could imagine my neighbor calling to report that I've got a fire pit in my backyard.
Making sure that my fire pit is up to code means one less thing I have to worry about. Plus, if we ever sell our house, I won't have to worry about moving it when an home inspector comes through looking for any infraction!
STEP 3: Place Your First Layer of Fire Pit Bricks
Let's talk a moment about where to buy fire pit bricks.
I went to a couple of big box stores (who shall remain nameless….LOL) and could not for the life of me find simple fire pit bricks. I don't know if I just wasn't looking properly or what it was. But I couldn't just buy the individual bricks like these. I had to actually buy the entire kit, which was $199!
That was a steep purchase, but I knew that it was something we'd use for years to come, so I willing to invest the cash.
But I was disappointed that I couldn't just buy the fire pit bricks like that as stand-alone bricks.
Anyhow, the kit came with these type of heavy bricks and the fire pit ring.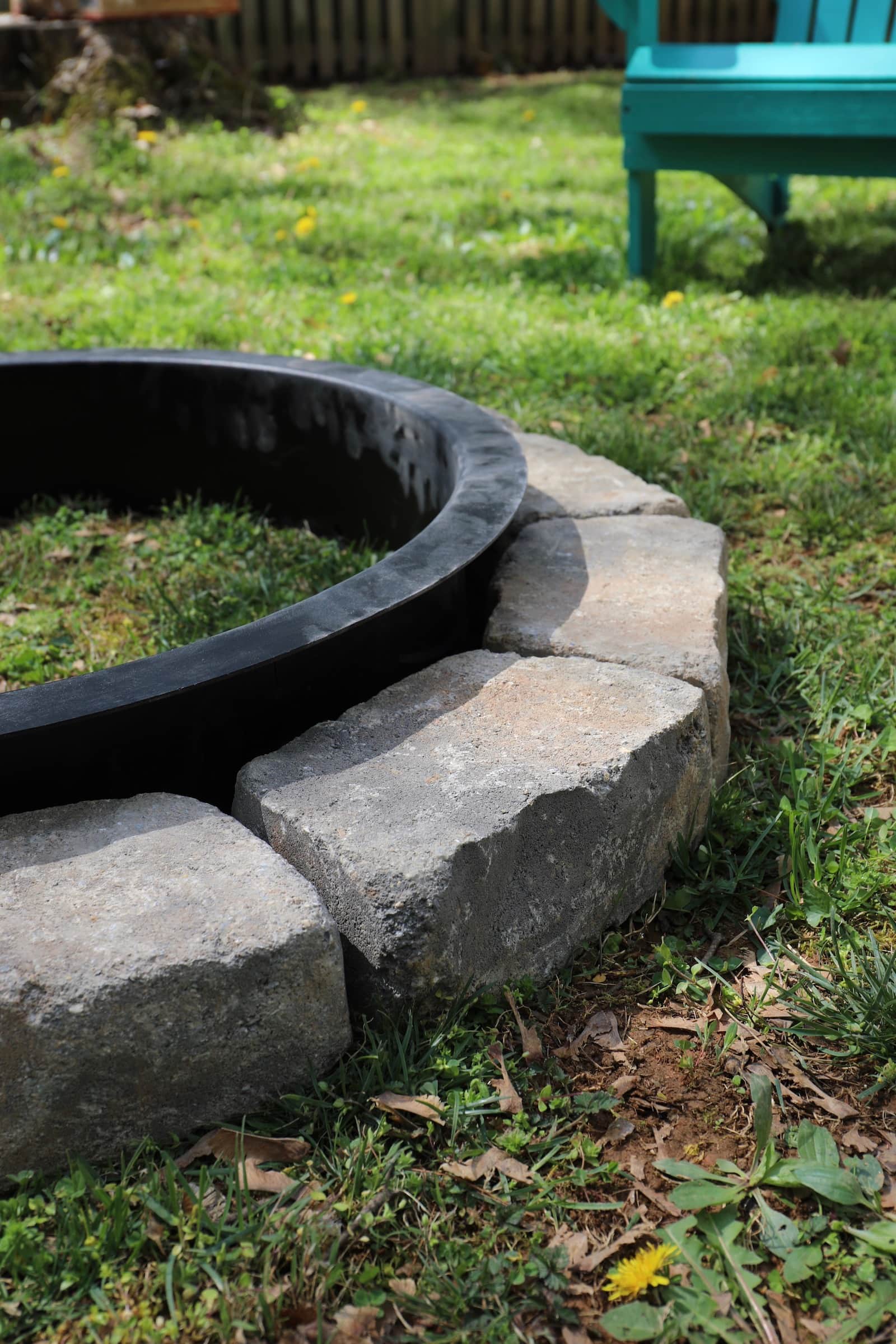 I laid out the first layer of the bricks at the 20-feet mark, adding the ring so that I knew exactly where I would be placing it in the yard.
STEP 4: Mark the Circle Around the Bricks
You could mark it with spray paint, but I just used a shovel to dig around the perimeter of the fire pit bricks.
Then I moved them out of the way and started digging a little deeper to create that fire pit circle.
STEP 5: Dig Down 2 Inches
My husband thought I should have dug down more than 2 inches, but if you're only using 3 layers of bricks, you don't want to completely bury the first layer. That makes no sense. Who wants to end up with a fire pit that's only a foot high? 🙂
So I followed the kit instructions and dug down 2 inches. It was hard to gauge whether I was digging down evenly enough. So I just eyeballed it as best as I could.
STEP 6: Add a Little Bit of Paver Sand and Tamper It Down
Using paver sand under a fire pit helps to level the ground and provide some stability for the bricks.
We added about 1.5″ to 2″ of paver sand…..tossed some water on it to help make it compact…..and then tampered it.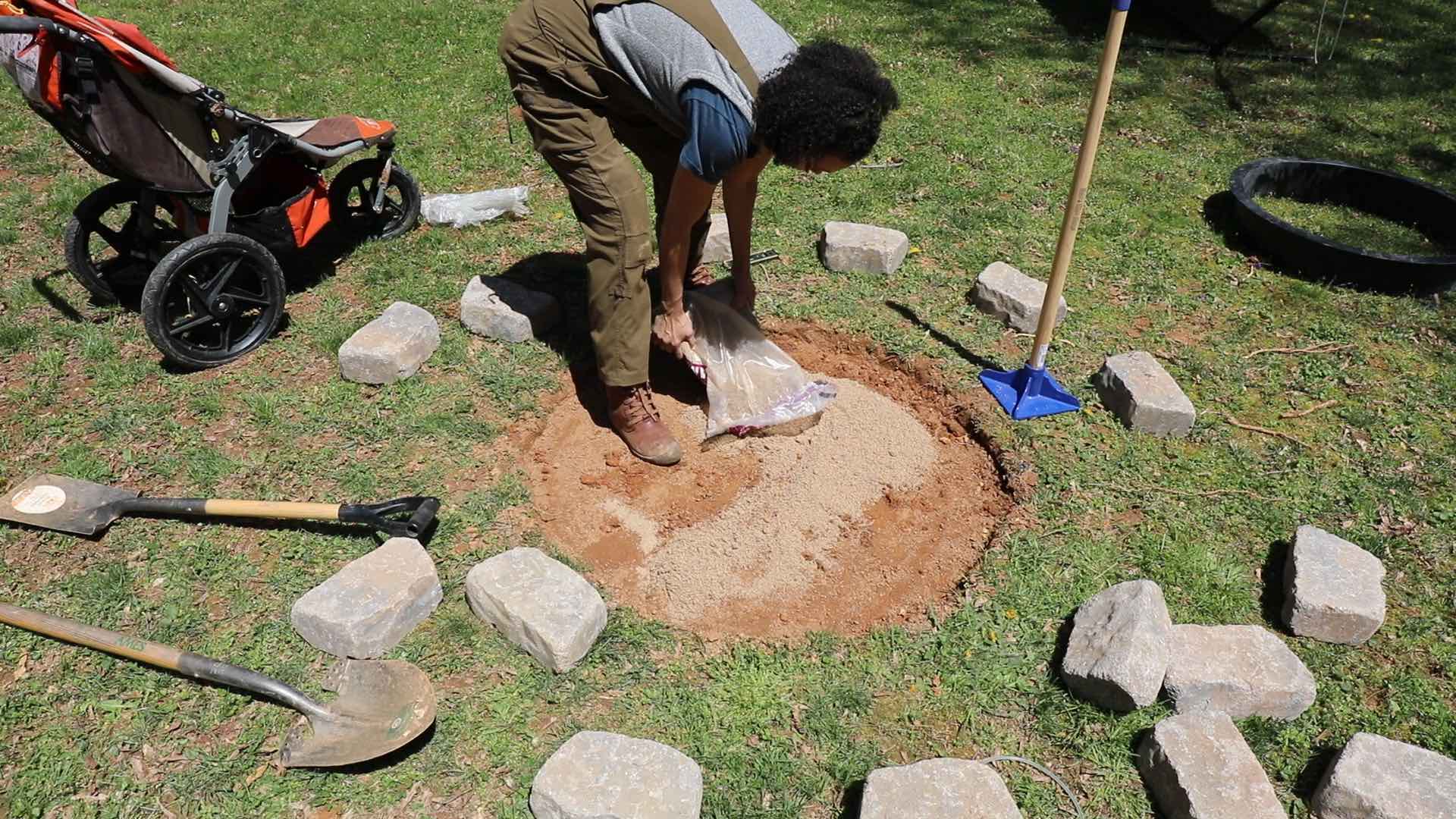 You can't tamper more than about 2″ at a time, so after that was tampered down, I added the second bag of paver sand with some water on top, and tampered again.
STEP 7: Check For Level
Grrrr…..this is the one step I forgot to do after adding the paver sand, even though the directions clearly say to check!
We just started playing the first layer of bricks on top of the payer sand.

My yard is a bit sloped. I didn't realize it until after I was 2 layers into it and realized–oh, crap–my fire pit is about 1″ sloped on one side!
So unless you want a crooked fire pit like mine, make sure you check the level of the paver sand before adding your fire pit bricks!
Now, one thing I did do was check that every two bricks lined up together was level. Otherwise, when the next layer was stacked on top, it would rock back and forth.
I don't mind a fire pit that slopes a bit, but rocking bricks??
Huh uh.
That ain't gonna work. This thing needed to at least be steady! 🙂
So I made some small adjustments and that seemed to help, including using a rubber mallet to help adjust them.
When I checked the level after test-fitting two layers, that is when I realized my leveling mistake. [insert forehead slap here].
But there was no way I was starting over. Bump that!
I was going to keep going.
Who's going to notice a little DIY homeowner error, anyway?? 😉

STEP 8: Use Construction Adhesive to Glue Bricks
I found it a little difficult to glue the fire pit bricks with the construction adhesive.
I mean, it wasn't difficult to do, but because the bricks were slightly uneven in texture, they weren't quite squishing together, so I felt like I had to load up on the construction adhesive to make sure that there was a tight bond.
There wasn't a lot of rocking between the bricks when I was done, so I guess the amount I used was enough!
When stacking the bricks, I made sure to stagger the seams, as you see here.
All three layers of the DIY fire pit were glued together.
STEP 9: Insert the Heat-Resistant Ring
The heat-resistant fire pit ring was probably the most expensive part of the kit.
Individually, they're about $60 – $100.
They serve a purpose, though, by helping to protect the bricks. The high-heat dries out the bricks and makes them break down much sooner if they're not protected. Soooo…if you want your fire pit to last, yep–you should use one.
STEP 10: Add Crushed Gravel
The fire pit kit called for 3 bags of gravel. It also helps to protect the bottom of the bricks that are exposed and aren't covered by the fire pit ring.
I don't think 3 bags was enough, though, because my bricks were still peeking out from the bottom of the ring. The gravel didn't quite cover it, so I'll need to get more. Maybe 1-2 more bags.
All Done! My New DIY Fire Pit!
This really was an easy DIY fire pit!
My husband wasn't thrilled about it (is he ever thrilled about any of my projects?? LOL). He didn't think it was needed.
But I disagree. There's nothing better than sitting by a fire, roasting marshmallows, engaged in relaxing conversation with the people that matter the most to you.
The best thing about this project is that I got to spend the day with my middle son, Ohene!
It's true what they say: that when you've got 3 kids, the middle son usually gets shafted because they're….well….the middle child!
So I'm really glad that he came up with the idea of staying home for "Take Your Child to Work" day!
And yes, he was sore the next day from lifting bricks! And here he thought he was just going to stay home and play video games…..HA!
(You can watch the entire video and see the funny outtakes at the end of our How to Build a Fire Pit tutorial on my YouTube channel!)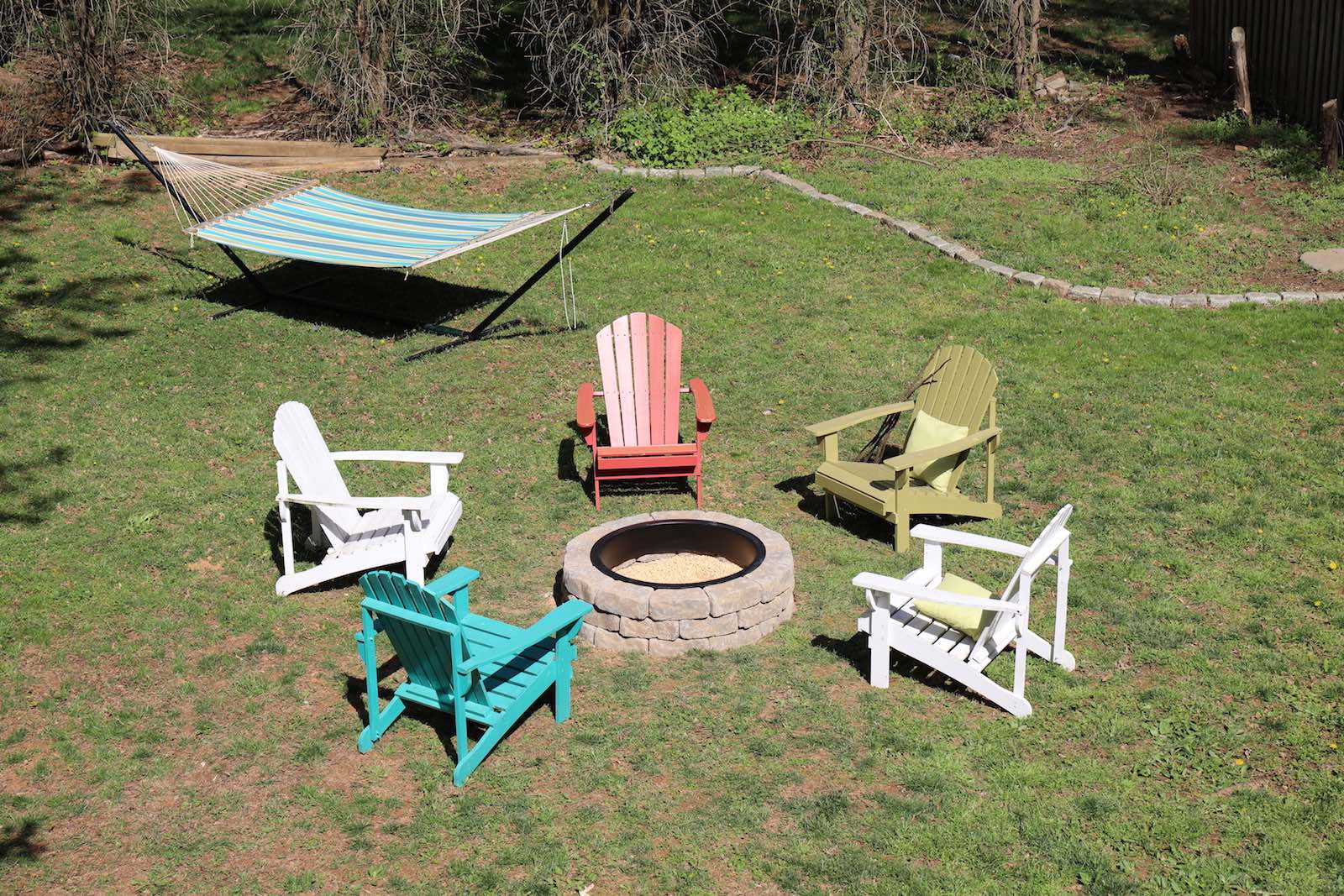 Ahhhh…..now I'm ready for marshmallows and wine…..
Have you been wondering how to build a DIY fire pit in your backyard? Well, it's much easier than you thought, and it will bring many years of memories for your family!
I know it already has for mine! 🙂

Download the 5 freebies!
Thrift Diving inspires women to decorate, improve, and maintain their home themselves...using paint, power tools, and thrift stores! Use these 5 printables, checklists, and ebooks to get started!