BEFORE & AFTER: The Makeover of a Roadside Book Shelf
When you're cruising along at 45 mph and see this on the side of the road for–gasp!–$35, YOU MUST bust a "u-ee" and scoop it up–quick!!
….Because, seriously…..that….can easily turn into this…..with just a little bit of Annie Sloan "Pure White" paint, pretty scrapbooking paper…and some Mod Podge adhesive.
I've been wanting a
reading room
soooooo bad–a place where we can all curl up with a good book (OMG, if you haven't read the Game of Thrones 5-book series, you need to get it. It's amazing!! I'm on Book #2). And I knew I wanted some shelves that weren't going to bankrupt me.
Oh, yeah–and the guy was actually selling TWO shelves!
Not bad for $70, eh?? Solid, hardwood shelves. AND he delivered them for free 😉
How to Mod Podge Furniture
…in this case, a bookcase!
Materials:
A book shelf in good condition.
Paper (scrapbooking, newsprint, pictures, even fabric!) Have extra on-hand for mistakes.
Mod Podge glue (found at the craft store).
Paint brush or sponge.
A paper cutter or scissors.
A brayer (a roller for smoothing out material after Mod Podged).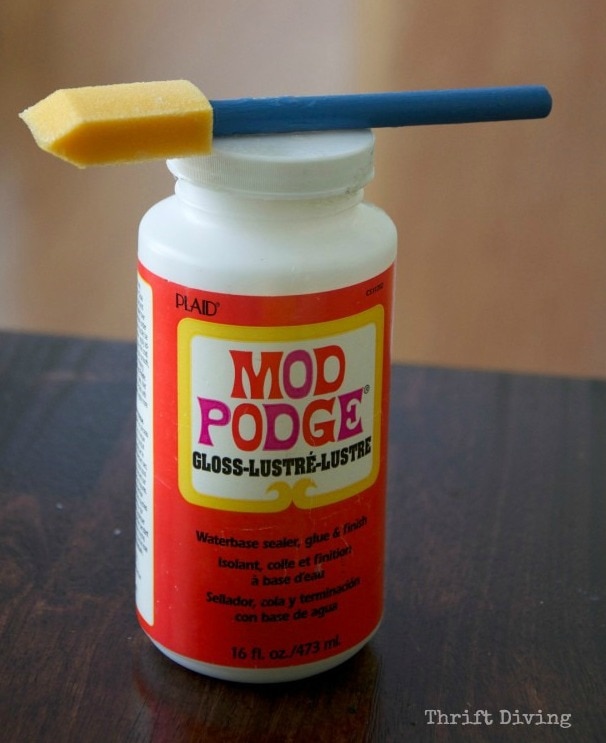 Lay out your paper or material you'll be using to Mod Podge. Cut all the pieces you'll need. TIP: If you're using light/thin colored material, you can slighly overlap its sides. For thicker material, you'll want to cut it exactly to reduce bulk.
What To Do:
Paint all parts of the book shelf, leaving the areas that will be Mod Podged free of paint.
Mod Podge the shelf–NOT the paper (otherwise, if you're using paper, it will get soggy before applying).
Apply paper/material and use the brayer to roll out bubbles. Don't expect perfection if it's your first time!
Hide smaller strips in inconspicuous places where the seams won't be as noticeable, such as where the shelf will cover it.
Apply a final coat of Mod Podge to the top layer of the paper/material. Don't worry that it's milky; it will dry clear! This will lock out moisture and wetness and preserve the material.
Ta-da! A cool addition to your decor, for super cheap.
My Reading Room
So this book shelf is going into the reading room that I am working on, which is traditionally known as the "
formal living room
." It's still a loooonnng way from being done, and still feels so damn BARE! I've painted thus far. GORGEOUS, huh?
It's Sherwin Williams "Window Pane" and is to die for! Feels so fresh…………..
This is the color it used to be–nasty, uninspiring beige.
And, you know….I love turquoise so much, that I think I'm going to paint my whole freakin' house in turquoise! Oh–that's right, I almost have:
master bedroom
, half bath,
crafting room
, aaaaaannnnd, now the reading room.
My hubby is a very forgiving sorta guy…..Thanks, baby. 😉
Download the 5 freebies!
Thrift Diving inspires women to decorate, improve, and maintain their home themselves...using paint, power tools, and thrift stores! Use these 5 printables, checklists, and ebooks to get started!