How to Make DIY Picture Frames With a Miter Box
Watch This Project: DIY Picture Frames With a Miter Box
As much as I love power tools, I do realize that not everyone who reads this blog has them, which is why I wanted to put together a tutorial on how to make picture frames with a miter box instead.
And what's awesome is that you can literally frame anything or any size just by cutting it to the length you need.
Forget pulling out the intimidating tools…
Now we can easily frame anything (pictures, bathroom mirrors, printables–you name it) with our own picture frames, no matter how big or small!
Materials Needed to Make DIY Picture Frames
In fact, the only tools and materials you need are:
(I participant in the Amazon Services LLC Associates Program, an affiliate advertising program designed to provide a means for me to earn fees by linking to Amazon.com and affiliated sites).
Picture Frame Molding is GENIUS!
I know that picture frame molding wasn't invented, like, yesterday. 🙂
But since I have always bought frames from the thrift store and have never tried to make my own DIY picture frames, I had no idea it even existed!
Typically, when making your own picture frames, you need a router (or a table saw) to create this groove called a rabbet (sounds like "rabbit").
But picture frame molding already comes routed with a rabbet cut (in various depths), so all you have to do is cut the molding at 45-degree angles and–VOILA!–you've got a picture frame.
If you check Amazon, there are a bunch of options for picture frame molding.
Your local home improvement store likely only has a simple wood one like the one I'm using in this project.
Anyhow, instead of using a powerful compound miter saw power tool to cut the 45-degree angles, we'll be using a hand-held miter box to do it.
No power tools! 🙂
How to Make DIY Picture Frames Using a Miter Box
Here are the simple steps for making your own picture frames.
STEP 1 – Set Up Your Miter Box
Even if you've got power tools, you'll want to add a miter box to your DIY toolkit.
For about $10 or less (check this one out on Amazon), you can easily cut thin pieces of wood and molding without having to use power tools.
Of course, a compound miter saw is much easier, but not everyone has a big 'ole power tool accessible to them, right? Or even the space to house it. A miter box can easily be tucked away, though.
Plus, sometimes it's easier to use a miter box for a quick and easy little cut.
Before you begin cutting, though, tightly clamp the miter box to a tabletop that's sturdy–maybe a dining room table, a sturdy workstation, etc.
Be sure the clamps don't get in the way of the wood, though.
Place the picture frame molding against the miter box.
There are three ways you can cut wood with a miter box:
Position #1 – Cut the wood at a straight 90-degree.
Position #2 – Cut the wood at 45-degrees THIS way….
Position #3 – Cut the wood at 45-degrees THAT way….
The first cut is usually at 45 degrees (as shown on the left side of the wood below).
With this cut, we'll be able to measure how wide we need to make the DIY picture frames.
STEP 2: Measure How Wide to Cut Your DIY Picture Frame
For this project, I planned to frame a cleaning checklist for my kids to use to earn points towards an allowance.
(TIP: One viewer on Youtube had a great suggestion to laminate the cleaning checklist so that I can reuse it over and over again without having to print new ones or without removing it from the frame. Love that idea!).
After I printed out the checklist and trimmed it to the size I wanted, I simply placed it on the picture frame, lining up the left side, and then marking the width on the right side.
No measuring tape needed. 🙂
When cutting the right side of the picture frame molding with the miter box, line up this marked line…..
….with the edge of where the blade will cut.
STEP 3: Cut the Right Side of the Picture Frame
At that point, I was then ready to cut the other 45-degree angle.
This was the top piece of the picture frame.
NOTE: Since the picture frame molding can be a bit long, be sure to have someone support the longer side if you don't have a long table to support it. Otherwise, it may chip off like mine did when I sawed through it.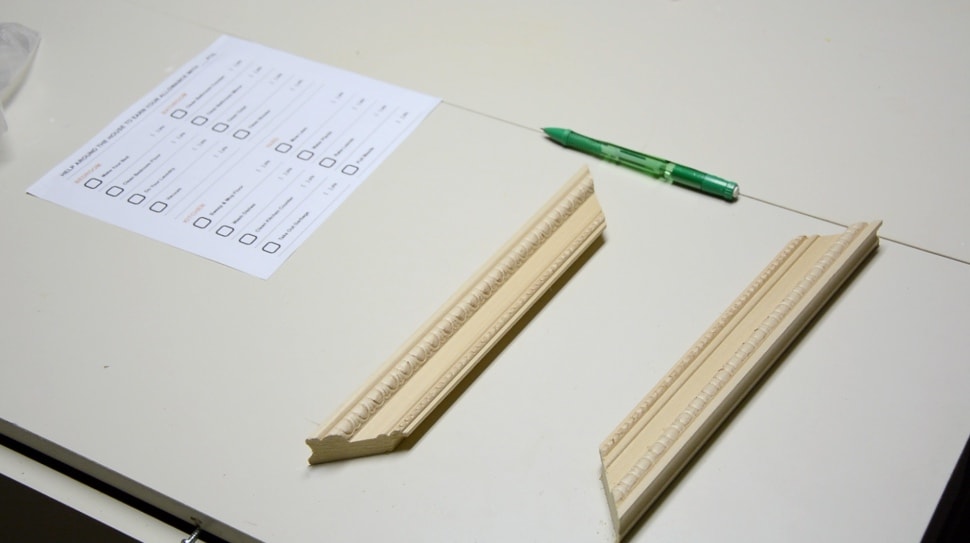 Since my picture cleaning checklist was a bit rectangular, the top and bottom were the same, and I re-measured to make the sides.
STEP 4: Cut and Glue the Pieces of the DIY Picture Frame
At this point, you should have all the pieces of the picture frame cut out.
If you're cutting something square, all 4 pieces will be the same length.
You're now ready to glue them together and then clamp them to dry.
You can use the miter saw to also make a privacy window screen, because the idea is the same: cut four pieces of wood using a miter box to create a frame. Only this window screen has a layer of fabric glued over the wooden frame. Very simple!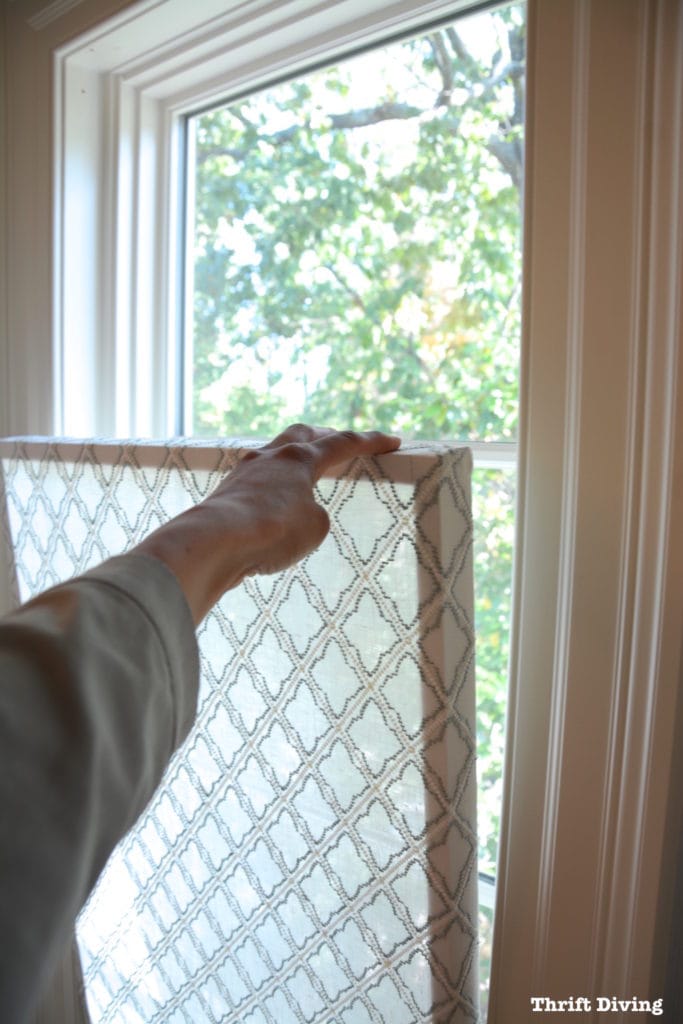 (Pssst! You can also get a large picture frame from the thrift store and frame fabric or anything else that's really pretty. If they have the size you need, why make your own?? 🙂
STEP 6: Cut Out a Piece of Cardboard
I don't know about you, but I get so many packages in the mail that it shouldn't be a problem to find a spare box lying around from which to cut a piece of backing for your DIY picture frame!
Using the checklist, I traced its shape, then cut it out with a utility knife.
It was a perfect fit! 🙂
STEP 7: Staple the DIY Picture Frame Together
Once the picture frame has had time to dry, remove the clamps and turn it over.
Use a stapler (I'm using this heavy duty stapler) to staple the frame together at the corners for extra reinforcement.
STEP 8: Attach Picture Hangers
I like the sawtooth picture hangers (they're less expensive) because they're very forgiving, even if you don't center them exactly.
They're super easy to attach with a hammer on the back.
Remember to place one on the top and on the side, in case you decide to later use your DIY picture frame in a different orientation later! 🙂
STEP 9: Sand Smooth
Using 150-grit sandpaper, sand the custom picture frame, paying particular attention to the corners where it can be a little sharp.
NOTE: If you got glue on the wood and didn't wipe it off properly, be sure to sand it off if you can. Otherwise, if you apply wood stain over glue, it will leave blotchy spots! Just a helpful tip. 🙂
STEP 10: Use a Light-Duty Stapler to Secure the Picture and Cardboard
For this project, I didn't get glass cut, but you can easily head to a local hardware store (check your local listings for who offers this service; not every home improvement store does).
I'm did end up laminating my checklist so that I can reuse it over and over without having to remove the back.
To secure the back, I used a light-duty stapler to staple into the edge of the wood in the back, which was enough to hold the cardboard and checklist inside.
The Final DIY Picture Frame!
I couldn't believe it was so easy to make! All those pieces of artwork that hubby has stashed in the closet can now be framed.
I'm not a professional framer so who knows if I'll stretch it properly, but this would be a pretty good DIY solution for framing!
You can leave it natural or paint it.
(Psst! Check out my post on 10 tips to create aewsome DIY wall art for your picture frames).
…or you can paint it like I did, laminate your checklist or printable, add a couple of layers of paint, lightly distress it, and there ya go! 🙂
(I used a layer of white on the frame, covered with a second coat of light blue, then lightly distressed the DIY picture frame).
You can frame pretty much anything, including favorite pictures!
Is It Cheaper to Make Your Own Frames?
That depends. Here's my final verdict on DIY picture frames:
YES
If have odd-shaped items that you'd like to frame, that would be too expensive to pay for custom-sized frames.
If you have a builder's grade bathroom mirror that you'd like to frame around it. Very easy to do!
NO
Picture frame molding can be expensive. The piece I bought was $12 and I had enough for this frame with a little left over for a smaller frame. A bit pricey, yes.
If you have common-shaped items (e.g. 4×6, 5×7, 8×10), then by all means, go buy picture frames from the thrift store. It's cheaper to do that.
Did you enjoy this tutorial? Then be sure to SAVE it on Pinterest!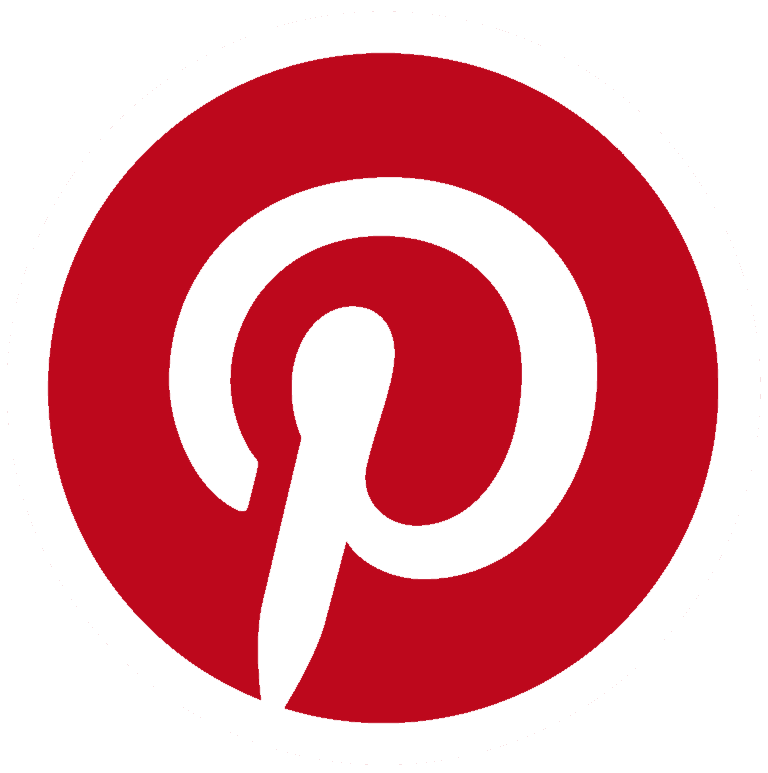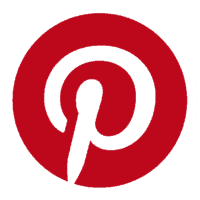 Have you ever made your own DIY picture frames? How did they turn out?
Be sure to check out my Project Gallery for more DIY projects!

Download the 5 freebies!
Thrift Diving inspires women to decorate, improve, and maintain their home themselves...using paint, power tools, and thrift stores! Use these 5 printables, checklists, and ebooks to get started!