Last month I did something scary: I decided I was going to learn how to reupholster a thrift store wingback chair.
I had found this vintage wingback chair for $60 one day on a spontaneous trip to my favorite thrift stores, Value Village and Unique Thrift here in Maryland.
I literally walked away from it, begrudgingly…..only because I hate the thought of lugging upholstered stuff home from the thrift store that can't get tossed in the washer and dryer. I am afraid that every fabric from the thrift store is infested with some nastiness that I don't want to bring into my house.
Finding a great desk or table is one thing……..finding a chair with lots of nooks and crannies for bugs to hide is another thing.
It freaks me out.
My vintage chair makeover that I reupholstered prior to this wingback chair was one of those "Oh, God, please let this thing be bug-free" and it sat in my garage forever waiting until I felt anything in it had died or crawled out. LOL…..whew, it was okay, thankfully. 🙂
Anyhow, the color of this wingback chair looked pretty, until I removed the cushion. If you were to look up sunbleached, I do believe you'd see a picture of the wingback chair next to it.
That meant one thing: this wingback chair must be reupholstered.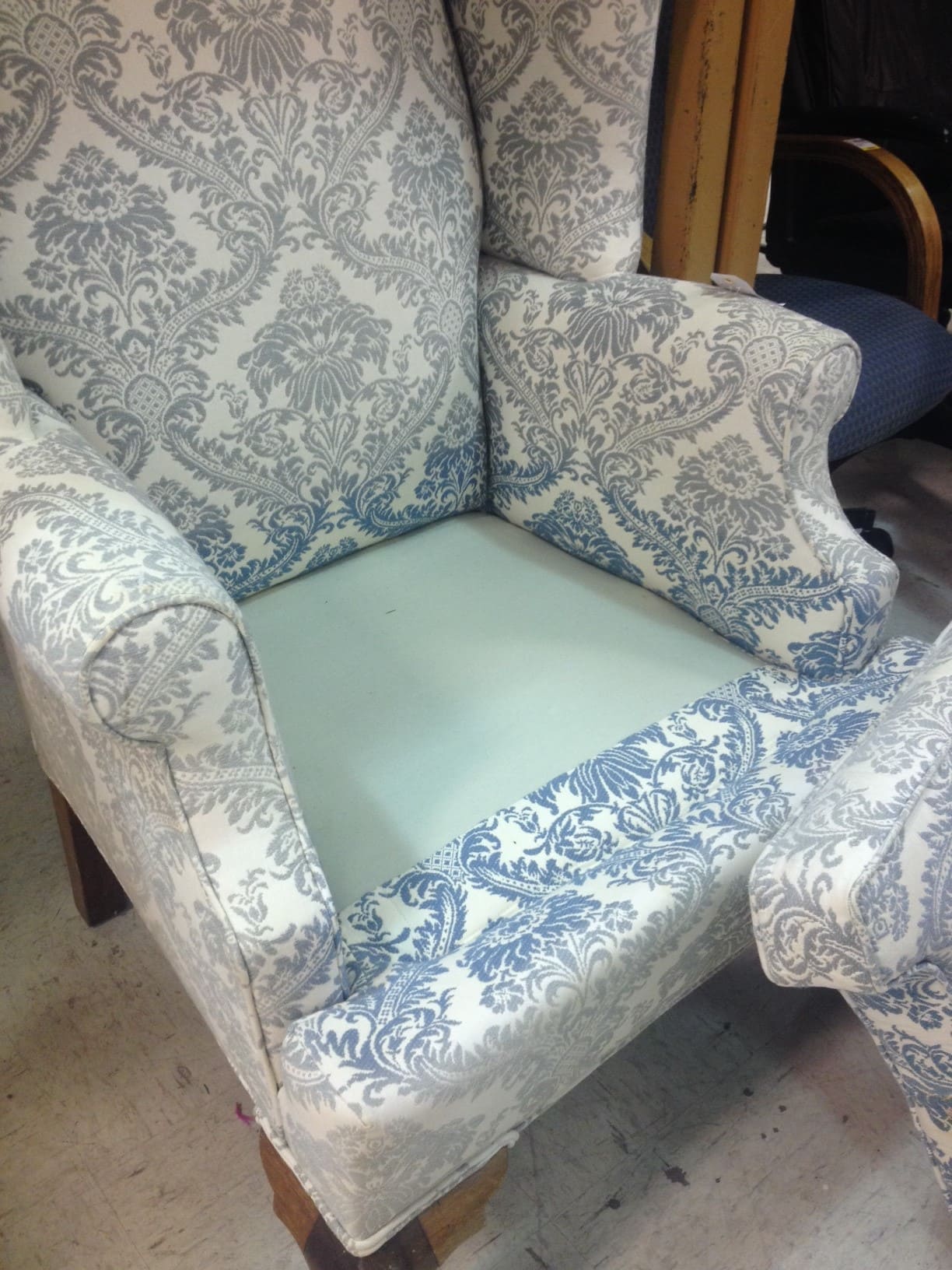 How to Reupholster a Wingback Chair From the Thrift Store
I signed up for an upholstery class and decided to tackle this behemoth of a chair: a $60 wingback chair that sat in my garage for a whopping 4 years.
The biggest worry was: how in the world do I start this project??
It looked like such a solid chair, so where did I start ripping and tearing? And how in the world would I get it back together again??
Clearly, I won't complete this project this weekend…
But as I complete sections of it, I'll be updating this blog post with new videos, many more pictures, and a bunch of reupholstering tips that I've learned along the way!
Anyhow, this is what this gorgeous chair looked like before I got started.
You may be thinking, "But that fabric is gorgeous!"
Yes, I agree.
But what you don't see is that the fabric isn't really gray….
BEFORE
The chair smelled very old and disgusting, like a neglected piece of wonderful that just needed a facelift.

In Progress!
After hours of tentatively tearing down this wingback chair, this reupholstered wingback chair is getting a makeover!
The new webbing is in (see below) and the rest of the chair needs to be cleaned up.
But overall, I've made progress! And it feels wonderful.
Because this project is so huge, I will be posting updates to this blog post as I complete it.
For now, though, let's jump right in and see what progress has been made!
Materials Needed to Reupholster a Wingback Chair
8 yards of fabric
Pliers
Staple lifter
Webbing
Webbing Stretcher
Cording
Batting
Dacron
Spring twine
Dust cover
Upholstery stapler
3/8 staples
Cardboard stabilizer
Curve Ease
I'll admit to you: reupholstering a wingback chair is expensive. This project is not for someone who's pocketbook is light on cash. HA!
I mean…not that I have money coming out the wazoo or anything…I actually didn't realize until after I dove into this project how expensive it was. As I delve into this project, we'll talk more about materials as I start to reupholster the chair.
For now, watch the evolution of this wingback chair makeover below through all the footage I have been filming and posting on my YouTube channel!
Part 1: How to Reupholster a Wingback Chair
In this video, go inside with me to my upholstery class and see how to get started with taking a wingback chair apart. This was the scariest part because I had no idea how to get started! Once I started removing pieces, layer by layer, it wasn't too difficult! Time-consuming, yes….
Difficult?
Not at all!
Part 2: How to Reupholster a Wingback Chair
In this video, I continue to tear down the chair, learning some valuable reupholstery skills along the way.
Part 3: How to Reupholster a Wingback Chair
In this video, I finally finished 99% of the tearing down of this chair, followed by attaching the new webbing.
I learned how to stretch webbing and how to secure it into place!
Also, don't miss the reveal of the gorgeous fabric I selected for this chair!
Part 4: How to Reupholster a Wingback Chair – Replacing the Seat Springs
It took a bit of time to tie down the springs and to tie them together. I have to admit that I was nervous about this part because it looked so complicated! But with a little bit of practice, I did it! See how the seat springs turned out!
Part 5: How to Reupholster a Wingback Chair – Finishing Springs, Webbing, Coconut Fiber Filling
In this video, you'll see how I stitched in the coconut fiber to the seat using a double-pointed needle and twine.
Part 6: How to Reupholster a Wingback Chair – Create a Pattern for Seat and Arms and Sewing
By this point, all of the burlap pieces should be added to the chair, however, in this case, there is still layer of burlap that is needed to cover the back of the chair, along with stitching down the coconut fiber to the back of the chair.
However, for this part of the wingback chair makeover, we could get started on the front of the seat and the arms. Keep watching to see the progress made!

Download the 5 freebies!
Thrift Diving inspires women to decorate, improve, and maintain their home themselves...using paint, power tools, and thrift stores! Use these 5 printables, checklists, and ebooks to get started!