Ten "Come Backs" to Rude Insults About Thrift Stores
Some people just don't "get" thrift stores. Okay, so you've got Macklemore (or however you spell his name) rappin' about how cool thrift diving is. And it's generally accepted! In fact, when you thrift dive nowadays, you get extra "cool" points.
But even though it's considered hip and trendy now to buy other people's used junk and then rock it, some people are still clueless.
And some can be downright MEAN.
And I'm sure if you're as thrift store obsessed as me, you've come across that ONE jerk who says the most insulting things to you about thrift stores.
When that happens, shock them.
Give them something to REALLY talk about! Hell, have a little fun with it!
Here's a list of 10 creative things you can DO or SAY to people (or even friends!!) that think they're doing you a favor by insulting your thrift obsession: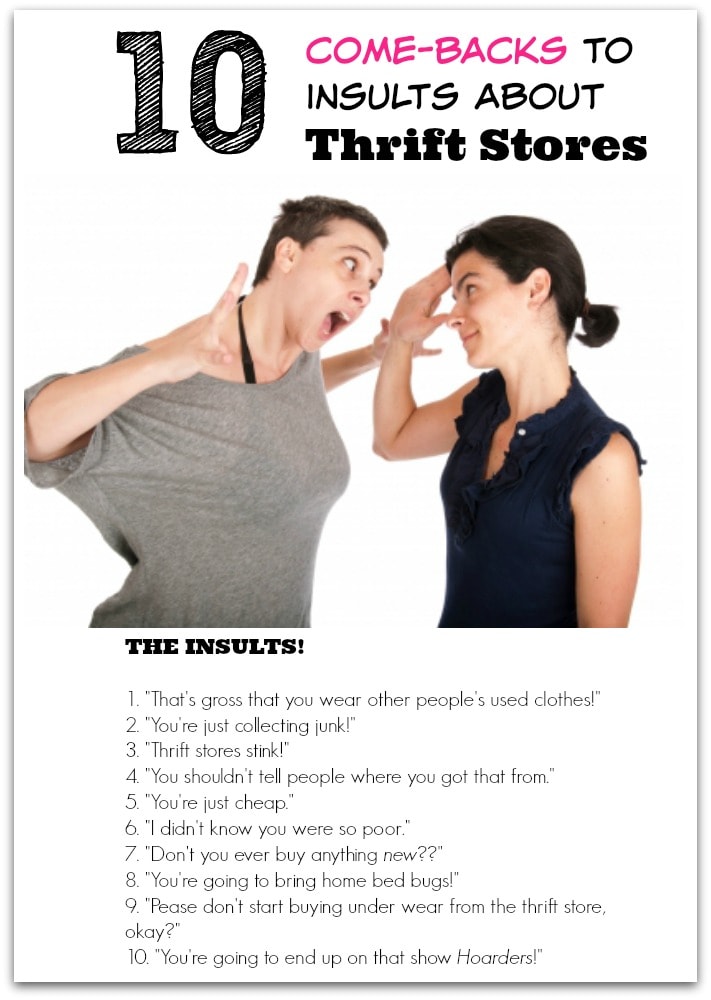 INSULT #1: "That's gross that you wear other people's used clothes!"
COME-BACK #1: "Oh, they did me a favor! They broke in these jeans for me. New clothes just make me itch."
INSULT #2: "You're just collecting junk."



COME BACK#2: "Yeah, all this 'junk' only earned me an extra $5,000 this year on eBay when I sold it to people like you searching for 'vintage' treasures."
INSULT #3: "Thrift stores stink."
COME BACK #3: "It's actually a special scent that management sprays inside to keep people like you away."
INSULT #4: "You shouldn't tell people where you got that from."
COME BACK #4: "I also shouldn't tell people that I know you, now, should I? But I just can't keep my mouth shut."
INSULT #5: "You're just cheap!"
COME BACK #5 "OMG, we have so much in common! Your ex-boyfriend said the same thing about you when he woke up with you the next morning after your first date! Well, whatdaya know!"
INSULT #6: "I didn't know you were so poor."
COME BACK #6: "Yeah! I mean, after I spent all my money on my iPad, Nikon DSLR, and iMac, I can't afford anything!!"
INSULT #7: "Don't you ever buy anything NEW?"
COME BACK #7: "Yes. I plan to buy some new friends as soon as we're done this conversation. Are we finished yet?"
INSULT #8: "You're going to bring home BED BUGS!"
COME BACK #8: Immediately insert scratching of various body parts here. "No I'm not. I heard that bed bugs can't survive on anything but mattresses." Insert imaginary picking of little bugs off your shoulder and flick at the offending jerk.
INSULT #9: "Please don't start buying UNDERWEAR from thrift stores, okay??"
COME BACK #9: "Underwear?? Who wears UNDERWEAR anymore?? That's soooo '90s!"
INSULT #10: "You're going to end up on 'Hoarders.'"
COME BACK #10: "Oh, you didn't know?! TLC has this new "Hoarders At Home" challenge! I've submitted my application! The winner gets a $10,000 shopping spree to the Goodwill!! Cross your fingers for me!!"
Now You're Armed and Ready….
If anyone dares to mess with your thrift obsession, you have some pretty cool "come-backs" to put them in their place 🙂
I'm curious to know what sorts of ignorant comments you've received about thrift stores and how you've responded to them. Leave a comment below to add to the discussion!

Image courtesy of DigitalPhotos.net
Download the 5 freebies!
Thrift Diving inspires women to decorate, improve, and maintain their home themselves...using paint, power tools, and thrift stores! Use these 5 printables, checklists, and ebooks to get started!