As I said in my last post on how to remove a toilet yourself: every homeowner should know how to remove a toilet. They should also know how to install a toilet, too!
Paying a plumber to remove and install a new toilet in your home is about $100 – $150, and that's not including the price of the toilet. Why not just do it yourself and use the saved money towards new paint…new bath mats and towels… You get the idea.
Anyhow, here is what my toilet looked like (see below).
It wasn't in bad condition, but it was small, short, and we wanted something ADA-compliant. You don't have to bend as much to use it. 😉
And since the floor was being redone, the old toilet needed to come out.
BEFORE
AFTER
This is what the new toilet looks like now!
Doesn't it look amazing in my new lavender bathroom makeover?!
(Click here to see the entire BEFORE & AFTER master bathroom transformation!)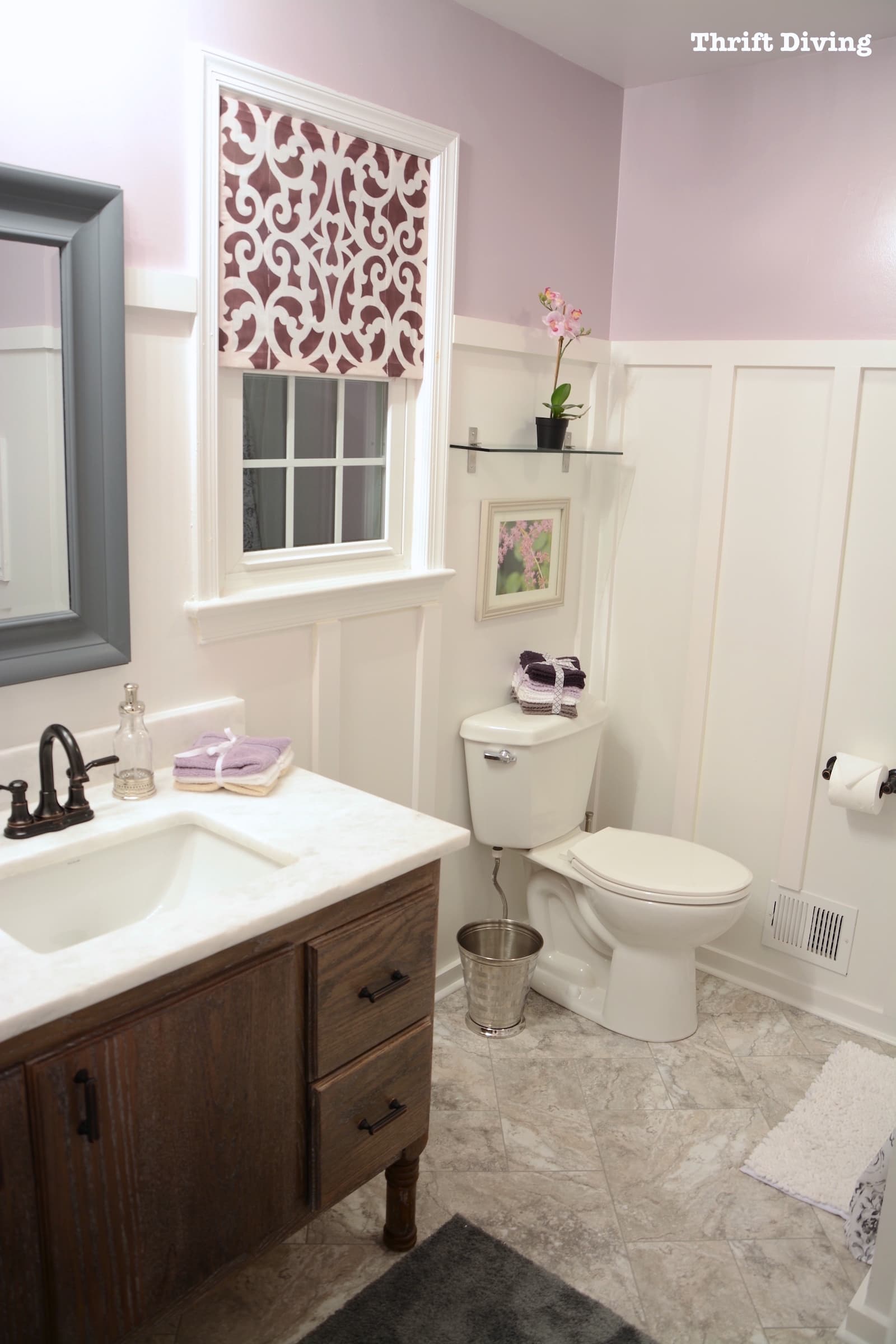 How to Install a Toilet Yourself!
These instructions are super easy to follow. But if feel like you need to hire a professional, then check out these posts on hiring contractors and handymen (and handywomen!):
Since you probably removed your own toilet yourself (if not, click here for detailed instructions on how to remove your toilet yourself), you probably have some of the same materials lying around. But here's a listing of them:
Materials Needed to Install a Toilet
STEP 1: Clean and Inspect Your Flange
Where we left off in the last post on how to remove a toilet by yourself, I was saying about how you should gently place a rag in the hole to block to gasses coming back up through the sewer line.
I also mentioned about how you should clean the flange, too. You don't want any left-over nasty wax residue.
But what you also need to do is to inspect the flange to make sure it's acceptable for installing a new toilet upon it.
Does it rock back and forth?
Is it broken?
If so, then you will need to repair it, which I don't cover those things in this post.
But what you'll also want to make sure of is that the flange is above the floor level.
If the flange is sitting below the floor (especially if you put new flooring down), you won't be able to get a good seal.
You'll see that my new floor that was installed does sit lower than the flange, which is good. 🙂
But one thing I noticed is that the screws were either missing or rusted over.
So I found some replacement screws about the same size and simply screwed them in where the old ones were missing. If there was a screw that was loose and rusty, I gently removed it and replaced it.
I chose the same flat-head type of screws and chose ones a little longer so that they were long enough to grip the surface below.
The flange was otherwise in good shape, so I didn't have to figure out how to make any additional repairs.
Someone pointed out to me that there are newer rings out there that are not wax so that it's less messy. Those work fine, too.
I had bought this wax ring kit because it's what I have used before.
I didn't realize it until I unboxed the toilet that a complete wax ring and hardware kit was already included in the box.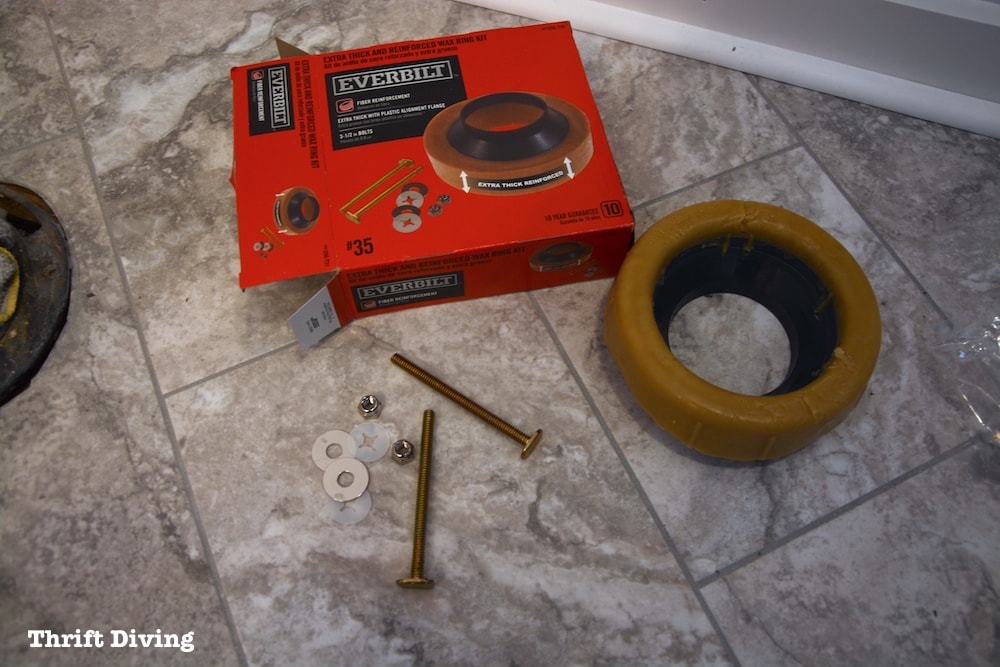 Sit the wax ring over the hole, with the black rubbery part sitting nicely down into the hole.
STEP 3: Thread the Bold Into the Channel
If you look at the picture above, you'll see that on both sides of the flange, there are channels where the bolts will slide into.
Unfortunately, I spazzed and didn't get good pics of this step, but the idea is that the bolt is placed into the wide part of the channel then secured in the narrow part.
Simply add the plastic locking ring to make sure the bolt doesn't move around.
Do this for both sides of the flange.
When done correctly, it should look like this:
STEP 4: Sit Your New Toilet Down Now!
Now it's time to actually sit your toilet down!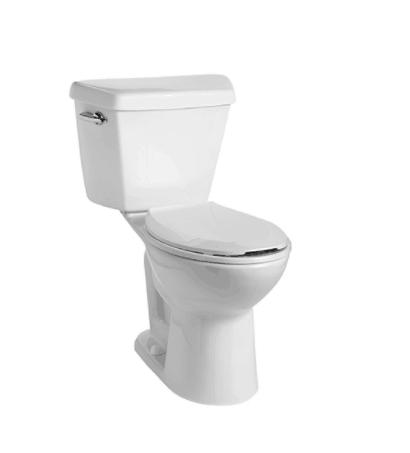 When Lifting The Toilet
This is the only part you'll need help because it's heavy, but you also want to make sure that you sit the bottom hole of the toilet directly on top of the hole.
The bolts will need to line up, too, to come through the base of the toilet.
It's best to have one person doing the lifting and sitting, and the other person kneeling on the floor to make sure everything is lined up properly.
Sit it down, allowing the bolts to thread up through the holes.
Next, PUSH down on the toilet seat to seal the wax ring, but DON'T rock it back and forth or move it much because you don't want to disturb the seal you've just made.
TIP: Also, check to make sure that the toilet is square to the wall. Make tiny micro adjustments if needed. You don't want a crooked toilet! 🙂
It should look like this when you're done.
STEP 5: Secure the Toilet to the Floor
Now that your toilet is seated, you have to make sure you bolt it to the floor.
It may not seem like much, but those bolts actually prevent your toilet from rocking back and forth, which is pretty important to avoid. 🙂
Every toilet comes with a plastic washer/ring similar to this.
Place the plastic ring over the bolt, line up the shape.

Next, add the metal washer and nut from the wax ring kit and tighten by hand.
Next, use a wrench to tighten it slightly, but don't over-tighten! You could crack the toilet!
Next, you'll need to trim the bolts.
Every toilet kit gives these super-long bolts that must be trimmed after the bolt is tightened, in order for the cap to fit.
Just use your hacksaw and trim it short enough for the cap to fit over it.
It might seem like that part's hard to do, but it's not. The bolt is soft enough to saw through, I promise. It just takes a few minutes and some back-and-forth motion! So don't give up! 🙂
Be sure to do this step on each side.
And…..voila! 🙂
Your toilet base is now secured! 🙂
STEP 6: Prep Your Toilet Tank
After the base of the toilet is installed and secured, you're now ready to install the top tank.
For this toilet, it came with a packet that included: a rubber seal, bolts, and plastic locking nuts.
This is what the inside of the tank looked like.
Don't worry–everything already comes assembled in the tank, so you don't have to be some Master Plumber to figure out how this contraption goes together, thankfully!
All you need to care about are those two holes and putting the bolts into those two holes. 🙂
Yep, drop those bolts right into the two holes!
Then sit the tank on the back of the toilet, and thread the bolts through the holes in the base.
Use the plastic locking nuts that come with the toilet.
TIP: Only hand-tighten those plastic locking nuts, or you could break them!
As you're hand-tightening the bolts, it will help to further make a water-right connection of the rubber seal, too!
It should be secured like this after you've screwed it on.
STEP 7: Connect the Water Supply Line Again
When you removed the old toilet, you had to disconnect the water supply to the toilet.
Easy peasy.
Now, you just need to reconnect it again.
It will connect to the gray threaded part.
Again, only hand-tighten this so you don't break it.

STEP 8: Turn on the Water
Now you can turn on the water.
See if there is any leaking anywhere.
If there is, tighten the connection by hand.
I tested out the water line to make sure it was rising properly.
I didn't have to do anything special for this step. I simply turned the water on, watched to see how far it would fill, and was happy to see that the water stopped right at the pre-marked waterline. Woohoo!
If your toilet doesn't stop at the toilet line, follow the toilet's instructions on how to adjust it.
But hopefully, yours will work automatically, too!
When I flushed, the water drained to this amount.
I'm not totally savvy about toilets, but I was glad to see that the whole tank didn't empty.
It looks like it conserves water!
STEP 9: Keep Watching for Leaks
I think most leaks you'd find right away, but just be on the lookout for any slow leaks or drips, to make sure that your toilet was properly installed.
And if you find that you do have a leak that requires you to remove the toilet and reinstall it, just be sure to use a new wax ring each time. 🙂
My New Installed Toilet!
…This is what the new toilet looks like in my master bathroom!
I'm excited to say that this is the second toilet that I've installed by myself (with the except of hubby helping me to lift and seat it).
But I did the removal and other things myself.
And the truth is that you can do it, too.
I know–it's scary, right??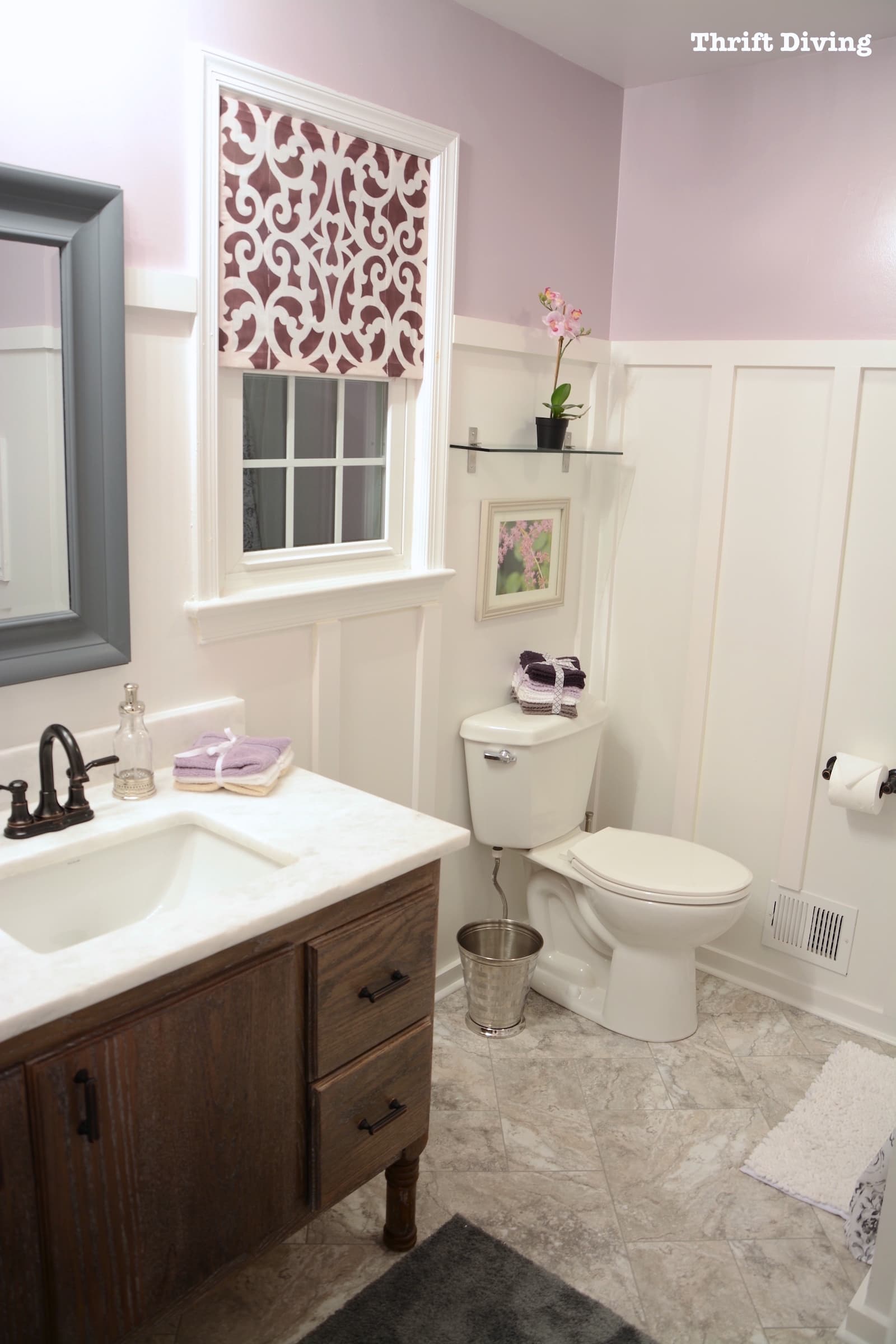 But when someone breaks it down for you like this, it really isn't as scary as it once seemed.
Not everyone, however, will ever want to remove and install their own toilet.
Some people just want to pay the $100 – $150 and have someone do it for them, and that's fine.
But for me, I like to not only save money, but I really enjoy knowing how the innards of my home works.
To say that I can take out a toilet and install a new toilet myself is a pride that makes me feel like She-Ra. LOL
It improves my confidence for the next project I decide to tackle! 🙂
Did you find this helpful? Click here to SAVE it on Pinterest.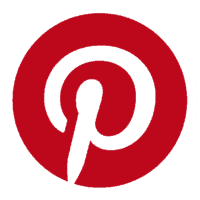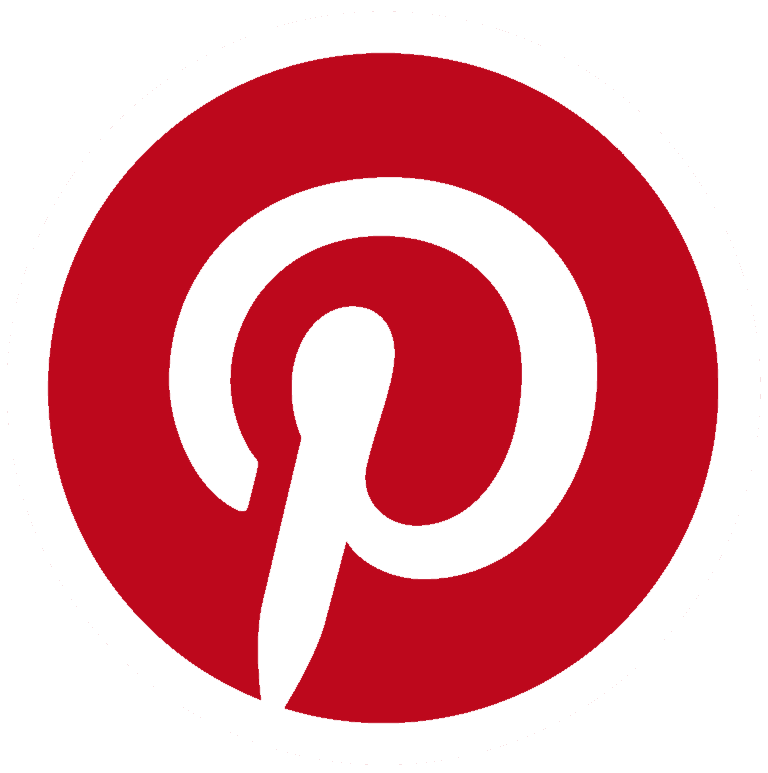 Read the Rest of this Bathroom Makeover Series!
Catch up on this entire master bathroom makeover series!

Download the 5 freebies!
Thrift Diving inspires women to decorate, improve, and maintain their home themselves...using paint, power tools, and thrift stores! Use these 5 printables, checklists, and ebooks to get started!