This post on budget-friendly bathroom tips is in collaboration with Decoraport International, but all opinions are my own.
This month I've been highlighting all the progress that I've made in my master bathroom makeover.
As you know, it's part of my 30-Day Room Makeover Challenge.
While knee-deep in taking out the vanity and ripping out toilets, I started thinking about ways to make this project as affordable as possible.
You know how we do here at Thrift Diving: we hate spending a lot of money for decorating our homes!
Plus, we love to flex our creative muscle and prove to others (and ourselves!) that it really can be done without spending a boatload of money!
I've done two bathroom makeovers now, and this month, my master bathroom marks three! 
I wanted to share my top tips for creating a budget-friendly bathroom makeover!
TIP #1: Paint Your Vanity, Don't Replace It
Have you priced bathroom vanities lately? Well, I have, since I'm redoing my entire bathroom.
A quality vanity ranges from $300 – $2,000 or more, depending on size and quality. If you don't have to replace it, hang on to the old one and just paint it. In my case, since we were getting new bathroom flooring, the vanity needed to come out. It makes sense to replace it.
However, if you're not replacing the flooring or vanity, paint is your best friend and can save you hundreds, if not thousands, of dollars!
Check out this post on popular types of furniture paint and find one that works for your vanity!
BEFORE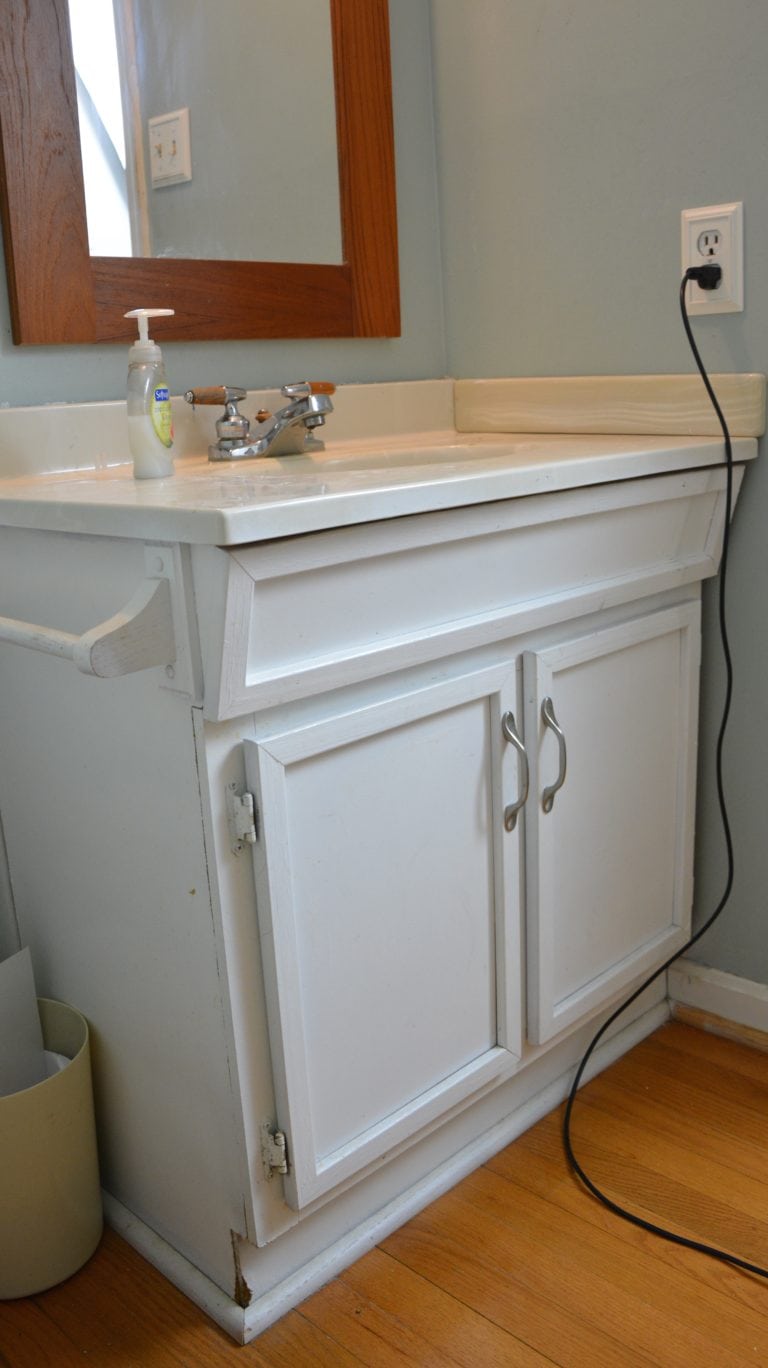 AFTER!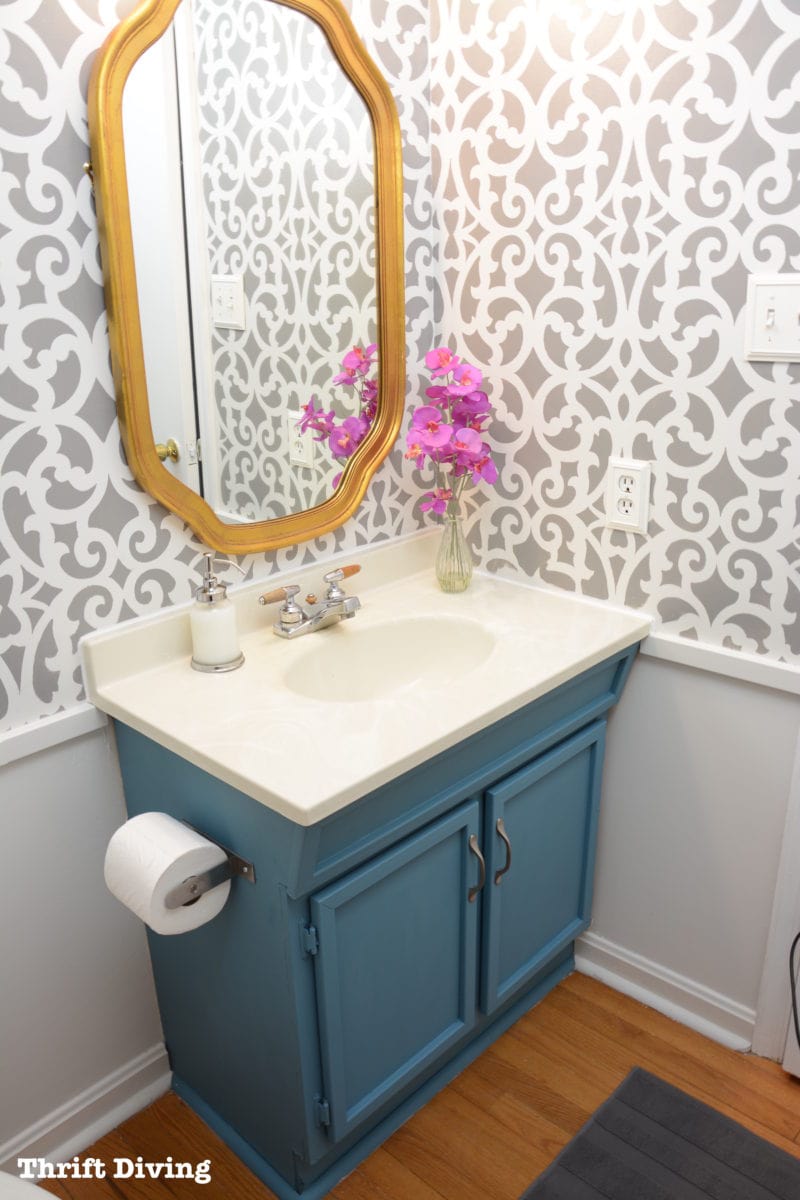 Check out the entire half bathroom makeover HERE.
TIP #2 Find Affordable Bathroom Products Online
Don't be afraid to go online to shop for big, heavy bathroom items. I know…I know…even in this day and age, we can't imagine going online to order a stand alone tub or a toilet. We always think we need to head to the local home improvement stores or showrooms to get these things, right? But we don't have to be limited by location or their brick-and-mortar prices.
For example, Decoraport sells modern, quality (yet affordable–under $1,000!) freestanding bathtubs.
And if you can believe it, they ship in Canada (for free). I entered my zipcode in Maryland for USA shipping and the cost would only be $68!
So don't write off shopping for these heavier items online. You can find great prices and get good shipping deals.
TIP #3 – Frame Your Own Photography or Art
Who said you have to spend money on wall art?
But I bet you don't think of yourself as a photographer, do you?
Seriously, you don't have to be.
But there are some tips you can use for taking your own photography, and when printed and framed, you can create inexpensive wall art for your bathroom!
Imagine how beautiful the picture below will look if I frame it and put it in my new master bathroom! 🙂
Read it: 10 Tips to Create Your Own Wall Art From Your Own Photography.
TIP #4 – Make DIY Privacy Screens Instead of Paying for Curtains or Expensive Blinds
I went on a home tour recently and in the master bathroom, saw the most exciting thing: privacy screens for the windows!
These screens were nothing more than sheer fabric stretched over a super easy wooden frame that you can measure to snuggly fit your window and put together with screws and nails. They're easy to push up and down and to simply take out, if needed.
I am planning to make one of these for my own master bathroom!
No need to buy or make curtains, or pay the high costs of blinds or shades!
TIP #5 Wrap Your Trash Can in Rope
You've seen other things wrapped in rope, such as tires turned into ottomans.
So why not wrap your trash can in rope, too?
Reusing your existing trash can, like I did here (this one was looking old and haggard), lets you put your money towards other things and not on accessories that can really add up.
A Few More Budget Bathroom Tips
These are just a few of my favorite tips, but there are so many more, such as:
Stencil your walls instead of adding expensive wallpaper. Watch this tutorial here.
Use inexpensive robe hooks instead of buying more costly towel bars.
Hang wicker baskets sideways on your walls for instant shelving.
Shop at thrift stores and Home Goods for things like toilet paper holders. Use spray paint to update them to your preferred finish.
Remove old shower doors and hang up curtains to hide outdated showers.
Keep the same vanity top if you're simply painting the vanity. New paint distracts from an outdated top. Consider just updating the faucets.
Can't afford new flooring? Put down lots of rugs to hide it.
Learn how to remove and install your own toilet to save on installation. This is my favorite YouTube video tutorial for learning how to remove and install a toilet.
Do you have any tips on budget-friendly bathroom makeovers? Leave your tip below and let's talk about it!