It's always interesting to see the evolution of a room in your house, isn't it, especially when you paint your bathroom vanity.
You get "DIY amnesia" and forget that it used to look like a pigsty.
Like this bathroom of mine.
I kind of forgot it used to look this bad.
BEFORE
AFTER!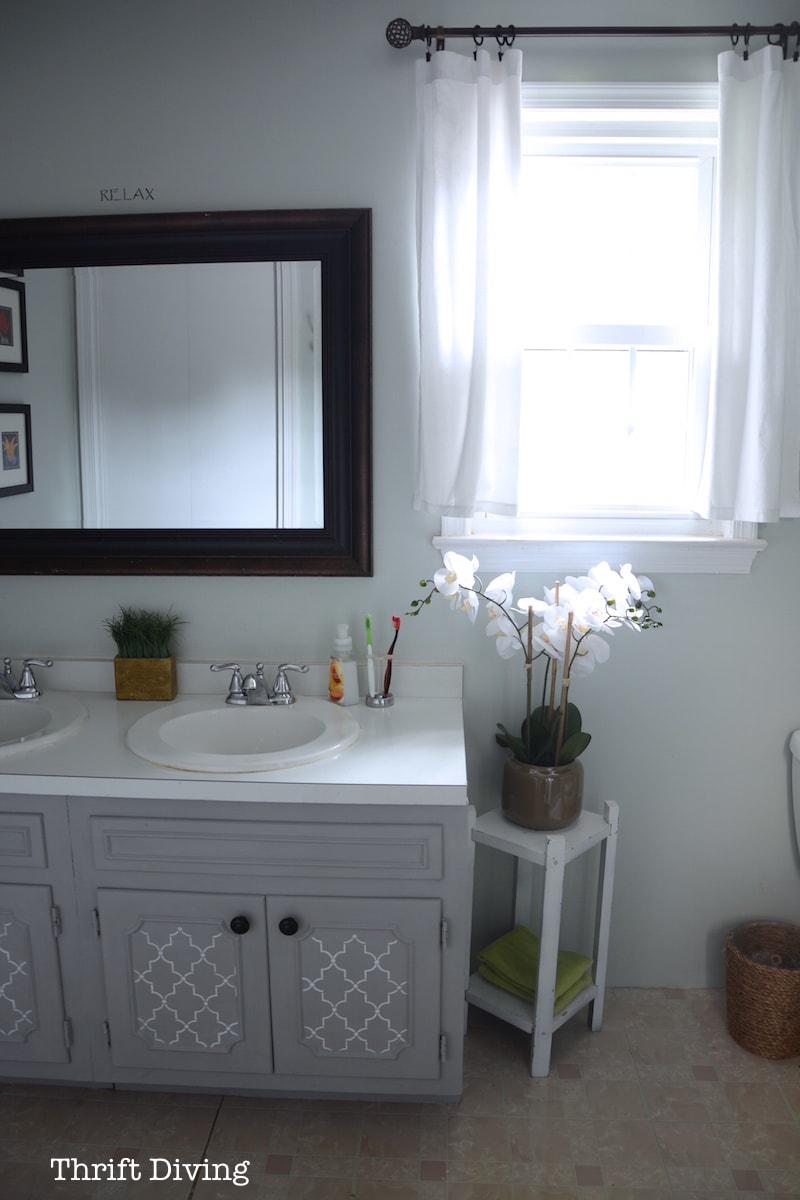 Materials Needed to Paint Your Bathroom Vanity
I started this project exactly 4 years ago because hubby was out of the country for a month. I got this ingenious idea that I was going to transform our master bathroom while I was 6 months pregnant.
I KID YOU NOT!
It was crack house dejour….all with this lovely dark wood (insert sarcasm), wallpaper, and peel-and-stick tiles.
I knew nothing about DIY. I knew nothing about painting cabinets.
And just to show you what I was fighting with… this is what the shower stall looked like. The bead board that was glued above the shower stall was being overrun by mold.
And there I was, 6 months pregnant in the shower, standing on a chair, pulling this crap off the walls.
Yes, you read that correctly. I was 6 months pregnant with I first renovated this bathroom.
What in the world was I thinking?! Must have been pregnancy hormones. HA!
You have no idea how scared I was at what could have been behind these walls!
Thankfully, I repaired them through the magic of "cross-your-fingers." And YouTube. Don't forget magical YouTube.
The paint was fresh and if you can believe it, is still holding up 4 years now!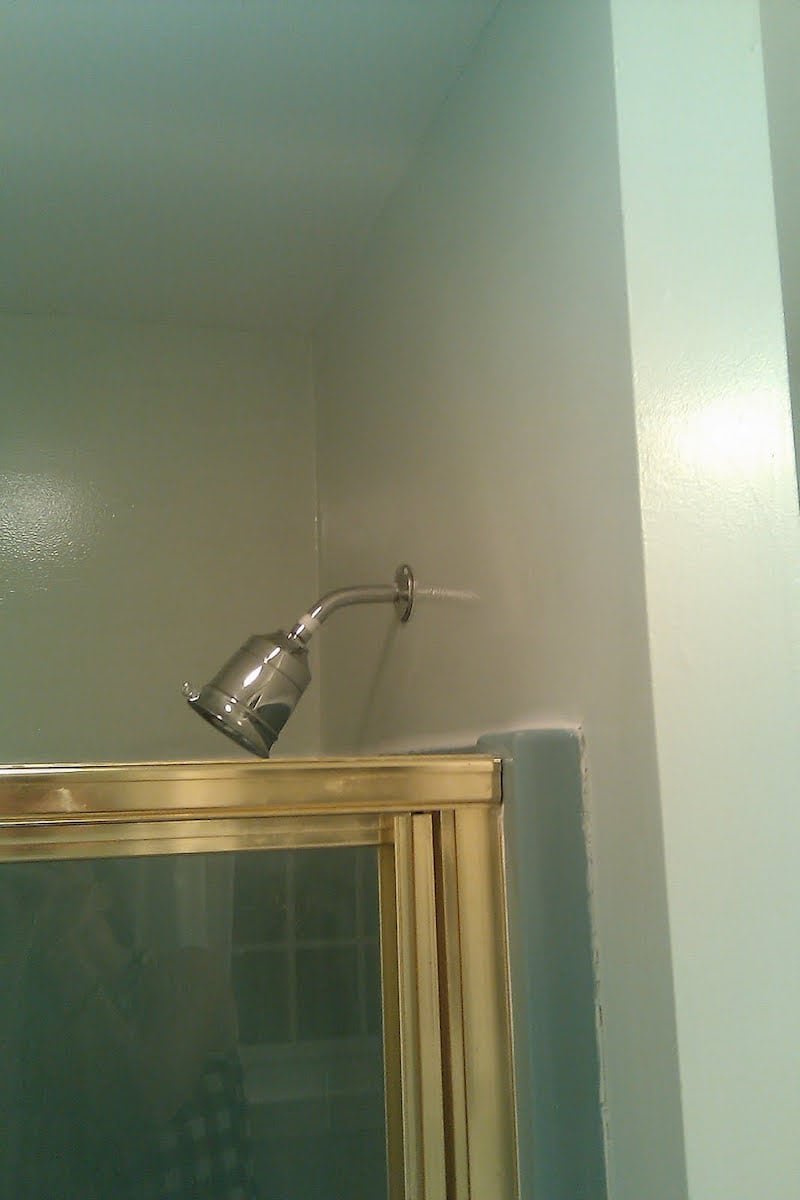 In fact, the whole bathroom ended up looking really nice, considering that I had a limited budget and DIY skills (and was pregnant).
I couldn't do anything about the turquoise shower stall or the horrific peel-and-stick tiles, but I could at least replace the mirror, sew a pair of cute little white curtains, and paint the vanity.
And I'm not kidding when I say that for a whole year we had this shower curtain thumb-tacked to the window. We were so gangsta. HA!
BEFORE (after we moved in)
Back before I even knew that chalk paint existed (4 years ago), there was this thing called sanding, otherwise known as "PAIN-IN-THE-BUTT."
Primer….white semi-gloss paint….the whole works. Thank GOD for chalky paint now!
THEN
AFTER IT WAS PAINTED
This is how it looked after it was painted–sexy, mismatched bulbs and all….. I even left the trash in there for you :).
NOW!
And this is what it looks like now after I painted the vanity last week, along with a stencil which took me FOUR ATTEMPTS to get it right.
Yes, you read that correctly. FOUR ATTEMPTS!
I about threw up my hands on THAT one…
How to Paint Your Bathroom Vanity
It's really easy to do this, guys.
Watch the video to see this project in action.
The Hard Part
This bathroom has stumped me for the longest time, though. I soooo want to remove that peel-and-stick time and use the same Snap Stone flooring that I used in my pretty laundry room makeover and my awesome kids' bathroom makeover.
But the problem is that if I'm going to do new flooring, I'm going to want to rip out the vanity… and to rip out the vanity means I will have to 1) buy a new vanity or B) build a new vanity.  And that's a project I'm not ready to tackle.
There are bigger fish to fry in this house, dude.
Right now, it's livable, and can be covered with rugs.
So for now, I'll deal with the ugly floors….I'll deal with the badly-needs-replaced vanity top with its stained caulk and chipping… and just make it as pretty as I can.
I think it looks pretty awesome right now, don't you?!
It's easy to overlook the problem parts of a room when you have some pretty parts to admire :).
BEFORE
I love that little corner plant stand! I picked that up years ago at….(where else??)…. a thrift store! (Or was it a yard sale…..??). I believe it was only $15.
And my old trash can? We've had it for years. Probably about 15 years. I'm shocked it hasn't cracked yet! HA!
BEFORE
A little bit of 50-foot rope (buy it here on Amazon) and hot glue to it will stick and the ugly stains were gone! The rope is about $7-8.
AFTER
BEFORE
This is how the bathroom looked when I started working on it 4 years ago.
AFTER
And those fake flowers?
Costco, $29. LOVE them! It makes the bathroom feel very pretty!
BEFORE
DURING
AFTER!



BEFORE
Oh, have I ever said that wallpaper should be banned?
Well.
It should.
AFTER
The bathroom wall color is Sherwin Williams Sea Salt, which looks amazing next to Annie Sloan Paris Grey!



UPDATED 2017!
So after I painted my bathroom vanity, I loved it…but as you can see, the bathroom was still in need of a much bigger makeover!
So in early 2017, I turned my master bathroom into this:
AFTER!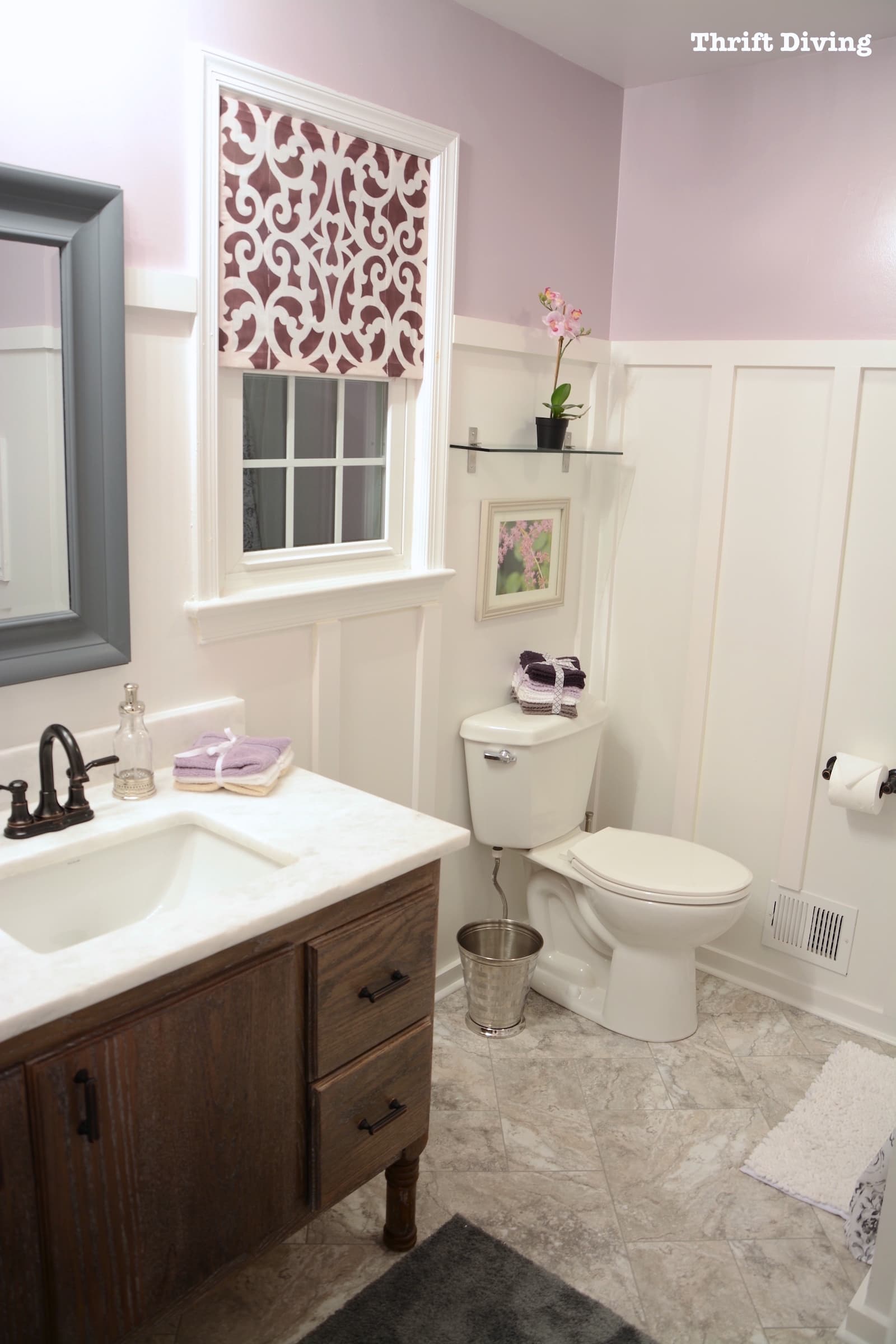 You can find the complete master bathroom makeover here, or check out specific projects I did in this bathroom:

Download the 5 freebies!
Thrift Diving inspires women to decorate, improve, and maintain their home themselves...using paint, power tools, and thrift stores! Use these 5 printables, checklists, and ebooks to get started!