DAY 27: Toilets and Showers and Wallpaper–Oh, My!
WARNING: This post might make you cringe. Possibly gag. You may finish reading thanking your lucky stars that your master bathroom looks nothing like mine. If you've got a strong stomach, then proceed, oh dear reader who isn't afraid of seeing my bathroom gunk… LOL
This month my readers and I have been tackling our 30-Day Room Makeover Challenges.
But because of the holidays and such, I gave us the gift of 10 extra days, so it's now the 40-Day Room Makeover Challenge! 🙂
I'm working on my master bathroom because it was sorely outdated!
Let me remind you of how it looked less than 30 days ago:
BEFORE
Of course, bad photography in low-light conditions don't help–but trust me.
It really did look this bad!
That yellow floor was the real deal Holyfield!
Before I continue, let me share with you the rest of these series posts in case you want to check out the entire series.
Removing an Old Shower Stall Door
Shower stall doors are on the same "gross" scale as sippy cups.
If you're a parent, you know how doggone hard it is to clean a sippy cup. All those little nooks and crannies and you can guarantee Little Johnny has sipped mold at least once in his young life.
Well, the same holds true for shower stall doors: they're nothing more than a Gunk Fest for mold and mildew.
I'll never understand why companies create products in which wet things can get into nooks and crannies to become a breeding ground for mold.
So I knew when I took off the old 1970's shower stall door, I'd find some mold that's been chillin' for decades.
This is what the shower stall looked like before I got started:
It wasn't difficult to remove the shower stall. You only need the following materials:
Screwdriver or drill
Utility knife
Gloves
Someone to help!
Here's a tip most people don't know:
Whenever you're unscrewing and removing doors (or other heavy items screwed in), always start removing screws from the bottom and work your way UP.
The reason why is so that by leaving the top screw for last, you won't risk having the door falling on your head!
Anyhow, with this shower stall, there was just a screw at the top holding the door on.
Once that was removed, I could start unscrewing the frame from the fiberglass shower, from the botto to the top.
I was left with pieces of the frame and the glass door, which are going to the salvage shop!
The grossness that was uncovered, under the door frame, was too much to bear.
How in the world are people supposed to clean a shower stall when gunk grows underneath the frame??
I guess that's why they make caulk….
Anyhow, now you see why this shower stall door needed to go.
Once the door was removed, I could see the light at the end of the tunnel….One step closer to transforming this master bathroom!
(We'll likely put up a shower curtain until we can rip out this shower stall to replace it with tile).

Removing an Old Toilet With Rusted Bolts
I always feel a sense of pride with removing a toilet. I did it once before in my kids' bathroom makeover, and I did it this time, as well.
But let me tell you–it's one nasty project. LOL
This (see below) is the reason I opted for a more expensive one-piece toilet in my kids' bathroom: there are less nooks and crannies for pee to get trapped.
Because otherwise when you remove the tank, you find where the pee's been hiding.
ICK!
The space behind the toilet was never painted either because, years ago, I was too naive to know that tanks could be removed for painting. 🙂
Thus, the bare spot behind the toilet.
When it was all out of there, it felt like I was making some serious progress!
I asked hubby to help, and although he was going to, I decided to be She-Ra and see if I could haul it downstairs myself. LOL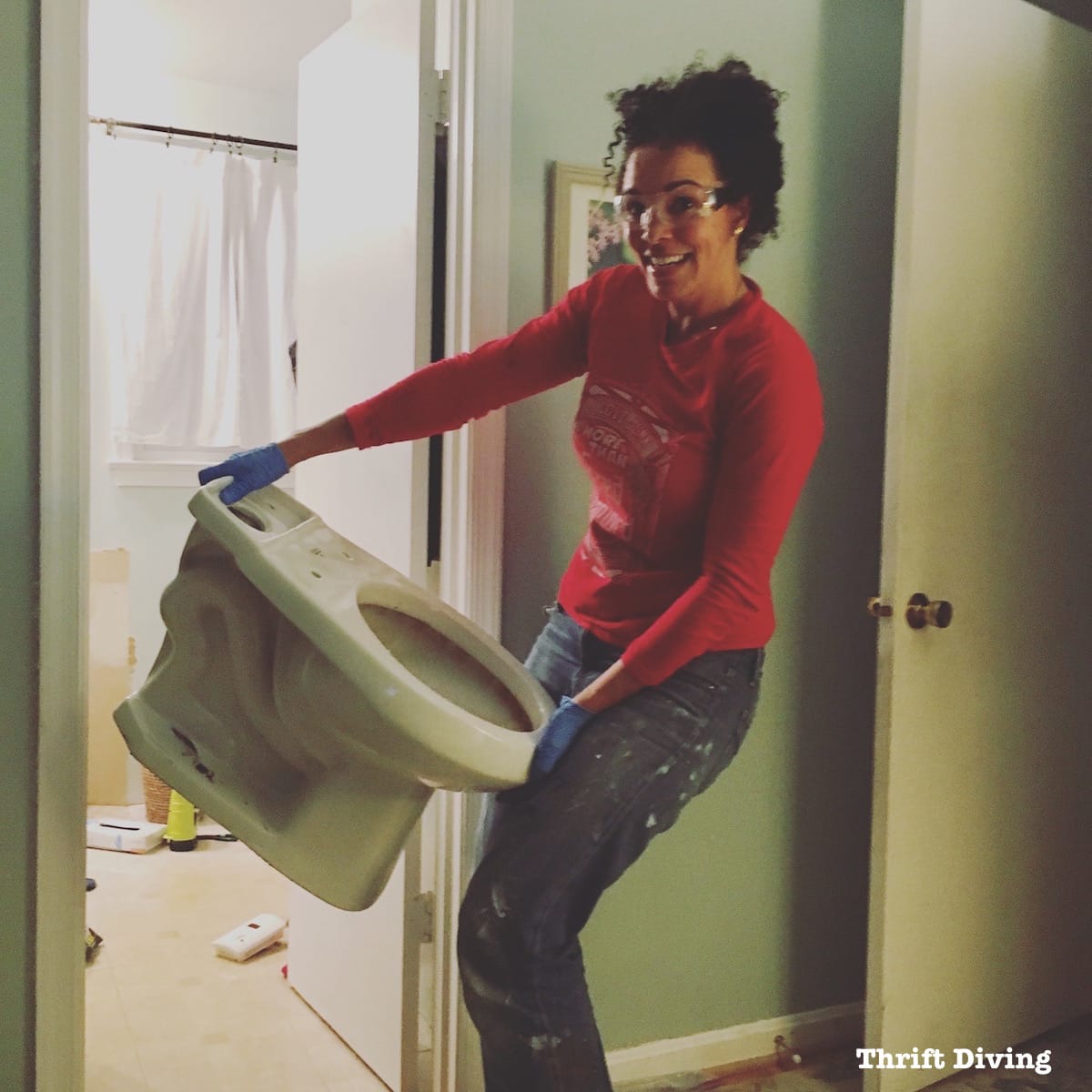 All the rough spots on the walls got a quick sand down with fine sandpaper.
The area behind the toilet needed some spackling, too, along with other parts of the bathroom.
I always use this joint compound for that.
If you've ever removed wallpaper and have damaged the walls, you'll know that joint compound is the magic cure for smoothing walls out.
Just dip your putty knife in there, scoop a dollop, and then just smooooooooth it out, skim coating the imperfections until it's near perfect. When it's dry, sand it smooth with fine sandpaper (just be sure to wear a dust mask and keep the doors closed and windows opened because it can get super dusty!
I also cleaned the walls….then painted….
…and pulled off gross, outdated vinyl baseboards…and then repaired them with sanding and joint compound….
…and I scraped wallpaper glue off of some areas. I HATE WALLPAPER GLUE!!!
(This is my favorite wallpaper steamer that I have used for every room in this house! Works like a charm and it's super affordable!)
This is what old wallpaper glue looks like that's been on your walls for 43 years. –GULP–
I also went on the hunt for legs to create a DIY bathroom vanity!
I went to the Community Forklift (salvage shop here in Maryland) and found these gorgeous legs (or spindles that can be legs…) for the vanity I'm going to build!
They were $13 each with 50% off, for a total of $6.50 each!
I bought 8 of them. They were too delicious to leave behind. LOL
My plan is to strip them down.
While at the salvage shop, I also dropped off my old vanity that I removed. The keyword is "dropped." I literally dropped it. LOL One of the sinks cracked!




…I also went to Home Depot and found my inspiration for my vanity I'm going to build…


…and lastly, I smushed my head up against wet paint in the bathroom, by accident, of course, turning my hair white….LOL!
All in a couple days work.
Lesson learned: always wear a hat when DIYing….
Those were two very busy days in this master bathroom makeover!
I was rushing to get these things done because the following day (Day 28 of the challenge), Carpet One was coming to install the new flooring!
The last thing I wanted was to get dust and paint all over the new floor!
Stay tuned for the next update on the new floor installation!
Keep Up With the Entire 30-Day Master Bathroom Makeover Series!
DAY 1: The Evolution of a Master Bathroom Makeover
DAY 4: Picking Out New Flooring: Which One Do You Like?
DAY 6: How to Remove an Old Bathroom Vanity
DAY 27: Removing Wallpaper, Repairing Walls, and Removing an Old Toilet
DAY 29: Installing New Flooring in Our Master Bathroom
DAY 49: The Bathroom Makeover That Would Never End (An Update!)
Day 52: How to Remove a Toilet Yourself
DAY 57: How to Install a Toilet Yourself
DONE! Final reveal: My Lavender Bathroom Makeover: BEFORE & AFTER

Download the 5 freebies!
Thrift Diving inspires women to decorate, improve, and maintain their home themselves...using paint, power tools, and thrift stores! Use these 5 printables, checklists, and ebooks to get started!