All About Drill Bits and Drivers
This post is brought to you by The Home Depot.
When you become a homeowner, one of the first tools you buy for your homeowners toolbox is a power drill. It's one of the simplest power tools to use. I guarantee that you'll grab it for hanging curtain rods, adding or changing knobs on kitchen cabinets, putting furniture together, and you might even try your hand at building furniture for your new pad.
(Later, many homeowners add on an impact driver which has a lot more torque for driving screws).
But while a power drill (or impact driver) is easy to use, what's not easy is knowing what all the different drill and driver bits are used for in those handy little kits. And it's hard to know which one you'll need to use.
I'll be the first to admit that I've stripped my fair share of Phillips head screws because the driving bit was too skinny or too fat. It's frustrating getting to the point where the poor driver bit just keeps spinning and you know that you better STOP and switch to a hand-held screw driver if you want to salvage what's left of the screw! (….Or is that just me that does that??).
Let's talk about drill and drive bits and some other important accessories you'll need in your DIY toolbox (and how to easily choose the correct one!).
Click here to SAVE this post on Pinterest!
All About Drill Bits and Driving Bits
The three kits I'll be featuring in this post can be found at Home Depot. These RYOBI drill and driver bit sets are pretty useful. Each have similar components but they all have something different amongst them, as well. They include:
What's a Drilling Bit and a Driving Bit?
Let's first chat about what is a drilling bit and a driving bit.
A drill bit is a bit is used to drill holes, ranging from small to large. Some drill bits are made specifically for wood, plastic, metal, concrete, and more (we'll talk about this in a moment). There are different types of drilling bits, which I'll cover later. Keep readin'. 🙂
A driving bit is used to fasten screws, nuts, or bolts in order to keep secure materials together. Some of the common drive bits you'll find in a set include Phillips, Slotted (also knowns as flathead), Square (also known as Roberston), Hex, and Torx (hex not pictured in this set below).
So that's simple enough:
Use drilling bits when you need to make a hole, and,
Use driving bits when you need to secure a fastener to hold something in place or together.
But how do you know which drill bit and driving bit to use? Let's dig in a little more, starting with driving bits.
How Do You Know Which Driving Bit to Use?
Getting good results when driving screws is usually based on 1) choosing the right size and shape driving bit, 2) drilling a pilot hole when needed before driving a screw, and 3) using the right tool for the job.
Let's start with choosing the right size and shape driving bit.
If you've ever chose the wrong driving bit to fasten a screw, you know how frustrating it is to strip the screw because you chose the wrong bit that's too small or large. Stripping a screw is when the driver bit doesn't fit on the screw head properly and the force of the rotating drill bit wears away at the head of the screw.
As a result, you're left with a screw that (if you're lucky), you will be able to flip your drill into reverse and back slowly (or use a hand screwdriver to carefully remove it). Or you might even have to use a buy a spiral screw extractor set for those stripped screws.
So let's review some important questions to ask to make sure you're choosing the right size and shape when selecting a driving bit.
What is the Size of the Screw Am I Fastening?
Each screw has a gauge (which is the diameter of the screw body). They typically range from sizes 2 to 16. The #8 sized screw is most common. Just remember when sizing screws: the larger the number, the more thicker the screw and the smaller the number, the thinner the screw.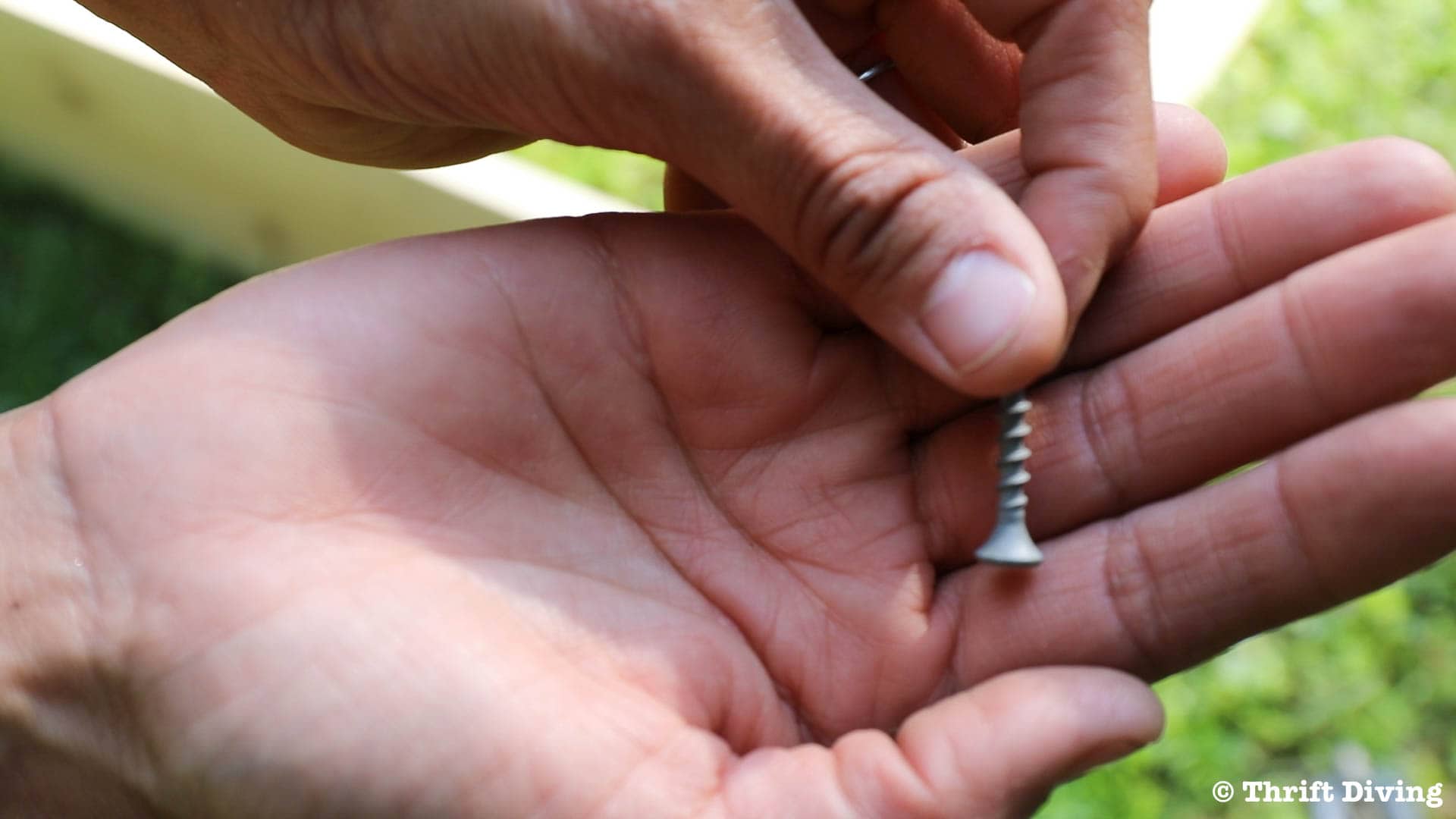 Depending on the screw gauge, that will determine the size of the driving bit you'll use. If you're not sure of the size of the screw, you can use a screw thread checker like this one from Amazon.
Place the driving bit into the screw head to match the size and make sure that it it seated properly into the screw.
Since there are different types of driving bits for different types of screws: Phillips, slotted (also called flathead), square (also known as Roberston, hex, and torx), choose the right type of driving bit for the fastener you're using.
There are several sizes of Phillips driving bits, though (e.g. a small PH0….PH1, PH2, PH3, to a larger PH4, which these sizes are indicated on the side of the driving bit. "PH" stands for "Phillips."). So you'll need to choose the one that is seated completely into the head of the screw. One that is too small or too large will strip the screw, as I previously mentioned.
What Material Am I Drilling Into?
It's possible to drill into wood, plastic, metal, masonry, and more. But the material you're driving in to will determine which driving bit you'll use. And there are different types of drilling bits, as well.
Drilling Into Wood & Plastic
This 60 piece Drilling and Driving Kit has a couple different types of drilling bits, including brad point drill bits (my favorite) for drilling wood and plastic with precision and for clean holes. That sharp tip will keep your drill bit in place so that it doesn't "walk" when you start drilling.
This kit also has a set of black oxide drill bits that are pretty standard when drilling wood where precision and cleanliness isn't that important.
Drilling Into Masonry
It's helpful to use a hammer drill when drilling into concrete or masonry. While it can be done using a regular drill (as I was able to drill into concrete when I fixed my shutters), it is definitely a job more suited for a hammer drill.
Whether you're using a power drill or a hammer drill, though, you need to use drill bits suited for masonry. You'll notice that the heads are blunted, but with a hammer head to them.
Once masonry has been drilled, you could use a power drill or impact driver to attach masonry screws.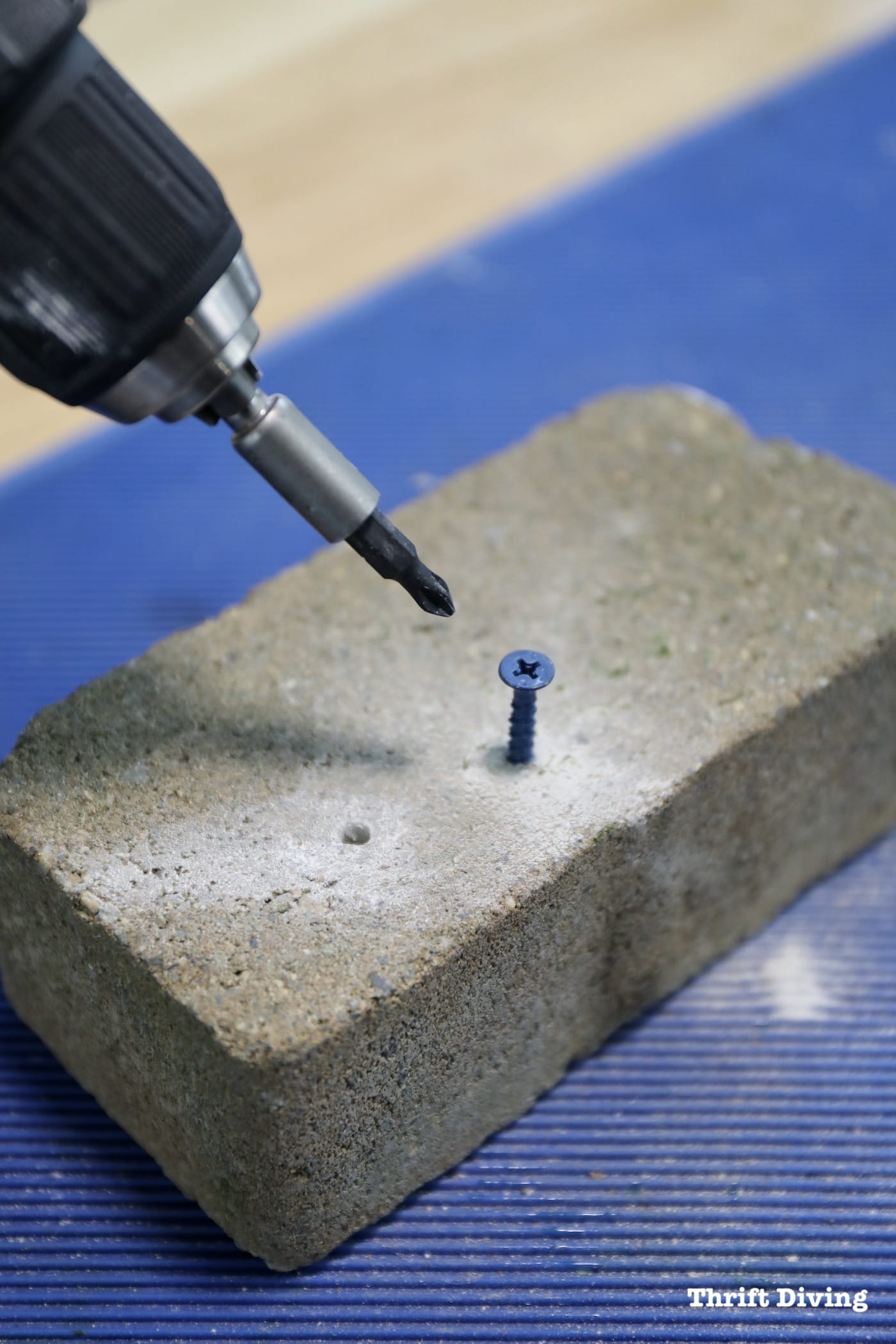 Will I Use These Driver Bits in an Impact Driver?
An impact driver is fantastic at driving fasteners much faster and with more power. As a result, you better believe you'll need driving bits that are labeled "impact rated." Bits that are impact rated means you can use them in a regular power drill or an impact driver.
I didn't know this, but this colorful coating seen around these impact rated bits (the band of yellow) indicate that this tip is impact rated. The design of the head and the coating helps to increase wear life.
Driver bits that are impact rated can withstand the high torque of an impact driver. Otherwise, you risk snapping your fasteners off clean in your project or risk breaking the bits. That's what we don't want!
Will I Need Small or Large Holes?
A driving and drilling set like this 60 piece Drilling and Driving Kit is a necessity because it has some items that the other two sets don't have, such as:
A hole saw
Brad point drill bits
A spade bit
Masonry drill bits
Countersink bit
One of my favorite bits is the countersink bit. Whenever you want your fasteners to lie flush or slightly below the surface, this bit create a nice cone-shaped divot in the wood.
If you'd like, you can use wood filler over this screw to hide it if you're painting over it. But overall, it just looks neater/cleaner than having the screw sitting upon the wood surface.
A hole saw is a great accessory for drilling holes, as well, because sometimes you want a hole that's bigger and uniform without having to pull out a jigsaw.
A hole saw comes in the 60-piece set and is especially useful for cutting holes in doors or door locks and knobs, light figures, and even for crafty and creative projects, like this project I made using ceiling fan lights as candle holders. The hole saw was helpful in cutting 3 uniform holes evenly. Hole saws will allow you to cut holes easily anywhere from 1/2″ to 1-1/2″.
Some other useful driving and driving bits in the 60 piece RYOBI kit include:
Most kits like these come with a tough plastic case to protect them.
If you're a DIYer like me who is always doing projects that involve drilling and driving, then these RYOBI drilling and driving kits are pretty important to have in your DIY toolbox.
Each of them have similarities, such as the driving bits, but when you need drilling bits, and driving bits rated for impact drivers, it's helpful to collect one or more of these to meet all of your building and creative needs.
If you'd like to get your hands on some of these drilling and driving kits, and to learn more about them, you can find all of these sets at The Home Depot.

Download the 5 freebies!
Thrift Diving inspires women to decorate, improve, and maintain their home themselves...using paint, power tools, and thrift stores! Use these 5 printables, checklists, and ebooks to get started!