How to Strip Furniture and Stain Wood: A Complete Guide
Long before crazy do-it-yourselfers like me came along with paint brushes in hand to paint over wood–GASP!– furniture stripping with chemicals (such as Citristrip) and other furniture strippers helped people bring old furniture and wood back to life.
But not long ago, painted furniture became wildly popular and even ya girl (ahem–I'll admit it) slapped paint on nearly every piece of thrifted wood furniture I rescued and lugged home.
It was fun! And it's still fun to paint furniture. There's nothing like seeing an old beat-up piece of furniture get a fresh new look.
Over the years, though, if you haven't noticed, there's been an emergence of wood furniture again, although it still looks weathered and trendy–not like your grandma's old stuff from 1956.
Now that I understand wood so much better now (you should read that post), I'm much more adverse to painting "good wood."
Instead, if it's in bad shape, I almost welcome the challenge of a good furniture stripping project!
You might want to strip furniture, too, but you're not sure how to strip furniture, and you're not even sure if you have to use chemicals like Citristrip or if you can just break out the sander and get the job done.
Hopefully, after you're done with this post, you'll be one step closer to restoring your old pieces of furniture instead of just painting them. 🙂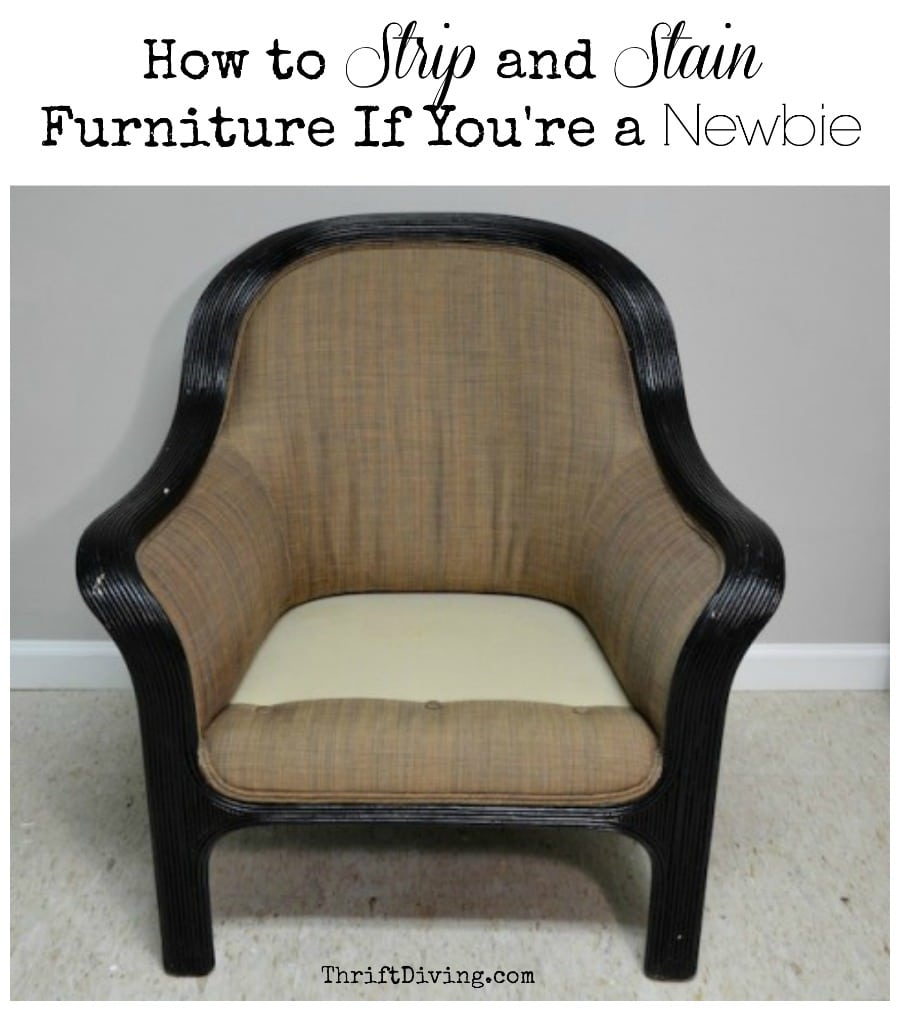 When to Strip Wood Furniture
Before we jump into the how of stripping furniture, let's talk about when to strip furniture.
I bet you never even considered this question before, have you? We get so caught up in how to do it that we forget that not every piece of wood furniture needs to be stripped.
Here are some examples when to strip furniture and when not to strip furniture:
Strip Furniture If:
It's previously painted. This is pretty obvious. If you want to restore a piece of furniture back to its original wood stain or to go natural on the furniture, and it's painted, you'll definitely need to strip away the paint with a chemical stripper. (WARNING: Please read this safety article about the dangers of certain chemical strippers that are dangerous and have lead to a couple of young men's deaths due to a chemical in certain strippers called methylene chloride).
It's really scratched or beat up. If you want to restore the wood but it's pretty beat up, then stripping is a great idea.
You want to change the color/shade. If the wood is dark and you want to go light, consider stripping it down to "start fresh."
There are lots of nooks and crannies. It would be hard to sand off all the existing finish of something with lots of nooks and crannies. Use chemical stripper for those pieces of detailed furniture.
RELATED: Drafting Table Makeover: Stripped to Natural Wood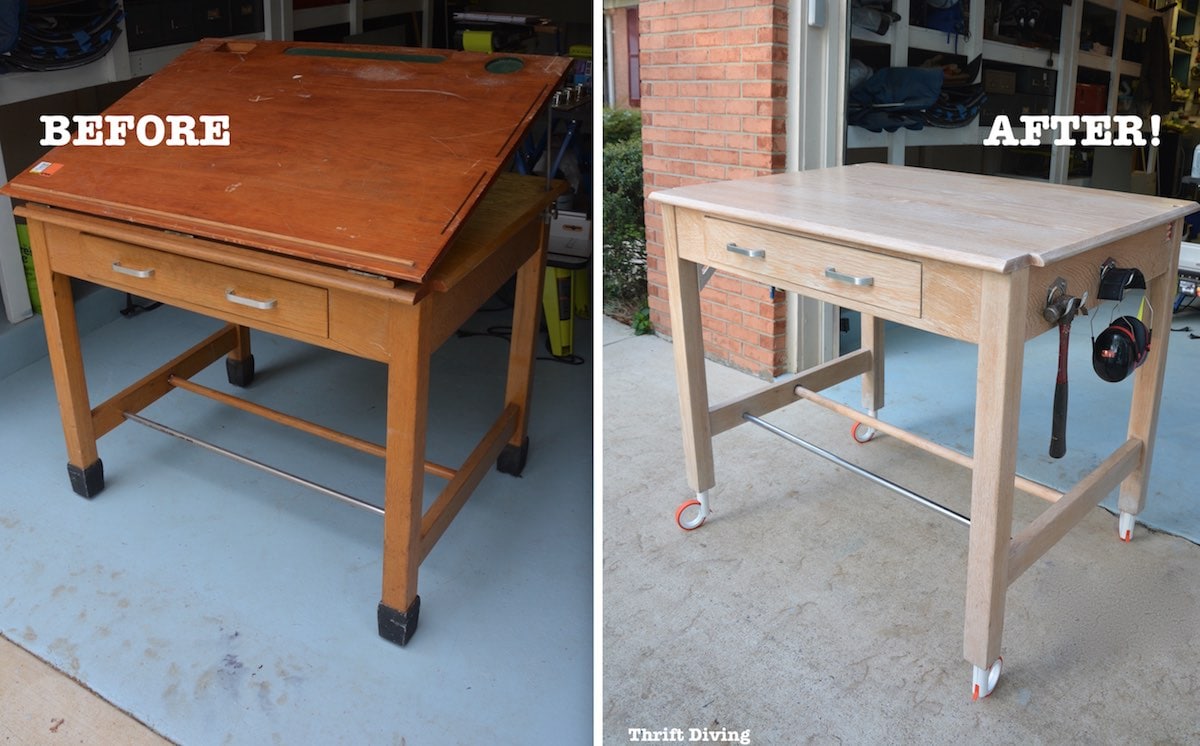 DON'T

Strip Furniture If:
You've only got dents. Instead, check out videos on YouTube on how to remove dents from wood with steam and an iron! Pretty cool!
You only have a few scratches. You can easily use wood repair markers to fix scratches in wood. Check out this project with a thrifted $20 wooden rocking chair that I restored using wood repair markers. Fill in the scratches and then seal the wood. Watch the tutorial here.
It needs a lot of wood filler. If your furniture has a bunch of cracks, chips, or gouges that require wood filler, it will be hard to disguise all that wood filler under a coat of stain. Wood filler, despite being "stainable" never blends in very well with wood. If your piece needs a bunch of wood filler to repair it, go ahead and use the wood filler, but plan on painting the furniture instead of re-staining it. The paint will hide the filler.
You're planning to paint the furniture. You don't have to strip furniture before painting it.
You want to change the furniture from light wood to dark wood and it's in pretty good condition otherwise.
Related: What's the Best Paint For Furniture?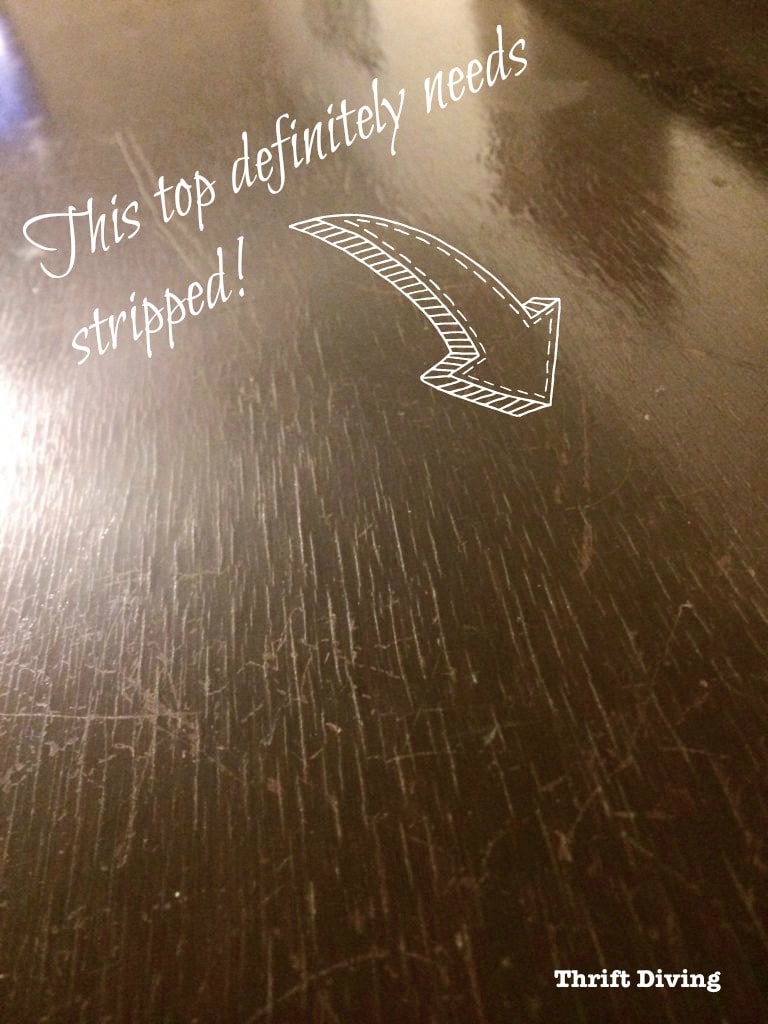 Strip vs. Sand Old Furniture
Can you strip furniture by sanding? Well, if you've never stripped furniture before, you may be wondering how easy it is to strip furniture without chemicals, or thinking that chemical strippers are the only option for removing the existing finish.
Not true, my friend!
You can, in fact, simply use an orbital sander to strip furniture, especially on wood.
In the case of this mid-century modern dresser makeover, I did use a chemical stripper and then followed with an orbital sander in order to remove the last bit of remaining old stain.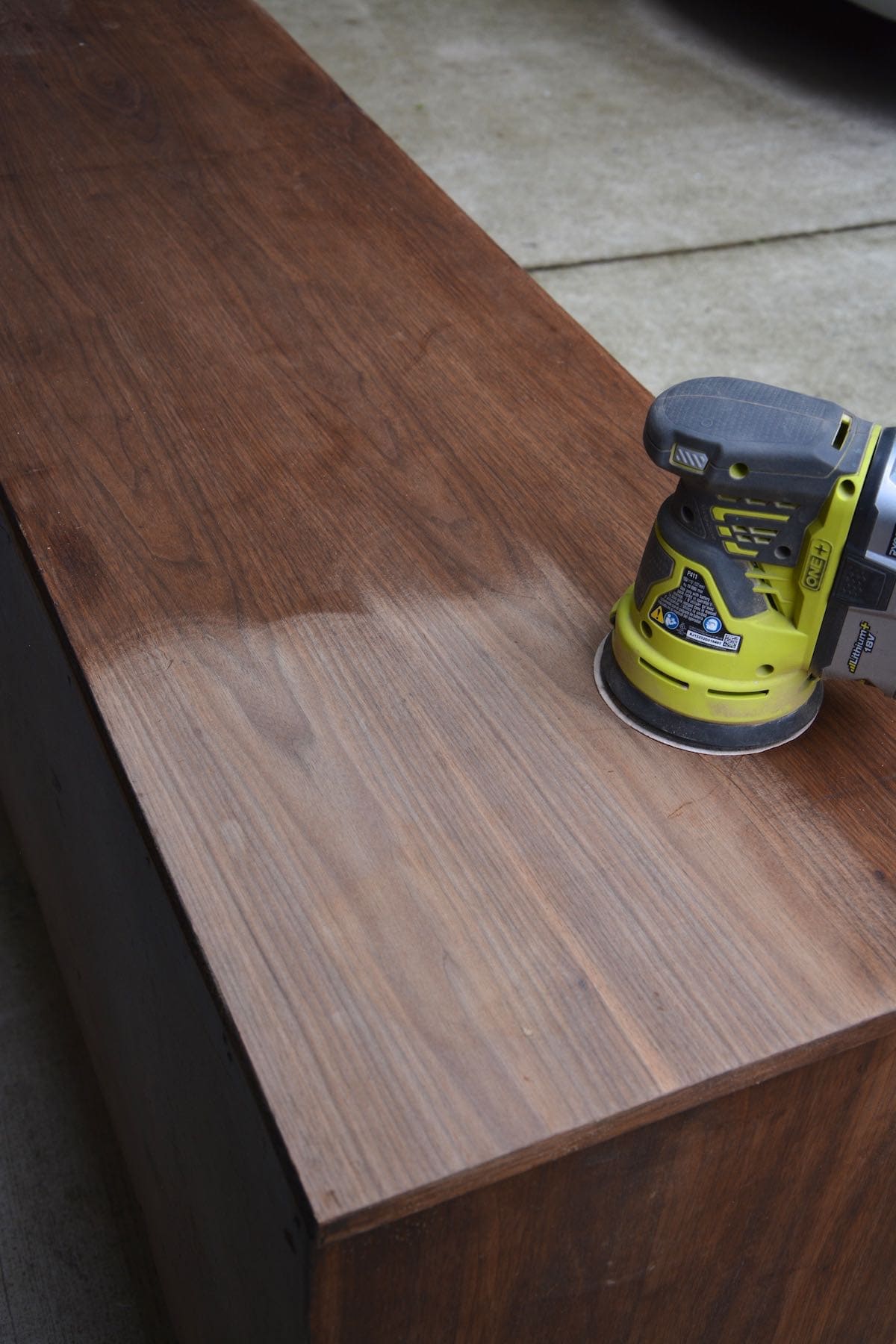 However, I have refinished several dressers where I simply sanded the top down or the body and skipped the chemical strippers. Sometimes it was just a matter of not feeling like pulling out the chemical strippers.
The key to getting good results when sanding wood with an orbital sander is to make sure you're moving slllloooowww, like 1 inch per second.
Any faster and you risk ruining your wood surface with those swirly marks otherwise knowns as "pigtails." Many times you won't see them until you go to add stain and then–SHOOT!–there they are–all over your gorgeous "new" stripped top!
Oh, the obscenities you'll spew out of your mouth… LOL
If you go slow, you'll get beautiful results!
Here are the times when it's okay to use a sander and skip the chemical stripper:
When you're stripping large, flat surfaces. However, if you've got curves or nooks and crannies, go with the chemical strippers which can get into those nooks and crannies. Use the bristled brushes on the nooks and crannies.
When you're totally intimidated by chemical strippers and you'd rather just stick to something you know: orbital sanders!
When it's only a small area and you can knock it out quickly with a sander.
You prefer to strip furniture without chemicals.
Just keep this in mind:
Work your way down from a rough grit sandpaper such as a P80-grit "rough" grit…..to a P150-grit "medium" grit…and at times, you may finish with the P220 "very fine" grit, although you may not need it.
Do your final sanding by hand to remove any last little bit of swirly marks.
Don't tilt your sander on its side in order to try to remove little imperfections in your wood furniture; instead, keep the sander flat on the surface, working it over the surface evenly under an even layer is removed. Otherwise, you risk doing this to your wood furniture:

You could potentially sand waaaayy too far down on the wood and end up with a discolored spot that won't take stain well.
Thankfully, I got creative with it and disguised my boo-boo as a pretty little stenciled flower. LOL.
But you may not be so lucky to have your boo-boo land in the right spot for that!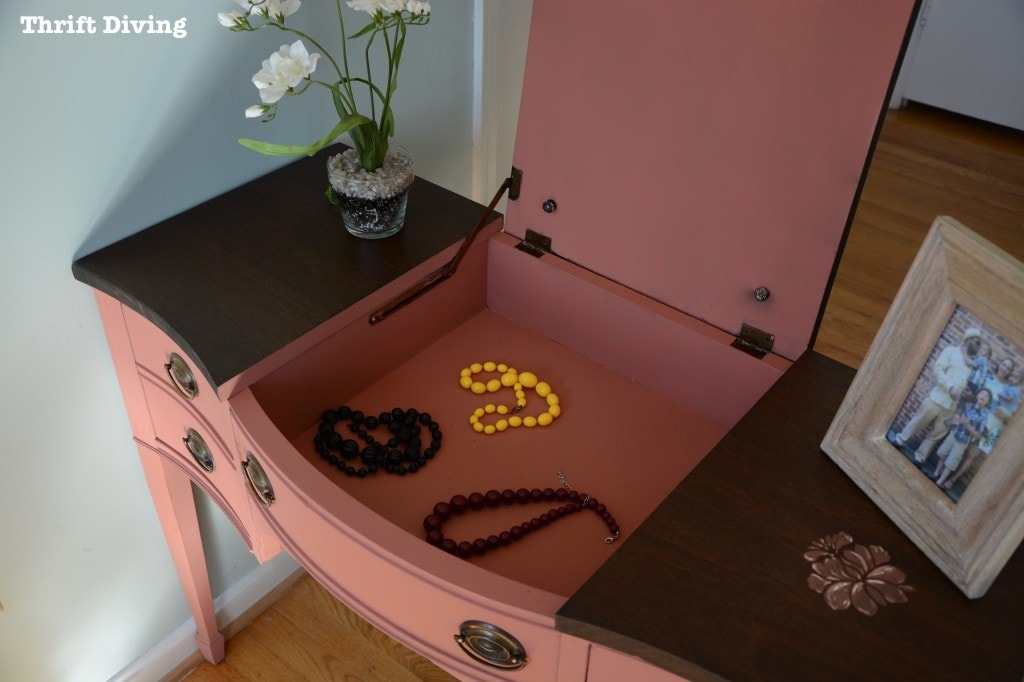 Citristrip vs. Blue Bear
Okaaaay….so if you decide that you want to go the chemical stripper route, then the next question you probably have is, "Which stripper should I use to strip furniture?"
I'm sure there are many options on the market, but there are two that I'm familiar with. And honestly, they both work pretty well.
Let me introduce you to Citristrip and Blue Bear. These are my two favorite paint strippers!
(WARNING: Please don't use chemical strippers that contain methylene chloride, such as brands like Klean Strip, Goof-Off, Strypeeze, Jasco, among others. Read this article on the dangers of those strippers with methylene chloride).
Let's start with Citristrip. Here are the important things to know about Citristrip stripping gel:
Has a citrus smell.
Can be left up to 24 hours and will stay wet.
Can be used indoors….so they say…
Smells strong, despite the claim that it can be used indoors. I wouldn't want to use it indoors because it still smells, but it's not as harsh-smelling as other strippers.
It's easily found at many home improvement centers and online.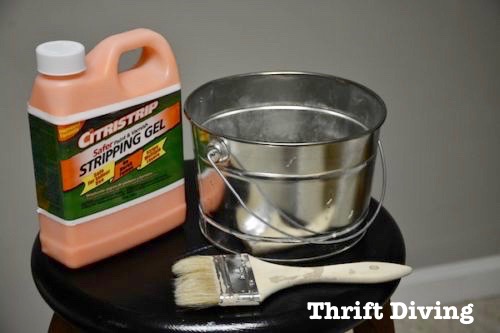 But another stripping gel that I've come to love and use for many projects is Blue Bear Paint & Urethane Stripper.
Here are the most important things to know about Blue Bear stripping gel:
It has virtually no odor! This stripping gel, I would definitely recommend using indoors.
Made with soybeans.
It's only found at specialty stores like Wood Craft and other woodworking stores, or online.
You can't find it at your local big box home improvement store.
My preference is the Blue Bear simply because it doesn't smell. I find Citristrip too sweet-smelling but yet, still smells like stripping gel. Blue Bear, on the other hand, is virtually odorless!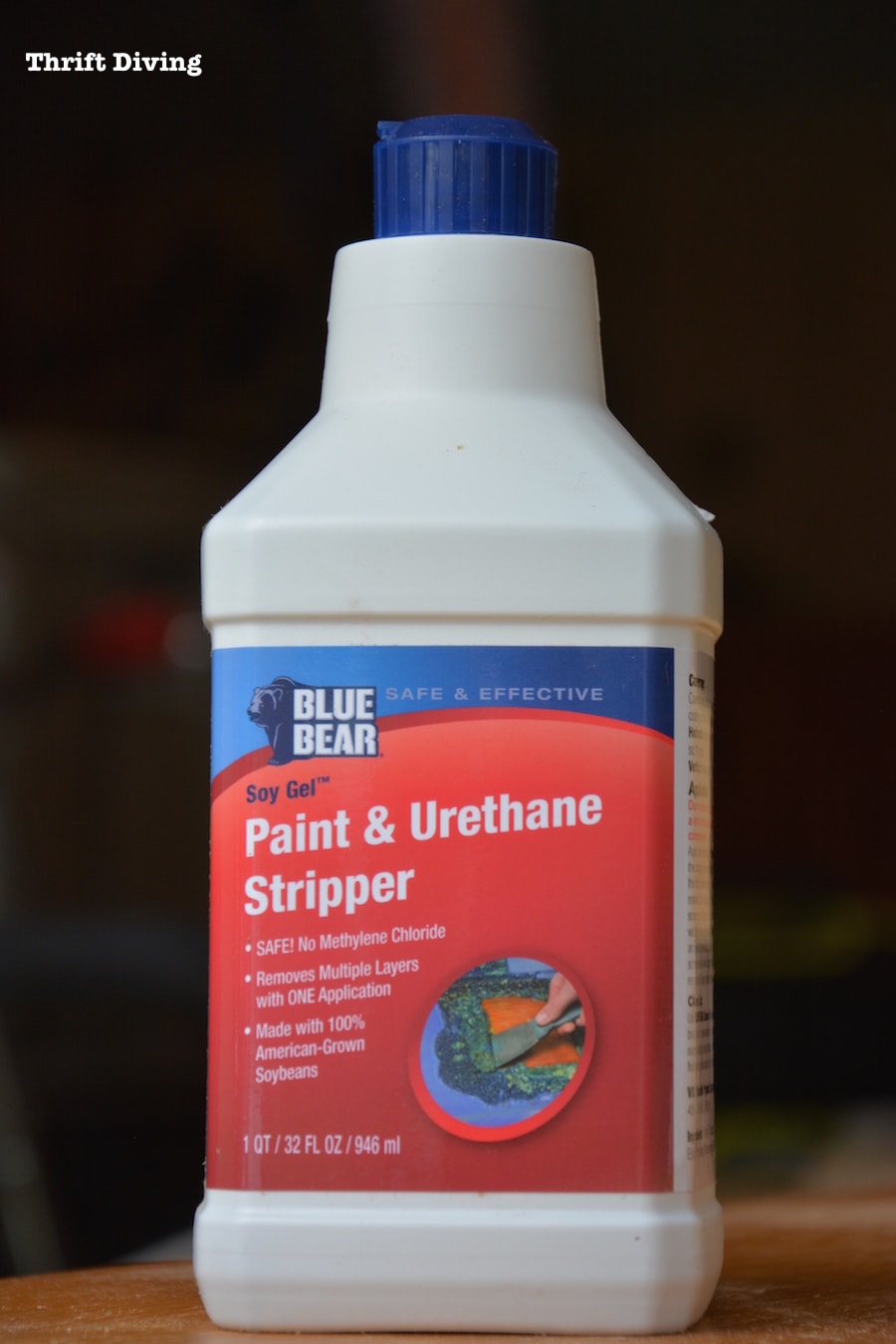 What to Use to Strip Furniture
So to strip furniture, you obviously need some supplies, one of which I just covered: stripping gel.
But what about all the other tools and materials needed?
Here's what I recommend:
(NOTE: I am a participant in the Amazon Services LLC Associates Program, an affiliate advertising program designed to provide a means for us to earn fees by linking to Amazon.com and affiliated sites).
Extra Supplies Needed
Old milk jug or cardboard box
Towels/rags
Mask (if you're sensitive to any odors)
Sandpaper or sanding block
Tack cloth
How to Strip Furniture Easily in 10 Steps
Okay, so are you ready?? 🙂
The project I'm sharing with you is a pretty chair that a friend asked me to strip for her. She and her daughter mistakenly painted it with a bad Rustoleum paint that left the palm wood in horrible condition.
RELATED: Dip and Strip 101: Everything You Wanted to Know About Professional Furniture Stripping
So here's how I turned this pretty little chair around! 🙂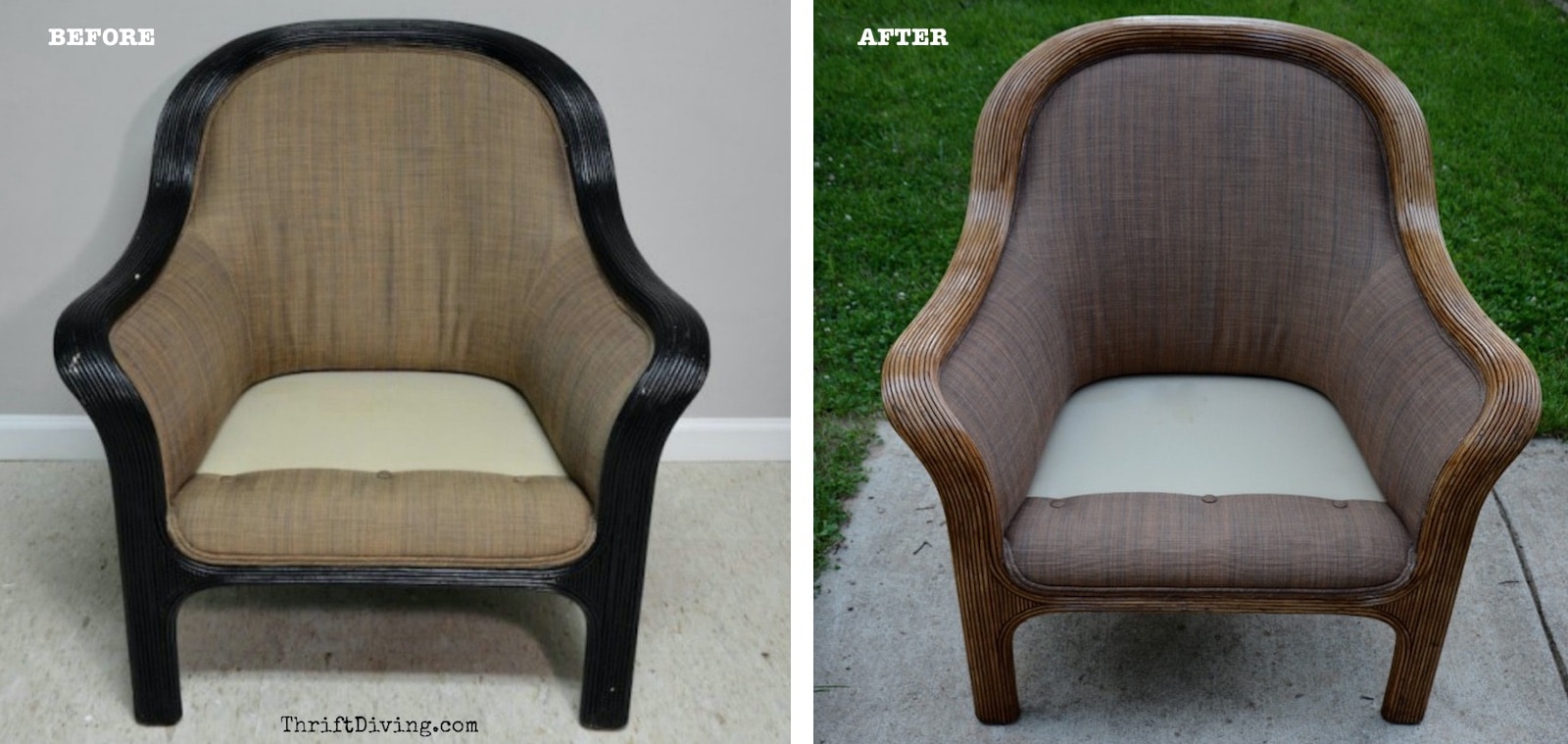 A Word of Caution Before You Begin
Before I walk you through this stripping furniture tutorial, let's talk about safety and disposal. First of all, never ever use a paint stripper that contains methylene chloride. In fact, the Environmental Protection Agency (EPA) banned this chemical in strippers because some people died from using them. The chemical strippers I recommend below do not have methylene chloride, by the way. If you've got some old stripper under your sink, get rid of it and buy the environmentally friendly stuff.
Speaking of getting rid of…make sure you properly dispose of your chemical strippers and the gunk that you remove. Check your local recycling to see when the hours are for you to drop it off. I'd recommend disposing of it in a clean paint can with a lid (you can buy blank metal paint cans from Home Depot). Don't throw it away and don't dump it in the grass.
Lastly, make sure you thoroughly let your old rags dry before tossing them. Stains, strippers, and other chemicals typically used in stripping are a fire hazard and can spontaneously combust on their own if tossed in a trash can while wet. To dry them, simply spread them out to dry outdoors on a surface, and once thoroughly dry, you can toss them in the trash.
Happy stripping! 🙂
Step 1: Get the Right Tools
Put down your kids' old toothbrush. If you're going to strip furniture, you need to get the right tools (see the materials list above). Yes, I actually used my kids' old toothbrush! In a pinch, an old Lightning McQueen toothbrush worked, but if you plan ahead and gather all the supplies, you won't resort to drastic, pathetic measures. 😉
Step 2: Find the Perfect Spot
You can't just strip furniture in just any 'ole place in your house. It's a dirty job. Even with a drop cloth, I guarantee you'll have a mess everywhere.
Choose a place where it's okay to dirty up. Garages are best. Basements also work well, as long as it's not carpeted. For those of you that live in apartments, maybe you've got a balcony.
Make sure the space is ventilated. Again, no matter how environmentally friendly some of these chemicals claim to be, their still chemicals that can make you feel yucky if you breathe them for too long. Use a fan to circulate the air, too.
Step 3: Prep Your Furniture
Some pieces of furniture are upholstered, too, which can be super challenging. Be sure to cover the exposed areas so you don't drop gunk on it. I used a drop cloth to cover the upholstery, held in place with straight pins. If your piece has any fabric, try this method. It worked well for me. I also later used interior/exterior painter's tape to protect the upholstery when I was staining. If there are any handles, knobs, hinges on your piece, remove it all. Don't take the lazy route and try to just go around them. Remove everything. You'll save yourself time by not having to fix stupid mistakes.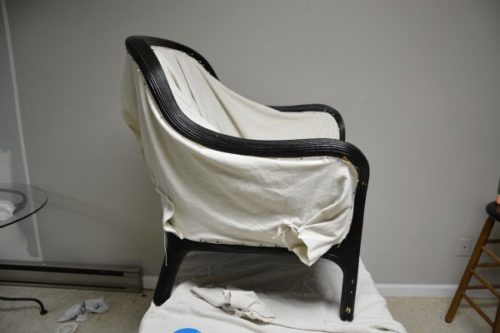 Step 4: Fill a Tin Bucket with Citristrip.
Now that you've gotten all your tools and your piece is prepped and ready, add some Citristrip to one of the tin cans. First, however, don your mask (if needed) and your chemically-resistant gloves, eye protection, and mask. It may smell "good" like citrus, but it still makes you feel yucky if you breathe too much of it in.
Step 5: Apply the Stripper.
Using your old paintbrush, coat each section liberally, but don't totally saturate it so it's coming off in globs. You'll start to see it work immediately, but don't try to scrape away the gunk immediately. Let it work for a good 30 minutes. The old paint or old stain will slide off like butter. The cool thing is that Citristrip stays wet for up to 24 hours, so by all means, if you need to, slather it on before you go to bed, and work on it the next day! Just make sure that it's somewhere where kids and/or pets won't bother it. Be sure not to miss any areas, or else you'll find yourself having to go back over it like some people did <<raising my hand>>.
Step 6: Scrape Off the Old Paint, Varnish, or Stain.
Like mentioned above, use a plastic putty knife. The metal knife may gouge your wood. Then you'll be researching "How to Repair Wood Furniture" because of all the nicks! But if all you have is a metal putty knife, run the sharp edges over the sidewalk or a piece of rough sandpaper in order to round it out and dull it. That is less likely to gouge your wooden furniture.
This is where another tin bucket comes in handy (and the drop cloth!). You'll scrape off so much nastiness that you will need a place remove it from your scraper.
Work in sections and try not to skip around. It will be tempting, but if you stick to one small section at a time, you're less likely to be overwhelmed by all the stuff you have to scrape off. And try, try, try not to let any get on the floor. Yes, you'll have your drop cloth to catch it, but in the event some gets on the floor, it will eat through the varnish on floors. It actually took off a few layers of my basement linoleum floor! I was a little shocked. 🙂
Step 7: Get Into the Tiny Grooves
Now that a bulk of the larger surface areas are coming clean, you've got to get into the grooves of the furniture you're stripping. Wired brushes work awesome. They're tough and can withstand the pressure of scrubbing out old paint and varnish. Toothbrushes will fail you, my friend. Oh, and straight pins were a godsend for the deep, deep grooves! Who would have ever known you could strip furniture with sewing pins…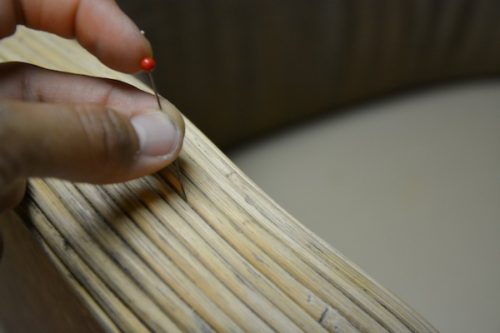 Step 8: Apply a Second Coat of Stripper.
Use an old cloth to wipe away the leftover stripper and residue. You probably did forget a couple areas. Or some areas were stubborn. It's okay to apply more stripper to the stubborn areas. I had to apply more paint stripper in several places. Now's the time to do it, after most of the other stuff has come off.
Step 9: Use Mineral Spirits to Loosen the Rest and to Remove Residue.
After stripping furniture, you'll need something to help loosen the residue from the surface, and mineral spirits (the odorless one) will help you do it. You can also use After Wash. Put some in a tin bucket. Now use your bristled brush (if it's a small area, or use a larger brush on a larger piece of furniture) and just go over each section. Wipe away the excess mineral spirits or after wash.
Step 10: Sand Down the Wood.
Typically when stripping furniture, after you've removed the old paint, stain, or varnish, your wood will still be slightly stained. Sanding helps to remove that residual staining, but you may not be able to sand it down to a perfectly raw wood finish. Sanding also helps to smooth out the wood and creates an abrasive surface upon which the pigment in the stain will lie.
Use a P150 "medium" grit sandpaper. Use a tack cloth to remove the leftover sanding grit. You don't want that ending up in your stain and varnish.
How to Stain Furniture After Stripping
Now that the old stain or paint is off, it's time to stain your furniture. I have to admit, I love staining! Seeing the rich color come alive back into wood that looked pretty awful is very rewarding. Plus, stain just lasts longer than paint. I don't think I have ever painted any piece of furniture that hasn't started to wear thin in highly used areas–even with a couple coats of clear topcoat or wax. But with stain, that stuff is tough and it takes a lot to get it looking worn.
Personally, I love the Polyshades by Minwax, because it has the poly with the stain in one "go." It's just easier to use.
Okay, so here's how to restain your stripped furniture:
Step 1: Prep Your Furniture
If you need to change out your protective cloth, go right ahead. Mine was so nasty that there was no way I could stain with all the debris so close to the finish. So I removed it. Look how fresh and pretty that chair looks in its natural state!
Next, tape off areas that you don't want to stain to get on, especially when you're staining furniture with upholstery. I used interior/exterior blue painter's tape I mentioned above. It held better and was tougher all around. I highly recommend it for projects around the house where you need a good seal.
Whenever you're staining raw wood, as I mentioned above, it's always a good idea to pre-treat it with pre-stain (see "Materials" above). It helps condition the wood so that the stain evenly soaks in and doesn't turn out blotchy.
Watch This Video on Using Pre-Stain
If you're not sure why you would need to use pre-stain on your pine, fir, and other soft or porous woods, just watch this quick clip.
STEP 2: Apply a Coat of Stain.
Apply a coat of stain to your furniture and then wipe it off. I wiped it off after a few moments. I loved how the stain is a little thicker than regular stain and it settled into the grooves like glazing.
STEP 3: Lightly Sand the Wood
Use medium grit sandpaper (such as P150) and sand lightly after the first coat has dried. Use a tack cloth to remove the sanding dust.
STEP 4: Apply a Second Coat of Stain or Polyshades.
Typically, the pigment stains, they sit on the top of a surface; they don't actually soak in. Adding another coat likely won't deepen the color too much, but one more coat won't hurt.
Related: Understanding Wood Finishing: 10 Things I've Learned
STEP 5: Accept That It May Not Be Perfect
Don't go for perfection if this is your first furniture stripping. It's never going to look perfect! My first staining project of my dining room table was a nightmare, and I felt horrible that it didn't turn out as I had expected it to. I eventually just had to accept it the way it was, and I ended up LOVING it. But no staining job is going to look perfect when you're starting out. Cut yourself some slack!
STEP 6: Celebrate Your Accomplishment!
After cleaning everything up (use mineral spirits to help clean up spilled bits of stain), give yourself a pat on the pack! Take tons of "AFTER" pics to show off to your friends and family (and to yourself, because you won't believe how different your piece of furniture looks).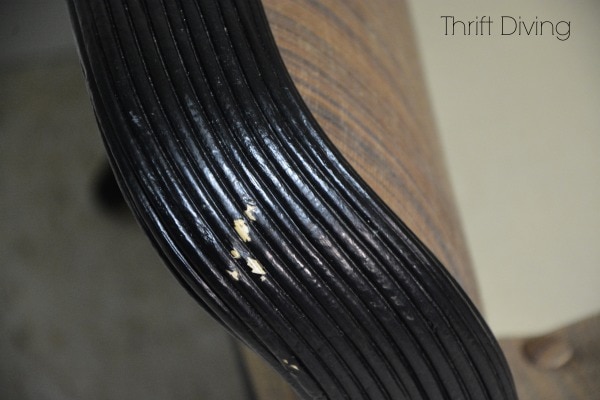 Did you find this guide helpful? If so, click here to SAVE it on Pinterest!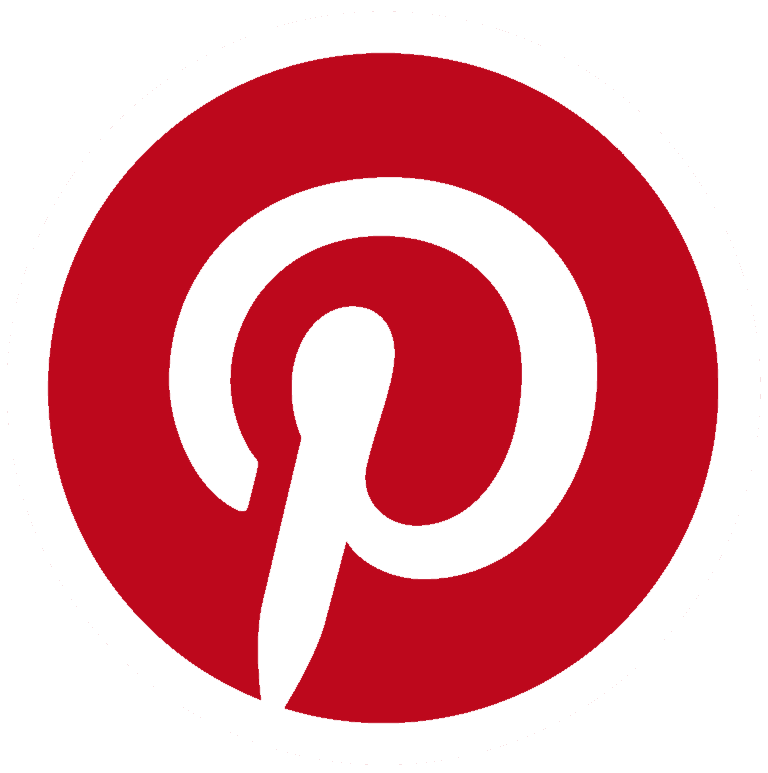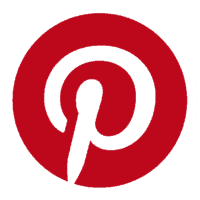 I hope that this blog post and the YouTube tutorials of how to strip furniture and stain wood furniture gives you a starting point for tackling a furniture stripping and staining project! It's scary if you've never done it before, but the possibilities of beautiful furniture are endless!
Have you ever stripped furniture before? How did it turn out? If you have any tips, leave your tip below and add to the conversation!

Download the 5 freebies!
Thrift Diving inspires women to decorate, improve, and maintain their home themselves...using paint, power tools, and thrift stores! Use these 5 printables, checklists, and ebooks to get started!