Long before crazy chicks like me came along with paint brushes in hand, ready to paint over–GASP!–wood, there were people that used chemicals to strip furniture. I don't hear of a lot of bloggers stripping furniture. Do you? (Maybe I just don't read enough blogs)…. 🙂
Here's why:  Dude, it's MESSY!!!!!
And time consuming! And, well…..much harder work than just slathering yummy paint all over something ugly and making it pretty in about 1-2 hours.
But stripping is NOT impossible!
And I love how stripping can take a piece of furniture and restore it back to it's pretty wood. But if you're new to it, here's what you need to know to get started: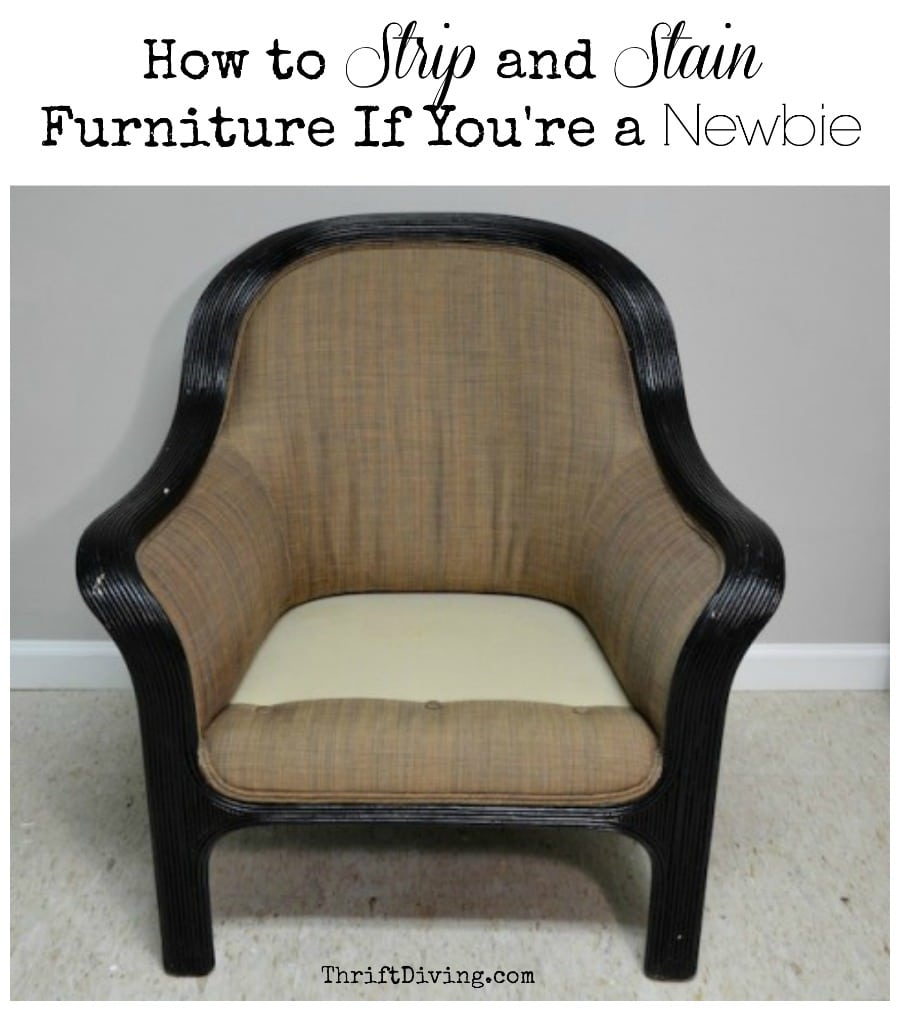 My friend and her daughter had gotten the "great" idea that this chair above would look great with its light-colored palm wood painted darker….as in RUSTOLEUM darker.
Um….
It didn't look better. LOL
So she asked me to try to strip it back to it's beautiful palm wood. Here is what it looked like after I was finished:
AFTER
My friend and her daughter hated the black rustoleum paint. It coated the natural-colored palm wood all wrong, and it was even started to chip. She even hated the fabric.
BEFORE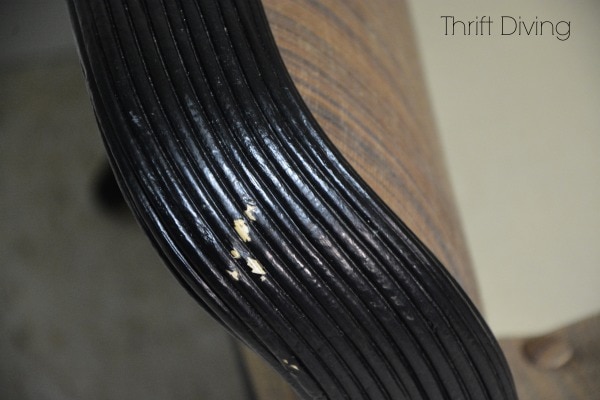 But stripping all that horrific black paint off, then staining it with a Mission Oak Minwax Polyshades, brought it back to life! And funny enough–my friend actually liked the fabric again when she saw how great of a match the new stain was with it! 🙂
 AFTER
Considering this was my first stripping job (haha, hard to say that with a straight face), I was worried I would trash it, but miraculously, it turned out fabulous! (Well, as fabulous as *I* could get it!)
So I knew this would be a HUGE learning curve for me, and I wanted to share with you what I had learned.
Watch the Tutorial
Of course, seeing me do it and reading about me doing it are two separate things. Watch this full project HERE:

P.S. ALWAYS remember to take "BEFORE" pics of your projects, because even YOU won't believe the transformation, much less your friends and family!!
So let's go!
How to Strip Furniture in 10 Steps
Step 1:  Get the right right tools (and put down your kid's old toothbrush!)  
If you're going to strip furniture, you seriously need to get the right tools! This is where I messed up. I should have researched a little more about what I would need, given my project, but I didn't. And this is what I ended up with: using an old Lightening McQueen toothbrush to get into the nitty-gritty grooves of the palm wood! HA! It worked surprisingly well, until the bristles gave out on me. Poor Lightening McQueen looked like something from Tales From the Crypt!!
What I really should have bought were these brushes. These brushes are important if you're stripping a furniture with intricate, tight grooves. They were about $4.00, I think, from Home Depot, and the set had the thick steel that I really needed to get down into the grooves of the palm wood.
Materials For Stripping Furniture:
Stripping Gel – I'm weird….I call this stuff Citristrip even though technically it's called CiTRIstrip (don't forget the "r"), but if you search online, there are many of us misspelling its name. Oh well! lol. It works super well, and doesn't drip or get into areas that it's not supposed to go. It also stays wet for 24 hours, so you can leave it and come back tomorrow to finish! LOVE that convenience!
Stripping gloves — Don't use regular gloves that you'd use to do a medical examination, LOL. And the ones from your kitchen sink won't work, either. Be sure to get gloves specifically labeled as stripping gloves. Look for the orange ones. You can get them from Home Depot, and Amazon carries them. AGAIN, stupid mistake on my part! I didn't realize my mistake until Day #1 of stripping was over! UGh….. lol
Wired brushes – Need I mention Lightening McQueen again? 😉 (see pic above)
Mineral spirits – Mineral spirits helps to clean the Citristrip residue off of the wood. It costs about $10 for the smallest size, which goes a long way. Get the "odorless" one!
3 Tin Buckets – Stripping gel will eat right through plastic buckets. Use tin buckets: one for the stripping gel….one for the mineral spirits….and one as the "Gunk Can" for all the yucky stuff you'll scrap off.

Old paint brush – Quality doesn't make a difference here. You're just slathering on the stripping get. Get a $1.00 brush if ya can.
Plastic scraper – Don't use a metal scraper! You'll gouge your wood. The plastic scraper works okay. I didn't care for it with my project, because of the deep grooves of the palm wood, but for a flat surface, it would be perfect.
 Eye Protection – Another STUPID thing I did…..started stripping without eye protection! At the very least, where your eye glasses. When I was picking at gunk, some flew back into my eye, and I freaked out like a 10-year old and rushed to wash my eyes! I think I'm actually going to invest in some cute eye protection….
Mask – It really doesn't matter how "odorless" or "citrus-y" they try to make these strippers and stuff, they're still chemicals. And after breathing them in for too long, you do start to feel a bit sick. I like to use the heavy duty respirator, which blocks every  odor, even spray paint! Here's my favorite: 3M Tekk Paint Project Respirator.
Canvas dropcloth – Trust me when I say this: you WILL make a total mess! Especially if you're a newbie. And even the residue from the stripped paint, if it winds up on your bare floor, wood floor, linoleum or whatever, it will eat through. I'm talking from experience….LOL.
Sanding sponge – I think I really love these sanding sponges that are angle with points. It just works so much better to get into the deep cracks that you otherwise would have to bend flat sandpaper into folds just to fit.  
Tack cloth – Don't leave any particles on the wood after you've sanded. Otherwise, the stain could be all grainy and rough!
Straight pins – If you're project is like mine and you've got upholstery to protect, use straight pins to pin protective drop cloth over it.
Multi-surface painter's tape – This stuff is 10X stronger than regular blue painter's tape! I found that it worked better for when taping off places I didn't want to get yucky stuff on, because of its super-strong adhesion. It was easy to rip, too. I didn't need scissors.

Rags — You will make some messes! Have some towels on hand to wipe things up.
Pre-stain & gel stain – I used Minwax Satin Polyshades in Mission Oak and Pre-Stain. Pre-stain is important. You must put a coat of it on raw wood first, so that when the stain goes on, it soaks up and coats evenly. Now…don't quote me on this, but I don't really know if you're supposed to use Pre-Stain before you use something like PolyShades, which has the stain and polyurethane in one step. It probably is more important when using regular 'ole Minwax, which is very watery and easier to mess up. (Did you see my $12.00 dining room table that I sanded and stained with regular Minwax and it almost turned into the Nightmare Project from Hell???)
Step 2:  Find the Perfect Spot!
You can't just strip furniture in just any 'ole place in your house. It's a dirty job. Even with a drop cloth, I guarantee you'll have crap everywhere! Choose a place where it's okay to dirty up. Garages are best. My basement worked well for me, since we don't really have anything down there yet. For those of you that live in apartments, maybe you've got a balcony. (It doesn't have to be a big balcony; just do small projects). And make sure it's ventilated. Again, no matter how environmentally friendly some of these chemicals claim to be, their still chemicals that can make you feel yucky if you breathe them for too long. Use a fan to circulate the air, too.
Step 3: Prep your furniture.
My piece just happened to be upholstered, which is super challenging (stupid me for choosing THAT a first project! LOL). If your piece is upholstered, too, be sure to cover the exposed areas so you don't drop gunk on it. I used drop cloth to cover the upholstery, held in place with straight pins. If your piece has any fabric, try this method. It worked well for me. I also later used interior/exterior painter's tape to protect the upholstery when I was staining (see pic below). If there are any handles, knobs, hinges on your piece, remove it all. Don't take the lazy route and try to just go around them. Remove everything. You'll save yourself time by not having to fix stupid mistakes :).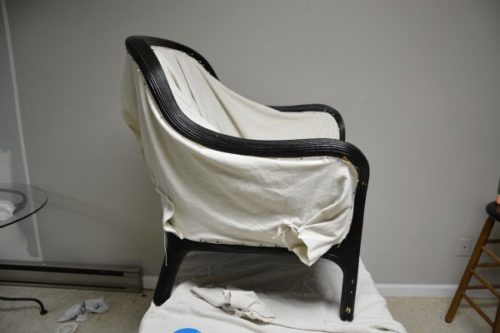 And THIS….is why you protect everything. It's a messy job! That could ruin upholstery….a floor….everything!
Step 4: Fill a tin bucket with Citristrip (correctly known as Citri-Strip).
DO NOT USE PLASTIC. Ever. It will just eat through it. Now that you've gotten all your tools, and your piece is prepped and ready, fill one of the tin cans with it. First, however, don your mask, and your chemically-resistant gloves. Oh, and your eye protection. And use a mask! It may smell "good" like citrus, but it still makes you feel yucky if you breathe too much of it in. It's still a dangerous chemical.
Step 5: Apply the stripper.
Using your old paint brush, coat each section liberally, but don't totally saturate it so it's coming off in globs. You'll start to see it work immediately, but don't do what I did–start trying to scrape away the gunk immediately. UGH…I created a lot more work for myself because of that. Let it work for a good 30 minutes to 2 hours. Better yet, leave it longer, and the old paint or finish will slide off like butter. The cool thing is that it stays wet for up to 24 hours, so by all means, if you need to, slather it on before you go to bed, and work on it the next day! Just make sure that it's somewhere where kids and/or pets (or annoyed significant others! HA!) won't bother it. Be sure not to miss any areas, or else you'll find yourself having to go back over it like some people did <<raising my hand>>.
Step 6: Scrape off the old paint and varnish gunk.
Like mentioned above, use plastic tools. The metal tools will gouge your wood. Then you'll be researching "How to Repair Wood Furniture" because of all the nicks! LOL.
This is where another tin bucket comes in handy (and the drop cloth!). You'll scrape off so much nastiness that you will need a place remove it from your scraper. I actually didn't have another bucket, but I should have. And I didn't cover the floor until I noticed it was eating through my linoleum! LOL
Work in sections and try not to skip around. It will be tempting, but if you stick to one small section at a time, you're less likely to be overwhelmed by all the stuff you have to scrape off. Again, another mistake I made 🙂 I got a little impatient with one area, and I would move to another area, and soon, I felt like I was all over the place. Don't let that happen to you. Oh, and try, try, try not to let any get on the floor. Yes, you'll have your drop cloth to catch it, but in the event some gets on the floor, it will eat through the varnish on floors. It actually took off a few layers of my basement linoleum floor! I was a little shocked. LOL
Step 7: Dig into the nooks and crannies.
Now that a bulk of the larger surface areas are coming clean, you've got to get into the nooks and crannies of the furniture you're stripping. These wired brushes come a long way. They're tough and can withstand the pressure of scrubbing out old paint and varnish. Um, yeah, the toothbrush failed me after a while. Thank God for these little brushes! Oh, and straight pins were a godsend for the deep, deep grooves! Who would have ever known you could strip furniture with sewing pins. HA!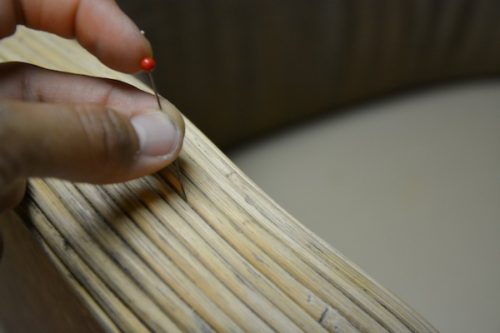 Step 8: Apply a second coat of stripper.
Use an old cloth to wipe away the left over stripper and residue. You probably did forget a couple areas. Or some areas were stubborn. It's okay to apply more stripper to the stubborn areas. I had to in several places. Now's the time to do it, after most of the other stuff has come off.
Step 9: Use mineral spirits to loosen the rest and to remove residue.
This stuff is magical 🙂 I love it! You need something to help loosen the residue from the stripper, and mineral spirits (the odorless one) to help you do it. Put some in a tin bucket. It won't eat through like the stripper, but with chemicals, I really wouldn't chance it using plastic. Stick with metal. Now use your bristled brush (if it's a small area, or use a larger brush on a larger piece of furniture) and just go over each section. I wouldn't bother to wipe away the mineral spirits. It will dry quickly.
Step 10: Smooth it and wipe!
Now you're ready to do a light sanding. I think at this point you can use Fine, since you're just smoothing out the piece. If you've got a large piece of furniture, you may want to use an orbital sander
, which is much faster. If you've got a small piece of furniture, sanding by hand works well. As I mentioned above in the "Materials" section, try using one of those angled sanding sponges. Those things are awesome! They get right into the cracks of where you need to sand out the last bit of "gunk" and roughness, without having to fold it into squares and wedge it into cracks, which never works well for me! Keep sanding until smooth, and then use a tack cloth to remove the left over sanding grit. You don't want that stuff ending up in your stain and varnish!
How to Stain Furniture After Stripping
Now that you've gotten your piece as fresh and bare as possible, it's time to stain! I had to admit, I love staining. Seeing the rich color come alive back into wood that looked pretty awful is very rewarding. Plus, stain just lasts longer than paint. I don't think I have ever painted any piece of furniture that hasn't started to wear thin in highly used areas–even with a couple coats of varnish or wax. But with stain, that stuff is tough and it takes a lot to get it looking worn.
Personally, I love the Polyshades by Minwax, because it has the poly with the stain in one "go." It's just easier to use.
Okay, so here's what to do (from my own perspective. If you've found another way to do it, please leave a comment below and share!) 🙂
Step 1: Pre, Pre, Pre!
If you need to change out your protective cloth, go right ahead. Mine was so nasty that there was no way I could stain with all the debris so close to the finish. So I removed it. Look how fresh and pretty that chair looks in its natural state!
Then I taped off with that interior/exterior blue painter's tape I mentioned above. It held better and was tougher all around. I highly recommend it for projects around the house where you need a good seal.
Whenever you're staining raw wood, it's always a good idea to pre-treat it with pre-stain (see "Materials" above). It just helps condition the wood so that the stain evenly soaks in. I think pre-staining is even more important when you're using the regular Miniwax or any other regular stain, because there's so many more chances to get it screwed up. Polyshades seems to be different in that it doesn't penetrate quite so unforgivingly as regular stain does. It seems to cover more evenly. You may be able to skip the pre-staining altogether when you use Polyshades stain and poly mix, but I wouldn't chance it. Just make it your process to pre-stain and save the mishaps 🙂
Here's what the chair looked like after I wiped it down with mineral spirits and it was ready for the pre-stain!
STEP 2: Apply one coat of Polyshades.
And I don't even think you have to wipe it off after, say, 10-15 minutes, like you do regular stain. I did with this chair, however, on the first coat. Just to be sure. Much of the stain was still left in the grooves, which was sort of cool. It was almost like glazing :).
STEP 3: Lightly sand.
Use Fine sandpaper and sand lightly after the first coat has dried, which could be able a day. I wouldn't do it the same day! Unless, of course, you did the first coat wee-wee early, and the 2nd coat late-late at night :). Use the tack cloth to remove the sandings.
STEP 4: Apply a second coat of Polyshades.
Ahhh….now the color is deepening and looking so beautiful! If you wiped off the first coat in STEP 2, I wouldn't wipe off this coat. This 2nd coat leaves the color rich.
 STEP 5: Fight the temptation!!!
No one really tells you this when you're learning to stain wood: it's never going to look perfect!!! At least, not until you get more practice!! You're going to have your doubts!! My first staining project of my dining room table  was a nightmare, and I felt horrible that it wasn't turning out at I had expected it to. I eventually just had to accept it the way it was, and I ended up LOVING it. But no staining job is going to look perfect when you're starting out. This chair project, I kept trying to "fix this" and "fix that" and my husband just rolled his eyes and said, "It's the imperfections that make it PERFECT! You did this, no one else!" So, yeah, cut yourself some slack and don't obsess if it's not perfect.
STEP 6: Celebrate your accomplishment!
After cleaning everything up (use mineral spirits to help clean up spilled bits of stain), give yourself a pat on the pack! Take tons of "AFTER" pics to show off to your friends and family (and to yourself, because you won't believe how different your piece of furniture looks).
I hope that this tutorial, and the YouTube tutorial of the whole project from start to finish helps give you a start point for tackling a stripping and staining project! It's scary, I know, if you've never done it before, but the possibilities of beautiful furniture are endless!
I'm totally not an expert, but after doing something once, the learning curve is quite a steep one 🙂 And I'm happy to share my tidbits of info with everyone! 🙂
BEFORE YOU GO
Here are a few more chair projects and posts you may enjoy:
Have you ever stripped furniture before? How did it turn out? If you have any tips, leave your tip below and add to the conversation!