I've Been Using Toxic Paint Stripper Gel For Years!
I feel like I've been fooled. Hoodwinked. Bamboozled.
My favorite paint stripper, which I had been touting as being so "eco-friendly" and "safe enough to be used indoors," is actually quite toxic.
So toxic that even The Home Depot, Lowe's, Walmart, and Sherwin Williams won't even sell it on its shelves.
I'm talking about Blue Bear's Soy Gel Paint & Urethane Stripper.
Listen to This Episode
If you would rather listen to this episode, click to listen! This is Episode #49 of The Thrift Diving Podcast!
I didn't start this blog post with the intention to write about dangerous paint stripper gel.
Actually, I pulled out the data from a survey that I did a couple of months ago where I had asked my readers and YouTube viewers to complete a survey telling me what your biggest challenge was related to painting and refinishing furniture.
There were so many people who said they had trouble just getting started: from not knowing how to prep pieces for painting, to knowing how to sand delicate or intricate areas…to repairing broken parts first before painting or refinishing…to knowing what are the best products to use.
So I decided I was going to start there: with the products.
After all, you can't do a project unless you know what products to use. It's hard to really research this because the products that you see online being used, by your favorite creators, YouTubers, bloggers, you really don't know if they personally really love them, or if they're just using them because they were being paid to use and promote them.
I had done an episode for The Thrift Diving Podcast Episode #19 where I shared about how bloggers make money. We have brands that reach out to us and offer us paid sponsorship and "free" products to use and promote their products. And hopefully, the things we are using are products we really like and would use even without being paid.
Well, that's what happened last year when I was promoting a paint stripper called Blue Bear Soy Gel. I was already using this paint stripper for years when they emailed me and wanted to partner up, which I was happy to do. I was recommending this product even without promotion because I felt it was safer, due to their "soy gel" marketing and I liked that it didn't smell as sweet as CitriStrip paint stripper.
They wanted me to market it as a paint stripper that can be used indoors. That it was totally safe and natural, because it was "soy" based.
So that's what I tried to do. I refinished this gorgeous vintage drafting table that I had bought years ago at a thrift store for only $30 (but it's really worth over several hundred dollars; it's my most prized thrift find, actually!).
BEFORE
AFTER
I laid down some plastic sheeting underneath and started stripping the table right in my basement. The smell was still powerful, so I set up a fan. It was messy. And after stripping the table, and cleaning off the residue with another one of their products they provided, I still needed to sand down the top, which is typical when stripping furniture. At that point, there was no way I was going to be able to sand indoors, which would have been very messy.
So I moved everything to the garage to finish the project.
The basement still smelled like stripper for days, which I didn't like.
But still, I loved using this stripping gel because it's what I had been using for a while and I always got good results, and felt like I was using something less dangerous than what was typically found at the big box stores, right?
So in preparing for my podcast, Episode #49, to talk about products I recommend for stripping furniture, I started to dig into the ingredients of my favorite soy gel based stripping gel. And I read that it contains a chemical called N-Methyl-2-Pyrrolidone (NMP, which is what I will call it going forward. It's also found listed as N-Methylpyrrolidone).
In fact, NMP was found by the EPA to be in a ton of products, such as paint strippers, adhesives, cleaners, paints, resins, etc. Even children's toys and clothing.
I had no idea what this chemical was.
When it came to paint strippers, I thought it couldn't be as dangerous as "the really bad ingredient" called methyl chloride, which had actually killed people. In fact, methyl chloride had been banned from paint removers in early 2019, after the EPA proposed the rule to remove it back in April 2017.
I didn't know that the EPA also had proposed some rules about NMP at this same time in 2017, stating that they wanted to limit consumer use of NMP, limit commercial users of NMP for paint removal would have some protections against contact with it; for example, they wouldn't be able to use products that have greater than 35% NMP by weight, and that gloves that can protect against exposure would be identified, and that appropriate labels and warnings will be used. (Read the full rule here).
(FYI…..Blue Bear Soy Gel is 41% NMP by weight).
Apparently, there was some push-back from industry, though, and in 2021 the EPA officially withdrew the proposal for these bans. Regardless, The Home Depot, Lowe's, Walmart, and Sherwin Williams were some of the companies that decided they wouldn't sell any more paint strippers that contained NMP at any of their stores globally (as of February 2019), even though it hadn't been banned. They simply removed the items from their shelves.
The Half-Truth of Marketing
And with all the marketing thrown at you, you can only really know what products to use based on what your favorite DIYers are using and recommending, right? I mean, if it's someone you trust, or really respect, you're going to trust what they're saying, right?
And that's where the problem occurs.
Even us bloggers sometimes don't even know the extent of a product's safety. However, because we are looked at as the "experts" when creating content, we're believed, trusted, highly respected to make recommendations that help you to save time by not having to do all the research yourself on particular products to use for projects.
But we're consumers, too.
We get it wrong sometimes. And boy, did I get this one wrong! Which is why I'm sharing with you this huge discovery!
Brands aren't going to share this information directly with you, either. They've got products to sell, and as long as it's legal to sell, they're going to market their products for what they want you to believe they are, not for what they truly are.
Isn't it ridiculous when you see packs of candy with sneaky marketing on the packaging as being "FAT FREE"? You flip the box over and see that it's got 50 grams of sugar! HA! 🙂 Surely "fat free" is negligible at that point.
The same is true with this stripping gel.
Yes, it's made in part with 100% American-Grown Soybeans. But you surely aren't advertising that it's got a chemical that has been known to cause miscarriages and reproductive harm and isn't allowed to be carried by many retailers and contains a chemical that is on the European Union's restricted substance list.
Safer Options for Paint Strippers
I did a little digging and found a site called SaferChemicals.org that had a PDF list of better options for safer paint stripping, which you can find a link to that PDF on their page, along with info on NMP and why it's problematic and should be banned.
This explains why this Blue Bear Soy Gel Paint and Urethane stripper can only be found at Ace Hardware online. You can't even find it on Amazon, and I'm not sure if that's why, due to it's 41% NMP ingredient.
So my point is that before you jump into any project, whether your favorite blogger is recommending the product….whether something says, "It's safe to use indoors!" Or "Made with soybeans in the USA!" Or something else to make you feel it's eco-friendly, do your research. Read the ingredients list. Dig a little more than just taking what you see in your favorite videos at face value. Because sometimes, we bloggers are just as naive as you may be.
What is Considered a "Safe" Paint Stripper?
From the safest paint strippers I could find, what I gathered is that its main ingredient listed is either:
Dimethyl Glutarate
Benzyl Alcohol
Dimethyl Adipate
Dimethyl Glutarate seems to be rated as the safest ingredient, which is on the EPA Safer Chemical Ingredients list for "low concern." I even checked the Environmental Working Group's website, ewg.org, and it is rated as a 1, with 1 being the best and 10 being the worst.
Many of the other safer paint strippers listed have Benzyl Alcohol as their main ingredient. And while it's listed as "best in class," (I'm assuming it's most effective??), it still has some mild concerns due to this preservative being an allergen. It's considered safe in skincare and cosmetics, but for some people, it could trigger some immune response as an allergy. The good news is that it's not cancer-causing and has no developmental or reproductive toxicity. You'd definitely want to make sure that it doesn't get on your skin, though.
Dimethyl Adipate is listed in the Environmental Working Group's database as a "1" which is most safe (with "10" being the worst and most problematic).
In fact, one of the safest paint strippers I could find was 3M Safest Stripper Paint & Varnish Remover, which contains Dimethyl Glutarate, which is listed as safe. (Although, they're shocking me with that "no gloves required" marketing. I would still wear gloves, out of habit. 🙂
It doesn't appear to be readily available at your local Home Depot or Lowes, but when searched online at AceHardware.com, I could identify some local stores that had it in stock.
I am so anxious to try this out to see if it works well and is a great alternative to Blue Bear Soy Gel. I'll be sure to try this out on an upcoming project and report back to you what I think, how it works, etc!
CitriStrip was also listed as a safer option, but contains Benzyl Alcohol, so just make sure you don't get it on your skin. I personally don't like the smell of CitriStrip and find it to be too sickly sweet smelling. But it does work well!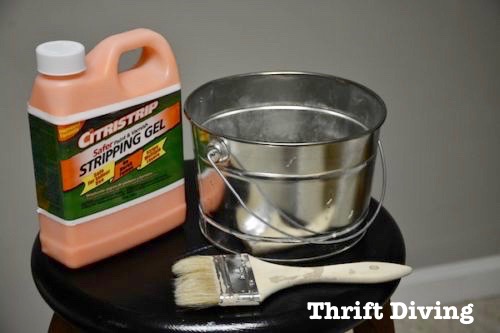 What Other Safe Products Can We Use When Stripping Furniture?
I did a bit of research and found that, while vinegar doesn't strip furniture, per se, it can soften paint to make it easier to scrape away. I hadn't tried this but I'll be willing to give it a shot and see how it works! I also read that vinegar and water is also a great cleaner to use after stripping furniture.
All furniture must be cleaned after stripping to remove the residue of the stripper, by the way.
I did a little research on the Blue Bear Emerge Cleaner & Degreaser, which I previously tested out as a way to clean furniture after stripping. I also researched its ingredients and those three ingredients appear to be safe:
Water
Octyl Iminodipropionate – used as a cleaning agent. I can't find much information about this, good or bad, which leads me to believe it's not problematic.
Sodium metasilicate – Gets a "2" green rating from EWG out of "10". Sodium metasilicate can be used as an adhesive, corrosion inhibitor, and a sealant. It's often used in hair color and a corrosion inhibitor in cosmetics, and can be also used in shaving, bath, and oral hygiene products.
This Cleaner & Degreaser is a high alkaline cleaner, which is considered heavy-duty. While it's safe, you don't want to get it on your hands, so wear gloves.
How to Know if Your DIY Products are Safe
I know I went down a rabbit hole with this blog post and topic, but it's one that is so important. In fact, it makes me question all products I am using for my DIY projects!
Through my research, I learned that every product out there on the market that has chemical ingredients, has something available for you and me to review called a Safety Data Sheet (SDS).
It's usually in the form of a PDF that we can download or print out that has everything we want to know about a product.
In fact, this is the Safety Data Sheet for the Blue Bear Soy Gel. Although it gets low ratings for Health, Flammability, and Reactivity, it's clear to see the hazard listed in Section 2 that it can cause birth defects or other reproductive harm. This is especially important for young women tackling their own DIY projects around the home.
The Safety Data Sheets (SDS) tells you everything from:
Ingredients and Composition
Manufacturer's address and phone number
Hazards
First Aid measures and what to do if you're exposed
How to store and handle the product
Toxicological info
Etc.
To find the SDS for your favorite DIY products, you can't access them from The Home Depot's product page, or from Lowe's product pages. You have to go directly to the brand's website, find the product you're interested in learning more about, and dig a few pages in before you can find it. But it will be there!
Get familiar with these sheets, print them out, and make sure you know what you're using on your projects. Because I know I will be from now on!
So What Other Things Do You Need When Stripping Furniture?
Since we're talking about stripping furniture, I'll list out some other items you'll need to get this job done!
Chemical-resistant gloves for products that require that you not touch them, such as Blue Bear Soy Gel, if you have to use this product (if it's all you have on hand).
Regular gloves – to be used with paint strippers that contain benzyl alcohol or other skin irritants (it's just a great idea to always wear gloves anyhow, by the way!)
Sandpapers of various grits
Orbital sander for sanding clean wood.
Lead paint testing kit – For testing paint before sanding it (if chemical strippers aren't used and a sander is used instead).
Dust mask
Organic vapor gas mask – In the event that you are using products that aren't quite as safe as the ones listed above
Metal or plastic putty knife
Metal bristle brushes for stripping in difficult areas that have a lot of detail
Plastic sheeting to protect your floor
Cardboard box or milk jug for waste (contact your local recycling center to find out if there are special considerations and rules for discarding the old stripped paint or chemicals).
Safety glasses to keep splatters out of your eyes.
Lint-free cloths
No VOC stains – My favorite are ECOS water-based wood stains, but buy small test pots first to make sure you like the color and finish. I found some of the colors to be spotty.
Wood conditioner – This prevents some woods, like pine, from looking blotchy when stained. Use the ECOS brand which is ECO-friendly.
Why It's Important to Use Safer Products
I can tell you this: I absolutely love DIY, as I'm sure you do, too. And because of that, we're exposed to many chemicals, materials, and risks when we do what we love.
But with a bit of research and knowledge, we can make healthier choices for ourselves, our family, and the environment!
Do you have a product that you absolutely love that's safe? Have you ever used products, like paint strippers, that you later found out that wasn't as safe as you thought?
Leave a comment below and let's chat about it!

Download the 5 freebies!
Thrift Diving inspires women to decorate, improve, and maintain their home themselves...using paint, power tools, and thrift stores! Use these 5 printables, checklists, and ebooks to get started!