Do you ever feel that you suck at home ownership? Do you procrastinate on fixing stuff you KNOW you need to address, but because the problem doesn't seem urgent, you blow it off until "later"??Well, that's us.Seriously, the amount of time….work…money….that goes into it, is overwhelming at times. And sometimes I feel like this house owns US, rather than US owning this house.
I'm not just talking about decorating and making things pretty; I'm talking about the stuff like repairs and improvements to simply keep your house up and running and not falling apart!
Well, tonight our house slapped us in the face for procrastinating on things we KNEW we needed to address:
Bad storms + clogged gutters + poor grading = WATER IN THE BASEMENT.


What a crappy concoction…..And what sucky home owners to turn a blind eye to problems that need addressed:
The picture above is what the side of our house looks like: rocks stacked again the house, weeds growing, and a ditch that collects water.
Pretty rough.
What you don't see is the NILE RIVER that was pooling up next to my foundation this evening in that little ditch, and underneath our HVAC unit, in what was a torrential downpour this evening. (And who in their right minds aims a down-spout in this manner?! Thanks, previous homeowners…..)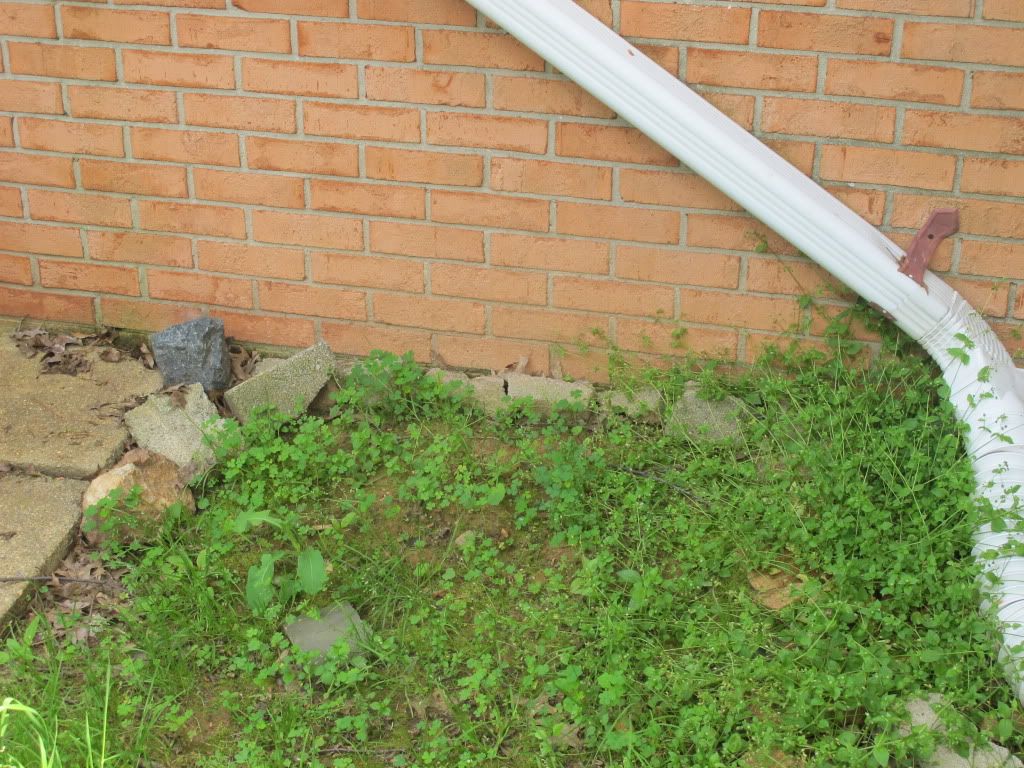 We KNEW that we needed to address the grading around our house (thanks for a
moisture evaluation
I had done last year, which left me $600 more broke), with the simple solution to add fill dirt and slope the dirt in such a way that water will roll away from the house/foundation. But we procrastinated.
Why?
I think because we'd never regraded, and we didn't know if we would do it correctly or incorrect. And to pay someone to do it–at least $1,000 plus. Hell, I'm guessing that anything would have been better than leaving it as-is, right??
So we stalled…..and stalled…..and stalled some more….until our house tonight finally said, "Alright, enough of this crap–y'all are gonna fix me NOW!" And when I saw the inches and inches of water sitting next to our foundation, I knew there was no choice anymore:
Yes, I love making the inside of our home pretty…..creating a homey environment for my family……but what's the point to make the inside pretty if the outside is suffering? Makes no sense.
I'm tired of being a senseless home owner. I'm tired of letting the un-fun, un-pretty, and un-sexy repairs and maintenance sit on the back-burner, unattended, waiting for them to catch fire.
It's time to do something about it.
SOOO……tomorrow morning, first thing, I'm going to go buy some fill dirt and work on re-grading (Lord help me…..)…..gonna call around to get some quotes on gutter cleaning (don't want to fall off the roof!)……..and we're going to FINALLY address all the things we knew we've been avoiding.
Here's to not sucking at home ownership anymore!
Now if only this freakin' rain would stop so I can breathe again…..