10 Ways to Decorate Your Home Like the Pros!
Don't we all want to decorate our house like the professionals?
But sometimes, it's hard to know what to do because we don't want to get it wrong! (And most of us are walking around saying, "My house is ugly!")
Well, I happened to stumble upon a radio advertisement for the DC Design House.
I know that home tours are nothing new.
But they're new to me! Aside from ogling some random model home, I've never seen a house fully decked out by professional designers. Especially not one that benefits charity!
But when you love anything "home" related, words like "design house" have a way of making your ears perk up rather quickly. 😉
After a bit of research, I learned that it's a "unique design show house event" where a bunch of "My house is ugly!" get together and professionally decorate a home in a fancy neighborhood of Washington, DC. The DC Design House benefits the Children's National Health System. Since starting in 2008, they've raised over $1.5M, which is amazing!
Each designer takes a room or area, sketches up what their creative minds envisions for that space. Then, a team of people take that bare room or area of the home and transform it into total loveliness.
Once decorated, the home is opened to the public for tours.
Your mouth is salivating, right??
It's like your neighborhood model home on steroids.
There's no other way to describe it.
So you can imagine my excitement earlier this week as I loaded up my van with my camera bag and snacks, ready to capture a little "design genius" from all these professional interior designers!
I wanted to share with you some of my biggest design a-ha "takeaways" from the DC Design House, in hopes of passing some of that "design genius" on to you!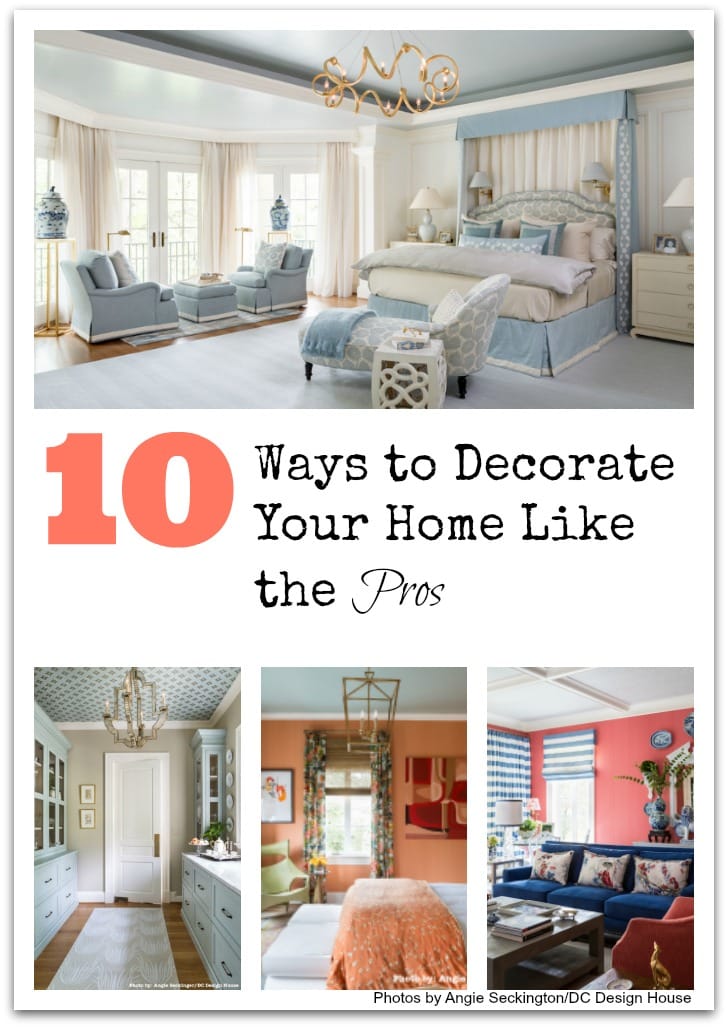 Pro Design Tip #1 – This Ain't Yo' Mama's Wallpaper!
If you've read this blog for any amount of time, you know that I think wallpaper should be banned.
Wait.
Let me re-phrase that.
I thought wallpaper should be banned.
After scraping and peeling off more wallpaper than I care to share, I'd developed a loathing of anything beyond a coat of paint!
But after stepping through the DC Design House, I take that back.
There were so many creative ways that wallpaper was used that, yes, my friends, I'm recanting my statement that all wallpaper should be banned.
Go ahead. You may gasp now.
I know.
You can't believe this is wallpaper, can you??
Neither could I!
(Designer: Jonathan Senner, C.I.D, Atelier Jonathan Senner)
In fact, most of the rooms and areas in the DC Design House were wallpapered!
But this isn't your mama's 1973 home.
This is a smart, chic home with classy style.
I was blown away!
Some of the wallpaper was louder than others, but somehow, it just worked.
Pro Design Tip #2: Frame Wallpaper With Molding For Instant Art
Again, we have wallpaper.
But this wallpaper was super cool.
This designer got it right. By using the molding that was already on the dining room walls, he lined them with wallpaper (Schumacher's "La Cite") which is a reproduction of the 1739 Turgo Maps of Paris. Seriously–how cool is that??
Molding is super affordable, so consider adding it around your walls, then adding wallpaper to them. Instant "framed" art! (For a cheaper look, try stenciling inside of the molding!).
Love this!
Pro Design Tip #3: Don't Ignore Your Ceilings!
Every room I went into to, there was one common theme: the ceilings were not forgotten!
If you were to come in to my house to check out the ceilings, you'd see white, white, white.
Or rather–boring, boring, boring. LOL
It may have helped that this house had 11-foot ceilings. With ceilings that tall, you can go bold and it won't overwhelm you.
Even in homes with shorter ceilings, I learned that you can still decorate your ceiling–just don't go as bold!
In this library and whiskey bar, the designer wanted hand-painted ceilings.
(Designers: Josh Hildreth & Victor Sanz, DMG Interiors, Josh Hildreth Interiors)
In this gorgeous bedroom, the designer used a complimentary green on the ceiling instead of just going with white. I love how crisp the white molding looks with it!
I don't think this room would have had the same effect if it was a plain white ceiling. Do you?
(Designer: Charles C. Almonte, AIA, ASID, Charles C. Almonte, Architecture/Interior Design)
And in this room, the designer added molding and glossy white paint, going up the wall with the soothing green until the green met the molding.
I had to admit that I've never paid attention to molding like this on a ceiling, but it looks sooo interesting, doesn't it??
It just creates visual appeal on a surface that is often forgotten!
Although I loved their use of wallpaper, I still cringe a little to think of wallpapering a ceiling. The inner "anti-wallpaperer" inside of me screams. But these designers made it work!
And I like how the design makes the eye go up! Very pretty!
(Designers: Nadia N. Subaran & Megan M. Padilla, Aidan Design)
And in the dining room, not only did he add molding, but he added shiny metallic wallpaper!
Not sure you can tell, but he, too, added molding to the ceiling to frame off the design.
I have to admit that I was diggin' it. 🙂
(Designer: Jonathan Senner, C.I.D, Atelier Jonathan Senner)
Pro Design Tip #4: Be BOLD in a Big Room
I had the pleasure of talking with the designer of this space.
She shared with me that in such a large room with all these windows and doors and openings, it was challenging to create a warm family room.
But with the use of such a bold coral color (it's wallpaper!!), she was able to cozy it up.
You can get away with bold colors in a big room, especially if you're trying to make it feel like a place you want to cuddle up in! Smaller rooms you may not have to go as bold.
(Designer: Kelley Proxmire, Kelley Interior Design)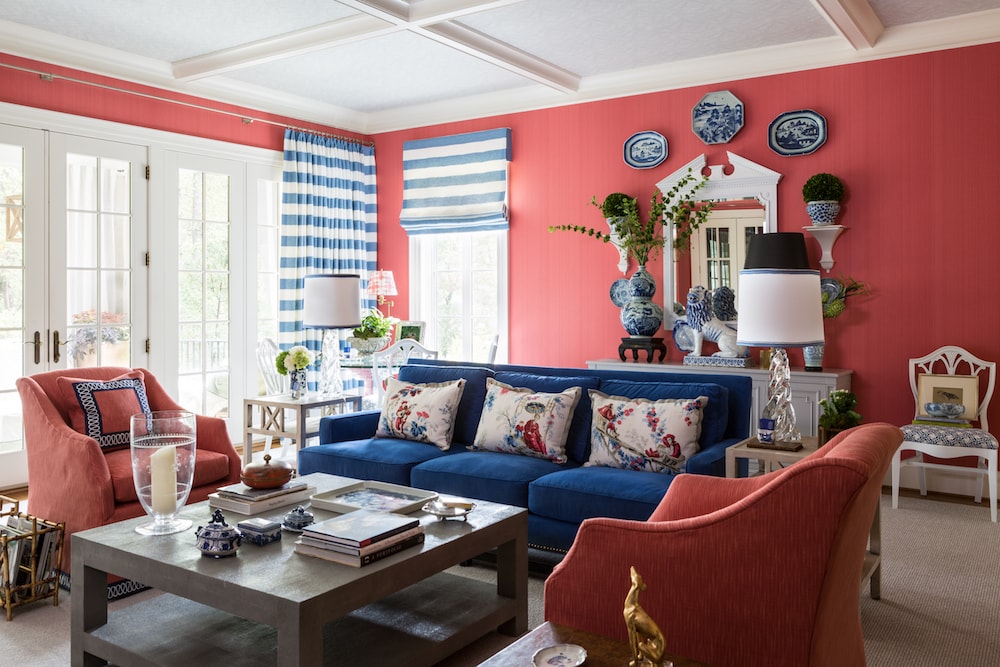 Here's a little fun fact: the sofa used in that room is actually her own furniture 🙂
What a great pop of blue!
There's the designer talking to the other folks touring the home.

Pro Design Tip #5: Steal Color Combos From Fabrics
I feel like I suck at picking colors that work together.
Isn't it so hard to decide??
But the designer in the coral room, guess what inspired her: the fabric from colorful, floral chair on the left!
It got me thinking about how to come up with color combos for my own home.
Designers are fabulously creative.
But they're also just people who get inspired by things, which often times, are fabrics.
So instead of beating yourself up trying to come up with color combos out of your head, just find your favorite fabrics and let them guide you in pairing colors that work!
I liked that the terrace designer carried out this color scheme of coral and blues onto the terrace, too, although the light blue was the dominant color here. What a great color!
(Designer: Kimberly Asner, Country Casual Teak)
…Same thing is this orange bedroom.
The orange and green fabric was clearly the inspiration for this room. And with that, the designer ran with it and created a beautiful room, pulling in shades from the fabrics into all elements of the room!
So, when in doubt, steal shamelessly from fabrics you love, and then create a space around it!
Pro Design Tip #6: Add Texture to Your Walls
Again, I'm a wimp when it comes to doing anything creative to my walls.
But after walking through the DC Design House, I see how much more dimensional spaces can become with texture, including on the walls!
This little window desk area had (surprise!) textured wallpaper that not only looked great but felt a little fuzzy and cozy to the touch. I really liked it!
And while too much texture isn't my cup of tea, I can appreciate the thought that went into how this library and whiskey bar room had jute wallcoverings. It definitely made the room interesting (too masculine for my taste, though).
It was pretty clever how the designer used this tapestry to frame the sofa to create even more texture.
Great idea of adding some fabric behind a sofa!
Sometimes texture doesn't have to come in the form of wallpaper and jute, though.
This room called Lady Lair had texture, but guess how it was created??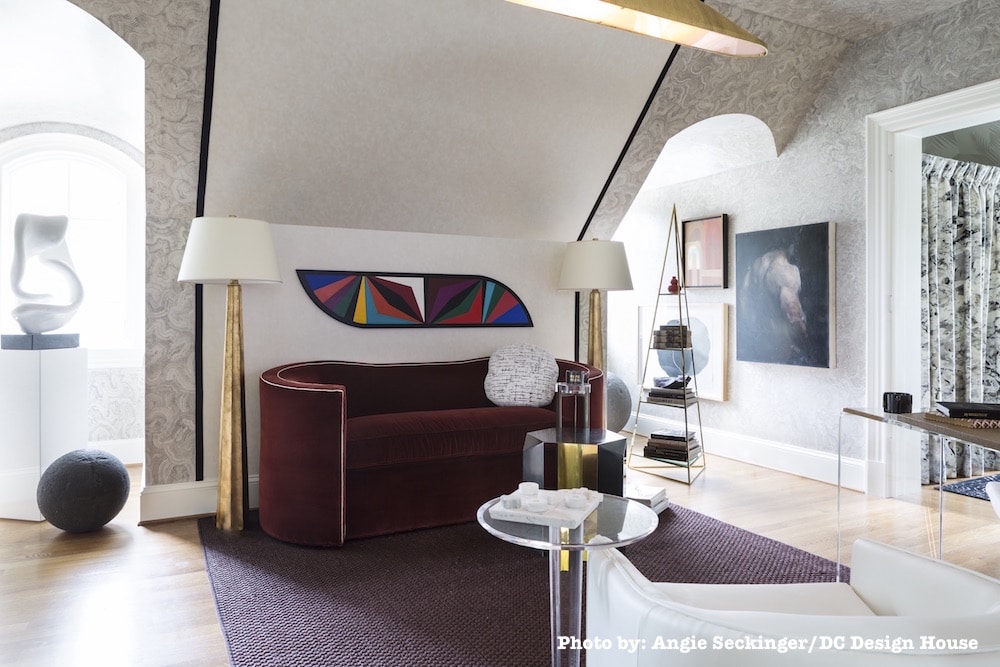 It was created with CARDBOARD!!
I know, right?!
I'm not sure how they ripped or cut off the edge of the cardboard, but however they did it, when dragged through wet paint, it created this awesome swirly pattern to create texture on the walls!
Definitely cheaper than wallpaper, although probably just as time-consuming, eh? 🙂
(Designer: Rachel Dougan, Vivi Interiors)
Pro Design Tip #7: Add Whimsy and the Unexpected
One of the most fun rooms was this sitting room, La Salon Del Celebrity, as they called it. LOL
Look closely.
What do you see, aside from the stenciled ceiling?
There are caricatures on the walls!
(Designer: Camille Saum, ASID, Camille Saum Interior Design, LLC)
She wanted the caricatures stand out, so she matched the drapes to the wall color so that they'd blend in, leaving your eye to appreciate the whimsy wall art. 🙂
This designer told me that in each room she designs, she loves to add two things: whimsy and the unexpected.
And I think she pulled it off, for sure.
The caricatures were drawn on transfer paper and then applied to the walls.
Very clever!
Channel your inner artist and create hand-painted designs, too, like in this room.
I love the soft green (right up my pastel alley!), with white hand-painted designs!
The cabinet and desk were custom creations.
(Designer: Barbara Brown, Barbara Brown Interiors, LLC)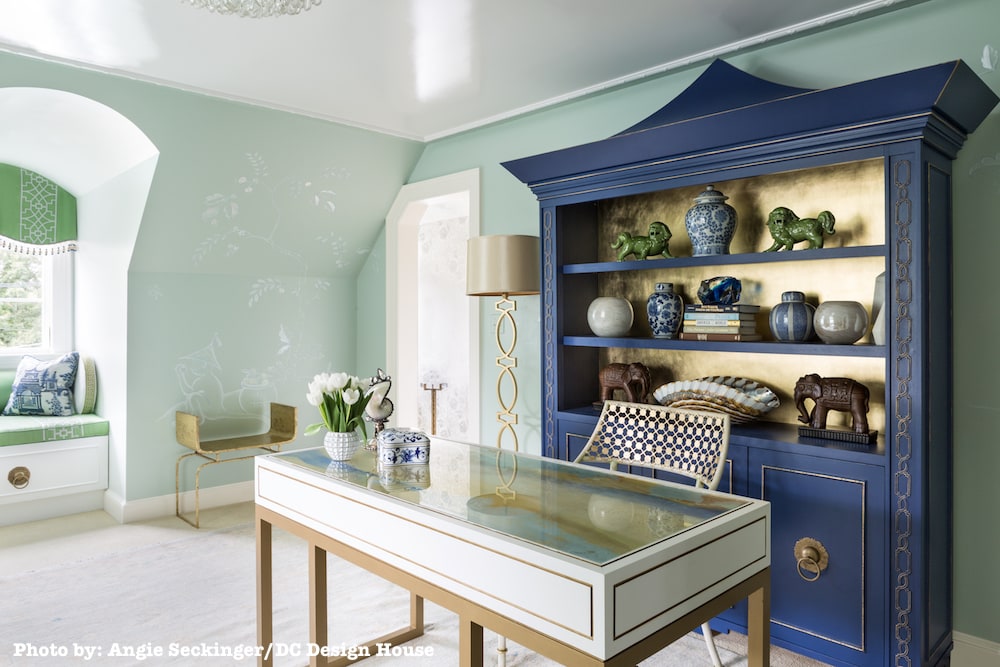 Pro Design Tip #8: Make an Easy Privacy Screen For Your Bathroom Windows
I had never seen little privacy screens like this, but loved the idea when I saw them in the master bathroom!
(Designer: Victoria Sanchez, Victoria At Home, LLC)
I'm usually a "curtains" kind of gal.
But this was a great idea!
Instead of curtains or blinds, why not just make privacy screens like these?
Simply create a little frame with wood and nails, then glue pretty, light-weight fabric that will give you privacy, yet still allow light in!
Cut the privacy frames a fraction smaller than the measurement of the window frame so that they'll be wedged in the window, but still have the ease of being removed when you may want to let more light in!
Pro Design Tip #9: Turn a Small Closet Into a Bar Area
Several designers in the DC Design house turned small closet areas into mini bars, which I thought was interesting! We've all seen closets become little mini-offices, but bars?? That's not something I've seen much of!
Unfortunately, I got a crappy picture of the bar in the Lady Lair room, but you get the idea.
If it's a space in which you're going to be entertaining, this is a creative way to keep guests entertained without having to take up floor space withinin your room.
This mini-bar was also created in a closet which, when closed, disappeared into the library. 🙂
Pro Design Tip #10: Don't Be Afraid to Pair Mismatched Patterns
When I got to the kitchen, I was shocked.
First, I thought the kitchen walls were wallpapered, only to find out it was simply painted.
Then I looked up and saw swirly wallpaper!
But the most shocking is that it worked.
I couldn't help but ask the designer, "So, wait. How did you know these two patterns would work together??"
(Designer: Betsy Barmat Stires, ASID, Frog Hill Designs, LLC)
She told me that if the kitchen had a low ceiling, she would have used a smaller pattern, but because of the 11-foot ceilings, she was able to use similarly sized patterns on the ceiling and wall.
Plus, she said that because she'd designed the walls with a crisscrossed pattern, the swirly pattern complimented the walls.
I admit–I don't think I could have ever made such a pairing! That's why I'm not a professional designer. 😉
But what I learned is this: Don't be afraid to mix patterns!
Play around with shapes and if you've got some geometrical shapes, mix in some swirly designs to soften it up!
I believe that's what the designer did on this patio, as well!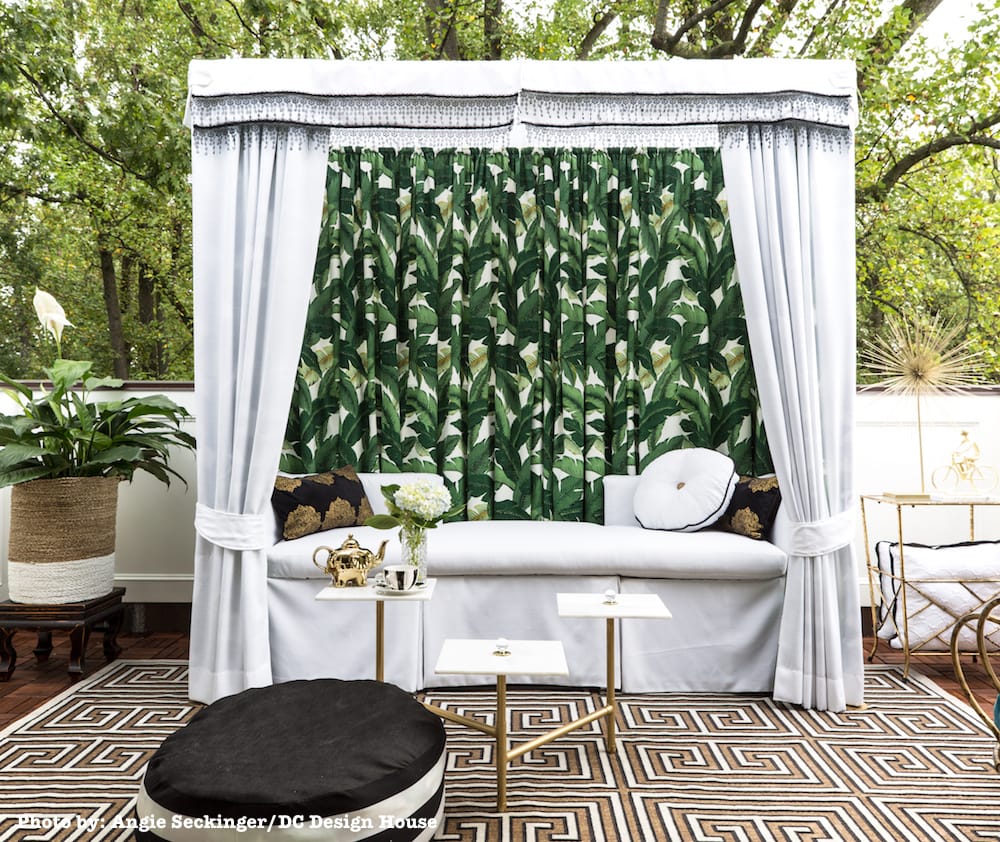 (Designer: Quintece Hill-Mattauszek, Studio Q Designs)

More Pictures!
Want to see more of this design house?
Notice the pretty color combos used in each room to get some ideas for your own home!
This living room was classic and I love the use of white and green, with black curtains. It looks fresh!
(Designer: Pamela Harvey, Pamela Harvey Interiors, LLC)
Wasn't a big fan of this loft room because I'm not a dark-colors-kind-of-girl, and it was a little too contemporary for me. But I liked the pink accents.
(Designers: Melanie Hansen, Steve Corbeille & Pooja Mittra, Yardstick Interiors)
If I were a teenage girl, I'd want a room like this! I love the way the soft pink ceiling compliments the room!
And those curtains?? To die for!
The soft pink of the ceiling perfectly compliments this room, too.
(Designer: Andrea Houck, ASID, IFDA)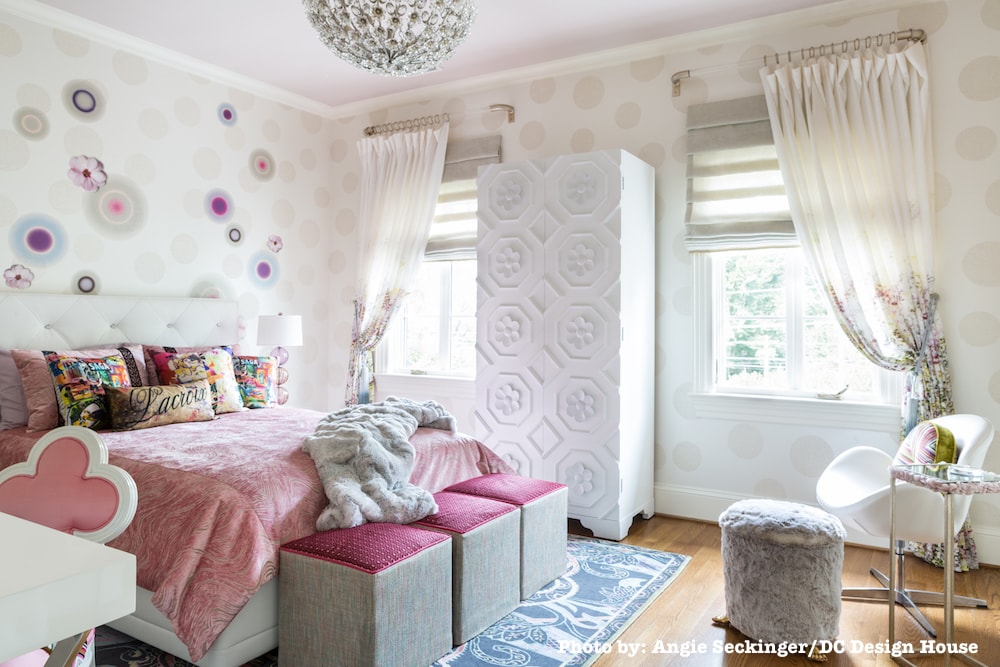 The master bedroom was simply amazing and restful!
Again, the ceiling got a coat of sky blue paint. Of course, it was a large room, but it appears cozy!
((Designer: Victoria Sanchez, Victoria At Home, LLC))
And I just have to say, I love this bathroom mirror!!
Funny how it looks like the $7 thrifted bathroom mirror I used in my half bathroom makeover! LOL
THEIRS
MINE
Here's the mirror in my half bathroom.
Similar, right?!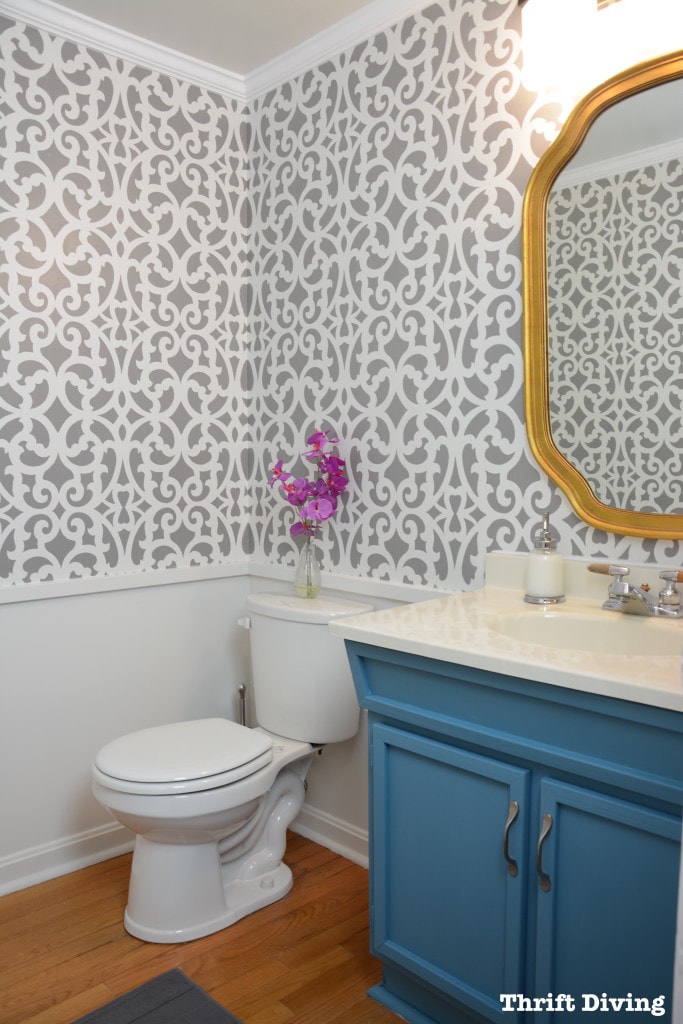 Now Go Be Inspired!
I have a lot of respect for designers.
They're so skilled at being able to layer and coordinate and do the unexpected.
Home tours like the DC Design House are not just for the good of charity but they really give us an insight into the latest trends.
Now I feel less STUCK.
I also know that I can layer and test and go crazy and bold, and in the end, it will be okay.
Design is all about having fun with it!
I hope that with these 10 pro design tips you'll start feeling more inspired and less stuck over how to decorate your home!
So which design tip do you like the best?
Leave a comment below and let's chat about design!

Download the 5 freebies!
Thrift Diving inspires women to decorate, improve, and maintain their home themselves...using paint, power tools, and thrift stores! Use these 5 printables, checklists, and ebooks to get started!