50% Off at the Thrift Store and Lots of Thrift Store Furniture Makeovers!
When holidays roll around, my favorite thrift stores, Unique Thrift and Value Villiage, observe 50% off. Everyone and their mama come out to snag a great deal, including yours truly.
In fact, there are plenty of discount days to be had at Unique Thrift and Value Village. (However, one of my best thrift store shopping tips is not to shop thrift stores on sales days because the competition is too much drama).
But if you find yourself wanting to brave the crowds (and I do mean brave the crowds; people typically line up like it's Black Friday when it's 50% off at the thrift store!), then here are the days when you'd want to go for discount days.
Value Village and Unique Thrift Discount Days are as follows:
Mondays: 20% off the items they've selected, not the entire store. Each week the sales items change.
Tuesdays: Seniors 55+ save 25% off everything
Wednesdays: No discount
Thursdays: 20% off
Fridays: No discount
Saturdays: No discount
Sundays: Typically no discount, but if it's the Sunday before a major holiday, they'll usually do 50% off the entire store.
Holidays: 50% off the entire store (Holidays such as Columbus Day, Memorial Day, etc.)
Below, I'll share some of my favorite finds, as found at Value Village and Unique on discount days and non-discount days!
It can be a madhouse on 50% days at the thrift store!
At Value Villiage and Unique Thrift, the lines starts to line up well before the store opens at 9:30 a.m.
Anyhow, here are my top 10 best thrift store makeovers for items I have bought at Value Village and Unique Thrift!
I literally almost walked away from this thrifted china cabinet, but something told me to buy it–even if I didn't have space to store it. It was only $40. And man, I'm glad I did! This thrift store makeover is my most popular furniture makeover on my blog!
BEFORE

AFTER!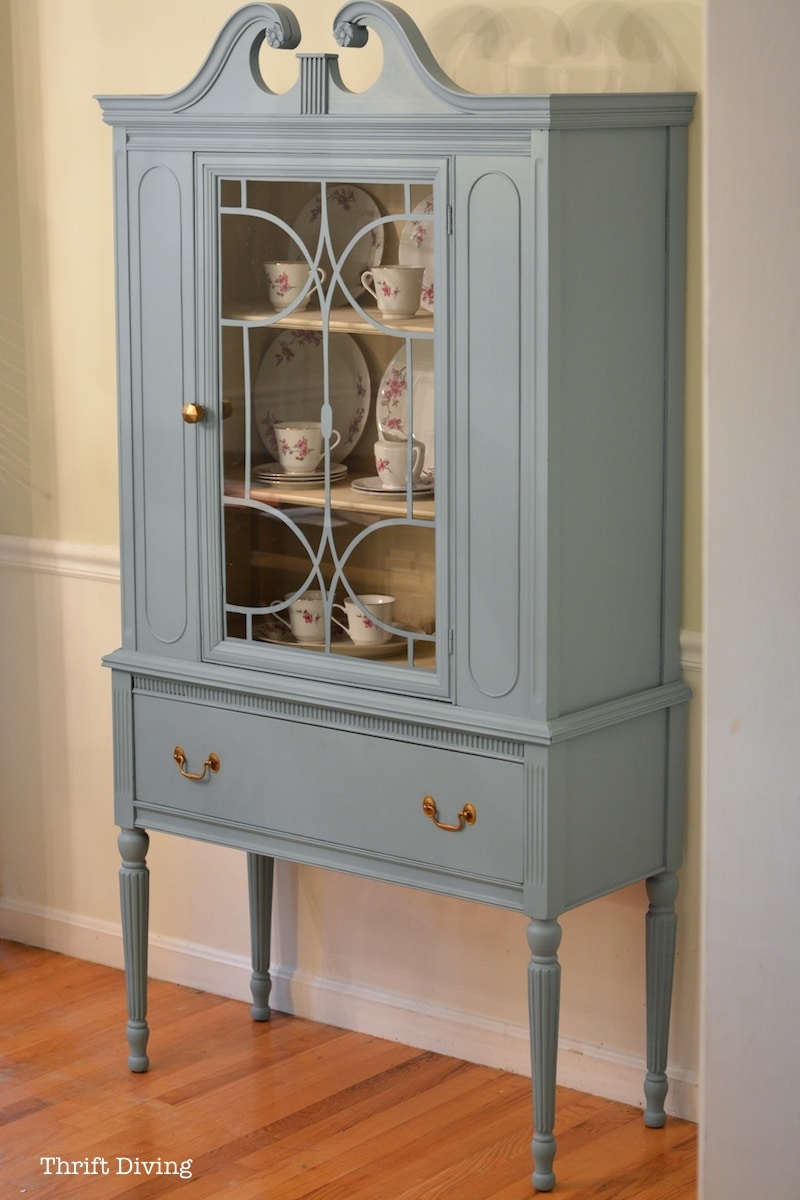 I was only at Value Village to make a donation. I didn't expect to find this mid century modern dresser sitting on the curb. It had just been donated and didn't even have a price tag on it. But I knew it needed to come home with me. You can watch the transformation in this mid-century modern dresser makeover video on my YouTube channel.
BEFORE


AFTER!

As much as I like wood, I despise orange wood tones. It looks so dated. I knew this desk would look amazing with a painted body and a refinished top.
BEFORE
AFTER!

This dresser was so solid and perfect! My mother-in-law needed a dresser and when I saw it, I knew it would be perfect!
BEFORE


AFTER!

This $40 vintage drafting table was a steal–it was solid and had an interesting top. I had no use for a drafting table, but I did need the base of the drafting table. I ended up turning this drafting table into two tables!
BEFORE


AFTER!
The base became a workstation in my garage.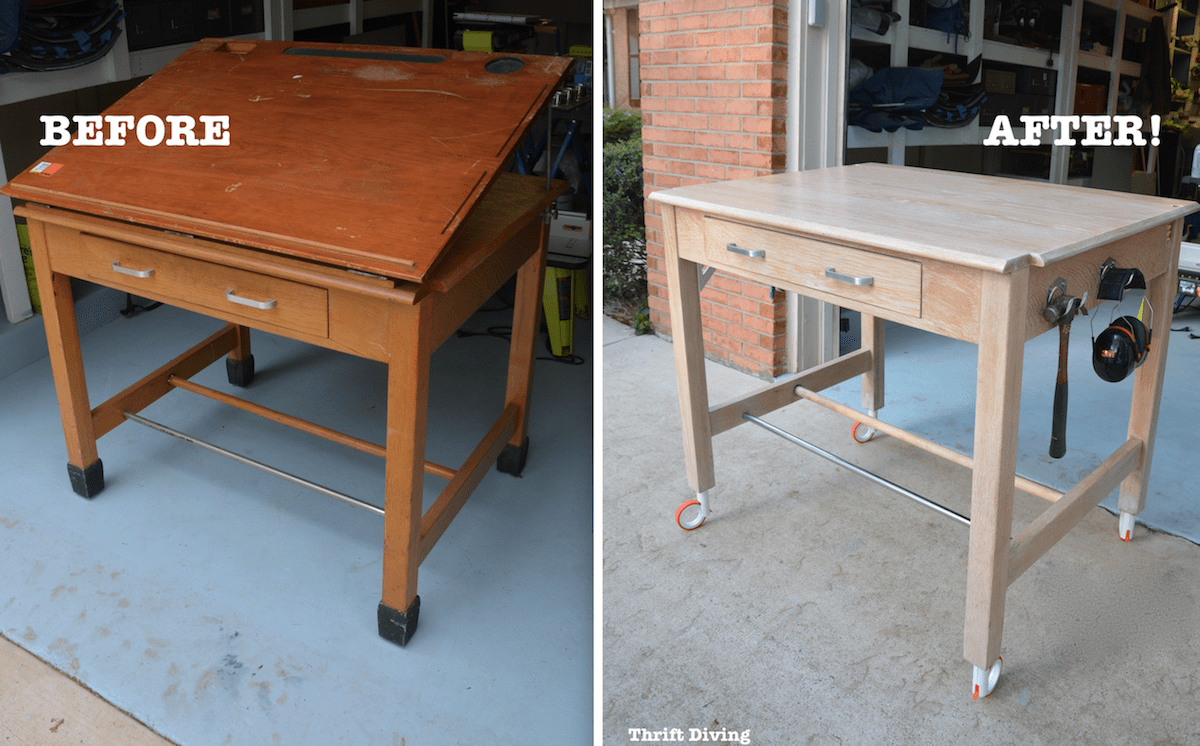 The top of the drafting table was used for my eat-in kitchen table. I made the base of the table and added the drafting table top.
AFTER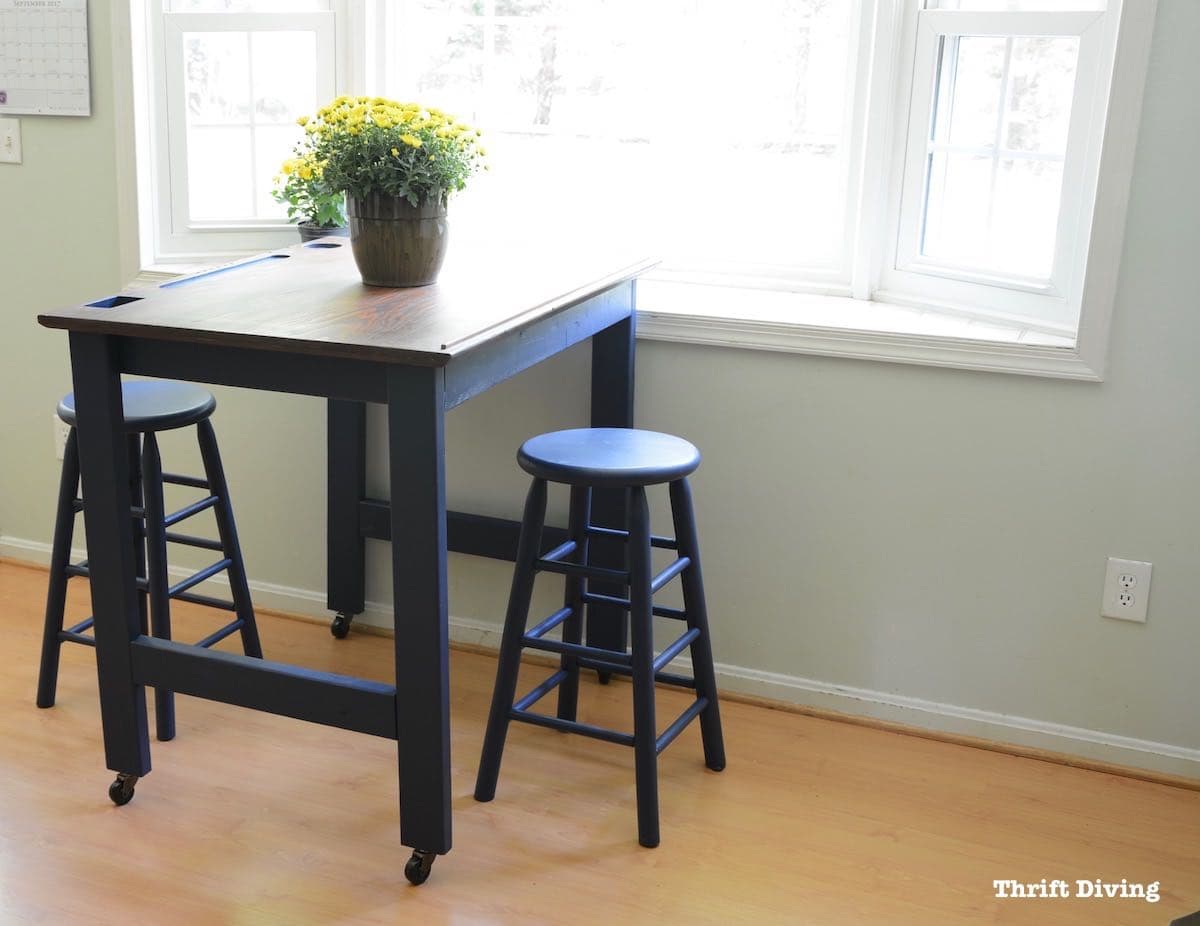 What's amazing is that this repurposed jewelry box only cost me $12.00! That's insane because it was in perfect condition.
BEFORE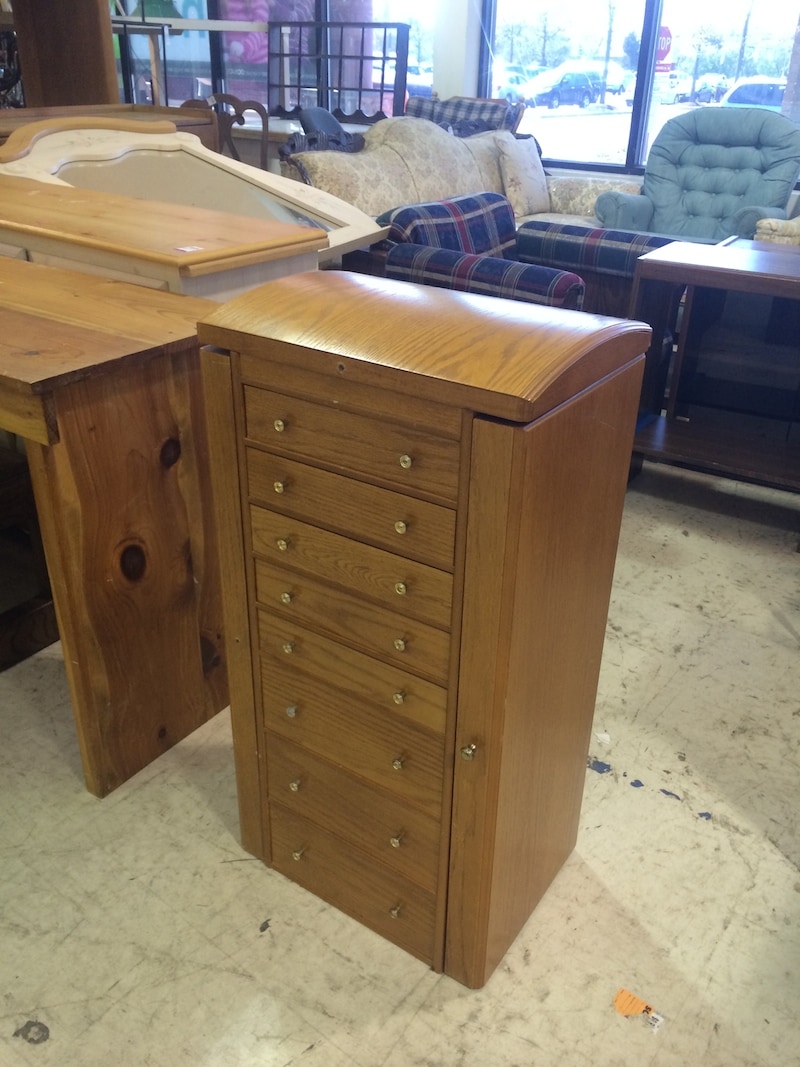 With paint and stencils, it became a craft organizer!
AFTER
Chairs this good don't come along often. But when I spotted it, I had to have it. It set me back $60, which is a bit more than I typically like to spend, but I knew it would be amazing!
BEFORE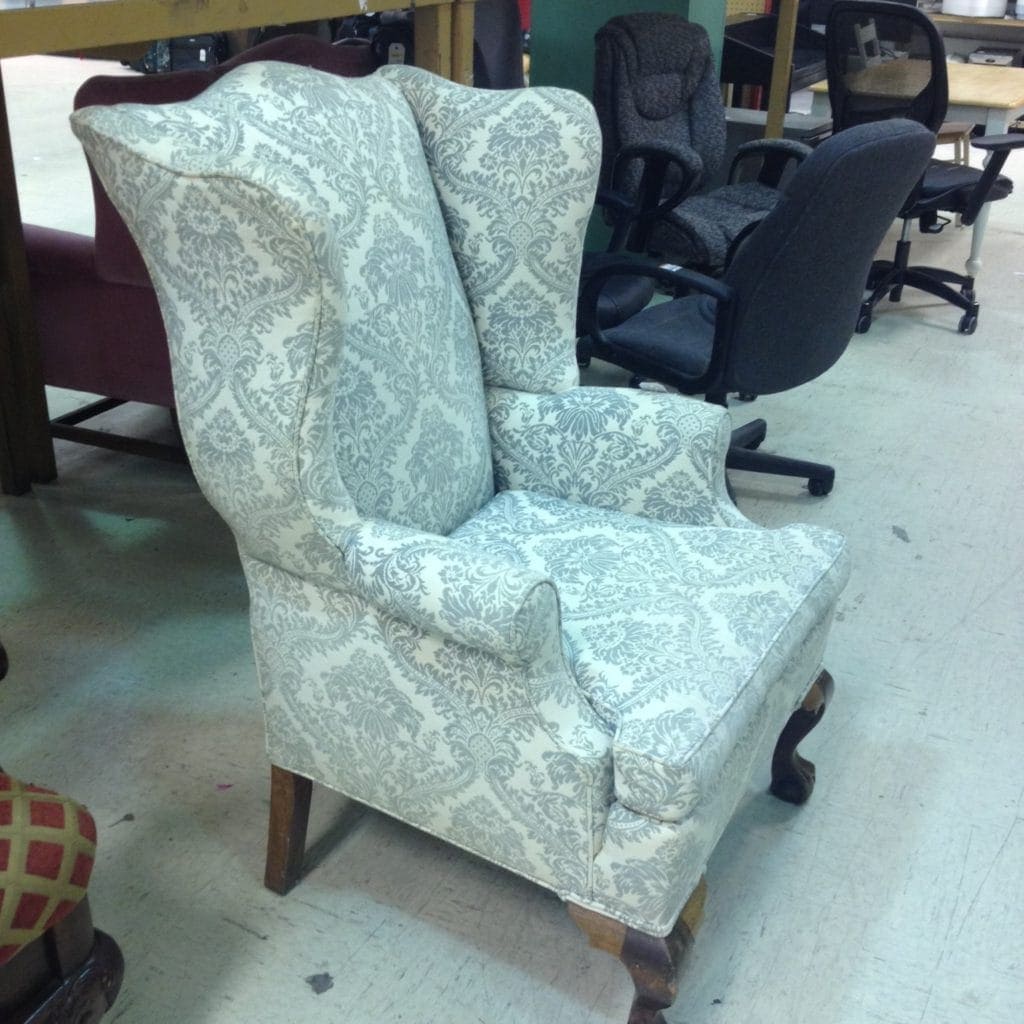 I've been reupholstering this wingback chair in upholstery class. You can watch the progress here!
I didn't get this bench from the thrift store. I got it from an estate sale, for only $25. While the "before" looked okay, it was outdated. I wanted a more modern look. Since I already had the fabric and furniture paint on hand, this furniture makeover didn't cost anything!
AFTER!
It's hard to believe these chairs were only $20 each because at Pier 1, they retailed for $199 each!
I wanted to use one for my pretty basement office makeover, so I reupholstered it.
AFTER!
My kids have since messed up the pretty fabric, so I'll likely reupholster these chair again with something that won't show dirt quite so easily. 😉
This vintage dresser is one of my most favorite finds! It was $60 and in beautiful shape. Some people have lamented about how I shouldn't have painted it. While I do love wood more now that I understand wood, I think that dresser looks much better. Don't you?
BEFORE
AFTER
These are just some of the thrift store makeovers I have done from furniture I've found (mostly) at Value Villiage and Unique Thrift stores. Whether it's 50% off Unique Thrift store discount days, 20% off sales day, or a regular non-sale day, I guarantee that you can find something amazing and it will be beautiful with paint or refinished with a stain!
(Pssst! Be sure to check out my Project Gallery for more DIY thrift store makeovers!)

Download the 5 freebies!
Thrift Diving inspires women to decorate, improve, and maintain their home themselves...using paint, power tools, and thrift stores! Use these 5 printables, checklists, and ebooks to get started!