Top 10 Projects and Posts of 2013
This is my favorite time of year! I mean, I love the holidays for the way it makes me feel (like everything is a bit more cheerful and relaxed), but also because I love looking back at what I've accomplished for the year. Considering how I always feel like accomplish NOTHING (okay, I'm being dramatic, but you know what I mean….) I was pretty pleased to see that I was able to crank out at least one project/post a month. WOO HOO! lol
So here's a look at my top 10 Projects or posts this year!
Okay, so here was go!
Yeah, so my Crate & Barrel wire fruit basket broke and it was too pretty to let it the dump have it. So I upcycled it into a DIY pendant lamps for my craft room! Very easy to do.
This is one of my favorite posts! If you're in the market to buy a home, or you know someone who is buying a home, you must consider this actually buying. I wish I had thought about these things before buying!! (And yes, this is my house!)
Another one of my favorite projects!! This was the first time I had used a Silhouette Cameo, and I had also first used Mod Podge on fabric! But it all worked and came together! And to think that it only cost $2.50 from the thrift store….amazing! LOL
This project was a total whim, but it turned out the way I had hoped! I dribbled paint down the side of a lampshade, and painted a hooka that I have found at the thrift store (only $5.00!), and used that for a lamp base. A very easy project anyone can do!
BEFORE
AFTER

If you're a child of the '80s (or a parent of the '80s!) then you have seen this style of furniture in some little girl's room! I knew it would make a perfect makeover. And I love gray and white together!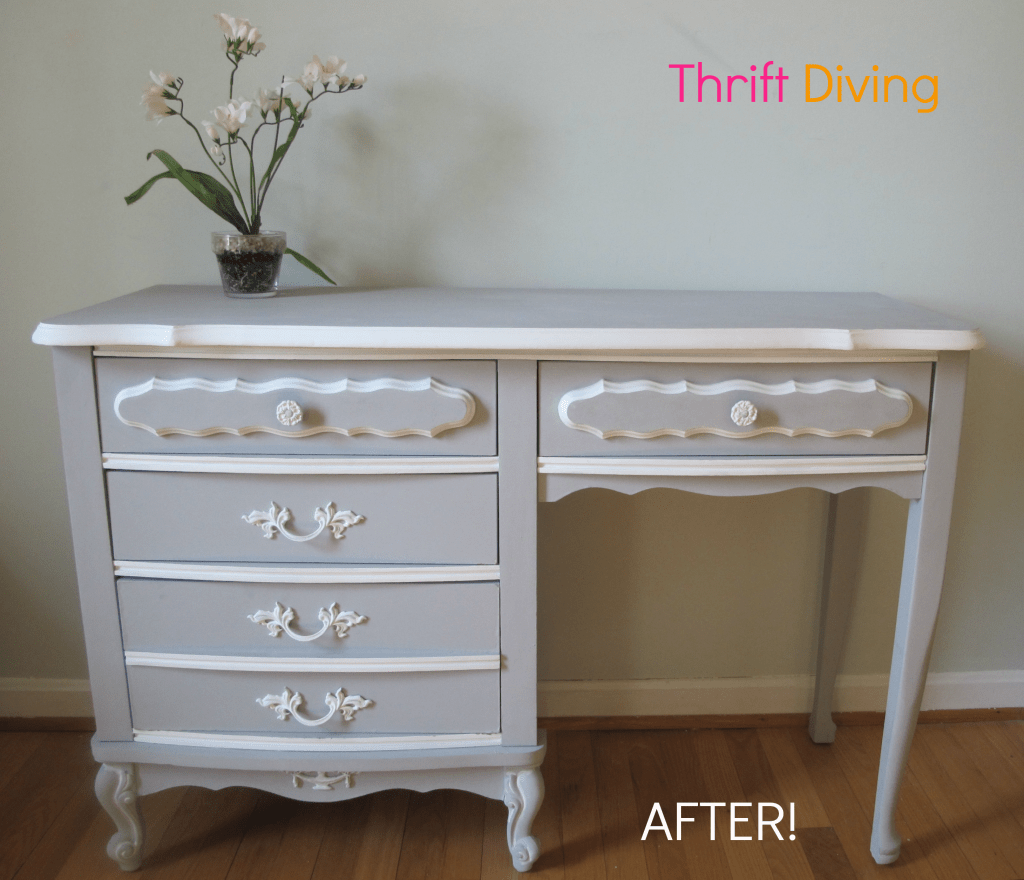 This project is special because my Mom and I did it together for Mother's Day :). When you had 3 kids, it's not that often that you get to just hang out with your mom for a whole day with NO KIDS. But that's what we did. And it was great! I had found the desk for $40 at the thrift store and decided to give it to her.
BEFORE
AFTER
Jeez….this is another favorite! Even my office mate at work was inspired and started making them because she saw this tutorial! 🙂 If you're looking for a way to personalize any gift for anyone, or even a fun, unique "goodie box" for a kid's birthday party, this is a great idea! One reader even said that she made the box and used it to send leftover cake home with someone! AWESOME idea!
I think refinishing kid's stuff is becoming my favorite kind of projects because you can be so much more creative! I found this play sink for $7 at the thrift store and wasn't sure how I was going to make it over. It just slowly turned into a nautical theme! And I am starting to really love the nautical theme. I may even decide to do a nautical theme in my 2-year-olds bedroom!
BEFORE
AFTER
This was probably one of my most challenging projects because of all the furniture tacks! Yes, I could have used the tack strips, but I like to challenge myself to see if I had what it took to use "real" furniture tacks. HA! And you know what? It didn't turn out half bad :).
BEFORE
I started a YouTube channel in September 2012, and in this last year that I have been populating the channel. Blog posts are great, but videos showing you how to do a project or demo'ing a cool product is even more powerful, right? My most popular video on YouTube last year (2012) was How to Paint a Brick Fireplace. This year, 2013, it has been How to Make a Gift Box From Scrapbook Paper:
What's Next for 2014?
POWER TOOLS!!! Seriously, I'm obsessed. Walking through Home Depot is more stimulating to me than through Banana Republic. It's funny how life changes, huh? 🙂 I can't wait to do more furniture makeovers from all the thrift store finds I've been trying to clear from my garage. And I'm really going to be making strides in turning this 1973 home into something a bit more…..modern?? So expect to see more home improvement projects and "how-to" tutorials on using those power tools and doing those projects, like this tutorial on how to use a jigsaw for newbies.
Ahhhh….and yes, a bit of crafting and more sewing…..and funny posts to help inspire us to keep doing our DIY thing! :).
I just want to say thanks to all the people that have been following this blog, taking the time to comment and the share, and just be supportive! You guys ROCK! And a big shout out to all the newest subscribers!
Here's to another awesomely creative year!!

Download the 5 freebies!
Thrift Diving inspires women to decorate, improve, and maintain their home themselves...using paint, power tools, and thrift stores! Use these 5 printables, checklists, and ebooks to get started!