Mailboxes are very boring. When was the last time you even gave a second glance at one?
Well, if yours is hanging by a splinter, or fell over and died the way mine did last week (read about it in this post), then you probably have been suffering from Mailbox Envy :).
And now you have to fix yours.
Where to begin?!
As I work towards getting my "newbie" garage workshop set up soon (ugh, that's a whole 'nutha story….), I thought this would be a great first project. But it's turning into a "OMG, did I totally screw this up?!" kind of first project.
***crossing my fingers***
Just in the last few days I've learned so much from researching "how to install a mailbox" that I feel like I need to pass my research and tips for any other novice DIY'ers who are too cheap or too creative and crafty to pay someone else to do the work. LOL
5 Questions You MUST Ask Before You Install a New Mailbox
Why didn't I think of these things before I started trying to install my mailbox?! But hey– you live and learn…..(And then you consult Papa Google and Mama YouTube, because they know everything…..seriously…).
So ask yourself these questions before you get started:
1. I'm Not Digging Up My Utilities, Am I?
Did you know that if you dial 811 from anywhere in the U.S. they'll put you in touch with your state's call center, who will then contact your utility company to let them know you're about to start digging up your yard? They'll then come to your house and mark all your utilities (I wonder how fast they come, though?). How awesome is that?! You can also check out out their website for more info. I am just now learning about this, and I admit that I was digging my post without having checked first–GASP! Don't make my mistake! 🙂
2. What Style of Mailbox Do I Want?
Umm…… again, I rarely salivate over mailboxes (well, never salivate over them). But now that I'm in the market for one, I can't stop peepin' them. And being the intense DIY'er at heart, I can't stop thinking of building my own post, then slathering on a coat of turquoise paint, with a white post. And flowers all around it in the spring!!
Ahhh….so many options……There's the obvious of wood vs. plastic. But even the way it's mounted makes all the difference in the world! There are top mounted ones, and ones that extend on an arm. Which one is best?
When I saw Diane's new mailbox makeover on In My Own Style (one of my favorite DIY blogs, by the way), she used a kit and the mailbox was mounted on top. (I LOVE that turquoise!)
Then there are the popular kind that has a planter on the back of them and has an arm that extends outwards, which I think looks fantastic!
….Or you can go with a butt-ugly plastic one, like this, HAHAHA. (Sorry, I couldn't help but poke fun of this sad little thing….Don't tell me that opening doesn't look like a wailing mouth! LOL!!
You can also buy a really inexpensive pressure treated wooden post (which is what I am trying to build!). It only costs about $25, and you could paint it to your liking.
Since I'm trying to build my own, I've decided I need to find some DIY plans to build your own mailbox post, like this one, which is probably much more labor intensive, but so much more rewarding! I'm seriously hoping I can carry out this project….
3. Is Aunt Gertrude going to ram my new mailbox when she comes to visit?
Yep, if you don't take into account the type of mailbox you want (e.g. top-mounted one vs. one sitting on an arm), along with the USPC regulations on mailboxes, you could end up your mailbox extending past your curb, and then guess who's going to smash into it when she comes to visit on Christmas? Yep–your 85 year old Aunt Gertrude.
Stupid me didn't plan for the style or location of my new mailbox, so I placed the post in the same location of the last one that fell over–not taking into account that the mailbox would be mounted differently and would spill into the street. Guidelines suggest 6″-8″ back from the edge of the curb. (FYI, USPC also says mailboxes should be 41″ to 45″ in height to the bottom of the mailbox edge.)
So, yeah, I have to figure out how to mount it so that it doesn't poke out into the street. See…when you fail to plan, you plan to fail…it's true!
3. Do I Have All the Tools To Do This?
Tools aren't too difficult, especially if you're just installing a mailbox kit. If you're building your own, it's going to require a circular saw or some other method of cutting notches to join posts to create an "arm" to mount the mailbox. You'll also need a screwdriver and some galvanized screws that won't rust. You'll also want to pick up this thing: a post digger, for about $35.
You can watch this video on how to use the post digger.
If you're building your own post, you'll also need:
a 4'x4′ about 6′ long (2′ will be buried) – You may also need a post depending on it you're using a kit
Galvanized screwns or nails – They won't rust.
Circular saw – for cutting notches to join the post with the arm.
Cement – Comes in a 50lb or 60lb bag.
5. How in the world do I do this?
Um……YouTube? Seriously, everything I learn, I learn on YouTube. Installing a mailbox is no exception. But the key is making a PLAN and being patient, not rushing to do it like I did. Now that you know the USPC mailbox guidelines on distance and height, and you know what style you want, you just have to figure out how to do it. If you're just using one of the kits from Home Depot, they're pretty easy to assemble and probably have their own YouTube videos.
But if you're going the same route that I am, trying to build a mailbox post from scratch, here are the best "How-To" videos and sites I was able to come up with.
Resources
How to Notch Wood for a Mailbox Post – Great video from Ana White on how to notch wood, which you'll need to do to build a post.

VIDEO: How to Build a Mailbox Post – This video will show you how to build the actual post.

MAILBOX PLANS: How to Build a Mailbox Post – This excellent post gives easy-to-read plans for a standard mailbox plan.

VIDEO: How to Install a Mailbox Post  – This video will show you how to set the post in the ground securely. If you're building your own, be sure to build the whole post before installing it in the ground.
Annnndddd….Just For the Fun of It….
A few mailboxes that you may just NOT want to consider. EVER. lol
(Click here to see the whole crazy 25 mailboxes).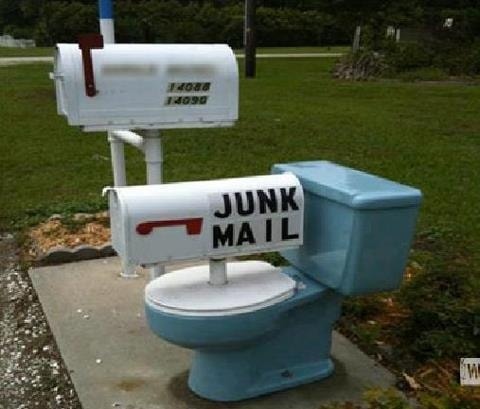 So have you ever replaced a mailbox? If so, did you hire someone to do it? Or did you do it yourself? Any tips or tricks I need to know before I totally mess this up? 😉 Leave a comment below!