5 Questions You MUST Ask Before You Install a Mailbox
If you've got a dead mailbox hanging by a splinter, or it fell over and died the way mine did, then you've got to ask yourself the question, "Am I going to replace my own mailbox or do I need to hire a professional?"
Installing your own mailbox isn't tough, but you have to ask a few more questions before you just jump right into it, which we'll cover in this post.
Here's how my dead mailbox looked when it finally keeled over!
BEFORE
AFTER!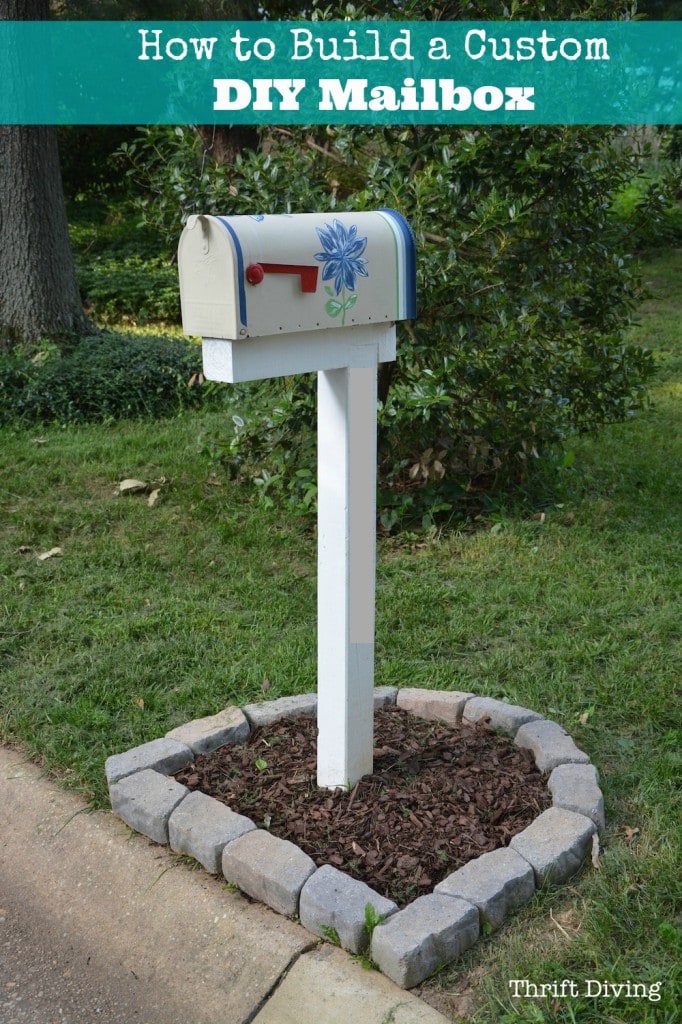 5 Questions You MUST Ask Before You Install a New Mailbox
So before you jump into this project of installing a new DIY mailbox, ask yourself these important questions. You'll thank yourself!
(I participant in the Amazon Services LLC Associates Program, an affiliate advertising program designed to provide a means for me to earn fees by linking to Amazon.com and affiliated sites).
1. I'm Not Digging Up Utilities, Am I?
Did you know that if you dial 811 from anywhere in the U.S. they'll put you in touch with your state's call center, who will then contact your utility company to let them know you're about to start digging in your yard? If you're planning to dig anywhere in your yard, particular deeper than 24″ (at least, there's what the freeze line is in my area, so check to see what your freeze line is, as well), you are required to have them come to your house to mark the location of utilities around the are you're planning to dig (even if you're hiring a professional to do the job).
You're required to wait at least 2 days before you start digging. And then once they come to mark the location of buried utility lines, you've got 10 days to start digging.
It's not just awesome that they do this, but necessary: if you don't call 811 before you dig (or check out their website to check your own state rules), you could get hit with fees and penalties if you hit a utility (and it could be dangerous). It could cost you thousands of dollars! So be sure to know where utility lines are buried on your property before you start digging.

2. What Style of Mailbox Do I Want?
There's the obvious of wood vs. plastic. But even the way it's mounted makes all the difference in the world! There are top mounted ones and ones that extend on an arm, etc. Which one is best?
Then there is the popular kind that has a planter on the back of them and has an arm that extends outwards, which I think looks awesome!
….Or you can buy a butt-ugly plastic mailbox like this. HAHAHA.
You can also construct a really inexpensive pressure treated wooden mailbox post. It only costs about $25, and you could paint it to your liking.
If you're trying to build your own mailbox, these are great DIY plans to build your own mailbox post, which is probably much more labor intensive, but so much more rewarding!
3. Am I Going to Accidentally Knock Down My Mailbox Post?
Yep, if you don't take into account the type of mailbox you want (e.g. top-mounted one vs. one sitting on an arm), along with the USPC regulations on mailboxes, you could end up your mailbox extending past your curb, and then guess who's going to accidentally into it when she comes to visit on Christmas? Yep–your 85-year-old Aunt Betty.
Guidelines suggest 6″-8″ back from the edge of the curb. (FYI, USPC also says mailboxes should be 41″ to 45″ in height to the bottom of the mailbox edge.)
So, be sure to plan accordingly for your new mailbox post.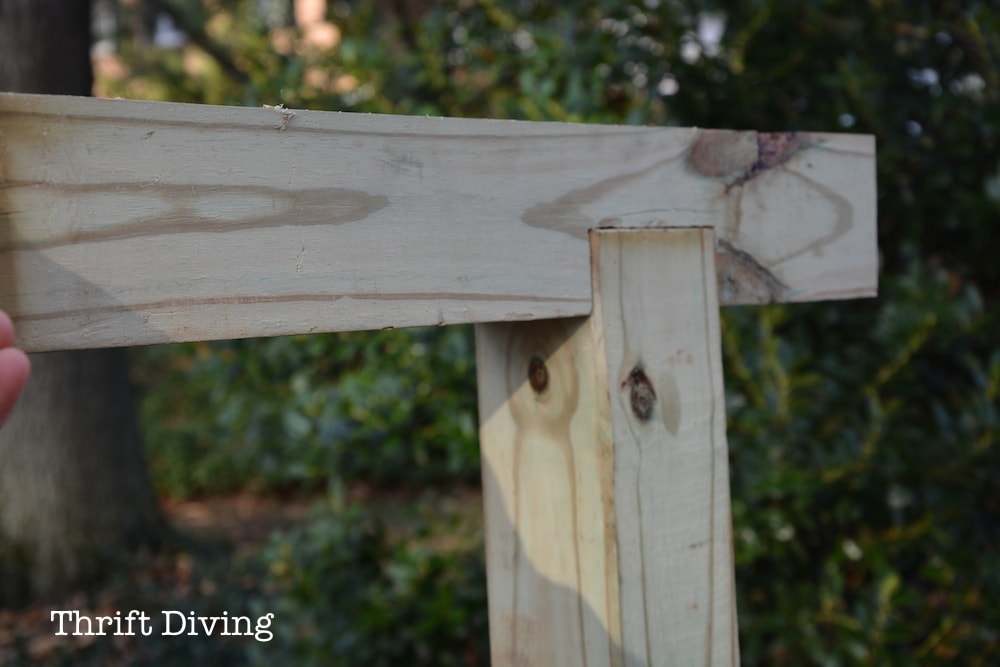 3. Do I Have All the Tools To Do This?
Tools aren't too difficult, especially if you're just installing a mailbox kit. If you're building your own, it's going to require a circular saw or some other method of cutting notches to join posts to create an "arm" to mount the mailbox. You'll also need a screwdriver and some galvanized screws that won't rust. You'll also want to pick up a post digger, for about $35.
You can watch this video on how to use the post digger.
If you're building your own post, you'll also need:
a 4'x4′ about 6′ long (2′ will be buried) – You may also need a post depending on it you're using a kit
Galvanized screwns or nails – They won't rust.
Circular saw – for cutting notches to join the post with the arm.
Cement – Comes in a 50lb or 60lb bag.
5. How Do I Build a DIY Mailbox Post?
The key is making a plan and being patient, not rushing to do it. Now that you know the USPC mailbox guidelines on distance and height, and you know what style you want, you just have to figure out how to do it. If you're just using one of the kits from the home improvement store, they're pretty easy to assemble and probably have their own YouTube videos.
But if you're going the same route that I am, building a mailbox post from scratch, here are the best "How-To" videos for how to do it:
Resources
How to Notch Wood for a Mailbox Post – Great video from Ana White on how to notch wood, which you'll need to do to build a post.

VIDEO: How to Build a Mailbox Post – This video will show you how to build the actual post.

MAILBOX PLANS: How to Build a Mailbox Post – This excellent post gives easy-to-read plans for a standard mailbox plan.

VIDEO: How to Install a Mailbox Post – This video will show you how to set the post in the ground securely. If you're building your own, be sure to build the whole post before installing it in the ground.
So do you want to see how I made my own DIY mailbox?
Building your own mailbox isn't difficult as long as you're asking the right questions and following the right instructions. Have you ever built your own mailbox?

Download the 5 freebies!
Thrift Diving inspires women to decorate, improve, and maintain their home themselves...using paint, power tools, and thrift stores! Use these 5 printables, checklists, and ebooks to get started!