I don't know if I should be embarrassed or amused that our outdoor welcome mat belonged to the previous owners.
Um…like nearly 5 years ago. We never threw out their old mat when we moved in.
Who does that??
Apparently us.
It's not my fault. Although it was dirty, it was still in solid condition. And you know how we do here at Thrift Diving: we don't throw out perfectly dirty items, now, do we?? 😉
Everything gets a new life.
Even my dirty 'ole front door outside mat could use a good makeover!
BEFORE
AFTER!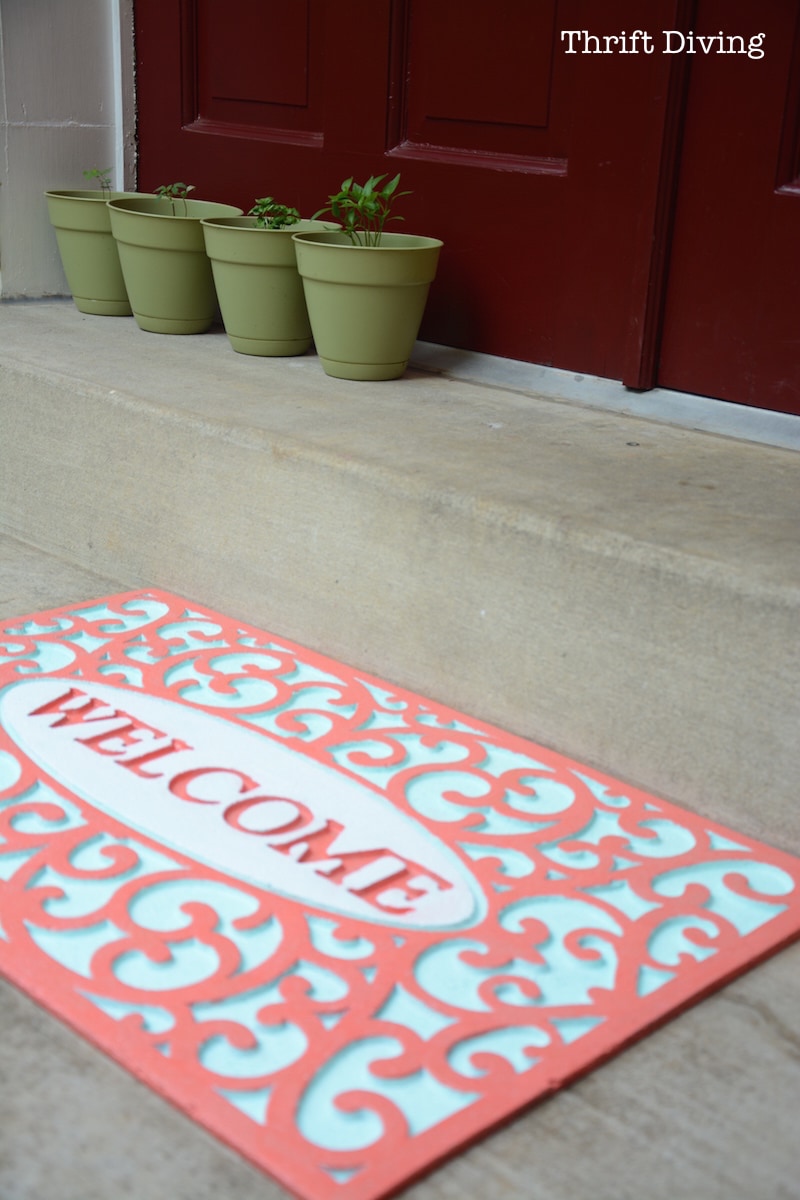 The problem is that, aside from painting our front doors a punch of color last year, I've ignored the outside of my house. I can barely get through transforming the inside of my house, much less the outside. But I could at least transform this old outdoor welcome mat.
This is pretty much how my front walkway looks. It needs a good pressure washin', needs some crack repaired, and you see those curtains at the windows?? Yep, they're also left over from the previous owners 5 years ago. EEK! I know….don't judge. I'm getting to it! Promise!!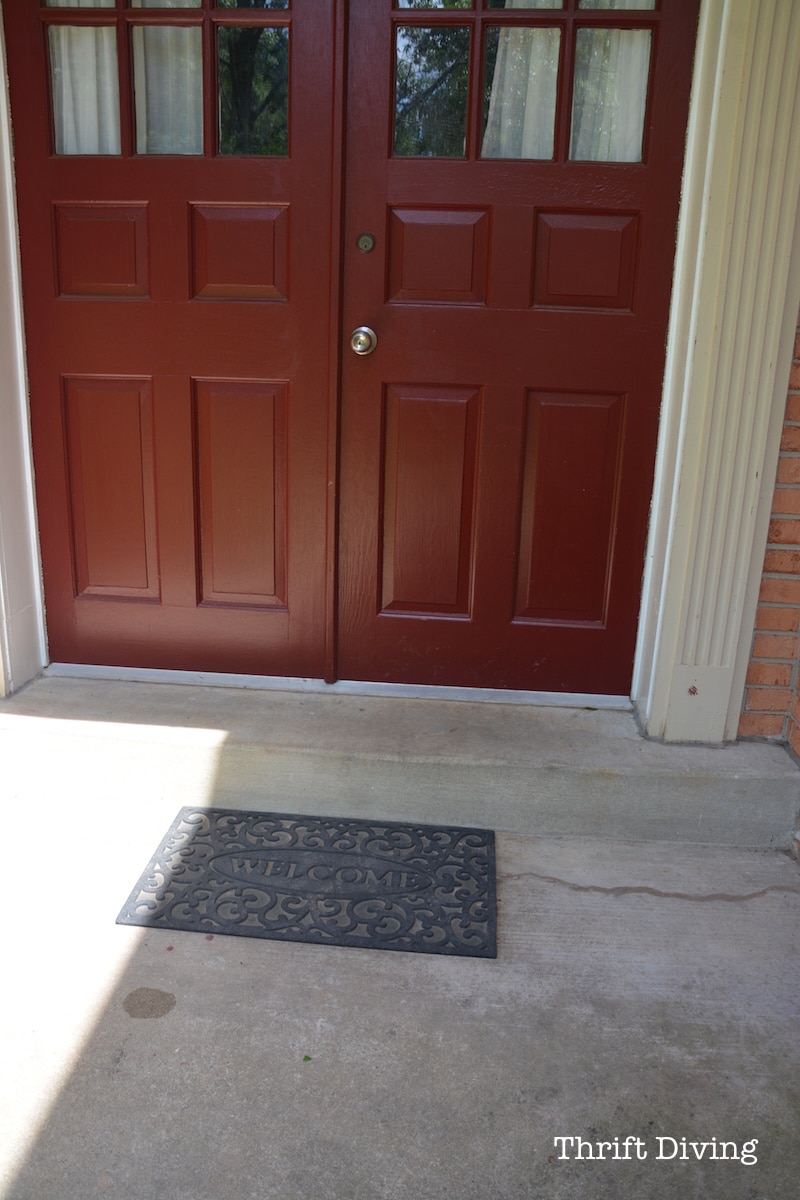 See, this is how inspiration works for me–ideas just come out of the blue.
Last week, I got the idea to paint this mat while sitting on the stoop with Kojo (my 3-year old). I looked down at the dingy mat and thought, "Why haven't I done something with this in all these years?? I should totally paint it."
The swirly pattern–how could I have missed that prettiness before? And how cool would it be to paint the letters "WELCOME"?
BEFORE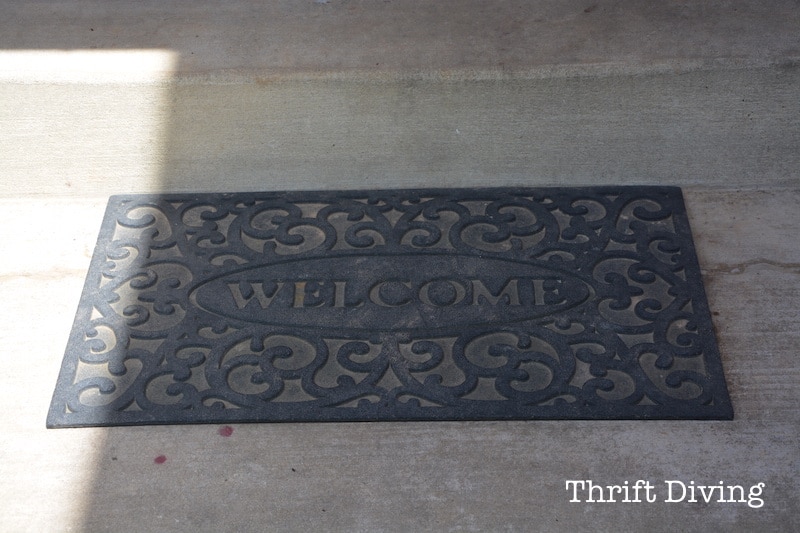 AFTER!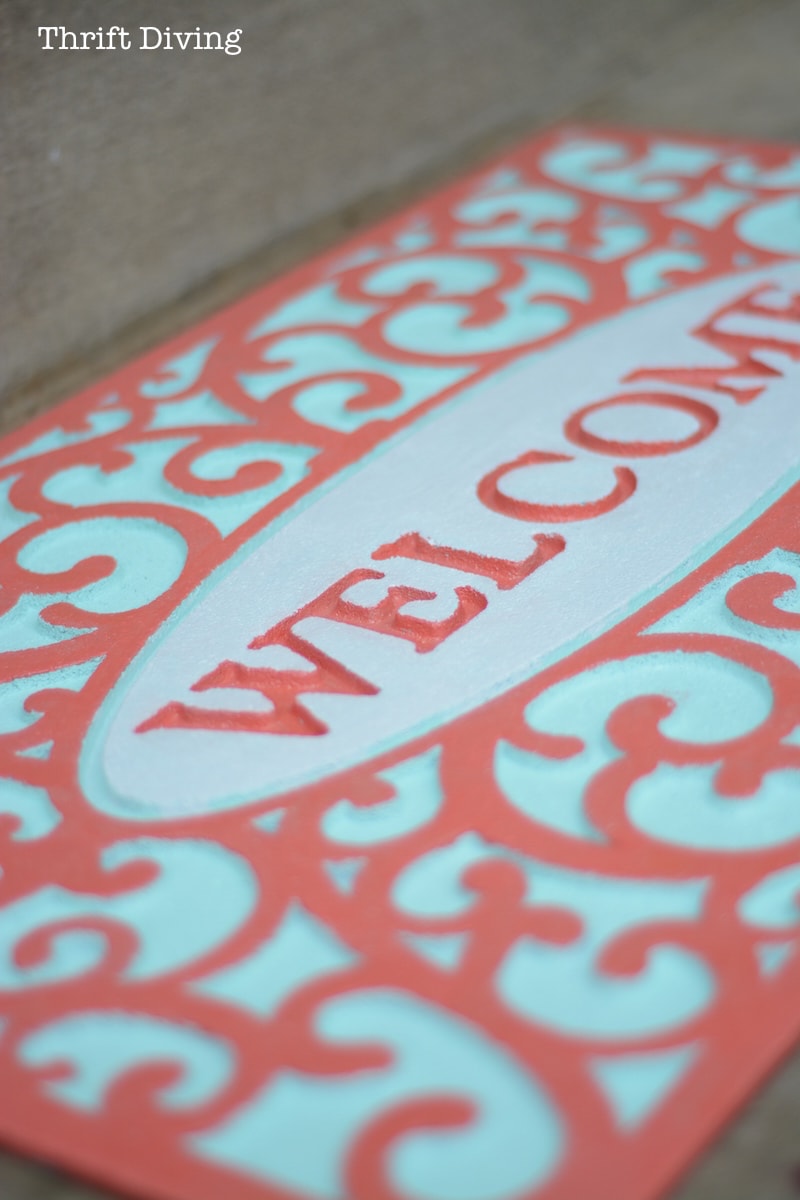 What I Used to Make This Custom Welcome Mat
I stopped at Home Depot to pick up some spray paint, which I normally despite using. The smell is horrific, and I've always shied away from using it (which is why you don't see it much here on Thrift Diving).
But these colors were too pretty to pass up (Rust-oleum Ocean Mist and Rust-oleum Coral). Apparently they're new. I thought they'd be perfect for the mat and allow me to easily layer the colors. I just hoped they wouldn't class with my red door. I'm awful at putting colors together!
Protect Your Lungs!
Get yourselves one of these babies: a real face mask! Don't use those cheapie paper ones. Your neighbors might think you're fighting some outbreak in your garage or yard, but hey–as long as you're not wearing a hazmat suit, you're all good. You won't scare them too much. 😉 These things block the nasty smell of spray paint, and are awesome for any sanding or stripping you might do.
Okay, so back to materials.
I also made sure I picked up a primer. I really wasn't too sure how it was going to stick to the rubber since I've never painted rubber anything before. I am hoping the primer works well to keep the spray paint adhered.
I tried to clean off as much dirt as I could. We're talkin' 5 years (or more!) worth of dirt, my friends!
I even enlisted the help of Kojo, the amazing mat scrubber ;).
I don't have gas for my pressure washer so the ineffective hose had to suffice. Even with all that scrubbing, it was still dingy looking, although it looks squeaky clean here:
Let a 3-year-olds get his hands on a hose, and it's pure joy:
Okay, so while Kojo wasted water (haha), I laid the mat down on some old boards to spray paint, first with the primer.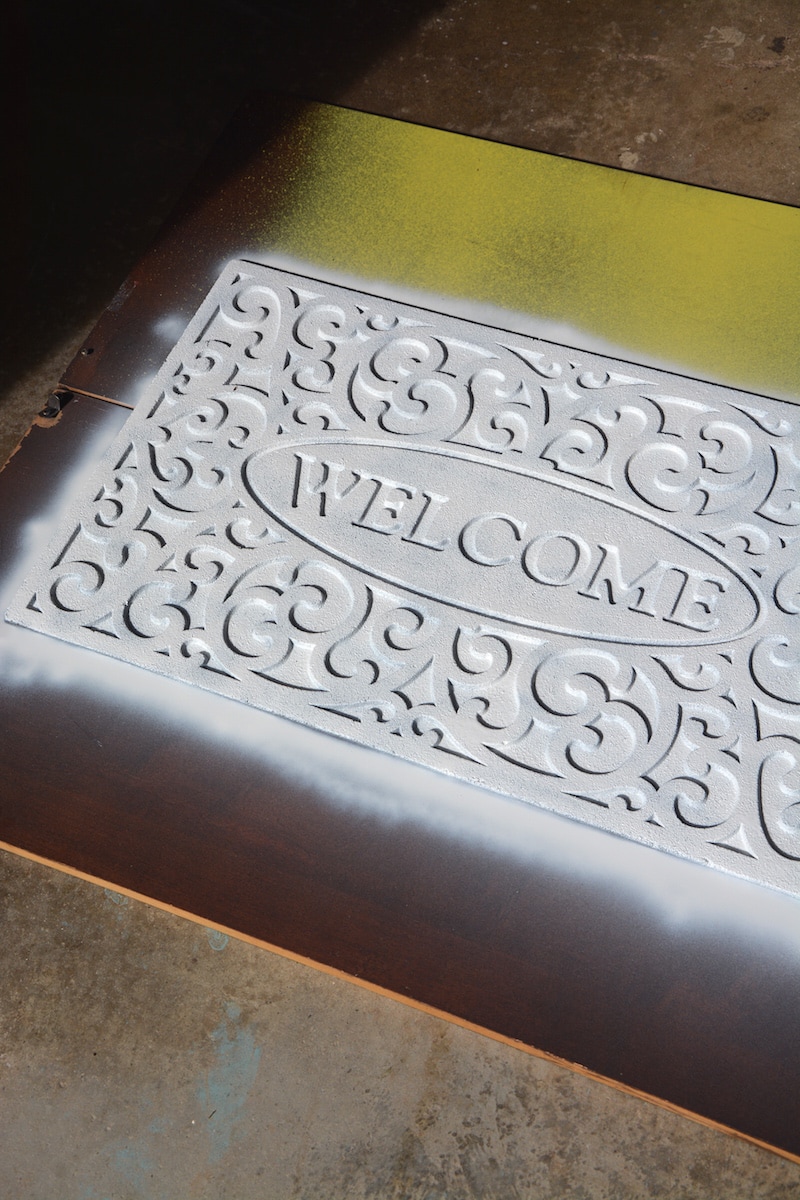 Once it dried, I added a layer of Ocean Mist. I figured it would be easier to start with that so that I could saturate the valleys of the mat with the turquoise.
Then I sprayed some of the Coral into an old bowl, to collect the paint, and used the craft sponge and a paint brush on the swirly parts.  I used mineral spirits to clean up the brush, but threw out the sponge, since it got all ratty-tatty.
Because of the uneven-ness of the rubber, getting nice, clean lines was nearly impossible. But again, we don't expect perfection here, do we? 😉
I lined the inside of the letters with the Coral, and painted the oblong shape in a bright white. I love the way it looks!! It looks so fresh!
Hubby thinks I'm crazy for taking on a project like this. He may have said I was "wasting my time." LOL. He just doesn't get it. Having a personalized, custom welcome mat like this, knowing that I did it–how awesome is that?? I bet no one else in the world has one exactly like mine! 🙂
I still need to spray it with a clear sealant. And I honestly don't know if this will "work" or not, or if it will get all gunky and chippy after people start stepping on it. I'm hoping that letting it cure for a couple of weeks will do the trick!! It's almost too pretty to keep at the front of the door. 🙂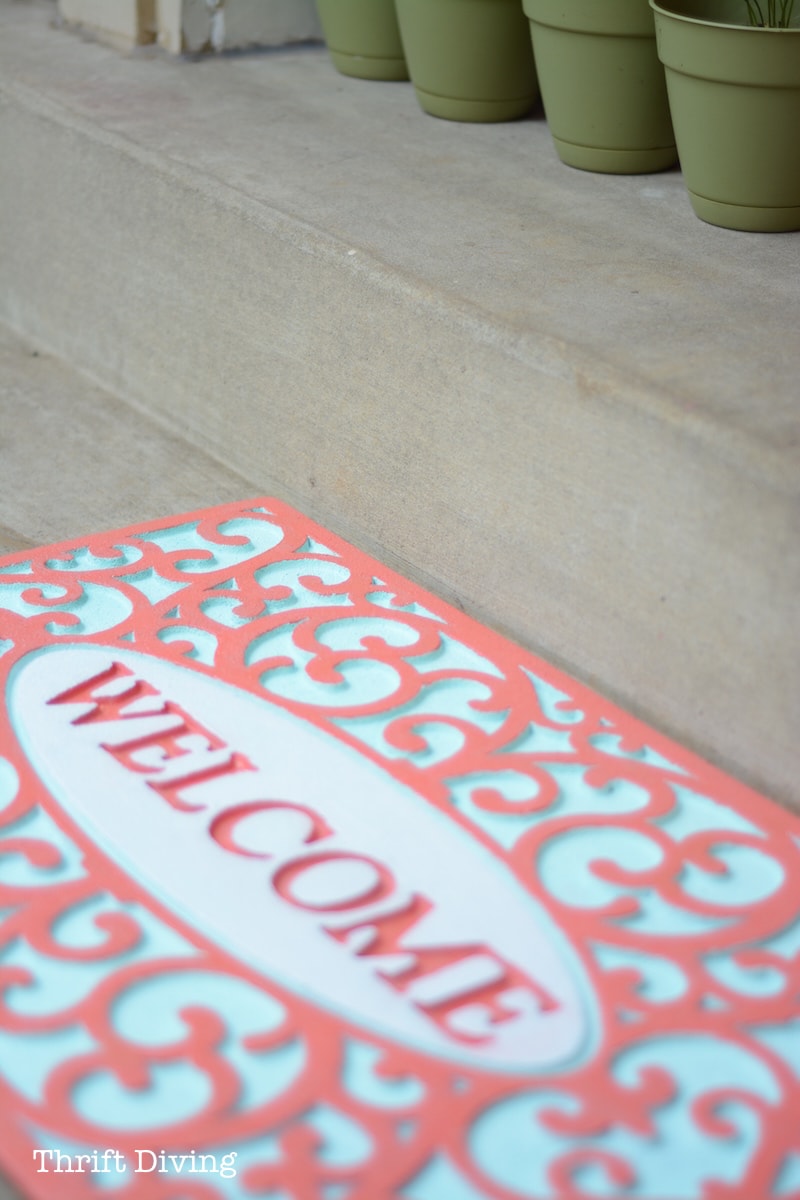 And can I just say how proud I am of these plants???
I have a black thumb, not a green thumb! I usually kill everything I grow. It's a wonder my boys survive…….. ;).
I'm growing sweet peppers, tomatoes, basil, and one of those sensitive plants (the ones that close up when you touch it). I've got them sitting out on my front porch for now. I'm not sure where I'll be putting them once they get too big. I'm totally new to gardening and don't really know what the next step is. But for now, they're just chillin' on my front stoop.
We even named the plants. Meet Peter the Sweet Pepper below :).
BEFORE
AFTER!

I'll post updates once I have pressure washed the front porch. And I want to get a hanging basket of pretty flowers. Oooooh, I can't wait! I've never had a pretty entrance before! So disregard the concrete for now. Just focus on the colorful new Welcome mat makeover, 'kay? 🙂
The mat may need to be replaced in the future with something larger, since we have double doors. Could be too small? But for now, I'm loving this. 



A Couple Other Outdoor Projects
Before you go, you might want to check out a few other outdoor projects of mine:
So what do you think?! Have you ever thought about freshening up your old outdoor welcome mats?
Leave a comment below and join the convo! 🙂