This post is brought to you in part by RYOBI Landscapes for our Outdoor Overhaul Patio Makeover Challenge!  All opinions are that of Thrift Diving! 🙂
I never really thought much about how to create landscape beds. When we moved in 6 years ago, our home already had landscape beds, thanks to the previous homeowners who must have loved gardening
Me?? Not so much…..at least, back then I didn't love it.
Coming from a condo with simply a balcony, my level of gardening amounted to buying a fake plant, letting it collect dust, and calling it a day. HA!
I joke now that it's a wonder my three sons thrive, because I've had a reputation for killing living things (AKA "black thumb"!). LOL
Plus, I had enough projects inside of my home; who had time for the outdoors??
But all of that changed this summer.
Since starting this patio makeover challenge earlier this month with my partners, RYOBI Landscapes, not only has my level of outdoor prowess increased 10 fold, but I find myself itching to get outdoors, like a cat meowing by the door, begging to be let out.
I've enjoyed the sun on my back, the sweat sticking to my skin, my body covered in dirt as I stand back and admire my achievements during this patio/exterior makeover!
So I wanted to share what I've learned about creating landscape beds and just how easy it is to design, shape, and cut out landscape beds for a patio or outdoor overhaul!
How to Create Landscape Beds
So remember the home RYOBI Landscapes and I worked on in South Carolina?
Well, after we showed you how to use a pressure washer, the patio was super clean and ready for landscape beds.
After pressure washing….but BEFORE landscape beds
Once the landscape beds were designed and dug out, it was looked even better and almost ready for plants and flowers!
AFTER!
It looks harder than it is! But in this post, I'm going to show you just how easy it is to create landscape beds!
Materials Needs
STEP 1: Pull Out Your Garden House!
I have to admit, this was a new tip I had never heard of: using a garden hose to define the shape of your landscape beds! I always wondered how they were so perfectly shaped! LOL Come to find out, it was the garden hose right from your own backyard!
You start by spreading out the garden hose in the shape of the landscape beds.
It's best to keep your landscape beds curvy. Try looking up any professionally landscaped pics of home and all of them are curved! Hard and sharp angles just look funny.
You can use something to mark along the shape, in case your garden hose moves, like chalk or spray paint (on the part of the grass that will be removed). And don't spray paint your garden hose!
STEP 2: Get 'Ta Shoveling!
This is the part that will tire you out! 🙂 Now that you know how you want your landscape beds to be laid out, you'll have to grab your shovels. Oh–and grab a friend or your spouse. This really isn't a job for one person! LOL Trust me–I know. I've been working on my own home myself and it's tough work!
Anyhow, use your shovel and garden spade or half-moon edger to cut along the edge and to remove all the grass that's later getting replaced with soil and mulch.
Remove as much as you can before moving on to the next step.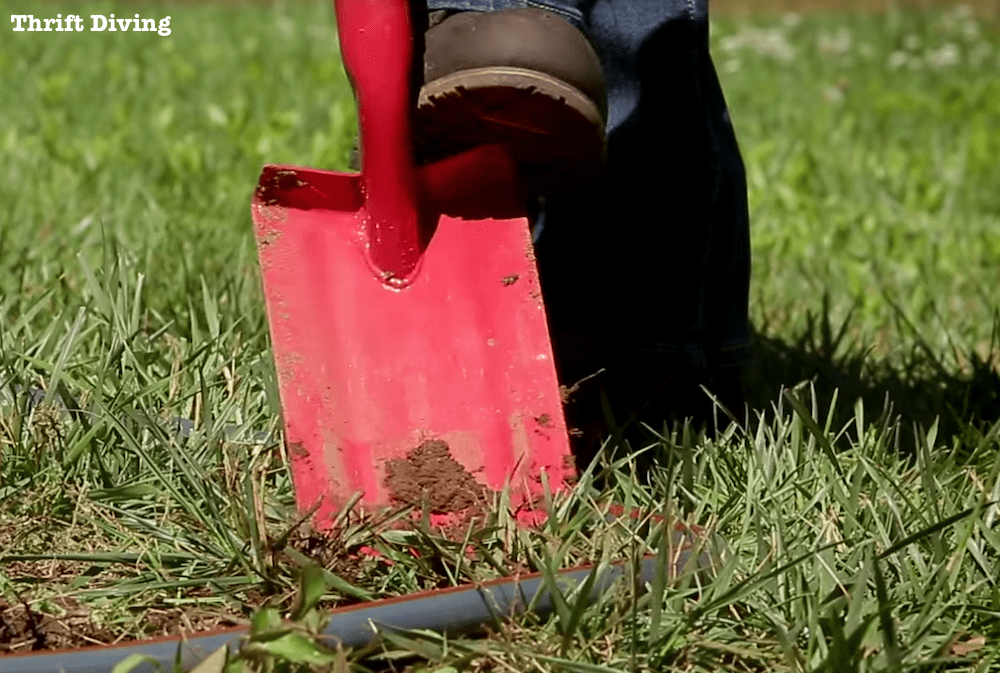 STEP 3: Make It Sharp!
Once all the grass is cleared out, this is where you'll want to make those landscape bed edges as sharp as possible!
Using the half-moon edger may have helped make them sharp, but to sharpen them up even more, use the RYOBI 40-volt Edger. RYOBI makes a string trimmer and edge hybrid which you can use for sidewalks and driveways, which most people know, but most don't know that they now have an edger made especially for the job, which you can use for landscape beds, too, which is pretty cool!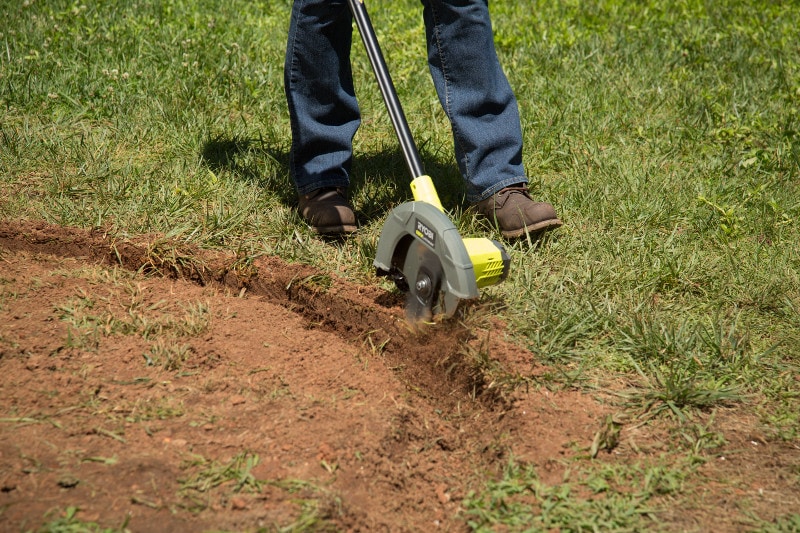 STEP 4: Go Organic!
Man….my soil is like clumps of clay. Try growing something in that…..!!
Landscape beds are where your plants and flowers will call "home" so you've got to make it as hospitable as possible, right? Clay soil just isn't gonna cut it.
So you've got to throw some compost on it and cultivate it so that the new plants and flowers you add in will actually thrive once they're in the ground!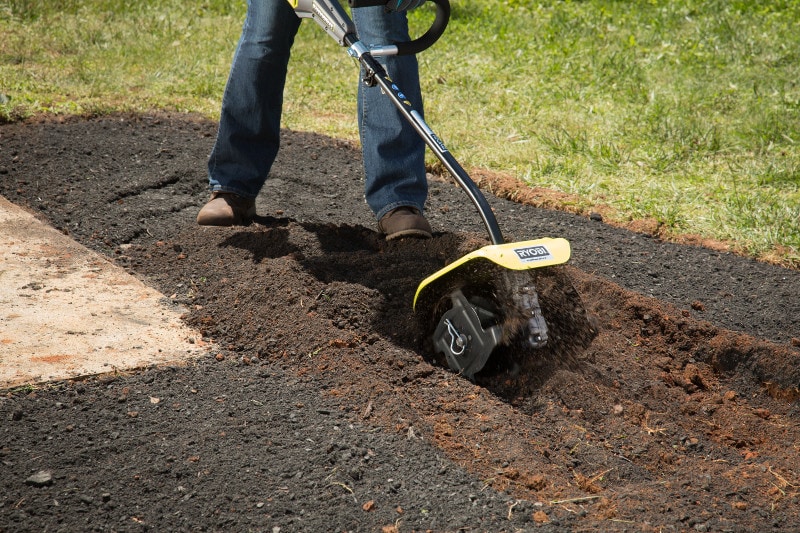 When I was cleaning up the landscape beds beside my house, I stopped by my local nursery and told them my plans of planting boxwoods in the area. The lady was like, "Oh, you need organic compost. This is best!"
Soooo…I'll pass that info on to you, as well: go organic!
First, let me remind you what this bed area looked like on the side of my house:
Once I de-weeded, I found that the earth was hard and caked, and very clay-like.
So I used the recommended organic compost from the nursery, about 4 bags in this age, around $5.00 per bag. I'm not sure if The Home Depot sells organic compost, but if not, check your local nurseries because they're sure to have it.
I just dumped them in the area, turned on the cultivator, and–VOILA!–the bed was ready for my boxwoods!
Anyhow, you'll get to see later in my next post on planting and mulching how good this bed area looks after I cultivated and planted my new boxwoods! 🙂
And seriously, that's IT!
If you follow these steps, you can easily create landscape beds in an afternoon, depending on how much grass you've got to remove!
I know–your mouth is dropped open, too, huh?
I tell ya–it really isn't as hard as it seems until you see step-by-step.
If the outside of your home, and your patio area, are in desperate need of a makeover, it's pretty easy to totally transform it with just a few shovels, tools, and materials!
Watch This Project in Action!
Just go ahead and watch this short 1:47 minute video from Week 2 of our Outdoor Overhaul Patio Makeover Challenge to see how easy it is to create landscape beds!
Check Out the Other Tutorials In This Outdoor Series
WEEK 1: How to Deep Clean With a Pressure Washer
WEEK 2: How to Create Landscape Beds
WEEK 3: How to Plant and Mulch – Coming soon!
WEEK 4: Adding Character and Maintaining Your Patio – Coming soon!
Sign Up For RYOBI Landscapes!
Want more tips and tricks? Be sure to sign up for a free RYOBI Landscapes account to learn more about how to create, design, and maintain your outdoors!

Download the 5 freebies!
Thrift Diving inspires women to decorate, improve, and maintain their home themselves...using paint, power tools, and thrift stores! Use these 5 printables, checklists, and ebooks to get started!