Laser Levels Make Building a Piece of Cake
This tool review of the Bosch Self Leveling Cross Line Laser and Bosch 800 ft. Self Leveling Rotary Laser Kit is brought to you by The Home Depot.
Every now and then I love throwing myself into what I like to call a "passion project." It's one of those projects that isn't fueled by anything except my desire to stretch my DIY skills and imagination to the next level. For me, that project as of late is my walk-in closet makeover.
I ripped out the old closet shelving, removed the wallpaper, repaired the walls, painted, and I am now ready to plan for building new shelving and cubbies. I've been doing schematic drawings, thinking about how to maximize the roughly 48 square feet of space. I've made a list of tools and materials I'll need, planning everything down to the nearest inch.
But one of the tools I didn't realize I would need would be laser levels. In this blog post, I'll share with you two awesome self-leveling lasers: the Bosch Self Leveling Cross Line Laser with VisiMax Green Beam, including the Bosch 800 ft Self-leveling Rotary Laser Level Kit.
Let's take a look at the first tool, the Bosch Self Leveling Cross Line Laser with VisiMax Green Beam.
Let me first say that you should never shine a laser into your eyes or someone else's eyes. It can be very dangerous and cause eye damage.
Now that you know you should be very careful with them, let me tell you–
In my experience, whenever I have needed to level something, I would simply grab a hand-held level, do my best to peer inside the dirty window of the level, and note whether whatever I was building or hanging was level. That's great when you're hanging a single picture and you can balance the level on the picture with one hand while holding the picture in the place with the other.
But what happens if you're hanging shelving or cabinets? Large units going on your wall require a bit a heavy-duty level that will allow you (and maybe a partner, if you're got one to help) to level those shelves or cabinets hands-free. It's not always possible for a hand-held manual level to get the job done. That's where a laser level comes in.
With this Bosch laser level, you can simply mount it on a tripod, a monopod (like I did in the above image), clip it onto a surface, or use the magnets on the back of the attachment that screws onto the base of the laser. Green lasers tend to be brighter than red lasers. With this self-leveling laser, the bright green laser is up to 4 times brighter than standard red beams, so you'll be able to see it much more clearly.
You'll also notice that it has slide-out "feet" on the bottom of the screw-in attachment that makes this level perfect for sitting securely onto tabletops or floors without falling over.
I tested out the Bosch laser level on my stainless steel fridge, thanks to those magnets on the back of the attachment, but you could easily mount it to metal studs, metal pipes, or anything else metal that would allow you to easily attach it.
I tried attaching the laser to the metal corner bead of my drywall but the laser level was just a little too heavy to attach to such thin metal of the corner. But to the fridge–it was totally secure!
What I liked about this small hand-held (but mountable) laser level is that it allows you to isolate the vertical or horizontal level. For every project, you may not want cross-lines when leveling. Just press the "—" or the "|" button to select with line level you need.
And one thing you should note when using this laser level is what the lines actually mean:
Solid green line = It's perfectly level, thanks to the self-leveling technology.
Blinking green line = The level is out-of-level. Keep adjusting the tripod or mounting surface until you get a solid green line indicating that it's level.
To protect the laser, Bosch also provides a heavy-duty pouch case. I would have liked, however, for the case to be a little roomier to allow for laser and the green laser target plate to be stored together. But I'm still pretty happy that there is a way to protect it from dirt, dust, water, and other debris. (However, just so you know…the laser line level has been well constructed to resist dust and water, but even so, it's good to be able to keep it clean thanks to the pouch).
The Bosch 800 Ft Self Leveling Rotary Laser Kit
The previous hand-held sized laser level is perfect for smaller jobs and for do-it-yourselfers that are looking to level things around the home: cabinets, shelving, pictures, etc. However, sometimes you need something heavy-duty that can be used for larger spaces, and even for commercial or residential buildings. For larger spaces, it's time to upgrade to the Bosch 800 ft. Self Leveling Rotary Laser Kit (5 piece).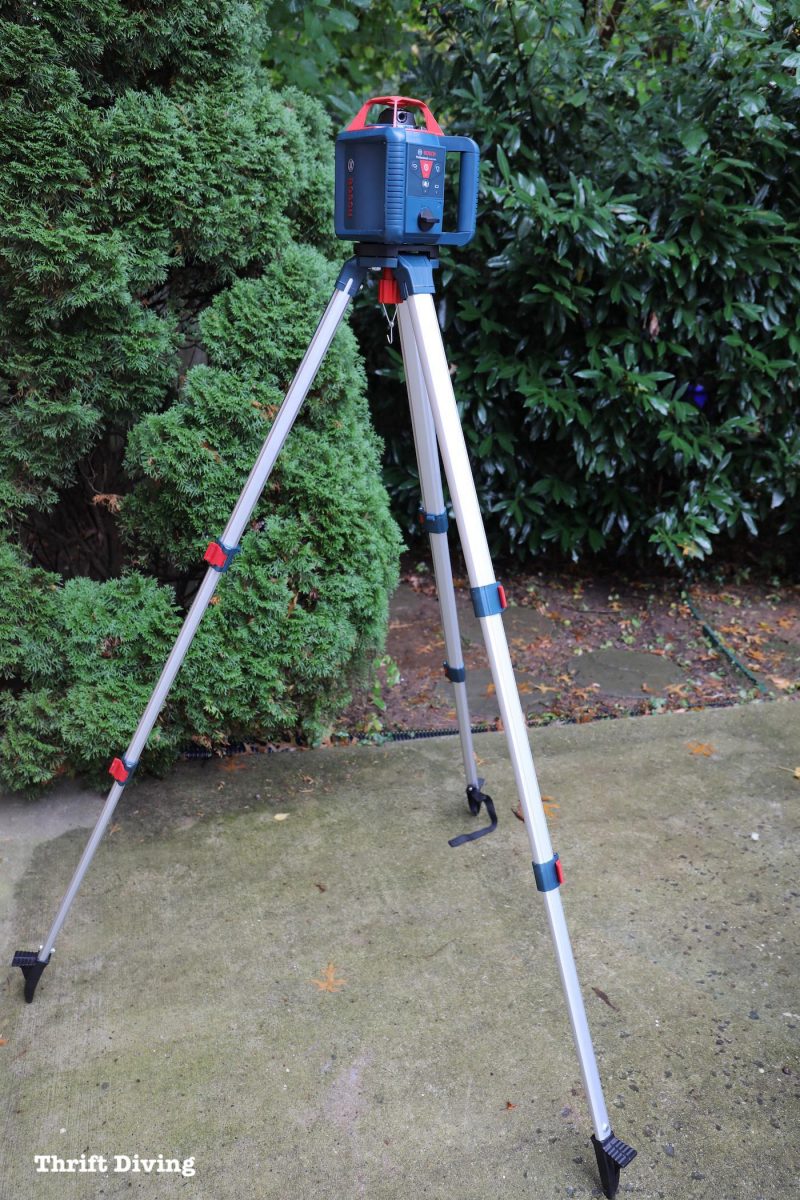 I'll admit that I may never have a need for such a heavy-duty electronic self-leveling level, which has a visible line range up to 800 ft (with 1/4″ accuracy). However, as a carpentry student (and who has volunteered with non-profit building organizations), I've actually been on to job sites where I could see the usefulness of having a tool like this on hand.
Plus, I am planning on building my very own backyard shed. I've started doing research on the tools and materials I would need. This 800 ft. rotary self-leveling laser will be at the top of my "must-have" tools to do the job right!
In the construction trades, two words that have been drilled into my head (as a carpentry student) is level and plumb. Something that is level is straight horizontally. Something that is plumb is straight vertically. This is so important to get right in construction because without a structure being level and plumb, doors wouldn't fit, windows would get stuck, rafters would be crooked (or not fit at all), the roof could leak, and more. You simply don't build a house (or a shed!) that's not level and plumb. And the easiest way to do that is with self-leveling lasers.
This 5-piece kit comes with:
The self-leveling laser leveler with laser receiver
A tripod
Grade rod
Bracket
Wall mount
Red glasses for seeing the laser
Carrying case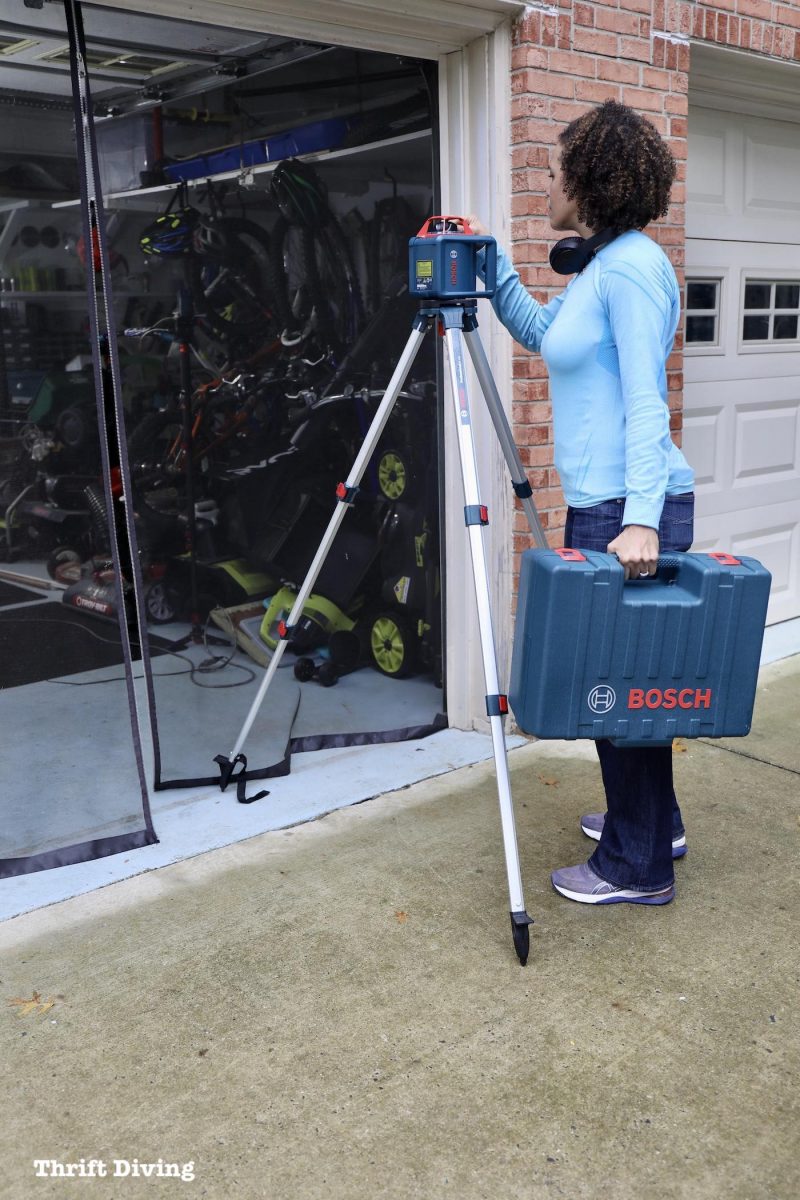 Some of the features of the Bosch Self-Leveling Rotary Leveler include:
It allows 1 person to do the job of 2 people.
Has a disturbance monitor to indicate if the tool changes position, ensuring consistent leveling accuracy.
Easy-to-access convenience battery tray.
Variable speed.
Scan-angle selection.
Vertical beam and a 90-degree point for layout, squaring and plumb applications.
It can be used in a variety of weather conditions, including rain and dusty.
To use the rotary laser level, simply clip the receiver on to the grade rod and, up to 800 ft, shoot the rotating laser. The receiver will detect the laser and with the grade rod, you'll be able to measure the grade of the land.
There is also a vertical laser on the top for measuring vertically, indicated by the red beam on the ceiling, near the light.
Keep in mind that you can also turn this heavy-duty laser line level on its side for a vertical line that runs the length of the ceiling and floor. Overall, it's versatile!
To buy the Bosch Rotary Laser Level, you can head to The Home Depot!
Love this post? Click here to save it on Pinterest!
Whether you're doing a smaller job around the house, or on a job site, Bosch makes laser levels that can help get the job done accurately–both level and plumb. Head to the Home Depot or HomeDepot.com to learn more about these helpful tools!

Download the 5 freebies!
Thrift Diving inspires women to decorate, improve, and maintain their home themselves...using paint, power tools, and thrift stores! Use these 5 printables, checklists, and ebooks to get started!