Gardening is Grueling and 8 Other Things I Learned While Working Outside
Recently I ran into an old friend and, feeling self-conscious about my chipped, dirty nails, I felt the need to quickly explain away why I was looking such a hot mess. I told him I was working on my patio and yard for my Outdoor Overhaul Patio Challenge (thus, the reason I was a hot mess). He gave me a quizzical look and said, "Oh, I never took you as the 'flower' type."
And he's right!
I've got what they call a "black thumb": anything I touch that remotely resembles a living thing dies.
It's a wonder my children have thrived because I just don't take care for living things very well (must be my husband's good cooking, 'cause it sure ain't mine!). LOL
Yep–I'm a DIY'er, so I know how to mow my lawn, blow my leaves, and if the season is right and I'm in the mood and can financially afford it, I mulch my landscape beds. Plus, I don't have money to pay people to come and do this. So hubby and I do it ourselves. And occasionally, I clean up my patio.
We do the most basic minimum outdoor homeowner activities so that we're not the ugliest home on the block.
But Inspiration Happened
After that patio makeover we tackled in South Carolina patio makeover, I was inspired to take my own home exterior to the next level.
I did want to become "the flower type" that didn't turn every living thing to dust.
I did want to become the type that made over not just furniture and rooms on a budget, but could make an outliving living space inviting, too, without spending a lot of money.
Your outdoors is a part of your home, too. And when you've got a pretty outdoor space, it's like extending the square footage of usable living space! It's the summer, too. Even if it's stinking hot in some parts of the world right now, it won't be that way forever. When it's nice out, don't you want to have a space to enjoy it?
And as I have gotten started (today marks Day #3 of my challenge, since I started a couple days early) I've learned a few things already that I wanted to share with you.
Lesson Learned #1: Gardening is Grueling!
I guess I should preface this Lesson Learns with this: If you leave your yard to become over-run like this, then yes, gardening will be grueling!
I don't remember the side of our house looking such a hot mess, but yes, folks. This is what it looked like when I started. It was a forgotten side of our house that we just never tended to. Like–never.
BEFORE
But I decided that as part of my Outdoor Overhaul Patio Makeover Challenge, while not technically a patio, I would include the whole house exterior, including this walkway leading back to the backyard and patio. It's always been a thorn in my side and I've decided it's time to do something about it.
But the aches and pains I feel…..! Gardening is a workout that you must be physically fit to do! LOL There's a lot of digging and de-weeding, and by the end of the day, your body knows it's worked hard.
I actually used the pressure washer to help remove the weeds and soften the earth for easier digging.
And as a result, this is what I was left with after Day #2 was over!
IN PROGRESS!
(Psst! This is what my DIY walkway looked like when I was done!)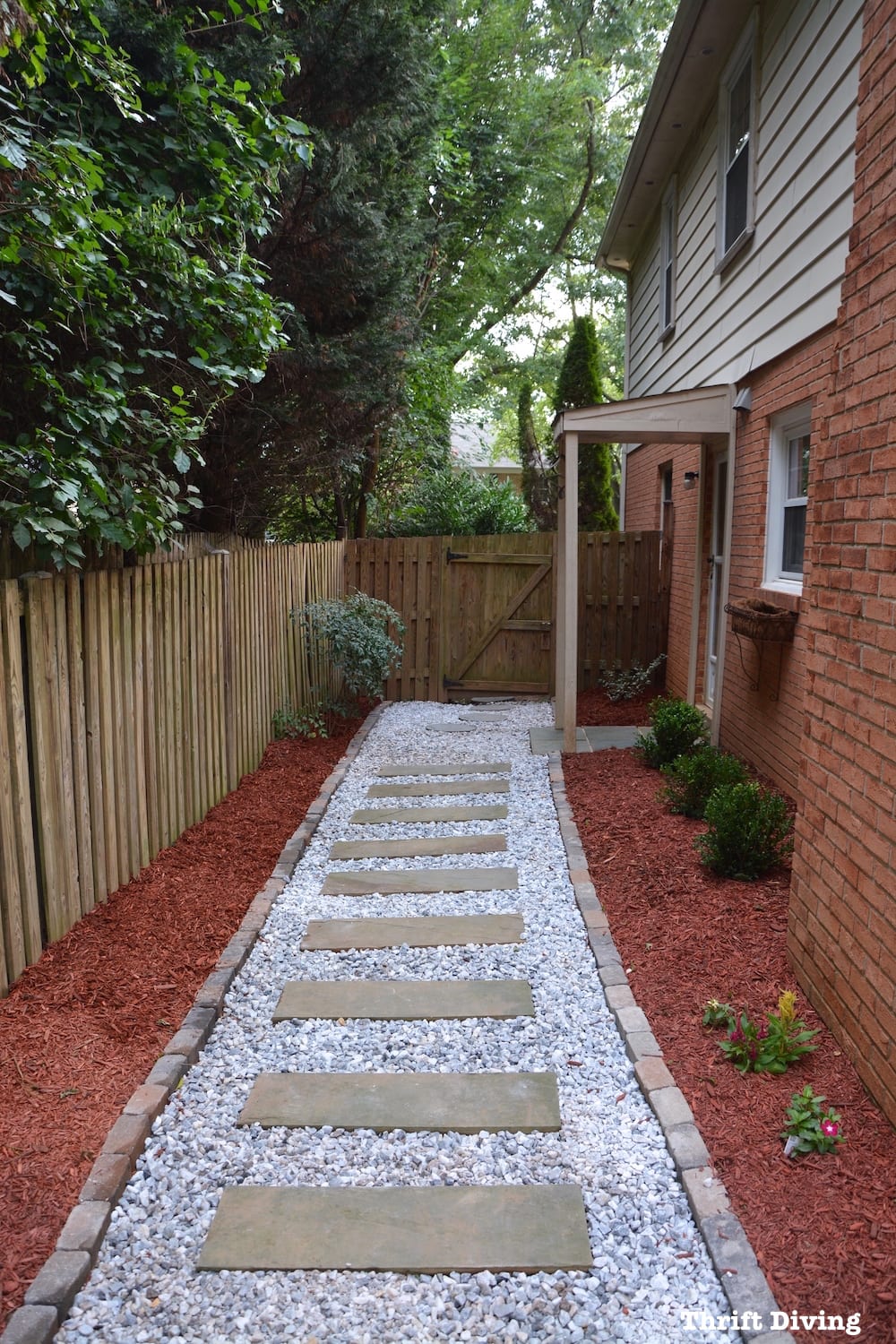 Lesson Learned #2: Green Is Pretty….Even If It Is Weeds!
I share a lot of behind-the-scenes stuff that you don't see here on the blog. I was sharing some footage of my house, and one of my friends/readers commented, "It's so pretty and green!"
And I thought, "Huh??"
These weeds are pretty??
But considering that she lives near in a California desert with temps in the triple digits and BROWN everywhere, my weed-infested yard must have looked like a green oasis! LOL
I realized that green is pretty and lush, even if they are weeds. Our lawn is basically all weeds, very little grass. And while I work to change that, I'll always remember that green is pretty, even if it is weeds.
Lesson Learned #3: Husbands Suck
On Day #2, after making progress, I was proud. When my husband walked up, I had hoped he would be as happy with the progress as I was. I asked him, "Doesn't it look good already?!"
He's unimpressed with most of the projects I do; DIY is just not his thing and he can't understand why I put the time and effort I do into them. He's more apt to suggest I hire someone to do this or that.
Anyhow, he simply shook his head dismissively, and said, "I still don't see your vision" and then walked back into the house.
I stewed in annoyance, as sweat dripped down my face in an attempt to make our home look pretty and welcoming.
Yet, he couldn't see my vision….?! I thought it was pretty obvious….
And it made me think about all the husbands of the world who are unsupportive in what us DIY'ers do.
Support is showing a little interest in and appreciation for what we do.
It's telling us that we're doing a good job, even if you don't "see our vision."
(And no, we don't want to hire someone to do it for us).
Regardless, I was still very proud!
Lesson Learned #4: Gardening Materials Aren't That Expensive
So far, I've bought 25 bags of mulch for $2.00 each ($50), and I bought 16 bags of white marble chips for $3.00 each ($48). I know that I need more materials, and yes, it does add up. But, when doing it yourself, it's sooo much cheaper! Plus, the materials aren't that expensive; just depends on what size of the project!
Mine needs a lot of work, so I'll have to buy more supplies. But if you're doing a small part of your yard or patio, it's actually pretty affordable! You just have to do the work. 😉
Lesson Learned #5: Pressure Washing is Addicting
There's something oddly fascinating about pressure washing. Don't you agree? Seeing that grime instantly blasted away with the touch of pressurized water…ahhhhhh……
I was able to get the patio done in about 2 hours. Could have taken me less time, but I wasn't in any hurry. It was kind of therapeutic.
BEFORE
AFTER!
Click here to learn more about the RYOBI 2,000-PSI Electric Pressure Washer I used.
The next step for the patio is to scour Craigslist or get creative about what kind of seating I want for the space!
Lesson Learned #6: Spray Painted Welcome Mats Do Hold Up Outdoors!
If you remember, some time ago I spray painted my welcome mat. It got a lot of love, but, of course, the "haters" were hatin', too.
Those nay-sayers said, "But it will get dirty!" or "That will never hold up!"
And I'm happy to say that, yes, while it got dirty (ummm…it is the outdoors…), it actually cleaned up well and it's been holding up with hardly any chipping!
BEFORE – Never been cleaned.
AFTER! – Lightly cleaned it with a pressure washer
I had to be very careful to make sure that I didn't get the pressure washer nozzle close to the mat, or else it would ruin it. I'd recommend just getting a hose and hosing it down.
(LOL, don't mind the dirt on the door….)
Related: See how I replaced, painted, and stenciled this new kitchen door.
So if you've been thinking about spray painting your welcome mat, too, it's totally possible! The only caveat is that we don't use this door often, so we hadn't had a lot of foot traffic on it, which may or may not affect how well it holds up.
Lesson Learned #7: It's Easier Buying By the Truckload
Because of the amount of stuff I ended up getting, and the number of trips to The Home Depot, it probably would have been easier (although more expensive??) ordering mulch and rocks by the truckload.
If you're going to need a lot, at least check into it before you get started. I am sure I'll be doing that for another big project like this!
Lesson Learned #8: Pressure Washers Get Rid of Weeds Fast!
Totally stumbled on this by accident. I don't even know if it's a "legal" way to remove weeds.
As someone on Facebook pointed out, it likely means that I've just spread a bunch of seeds everywhere that will germinate the crap out of my yard if I don't work quickly, so just keep that in mind! LOL.
But I simply blasted the pressure washer over the weeds, removing the top layer and using my boot to slide the weeds off the path.
It left a bunch of mud! (Which I admit was fun to slosh around in! When's the last time I did that?!)
But with the ground thoroughly drenched and blasted, I thought it was easier to remove them.
And Day #2 of "Weed Removal" was easy because the ground was still muddy. I could dig much easier.
AFTER
Lesson Learned #9: You Find the Most Fascinating Bugs!
It's amazing what you find when you start clearing away weeds and earth!
I saw a fat little white spider, a bright yellow caterpillar, and some other interesting bugs I had never seen before!
I wish I had snapped pictures of them.
Usually, I hate bugs when they're invading my space. But somehow, when I'm invading theirs, suddenly they come awesome. HA!
I've Found a New Appreciate For the Outdoors
There was something fun the past couple of days digging the earth, seeing it transform right in front of my eyes.
With the radio blaring in the background, a trowel in my hand, and sweat on my brow, I was happy, as I often am when working on projects.
This is new territory for me–becoming one with the space around my home.
There are new rules to learn, new wonders to seek, new lessons to be learned.
And hopefully, new areas that my family will inhabit once it's pretty! 🙂
See More Outdoors and Gardening Projects
What Lessons Have YOU Learned From Working Outdoors?
Have you learned anything from getting your own hands dirty outside? Leave a comment below and let's chat about it! 🙂

Download the 5 freebies!
Thrift Diving inspires women to decorate, improve, and maintain their home themselves...using paint, power tools, and thrift stores! Use these 5 printables, checklists, and ebooks to get started!