How to Paint Shutters and Garage Doors: Outdoor Refresh Makeover
This post on painting shutters and garage doors is sponsored by Wagner.
Don't ever underestimate the power of painting your shutters or your garage door for curb appeal, especially if it's been years.
I don't know if it's just me or not, but after so many years, I stopped noticing the faded shutters, the tired paint color on the garage, the rotting wood around the garage door frame. Oh–and the janky exterior wall sconces. One was cracked, exposing a lightbulb, and the other one looked like he was tipping his hat, "Good day, sir!"
Wagner, one of my long-time sponsors, asked me to come up with some home improvement project ideas on which to collaborate using their Wagner Flexio 4000 HVLP Paint Sprayer. One of my first thoughts was "Painting the shutters and the garage doors!"
As simple as it was, it took two days during the hottest days of the year, but it was well worth the effort! My middle son is my harshest critique who typically doesn't comment on my projects. But even he was stunned that a few simple updates turned our dull 1973 home into something a bit more fresh!
Click here to save this project on Pinterest!
BEFORE
Funny enough, Google Maps got a pretty good picture of our house. 🙂
With pretty painted shutters and fresh white garage doors (and new lighting, flowers, and gardening!), the house looks amazing!
BEFORE
The reason I left the upper shutters unpainted when I attempted a refresh years ago is because I didn't have a tall ladder. Not to mention that I'm wary of ladders. From what I've heard, they're more dangerous than most power tools. I know of people who have fallen off of ladders and have permanent brain damage. So pulling off the old shutters wasn't something I was willing to do. Until now, with some hired help. Take a good look at these forlorn shutters.
With new paint on the shutters, brighter garage doors, and some much-needed de-weeding and cleaning up, my house looks amazing! (Don't get me wrong–we still need to replace the original aluminum siding, and I honestly despise the color of this brick and am trying to convince my family that paint does wonders for ugly brick). Overall, it definitely looks more fresh!
AFTER!
The house is cleaner, looks more sleek with the black shutters, and the pop of white from the doors looks fresh! So let's talk about how I pulled off this project!
Materials
Here's what I used to refresh my exterior:
Benjamin Moore black paint
Benjamin Moore white paint
Ladder (optional)
Power drill with drivers and drill bits
Hose
Cleaner and Degreaser
Painter's tape
Painter's plastic or masking paper
Small paint brush
Dust mask
Gloves
Cleaning towels
STEP 1: Remove the Old Shutters
I don't know about your house, but my house is at least 25 feet tall, if not more. The thought of climbing up on a tall ladder to remove my shutters is what prevented me from painting them years ago, as I mentioned earlier. This time, though, there was no skipping these shutters out of lack of a ladder and a lack of bravery. But I knew the best decision would be to hire someone to help.
I hired Troy, a carpenter that I have hired a few times to do work on my rental property locate in my hometown. I called him up, asked him to bring his tall ladder and his experience in climbing ladders, to remove my shutters for me.
If you don't have a "Troy" or a tall ladder, check out with friends and family (or on NextDoor) to ask your neighbors if they've got a recommended handyman to come and help with this part of painting your shutters and garage doors.
Also, be very careful when climbing on ladders if you're planning to remove your own shutters up high. Please watch this video first on how to not fall off a ladder!
STEP 2: Clean Off the Shutters
Once my upper shutters came off, I realized how much in bad condition they were! When they're up high, you don't see the blotchiness, but once removed, it was clear they were way overdue for painting (and cleaning behind them!).
There's likely to be lots of dead insects, cobwebs, and dirt behind your shutters. Now is the best time to thoroughly clean off the front and the back with a hose. But there's years of dirt on these shutters, so after hosing off the debris, spray and wipe them with a cleaner and degreaser (or even a mixture of vinegar and water). This thoroughly cleans the surface of the shutters and prepares them for painting.
STEP 3: Paint Your Shutters
Let the shutters completely dry before painting. For this part of the project, the easiest way to paint your shutters is with a paint sprayer. I'm using the Wagner Flexio 4000 HVLP Paint Sprayer, provided by Wagner for this project.
Painting shutters with louvered openings would be tortuous to do with a paint brush. When using a paint sprayer like the Wagner Flexio, you simply pour your quality exterior paint into the cup (you shouldn't have to thin the paint), twist the handle into place, plug in the blower, pick your spray pattern (they even provide a large paper practice spray pattern sheet before you start spraying on your "real" project), then start painting!
As you're working, if you need to adjust the paint sprayer, there are a couple dials on the handle, such as the adjustable pattern width and the material flow control. On the blower, you'll find the variable airflow control.
Add 1-2 coats of paint on your shutters. I found that with this paint sprayer, I could do a couple of thin coats back-to-back, and get great coverage.
STEP 4: Reattach Your Shutters
Let the shutters completely dry before reattaching them to the house. In my case, the shutters attached to the siding were easy to reattach with exterior screws. To attach shutters to the brick of my home, I had to use a hammer drill and concrete screws. Look for the Tapcon brand of concrete screws and use a hammer drill with a masonry bit that is indicated on the Tapcon screws for recommended size drill bit.
Painting Your Garage Doors
Our garage doors were the color that I despise the most: almond, to match the ugly color of our old aluminum siding. A bright white was perfect for helping to brighten up the whole exterior.
I cleaned up the Wagner Flexio, let it dry out overnight, and the next day, loaded a full cup of exterior white paint (not thinned).
STEP 1: Thoroughly Clean the Garage Doors
Just like cleaning your shutters (or a piece of furniture), you definitely need to clean your garage doors before painting them. You can use the cleaner and degreaser, but you can also use a mixture of vinegar and water.
To clean my garage doors, however, I used 30-Second Outdoor Cleaner. I had some mold and mildew on my siding that needed to be removed. Using a pressure washer on your siding is too intense and shouldn't be used on siding. However, there are several brands of ready-to-spray cleaner that simply attaches to a garden hose and once sprayed on, can be easily hosed off.
I cleaned off behind the shutters, cleaned the garage doors, as well as the mold and mildew that was growing on the other side of the house, as well.
STEP 2: Fix the Rotted Wood
Trim around doors and windows often gets rotted. I had a couple of rotted spots that I needed to fix before I could paint my garage doors. I used a rotted wood restorer first, followed by the wood filler to patch the rotted wood.
I'm terrible at using this stuff and can never get a great, smooth patch. But anything is better than leaving it rotted, so I'll accept its imperfections. 🙂 Take your time when using this wood restorer and wood filler because it gets really messy quickly and dries just 3-5 minutes after mixing a small batch.
After it was dry for 2 hours, I tried to sand it smooth. (TIP: Put painter's tape down underneath of the area you're patching; otherwise, you'll drip it all over your concrete).
STEP 3: Tape Off to Prevent Overspray
Using painters plastic or masking paper with painter's tape to tape off around the garage to prevent overspray.
You'll also need to remove any glass inserts in your garage doors. This step needs two people: one to hold the insert with glass, and the other to unscrew the insert from the inside. A big thanks to my husband for helping out! These inserts will need to be painted, as well.
STEP 4: Paint Your Garage Doors
The key to getting good results when using your Flexio is to sprayabout 6″ to 10″ from the surface. Keep the paint sprayer moving, while overlapping sections. I was quite pleased that there weren't drips and spills in the paint and that the surface was uniform. Be sure to put paper behind your garage door windows before painting to prevent overspray from going inside the garage.
STEP 5: Change Exterior Lighting
It's not that I mind the vintage lighting on the front of my home. But the other globe was broken and it was tired looking. I can probably reuse this one lamp elsewhere so I will be saving it. But I wanted something more modern, to match the exterior lights we had updated last year next to the door.
I chose the Mauvo Canyon Collection Black Outdoor Seeded Glass sconces. I love these! Last year, The Home Depot hired me to film a video for the product page for these lamps, which you can find on HomeDepot.com. 🙂 Since I love them so much, I bought 2 for next to the garage to replace the old vintage ones. These sconces cut on at dust automatically and use LED lights so there's no need to replace any bulbs.
What a huge improvement!
BEFORE
Let's take another look at how my house looked before this refresh, as it has looked for the past several years:
Mismatched shutters
Broken sconces
Dirty siding
"Dingy" garage doors
AFTER
I can't believe how nice it looks now! I put in garden in some time ago with edgers, that will grow a ton of weeds. Some deweeding helped to improve that area, too. I still have a few things to do, like paint the yard lamp post. I also need to do the back of the house. Once my "she shed" comes, I will be consumed by that project, so getting my yard together in the rear will be top priority over the next week or so.
BEFORE
AFTER!
Want More Exterior Curb Appeal Projects?
Boost your curb appeal with a mailbox makeover!
Paint Your Front Door
How about a fresh coat of paint on your front door?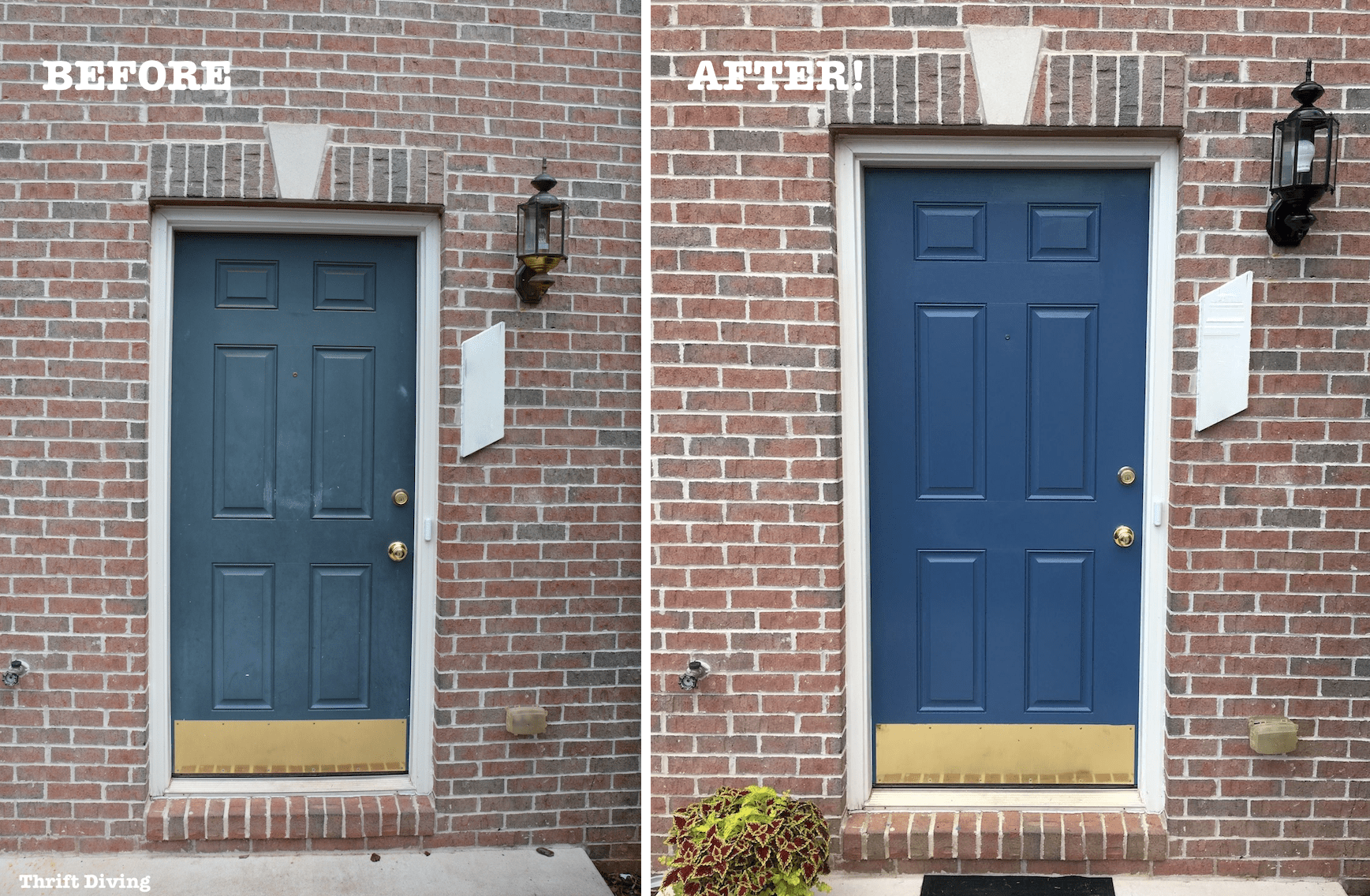 Have you totally ignored your exterior, too, and now you want to paint your shutters and garage? Leave a comment below and let me know if you also have neglected your home, too! Also, be sure to check out more painting tools at Wagner!
Love this project?? Click here to SAVE this on Pinterest!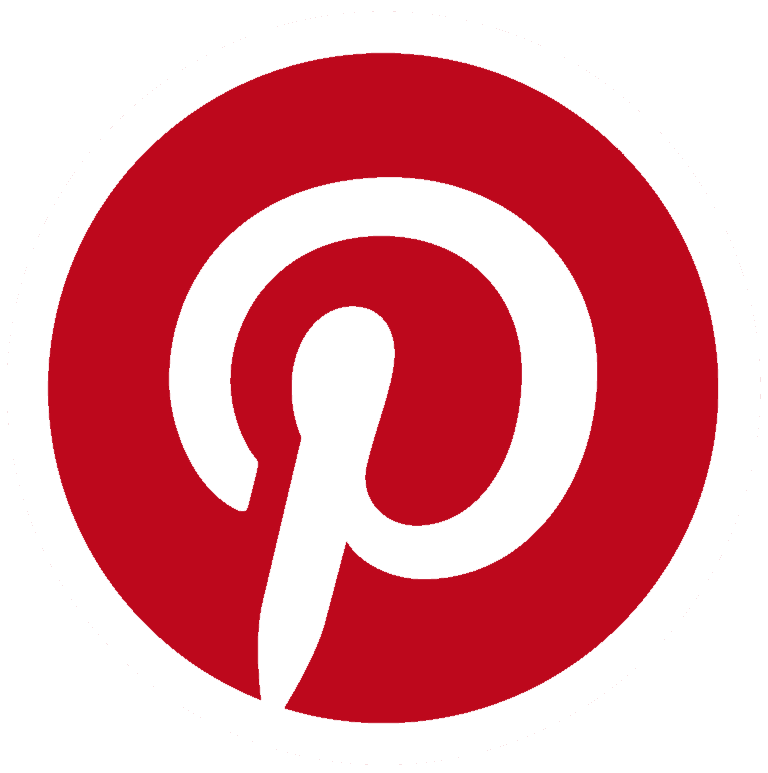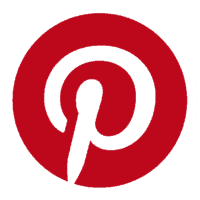 Download the 5 freebies!
Thrift Diving inspires women to decorate, improve, and maintain their home themselves...using paint, power tools, and thrift stores! Use these 5 printables, checklists, and ebooks to get started!