I stopped at the thrift store to make a small donation, but you know how that goes….
One small donation leads to a "let-me-just-run-in-real-quick-to-see-what-they-have." ((insert eye-roll here)). LOL
Although this week, instead of 3 hours at the thrift store, this drive-by was "only" 2 hours. HA!
I ran into Pete again (click here to read all about my newest thrift friend, Pete).
And before you know it, I lost track of time. He's so interesting to talk to!
Here are some of the amazing finds seen at the thrift store this morning!
Can you believe this buffet was only $50??
But what really drew my eye was this banquette! It was solid wood, clean as a whistle, and would have looked perfect right in someone's sunny kitchen!
For $200, there was no way I was buying this. Plus, I've already got something similar in my basement. But a girl could fantasize, couldn't she?? I've always loved banquettes!
This chair isn't really my style, but with new fabric, this chair could have looked fabulous! Heck–you could have probably deep cleaned it and brought this baby back to life with its original fabric!
I wish I remember how much it cost, but it couldn't have been more than $50!
I was over looking at this artwork when Pete walked by, kicking off our 1.5 hour conversation (at least!)
I was standing there confused over whether this was an authentic Ida Jackson "Bustop" painting, or a reproduction. I think it was a print, but man, it was realistic! But for $40….I could NOT justify the price.
Lately, it seems like more money is flowing OUT than flowing IN!
This one was so pretty! Another print, but still quite beautiful!
But this cabinet…Oh, this metal cabinet….
It was sweet.
And for only $15.
Seriously.
But the question wasn't "Should I get it?"
Instead, it was "Do I need this??"
And I didn't.
So I kept going. Pete may have gotten it, but I'm not sure. If he did, lucky guy! 🙂
This full-length mirror was also great, although a little wobbly. It has pretty feet, though!!
What I did buy, though, were these immaculate pillows that were on sale for only $5.00 for my family room!
I made these amazing no-sew pillows, but for these ones, I'll probably use my sewing machine to recover. I'm not fond of the print.
And this vintage wardrobe was amazing! For $80, it was a steal.
It even had the bar already installed.
You know furniture is good quality when you see joints like this!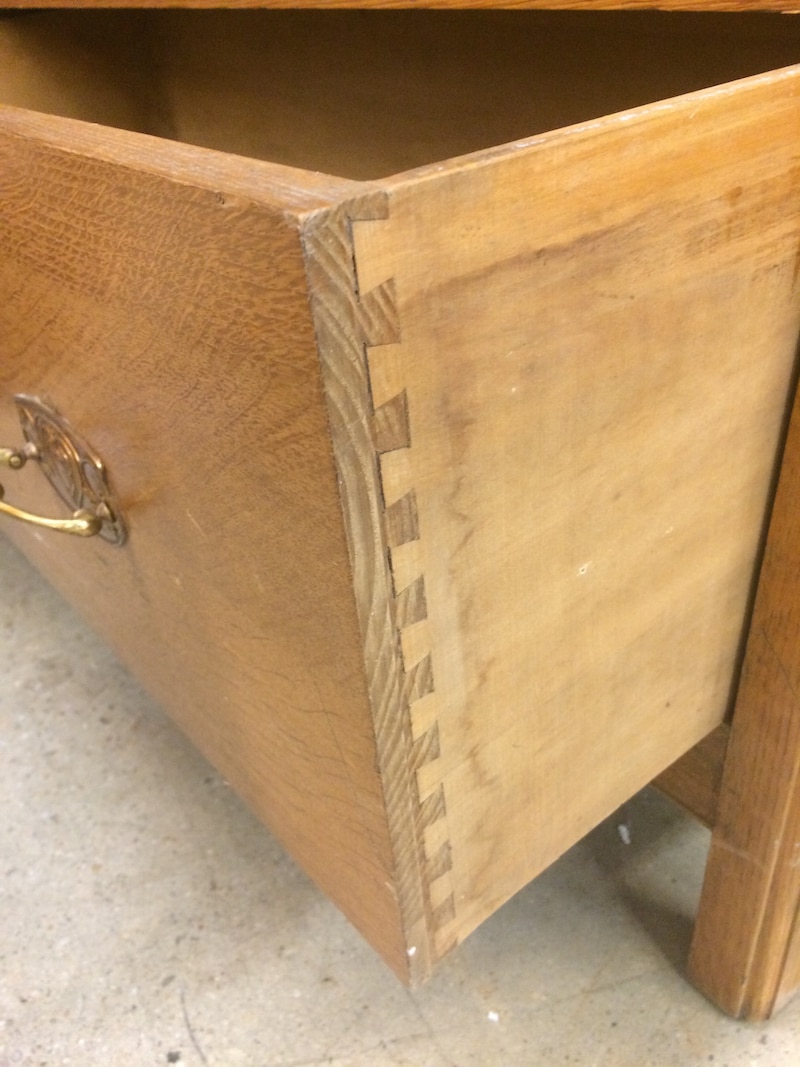 If I were a piano player, this would have come home with me. Brand new it looked like! For $300…..I'll pass, but I think these run about $1,000!
When Pete and I were done inside, he and I headed out to the parking lot so he could show me one of his thrifty buys that morning.
When we got to the parking lot, this is what I saw:
I joked with him that I hope he wasn't planning to kidnap me with that big 'ole black van! HA! (Lucky he's got such a huge way to transport his thrifty finds!!)
Anyhow, look what he bought moments before he ran into me!
Isn't this the sweetest wrought iron kid's set?!?
And you won't believe how much he paid: $3.99 a piece!!!!
Later, I hit up another thrift store on my way home and saw this chaise. I imagine with new fabric…. It would look amazing!

I also saw this funky vintage table and chairs.
Those chairs….
I actually really like them! And since painting vinyl and pleather works, I'd probably paint those chairs.
But I'd leave the legs! Look how amazing they are!
And while I didn't buy them today (I bought them a couple weeks ago), I wanted to show off my $5.00 Goodwill glasses!
So funny, but hubby noticed them today and said they looked "hot." He couldn't believe that I picked them out myself. HA! I guess he doesn't trust my fashion sense, huh?
So have you found anything amazing this week at the thrift store??