My Thrift Hauls at the Value Village and Unique Thrift!
The best thrift stores in the Washington, D.C. metro area for affordable thrift hauls are Value Villiage and Unique Thrift. We're lucky in this area because not only are the prices insanely good, but the pickings aren't slim, my friend. Because Montgomery County is known to be a bit wealthier than other counties, you can literally outfit your entire home and wardrobe with hand-me-downs from people that donate quality stuff!
(Just check out my DIY Project Gallery for proof).
When we moved into this single-family home here in Silver Spring, Maryland, you can't begin to understand the anxiety I felt at the thought of having to furnish a 4-bedroom home. Moving up from 1,100 square feet to 3,500 square feet is not for the faint of heart (nor for the broke!).
But after buying this home, I turned to my love of thrift stores to outfit our home with tons of thrifted furniture, wall decor, dining room furniture–you name it.
And then I started blogging about.
Below, you'll find a collection of all the amazing things I have found at the Value Village and Unique Thrift stores!
Some of it I lugged home with me but I've also included some links below!
Don't forget to subscribe to my blog so that you can stay current on DIY projects I'm working on!
Amazing Thrift Haul Sideboards and Buffets!
It's hard to find good quality sideboards like this at the thrift store, but Value Villiage thrift store usually had a few great ones every now and then, and the prices are right!
This one was only $25! Imagine how lovely it would look with paint!
Related: What's the Best Paint For Furniture?
Sometimes thrift store furniture can be pretty pricey, like some of the thrifted furniture I've seen at Life 4 Animals in Rockville. However, I think there are 7 reasons it's worth it to pay high prices at the thrift store.
When I laid eyes on this at Value Village thrift store, I knew I had to have it. For only $50, it was a steal.
BEFORE
With a stripped and re-stained top and paint on the body, it looked so lovely!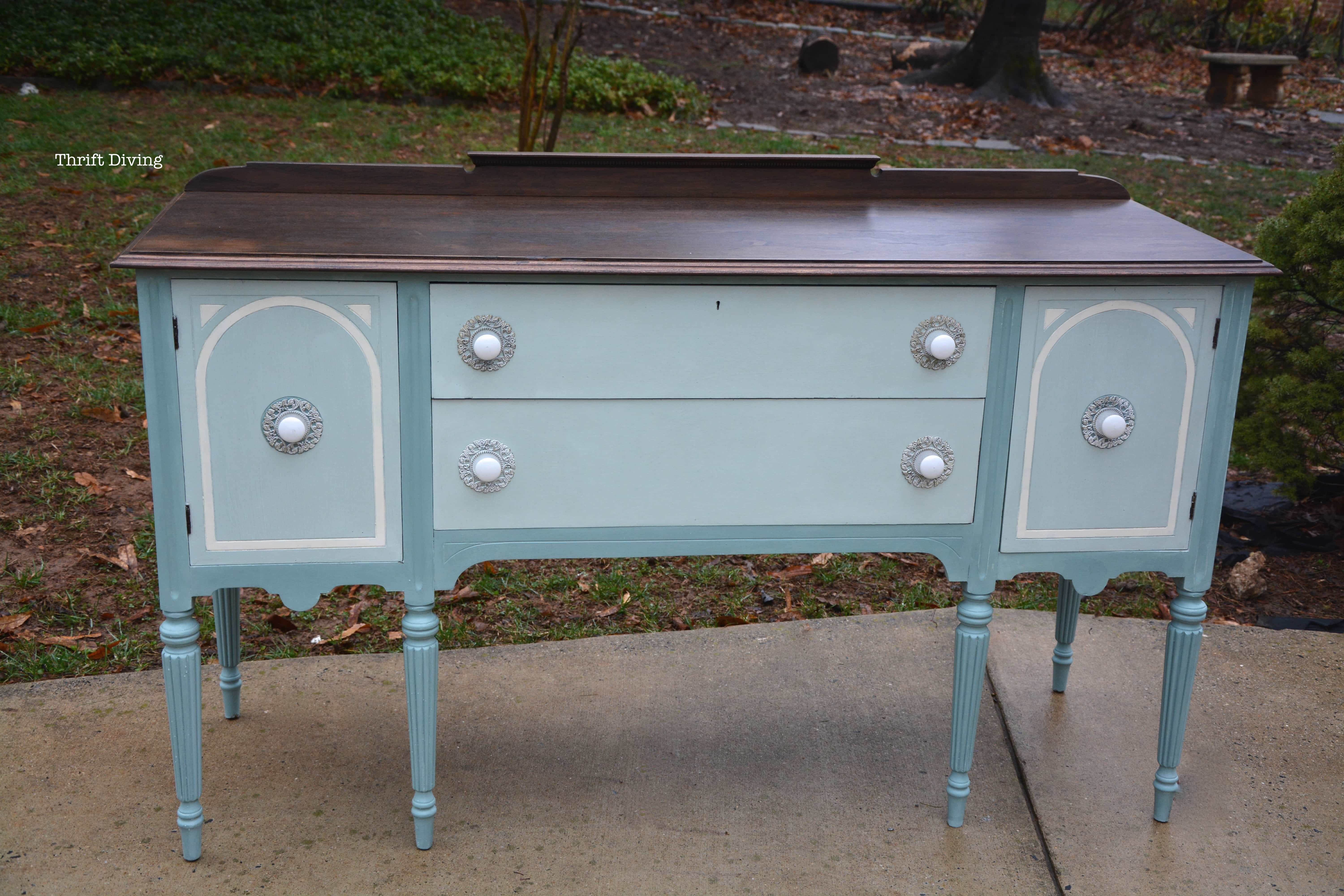 You can see more of this vintage buffet makeover here.
The Prettiest Thrifted China Set!
This is one of my favorite finds at the thirft store!
A Fun Bar Cart!
This was one of my favorite thrift store finds for $6.00! I'd like to turn it into a tea station in my dining room. Enter your name and email to subscribe to my blog so you don't miss the makeover. Plus, you'll get 5 ebooks, printables, and checklists just for signing up. It's free. 🙂
Thrift Haul Clothing!
I generally don't do many clothing thrift hauls at Value Village and Unique Thrift because I think the older I get, the less patience I have to pick through racks (although if you shop at this best thrift store in Seattle, everything is color-coded!).
Plus, as a full-time DIY professional blogger now, I don't go to an office. There's no need to look nice. Instead, I'm usually covered in sawdust, paint on my elbows and hair, and I'm looking like a hot mess.
However, over the years, I have found a few favorites, including this amazing skirt!
One of my favorite outfits is this outfit I found at the thrift store for about $10! The top is a favorite that I wear all the time, and the jeans fit so nicely!
You can watch the thrift haul right here on my YouTube channel.
And isn't it funny how you can always spot DESIGNER stuff at the thrift store? It's true that good quality stuff stands out. I saw these shoes and decided to research their name. Hmmm…Donald J. Pliner?? Never heard of him, but wow….$250 shoes?!?!
But why is it you can never find sexy little shoes like this in a size 10?! I tried to squeeze my feet in them, but at 8.5, it wasn't workin'.
I found this awesome sweater the thrift store for a few dollars and I thought it looked great with a belt!
I absolutely adore these Dingo leather boots at the thrift store!
In the sunlight, they look more reddish (or maybe it was my Instagram filter). 😉
But no matter the color, I feel stylish wearing these boots over my jeans! (They were about $10, but retail for $80-$120 online).
And there's something about this thrift store where $12.00 dining tables are the norm! Because not only did I find my Instagram filter but this one was also marked for $12.00! Isn't it cute??
This $7.00 table was a deal I couldn't pass up! It's in my master bedroom walk-in closet. I love mid-century modern furniture!
Related: See how I transformed this mid-century modern dresser that I almost ruined!
Thrift Haul Art Work!
I regret not buying this Ida Jackson "Bus Stop" painting. For some reason, I thought $39.99 was a lot, but in looking at this awesome painting, I realize that it was a steal. This could have been a cool piece of art on my wall.
It's hard to say if it was an original or a print. I just remember thinking that it looked like a painting I had seen on the Cosby Show and how cool it looked, but I didn't look up its value. I wish I would have investigated this Ida Jackson painting a bit more closely!
This mom and babe print was beautiful. I did buy this and it's hanging up in my cozy family room!
When looking at thrift stores, I always look for artwork that is numbered and signed. I don't know if this one was worth any money or not, but I did buy it.
QUESTION: Would you buy panties or bras at the thrift store? Used? What if they were new, with tags?
I used to say I would never buy panties or bras at the thrift store. But after visiting the best thrift store in Seattle, which was like a department store (they even color-coded everything!), I decided I would buy panties and bras, but they'd have to be new. Especially if they're a good discount! Why not??
And with all the natural disasters that we're having where people are losing their entire life, I'm thankful that thrift stores have everything. Yep–even panties!
Anyhow, below is a gallery of interesting thrift hauls I have found at the thrift store. Not every item I have bought. Sometimes it's just fun to look! 🙂 Enjoy!
Sofas & Chairs
Completed Sofas & Chairs
Fun Thrift Store Finds!
Completed Projects
Tables & Such
Dressers & Desks
Completed Dressers
Pictures and Clocks
Lamps
Have you found something awesome during a thrift haul recently? Leave a comment below to share!

Download the 5 freebies!
Thrift Diving inspires women to decorate, improve, and maintain their home themselves...using paint, power tools, and thrift stores! Use these 5 printables, checklists, and ebooks to get started!