BEFORE & AFTER: Alex's Darling Dining Room!
I met Alex (A.K.A. Noelani) in 2012 when she came to one of my furniture painting classes here in Maryland. She was sooo sweet! I ran into a couple times after that at blogging conferences. (She blogs over at DIY Oh My, Oh My. I was excited to see her join my 30-Day August Upgrade Challenge. Her dining room was so light and bright, but BARE, and she wanted to change that. And boy did she change it!!!!
This is what it looked like about 5 weeks ago when she got started:
BEFORE
And now, 5 weeks later, I'm SHOCKED she pulled this off in such little time!!! Isn't it amazing and gorgeous?!??!?!?! I want this dining room!!!!
AFTER!
But here's the crazy thing–she BUILT her dining room table using Ana White plans!!! Now THAT is impressive! It took her weeks to build, but really, sometimes it takes people even long to PICK out a ready-built table. So I would still say this was less time :).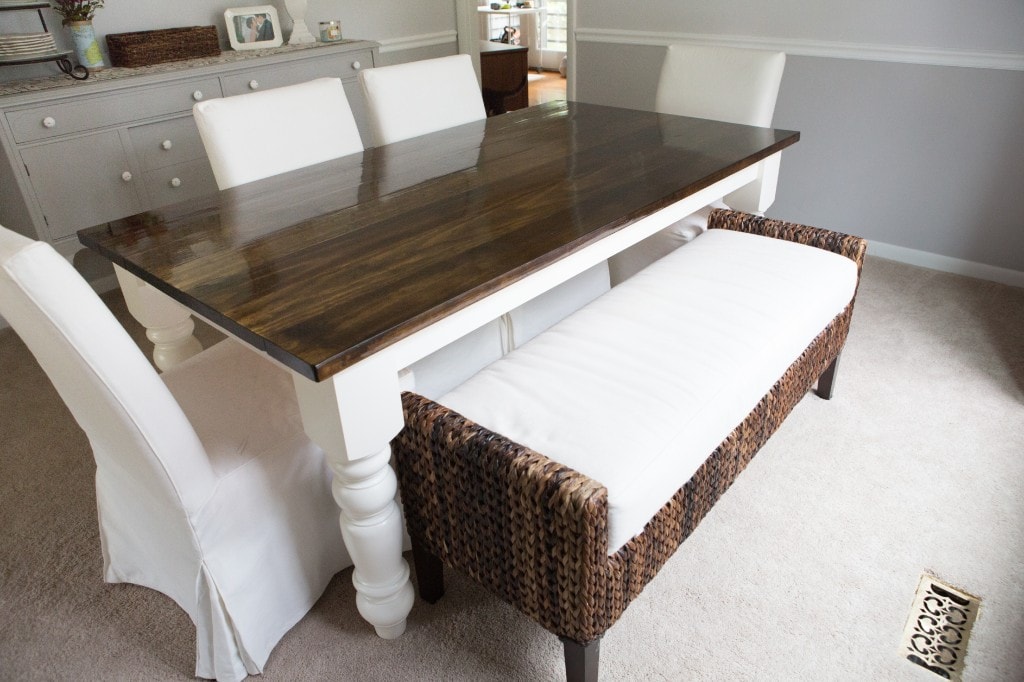 Here's what Alex has to say about her space:
In Her Own Words
"Here is what I did to transform this room:

Installed and painted chair rail – $80 from Home Depot
Painted room – Behr Subtle Touch on top and Behr Gentle Rain on bottom
Built table – Plans by Ana White
Hunted for chairs on Craigslist – $10 each
Sewed curtains – Fabric from OnlineFabricStore.net
Built and painted floating shelves – Plans by Young House Love and Ana White
Painted antique buffet – found at a vintage marketplace for $150, used Behr Porpoise paint

Biggest Challenge – Building the farmhouse table. Putting it together wasn't too hard but the sanding and the staining and the painting and the sealing were so tedious!"~Alex
And these dishes in the basket is such a colorful addition to the room.
BEFORE
AFTER!
The Prettiest Dining Room Makeover
This makeover makes me feel happy. Like the kind of room I could feel light-hearted in 🙂
And I LOVE LOVE LOVE those curtains! She got them from OnlineFabricStore.net!
New chandelier from Lowes
This antique buffet was just $150. What a score…seriously!
BEFORE
AFTER!
I have to admit that her dining room is my latest inspiration because I'm TOTALLY stealing her paint colors and her fabric selection. It's too pretty not to!!! This pretty, feminine look is right up my alley!
She did SUCH a great job, I want to come live in this dining room :). Maybe she'll invite me over for a cocktail or something at least 🙂


If you liked this project and want to make over a space in YOUR house and need a swift kick in the you-know-where, join us for the next Room Challenge!


Download the 5 freebies!
Thrift Diving inspires women to decorate, improve, and maintain their home themselves...using paint, power tools, and thrift stores! Use these 5 printables, checklists, and ebooks to get started!