The Pros and Cons of Ordering a Mattress Online
The mattresses in this review were received at no change in exchange for my honest review of Sweet Night. This post contains affiliate links.
I recently did a makeover for my kids' bedroom and built the beds using vintage headboards. Sweet Night reached out and asked if they could send me a mattress to test out in exchange for a review. I typically don't like to accept product in exchange for reviews, but since I was building beds, it was uncanny they should reach out right when I was in the market for two mattresses.
I've worked with a mattress company before to receive a foam mattress delivered to my house, but honestly, after one night of sleeping on it, my hips hurt. We gave the mattress to our boys, who used it for the past several years. In fact, it's the same foam mattress that was on the floor under their loft bed at the start of their bedroom makeover.
Because I personally didn't have a great experience with online foam mattresses, I was worried to see what would actually arrive.
The boys and I unpacked Sweet Night Whisper mattresses and felt them expanding to their full 10″ height.
The first thing that struck me was the quality of the mattress cover. OMG…it was so thick! I'm talkin' thick in a good way…. Like "thick-enough-that-two-rowdy-boys-can't-destroy-it" kind of way.
You can watch here to hear what the kids and I thought about the mattresses, and well as to find out what happened to that gorgeous accent wall one month after the room makeover was done!
It was like thick padded material that felt good enough to sleep on even without a sheet! But of course, with boys, you must use a sheet, but even if you didn't and just unzipped the cover and washed it, it's totally comfortable to sleep on without a sheet. In fact, both my boys mentioned that they liked sleeping on it without a sheet because of the textured surface.
Its other features include a soft breathable gel top layer, flexible polyurethane foam, and you don't need a box spring (their beds only have wooden slats).
It's "luxury firm" so you won't sink into it, but you'll still be hugged in all the right places. That's how it felt when I laid on the bed when we unpacked them!

What Do the Boys Think?
The boys have been sleeping on their mattresses for the past month. They were the best ones to interview about how the mattresses felt, which I shared in my latest YouTube video.
They both loved:
The texture of the mattress cover.
The firm, yet supportive foam.
The level of comfort.
That it's a "10/10" according to my youngest son. 🙂
When ordering a mattress online, though, you have to consider the pros and cons to order your mattress this way. I think there are some things to consider, which could be deal-breakers to you, or may not matter very much. Let's go through each of these.
Pros of Ordering a Mattress Online
Less overhead, so they're typically less expensive.
Get it delivered straight to your door.
Lots of options available.
You can order everything online now, so why not your mattress? Online stores may not have the same overhead with expensive leases and inventory to store up, so mattresses online can be a bit less expensive than brick-and-mortar stores.
It comes straight to your door, packed snuggly in a box, wrapped tightly, typically a foam mattress that expands once you release it. This compact packaging makes it super convenient for shipping right to your door. You typically have a ton of options to choose from, from firmness, thickness of the mattress, and more.
Cons of Ordering a Mattress Online
Can't try it out first.
Do they have an easy return policy?
You'll need to dump your old mattress yourself.
It's hard to reach someone via phone.
While it's convenient and less expensive to order a mattress online, there are definitely some drawbacks. You can't try the mattress out first to see how you'll like it. Most stores will honor a 100-night trial to make sure that after 100 nights of sleep, it's the mattress for you. That alleviates some of the stress in picking the right mattress.
However, I have never ordered a mattress online and tried to send it back, so I can't speak about how easy or difficult this process might be (because you know it won't fit back into that box!). HA!
Check before buying what the process will be for actually sending the mattress back, if necessary, and find out if there are certain circumstances in which they won't take the mattress back.
Also, when you order a mattress online, you'll be responsible for finding your old mattress's way to the city dump. You'll either need to haul it yourself, pay a friend, or pay a hauling company. Check with your trash company (if you don't have bulk pick-up) to see if it's possible to put your old mattress out on the corner.
For the kids' old foam mattress, I had to tie it up and dump it at the county recycling center. Not a big deal because I have a mini van, but for someone with no ability to haul a large mattress, this may be to an extra expense to plan for.
And lastly, if there are customer service issues, how easily will it be to reach someone? Ordering from a brick-and-mortar store down the street is a matter of calling or stopping by on your lunch break. Ordering online could mean long phone wait-times or waiting on email responses.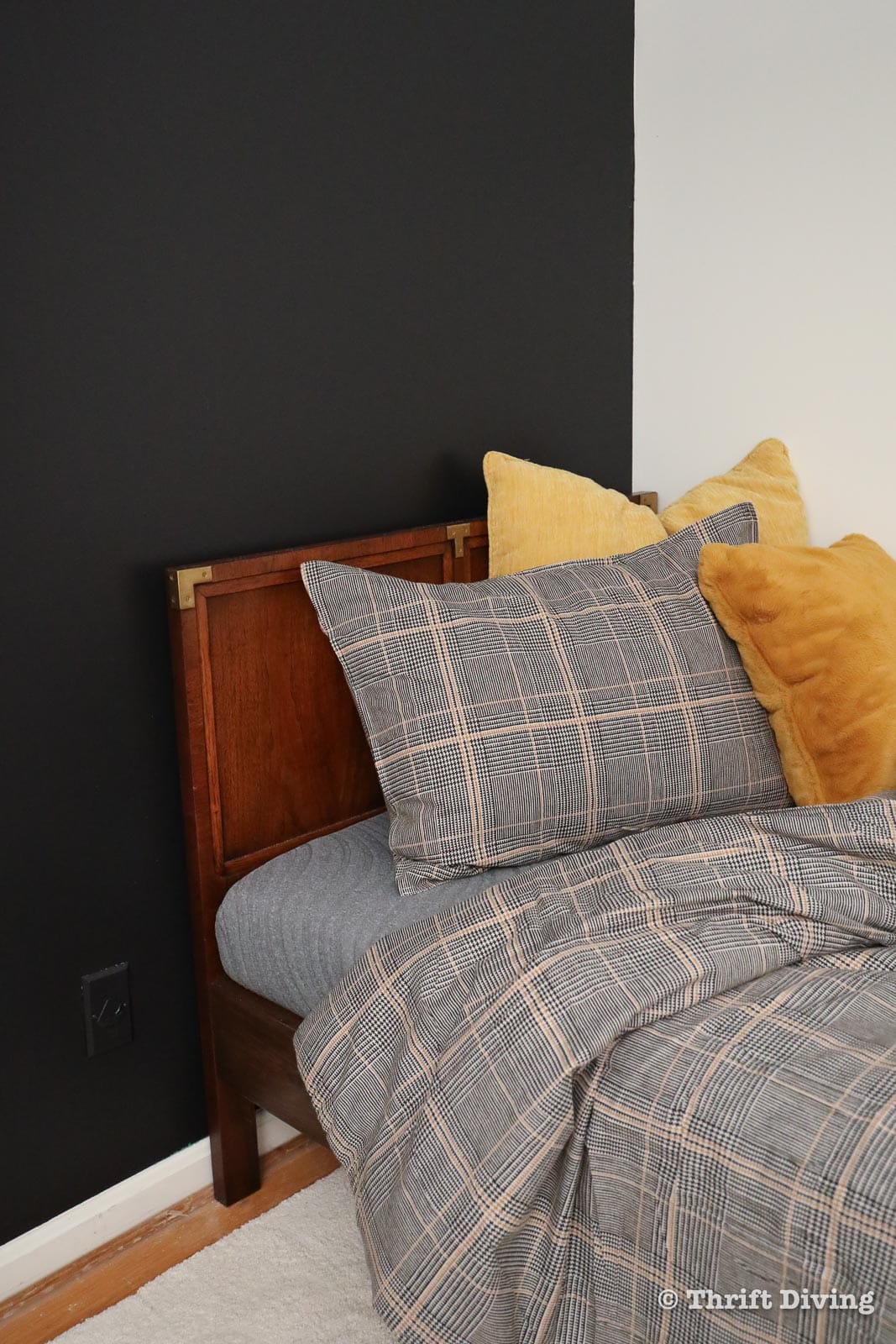 Would I Recommend Sweet Night Mattresses?
Our experience with Sweet Night mattresses has been very good, and the quality was much better than I expected! Aside from the general "cons" of ordering a mattress online, if you are ordering a mattress online, for yourself, your kids, or maybe even a spare bedroom, I would definitely recommend Sweet Night. In fact, my oldest son, he will be getting a room makeover soon. He'll likely be upgrading from a twin to a double, and I likely will be ordering it from Sweet Night!
Want to order your own Sweet Night Whisper mattress? Visit them online with my affiliate link and enter code "thriftdiving" at checkout to save 22% off your own mattress!

Download the 5 freebies!
Thrift Diving inspires women to decorate, improve, and maintain their home themselves...using paint, power tools, and thrift stores! Use these 5 printables, checklists, and ebooks to get started!