How to Make a Wall-mounted Christmas Tree
This project is brought to you by Arrow Fastener. The project and all opinions belong to Thrift Diving.
Watch This Project in Action!
If you knew me in real life, you'll know that I rarely decorate for the holidays.
I typically throw up a little Charlie Brown tree and "holiday decorating" gets quickly checked off the TODO list.
But I secretly love the holidays.
There is something so magical about this time of year–the lights, the sounds of joy, the anticipation the of family time, and new beginnings…
It feels so cozy.
I decided that this year I would make more of an effort, starting with my garage that I'm in the midst of making over. I spend a lot of time in there and wanted to bring some of the holiday cheer to my workspace.
Since I don't have a lot of space for a real tree (and admit it–a real tree would look ridiculous in the garage!), this space-saving, wall-mounted wooden Christmas tree is perfect for cozying up a wall for the holidays!
Here's how to make it!
Materials Needed
JT21 Arrow Fastener staples
1/4″ plywood
Thicker piece of wood for the tree trunk (2″x 2″)
Jigsaw
Power Drill
Clamps
Wood glue, brad nailer (optional)
Indoor/outdoor lights
Spade Bit (to match the size of your lights)
D-ring and picture hook & hammer
Straight Edge
Paint & paint brush (and brown wood stain)
Christmas tree ornaments
STEP 1: Cut Out Planks of 1/4″ Plywood and Draw a Triangle
The planks can be any thickness you'd like them to be. There's no right or wrong answer here. 🙂
I made mine about 7.5″ wide.
Placing them a 2″x 2″ board, I needed four planks.
Using a straight edge, I drew a triangle in the shape of a tree, from top to corner on each side.
STEP 2: Cut Out the Tree
Using your jigsaw, cut out the tree on the lines you just drew with the straight edge.
STEP 3: Drill the Holes for the Lights & Secure the Boards
Be sure to use a sacrificial board underneath so you don't drill a hole in your table.
Plus, it helps to prevent tear-out on the reverse side when you use a sacrificial board.
I tried to make the holes evenly spaced.
STEP 4: Paint Your Tree!
(You can secure the boards to the 2″ x 2″ at this point, with glue, brad nails, or staples. I chose to paint the boards, first, but it's best to secure them in case you want to disguise the staples or nail holes).
Painting is the fun part!
I didn't have any green paint, so I mixed a yellow and blue together and made my own green.
Then I added some white and created an ombre effect to make it more interesting!
I used dark wood stain to create the trunk of the tree since I didn't have any brown paint!
STEP 5: Screw in the Lights
I bought the lights from the thrift store months ago and held on to them, knowing a great project would come along.
They're indoor/outdoor lights.
And the only way this really works is to use thin wood so that the light bulb and the socket make a connection so they'll turn on when plugged in.
Just don't screw them too tightly or they'll crack!
STEP 6: Staple the Bulky Wires to the Back of the Tree
This Christmas tree is getting hung on my garage wall, so there wasn't space for all that bulky leftover electrical to just hanging there. The Arrow Fastener TruTac was the perfect tool to secure it in place. It's pretty lightweight and allows you to push it in versus squeezing it (if you've got small hands or can't handle bulky staplers, this one is for you).
I just had to be careful I didn't put a staple through the cord! GASP!
STEP 7: Attach the D-Ring and Picture Hanger
Now that the cord wasn't in the way, I could attach the D-ring and hang the picture hanger on the wall.
(Don't mind the ugly back of the tree! This was scrap wood I was using!) :).
STEP 8: Secure the Extra Cord
These lights had a super long cord that I didn't want just hanging around at the bottom.
So I used the stapler to snake it up the wall and neatly hid the excess stapled cord behind cans of paint, then plugged it in.
STEP 9: Add Staples as Hooks!
The DIY wall-mounted Christmas tree looked a little plain with just lights, so I used the stapler to create "hooks."
The trick to this was to not press the TruTac™ stapler all the way against the wood.
If I left a little space between the wood and the stapler, the staples wouldn't go in all the way and I could place them randomly on the tree and hang Christmas ornaments off of them!
I also added a bow and some other ribbon for trimmings!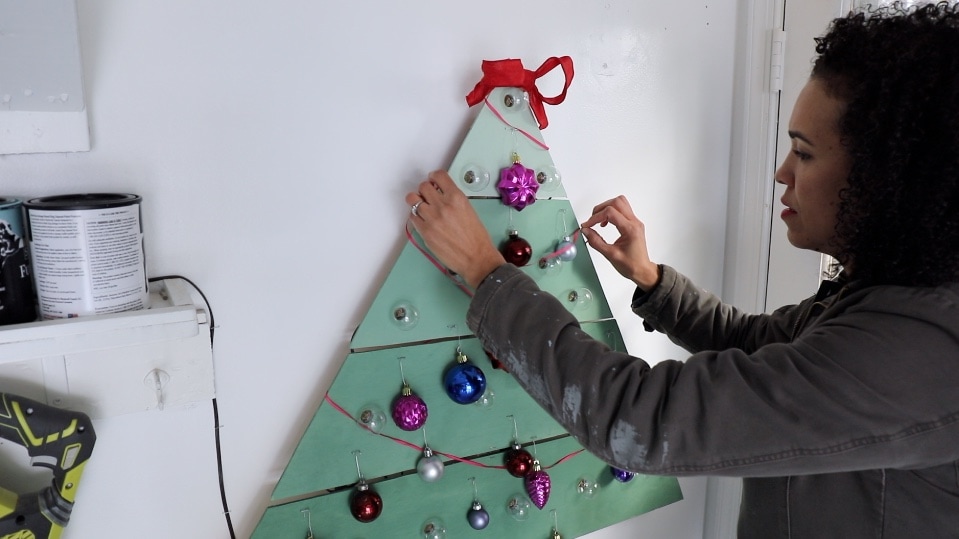 I love how it looks at night!
I've painted the garage floor, walls, and ceiling, and nex,t I must get my tools set up on my workstations.
I'll admit that I'm looking forward to having a functional, cozy place to create!
Be sure to check out the TruTac™ Arrow Fastener stapler on their website!
So what do you think?! Have you ever thought about making a wall-mounted Christmas tree for a small space in your home for the holidays?
Leave a comment below and let's chat about it! 🙂

Download the 5 freebies!
Thrift Diving inspires women to decorate, improve, and maintain their home themselves...using paint, power tools, and thrift stores! Use these 5 printables, checklists, and ebooks to get started!