Ask Me Anything! I Just Hit 400K YouTube Subscribers!
I would love to say that building a YouTube channel is like being a kid at the top of a steep driveway with a bouncy ball. They clumsily set it down at the top, giving it a slight push, and while it starts off slowly, it gains momentum with each roll.
Unstoppable.
But actually, building a YouTube channel is more like building a snowman.
Remember how it would start with just a pack of snow in your hands, formed into a tight ball of hope.
You begin rolling it through the snow in your front yard, hoping the other snow will stick, building up the base of a giant snowman. And while you're rolling, it doesn't necessarily get easier, just bigger.
In fact, the bigger it gets, the harder it is to push. And it's not quite round, but more oblong and awkward.
Well, that's what my YouTube journey has been like: oblong and awkward with periods where things "stuck" and I was definitely forming. But then, you realize you're still kind of odd-shaped and clunky.
Regardless of how difficult it's been, I hit a milestone recently that seems pretty impressive. My 11-year-old son exclaimed, "You should do a 'Ask Me Anything'" video to celebrate reaching 400K!"
Now…one thing you have to understand is that just because 400K people at one point or another liked one of my videos enough to actually subscribe, it doesn't really mean anything other than someone liked one of your videos enough to at least subscribe.
Because most of those people don't even know when you've posted. YouTube's got an algorithm and unless you've hit that bell to be notified when new videos are published, most likely, most of those people don't even remember who in the world you are.
And in all honesty, there's the 80/20 rule of life: that 80% of results are from 20%.
For example, you wear 20% of your cloths about 80% of the time.
Eight percent of your income comes from 20% of your activities (if you're a business owner)… or 80% of your sales come from 20% of your customers.
And if you're subscribed to my email list, 20% of subscribers represent 80% of views that my blog posts get.
You get the idea.
So even though 400K subscribers isn't such a big deal, it's still a milestone that I'm going to acknowledge because in that 400K, some of you really show up each time I post a new video: you watch it… you comment… you share… and you support in a way that makes me so happy.
I asked some of you over on YouTube to ASK ME ANYTHING for this "I Hit 400K!" celebration, and you submitted some good ones! I asked for anything project-related or personal-related.
Are you ready to jump into these? Let's go!
Want to Listen to this Blog Post??
Q: How Does Your Husband and Kids Feel to Have an Internet Star in the House?
HA! Good questions, guy! Let's start with my kids. As cool as I think I am as a mom, they still only really see me as a "boomer." I try to tell them that a "boomer" is someone my mom's age (66 years old). But in "internet-speak," a "boomer" is someone who's an uncool mom or dad.
So while they tease me for being a boomer, they do secretly think that what I do is cool. I've even overheard them bragging to their friend. And just a couple weeks ago we were stopped randomly by a woman at the organic store who recognized me. When we were done saying hello, they looked at me in amazement and exclaimed, "Wow, Mommy is internet famous!"
But generally, the kids are unfazed by what I do online.
My husband–he truly couldn't care less! Actually, let me take that back–he does care, but only because he would prefer that I keep our business to ourselves. Being online, I share a lot of info that he would prefer I don't share. He likes no one knowing anything about him, so to have a wife who shares stories, pictures, videos, makes him unsettled. But he's learned to live with it!
Q: Who Showed You How to Use Your First Power Tool?
For as long as I can remember since living on my own, I've always owned a power drill. That's pretty basic, so I won't count that. As for as tools tools, I have RYOBI to thank for that! I started going to the Haven Conference in 2013, which is a DIY blogger conference held yearly in Atlanta, Georgia. RYOBI used to be a huge sponsor. That year, in 2013, we went to the sponsored party one night that RYOBI was throwing, and they had power tools set up all over the room.
Well, mix alcohol, and a company willing to give away the tools, and we all started walking out with our first power tools in hand!
When I got back to the hotel, I snapped this picture with my first power tools taken from the party: a circular saw and a reciprocating saw (also commonly called a sawzall). Can't you see the excitement in my face?!
I used the circular saw on my own, but at those later conferences over the years, I would ask the RYOBI guys to show me how to use the miter saw… the jigsaw… And having them standing there, allowing me to do a test run, definitely boosted my confidence and eliminated my fear.
Currently, I still won't touch a table saw. I've seen too many accidents where people slice their fingers off, or make a careless mistake and the wood flies back (due to kickback) and take one in the gut. Eventually I may get a SawStop table saw, which detects fingers and body parts and breaks automatically and eliminates the risk of cutting off a finger or two. But I've since started using my favorite Festool track saw, which allows me to do pretty much everything a table saw does, with less risk.
Q: Is There a Room Makeover That You Are Not Happy With? Which One is Your Favorite So Far?
Whew, this is such a good question! The room that I have never ever been happy with is the garage. Technically not a room but it's an area of the house that I use frequently as my workspace, and it has never really satisfied me.
Well, the satisfaction lasts for all of a week, and when you see the "before" and "after" it definitely is an improvement. But this space bothers me for several reasons:
Half of the garage houses lawn mowers, weedwackers, a huge snowblower, pressure washer, a huge leaf vacuum… With all that equipment, it's impossible to look pretty.
I have too many tools and materials with no good organizational system.
There is always more coming into the space without pre-determined locations on where to put things. So things end up just cluttering the workbench, floors, tables…
What ends up happening is that whatever improvement I make, like painting the garage floor, or organizing a section, it ends up a mess again. 🙁
My favorite makeover is difficult to select because I have loved so many! But I would have to say my all-time favorite is my master bathroom. This was the first space that I had ever built something so big from scratch. I made my 60″ custom bathroom vanity with my own two hands and a pencil sketch on paper. 🙂
I remember the fear of "OMG, what if it crashes to the ground!" But that hasn't happened. It's been 4 years and it's still standing! Now that I've got a bit more building skills, it makes me wonder how the vanity would turn out if I were to build it today. 🙂
BEFORE
AFTER!
I also did board and batten on the walls, made a cute window privacy screen, and painted it a pretty pink/purple. I also painted my shower, which after 4 years, still looks good and hasn't peeled!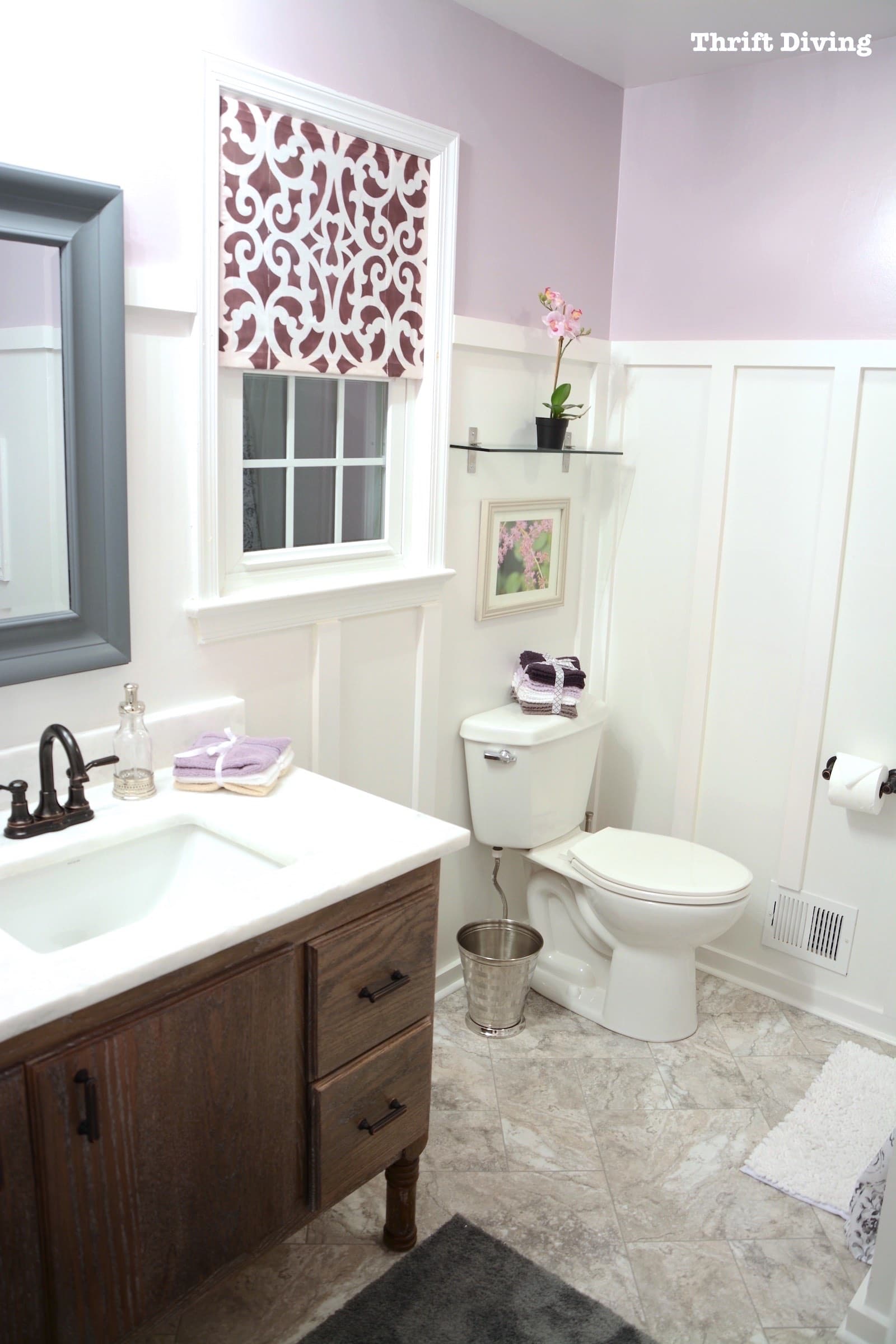 Q: Did Your First Project Go as Planned?
It's been a while since I've thought about my first DIY project! I guess you could break this question down into different types of projects: my first furniture makeover… my first build… my first room makeover… But I think I'll stick on my first furniture makeover, which was a little mid-century modern table that I picked up from the thrift store for $10.
We lived in our 2-bedroom condo at that time. We didn't have kids. Didn't have a lot of money. And I remembered my teen years in high school, really enjoying finding vintage clothes. Now that we had this 2-bedroom condo, I would find a couple pieces of furniture there.
That little table was so cute with its steel base, but the brown veneer top was ugly. I painted it red with regular was latex paint.
If you look closely, you can see the red table below, years later, in my basement just before my basement makeover.
When I did my basement makeover, I decided to keep the table, paint it to compliment the new colors, and I still have this table, after nearly 20 years!
It's okay to be nervous about your first project. But if you start with something inexpensive that you find around your home, or at the thrift store, allow yourself to practice until your confidence builds!
Also check out this post on how to get started with your first painted piece of furniture.
Q: Did Your Family and Husband Support Your Dream to Become a Thrift Diver?
Definitely not! My husband is very rigid in his ways. Meaning, routine is what gives him comfort. When I go and start shaking things up (which I do often! LOL), it makes him unsettled and anxious.
I had started my blog in 2010 (you can listen on my podcast about The Story of Thrift Diving). At that time, it was just to document what I was doing in the house and finding furniture on a budget. But in 2012 I got an inkling that people were making money blogging. I was like, scrreeeeeech, hold up. I'm doing all this for the love of it, and I can make money??! Oh, it's on now!
I worked hard at it nights and weekends, coming home from long hours at work, putting the kids to bed, etc. And I often got very little sleep due to working on blog posts and projects. But I loved it! And decided that maybe I can go full time in the Fall of 2015.
Well, when I got fired months too early, waaaaay before I had a real plan for how I was going to go full time, it felt like a blessing. Scary, yes. But a blessing. I literally jumped for joy when I came home, standing in the kitchen and telling hubby I was going to see if I could make this blogging thing work.
He wasn't on board at all. But I asked him to give me 3 months. If I couldn't make it work, then I would definitely put more time and effort into finding a full-time day job.
Things picked up and I've consistently earned more money now than ever before! And while he eventually came around and didn't speak negatively about what I do, he is still someone who, if I were to tell him today, "Hey, I think I want to go back for a day job" he would just say, "Okay" and it wouldn't be an issue.
I've appreciated that I can pretty much do what makes me happy and he trusts that I'm responsible enough to make good decisions for the family. But he literally could take or leave what I do. As long as I have enough money to pay the bills. LOL.
Q: What's a Good Started Project for a Beginner With a Nail Gun
I love nail guns! They're really great for adding baseboards around your house, or decorative trim on the walls, like board and batten. Just be sure to use longer 18 gauge brad nails and angle them so that the nails don't pull away from the drywall. You could also use some construction adhesive to secure the boards. I used a nailer when doing over my kids bathroom.
Nail guns are also great to use for small projects, like DIY serving trays or any project where the project will be used in doors and doesn't need a lot of strength other than brad nails and glue to hold it together.
Keep in mind that for most of these projects, you'll also need to be able to cut pieces of wood. I recommend learning how to use a jigsaw. They're pretty inexpensive, too.
And wow….the above is full of amazing questions so let's break this down!
Q: How Often Have You Suffered From Burnout and/or Desire to Quit and Return to a "Regular" Job?
Blogger burnout is a real thing! But I have never wanted to quit. I'll admit there are times when it's stressful that I do wonder what it's like to have a regular 9-to-5 where "It's Fridaaaaaay!" means something again (umm….I work every weekend, so Friday isn't really Friday to me).
But then I think about having to report to a supervisor, which I hate. I think about having to get permission to take time off for a doctor's appointment or "just because." I think about the financial cap on what I could earn and how it was someone else's decision how much I earned. And I would never want to experience those things again. The freedom that my blog, and YouTube have allowed me in doing what I love to do, and get paid for it, is incredible.
It does get stressful at times. The stressful part is having to meet brand deadlines. While the brands can be flexible, it can be demanding. It feels like pressure. It feels like having a supervisor again. Reporting to someone who has your paycheck in their hand. And at times when all these projects converge at once, it leaves me feeling anxious and can sometimes take the joy out of doing what I love.
But even with that stress of deadlines, I couldn't see myself doing anything but creating, building, and inspiring people. So if I weren't blogging or doing my YouTube channel, I would likely be renovating properties. I would be building or making things to sell. I would own my own business, for sure. Because I never want to have to request time off again.
Q: Who, If Any, Home/Decor YouTubers Inspire or Educate You?
I'll be honest. I don't follow many other YouTubers. I don't even watch home decorating shows. I never watch HGTV. Although I love this field, this topic, I don't follow the trends, and I never pay attention to what others are doing, because I don't want to be influenced by what they're doing. In this field, it's very easy to see amazing projects by other people, or even mediocre projects, and see their growth and then compare yourself to them. So I operate with blinders on. This can be dangerous, because that means I don't see what is trending. But I think it also helps me to be more authentic and not just try to replicate what others are doing for clickbait.
I do like YouTubers like See Jane Drill. While I don't follow along consistently, whenever I need to research how to use a certain tool or something, Leah usually has a video on it with tips. She's this older shop teacher who makes you feel good when you listen to her.
I also like to follow Mike Holmes, who used to have a show called Holmes on Homes. I follow him on FB because I love his tips and advice. His show operated on the premise of fixing what is wrong in a house that unsuspecting homeowners bought that had shoddy work done on their newly purchased home. That was one of my favorites!
And my good friend, Glen, from DIY Creators, I follow him. He and I are close friends and talk weekly. He's got over 3.5M subscribers. He inspires me because he's authentic in what he does and I know him personally and see how hard he works at what he does.
Q: What Were Your "Learn the Hard Way" Lessons?
The first that comes to mind is to measure the top and bottom of something when building. When I was building my bathroom vanity, I took measurements from the top in order to determine how wide the opening was for the draw. But silly me didn't realize that I needed to measure from the bottom, too, and to make sure they're equal width so the drawer would fit nicely. When I went to put the drawer in, it wouldn't fit! I ended up having to sand down the drawer to squeeze it in. To this day, it doesn't close smoothly. Lesson learned! Later, I taught myself how to use SketchUp when I built my closet organizer so that I could model the project first and would know that everything was square at each step.
Some other lessons I have learned include:
Buy the best tools you can afford.
You can never buy too many accessories that help you with measuring and getting straight cuts.
Don't paint every piece of wood furniture. Sometimes the grain should be enjoyed.
Only buy what you love, not what's popular. You'll end up with a lot of mismatched furniture that you really don't personally love.
Q: Do You Think You Will Do Any Collaboration Videos With Other DIYers?
It's possible. But as I mentioned before, I'm usually operating with blinders on. LOL. I don't see what other people are doing. There is one person who I absolutely have reached out to about a collaboration and that was Leah from See Jane Drill. But I never heard back from her, so I don't know if she ever got the email or just ignored it. 🙂 YouTubers usually do collaborations to pick up new subscriber and reach a new audience to help grow their channel. I haven't been that concerned about growing my channel, but rather, just doing the kinds of videos I can be proud of. And if they reach people–great. If they don't, then the world isn't going to end. LOL
Q: In Your Opinion, What are the Top Five Elements, Habits, Practices or Personal Gifts Do You Attribute to Your YouTube Success?
This is a tough one. Because there are so many savvy things I can say to do that are technical to help beat the algorithms for getting more views, getting more people clicking, because if you get more people clicking and watching, YouTube shows it to more people. And the more people that watch, the more that discover you and subscribe, etc. etc.
All those things are great….
However, what I attribute the biggest things that helped me to be successful is this: 1) because I love to do it, and 2) I'm good at it.
I'll tell you a quick story: Years ago, when I was working at a day job before having kids, we were required to do some sort of personal development as part of our job. I decided to take a public speaking class. It was 4 Saturdays. You go and present, learn some skills, and say that you've done your "personal development." Well, at the end of the course, as people were filing out of class, I went to shake the instructor's hand to thank him for the class.
He clasped my hand and lowered his voice and said to me, "You know, you should be doing this."
I didn't know what he meant by "this" other than speaking to people, but he looked serious, like he really needed me to know this information.
I told him that I get to speak sometimes, but it surely wasn't my career.
But I never forgot what they man told me. He saw something in me that I didn't have the ability to see myself. But it all made sense. Even when I was 18 and we had rented a camcorder for a summer vacation, I would set the camcorder (one of those big 'ole heavy duty "Chevy Chase" joints up on your shoulder) and I would kneel down on my knees and say, "Hello, I'm Serena McCann, coming to you LIVE from Marbern Road!" I'm pretty sure I still have one of those videos around somewhere…
So I excelled on screen and speaking in front of people. But it wasn't until 2012, years after that experience with the public speaking teacher, that I started a channel.
Since that time, I have been hired by companies like The Home Depot, Walmart, RYOBI, and more to do videos for me, and even commercials.
But I think my channel has been successful because I love what I do. I love doing makeovers, I love teaching people what I learn along the way. And I'm authentic. I'm not going to make think the project was a piece of cake if I ran into 10 problems. That realness is what keeps people coming back. I don't know how to be any other way, and it has worked well for me.
Surely I don't have millions of subscribers like some creators do. But that's okay. I don't have to be "most popular." I just have to be able to create, inspire, and teach those that do show up.
Q: How Did You Plan and Set Up Your Workshop?
As I mentioned earlier, my garage workshop has never been "done" and always felt like it could be improved. I've run out of space there so I am ordering a shed for my backyard that will be used strictly as a workshop! That's the workshop that I'll be able to plan for, whereas with the garage, I always felt like I was just making do with what I had.
To plan a workshop, you have to think about:
What tools and equipment you'll be using. You will need outlets for all of those if they're not battery operated.
Where will you cut materials? You should have a 4′ x 8′ table, which is big enough to hold a full sheet of plywood. I like these Kreg mobile project center tables because they can be configured to hold a large sheet of plywood to make a table.
Storage bins are SO important, for screws, nails, and all the odds and ends you don't realize you have.
Dust extraction! This is big. Get the dust out of your shop. Definitely wear a dust mask and invest in an air filtration system for a few hundred dollars. I will have one in my new shop.
Have a painting station if possible. Don't ruin your workspace with paint everywhere.
I'll be sure to include more tips later when I get my new shed set up!
Q: What Do You Do With Your Kids For Fun?
As my kids have gotten older (now ages 15, 11, and 9), I find that the way I have fun with them has changed. At night, we used to read Berestain Bears books. Now, we watch inappropriate-for-their-age sitcoms with humor that makes me want to cover their ears sometimes. LOL. But we laugh together, snuggle up on their floor, and catch a couple episodes. We've finished sitcoms like The Office, Fresh Prince of Bel Air, Upshaws, and most recently, we finished a hilarious sitcom called Marlon (Netflix).
The kids and I have also in the past few months, started going to the community center. I weight train with my 15-year-old and the other two verses each other on the basketball court. We go at least 3x per week and it's really become a fun way to spend time together and get fit. We also love to go bike riding at times, get ice cream, go berry picking, and visit family.
BEFORE – June 2021
In Progress! – September 2021
I definitely prefer working indoors than outdoors. I neglected my outdoors for so long, but now, I will do things outside when I have to, like it's a sponsored video or blog post that pushes me to do the boring outdoor stuff.
Q: Is Electrical DIY as Scary as It Seems?
Electrical should definitely be respected because it can kill you if you do the wrong thing. I know that does sound scary, but it's the truth. 🙂 And you know I'll speak truth here at Thrift Diving!
But I'll let you this: I thought electrical was boring. I had to take an elective for my Carpentry program at the community college. I was dreading the class. But it was the most interesting topic! The teacher was excellent, and after sitting through the Intro class, I decided to sign up for the next level course a semester later, where we would learn how to wire a small "tiny home" in the school lab down the hallway. We ran wires from the upstairs down through the ceiling, from room to room, to connect them to the service panel.
Then you know what happened?
COVID!
Everything shut down, and we weren't able to continue class, to make those connections. So I missed out on the most important information.
But what I learned is that electrical is like a puzzle. You have to figure out how to get the electrons from the service panel to the load (e.g. the light, outlet, microwave, washer, etc.) and then get the electrons back to the service panel. It's a giant loop, and how you connect the wires will determine how the electrons flow in order to bring power.
It's fascinating!
As a homeowner, you can DIY some basic stuff yourself, like lights, outlets that are broken that need replaced, etc. It means shutting off the power to that room, to that circuit, and most times, just unhooking the old thing and reconnecting the new thing.
Oh–and always wear sneakers when doing electrical (so that the electrons don't run through you into the ground), and always use a fiberglass ladder when doing electrical work (aluminum ladders are conductors of electricity so you won't find electricians using those, so you shouldn't either).
More extensive electrical I would recommend you leave to the professionals.
I'll be adding some electrical stuff to my channel and blog soon!
Q: What Part of a Project is Not Your Favorite?
I'm with you, girlfriend! Getting started is my WORSE part! Having to go around and find everything, when you're not really sure if that's what you need or want….It's exhausting. Even when you get everything, it's still not easy to start, especially if it's a project you've never done before, because then you're worried about it turning out.
To get over this, I try to make a list of everything I need or think I need. Then I go and get it all at once, or order what I need online. And then I just have to jump into a project. Sometimes writing down the steps to a project makes it easy to get started because instead of thinking about the whole project, all I need to do is focus on the first item. It takes out the uncertainty over what comes first, second, third.
Q: What Do You Enjoy the Most Out of All That You Do?
I absolutely love building things from scratch with wood! But honestly, anything that allows me to create something new or different (upcycling), I love it. But what I love most of all is the peacefulness of being in my garage working on something I love and having The Golden Girls on with my headphones, listening to Dorothy, Blanch, Rose, and Sophia engaging in another one of their adventures. 🙂 When I'm working on projects, it's comforting to listen to them while I have the whole day stretched out in front of me. It's bliss!
Q: How Do You Sand Small Detailed Carvings in Wood Furniture for Painting
Good question. If you're painting that piece of furniture (and it sounds like you area), and the small detailed carvings are in good condition, you should have to sand it. Most furniture paints will allow you to simply paint over a piece with a couple coats and get good coverage. (See my post on getting started with painting your first piece of furniture).
If you're stripping and re-staining then you'll want to use a detail sander, like this multi-use tool from RYOBI. It has a little triangle head attachment that comes with it that makes getting into cracks and crevices easy.
Q: Can You Do Some Videos Where You Use Thrifted Stuff For Construction?
I love Habitat's ReStore! When I stop there, I always look for building materials, but the one I go to is so limited there isn't much there. But there is another salvage shop nearby that I have found legs which I used to build my bathroom vanity.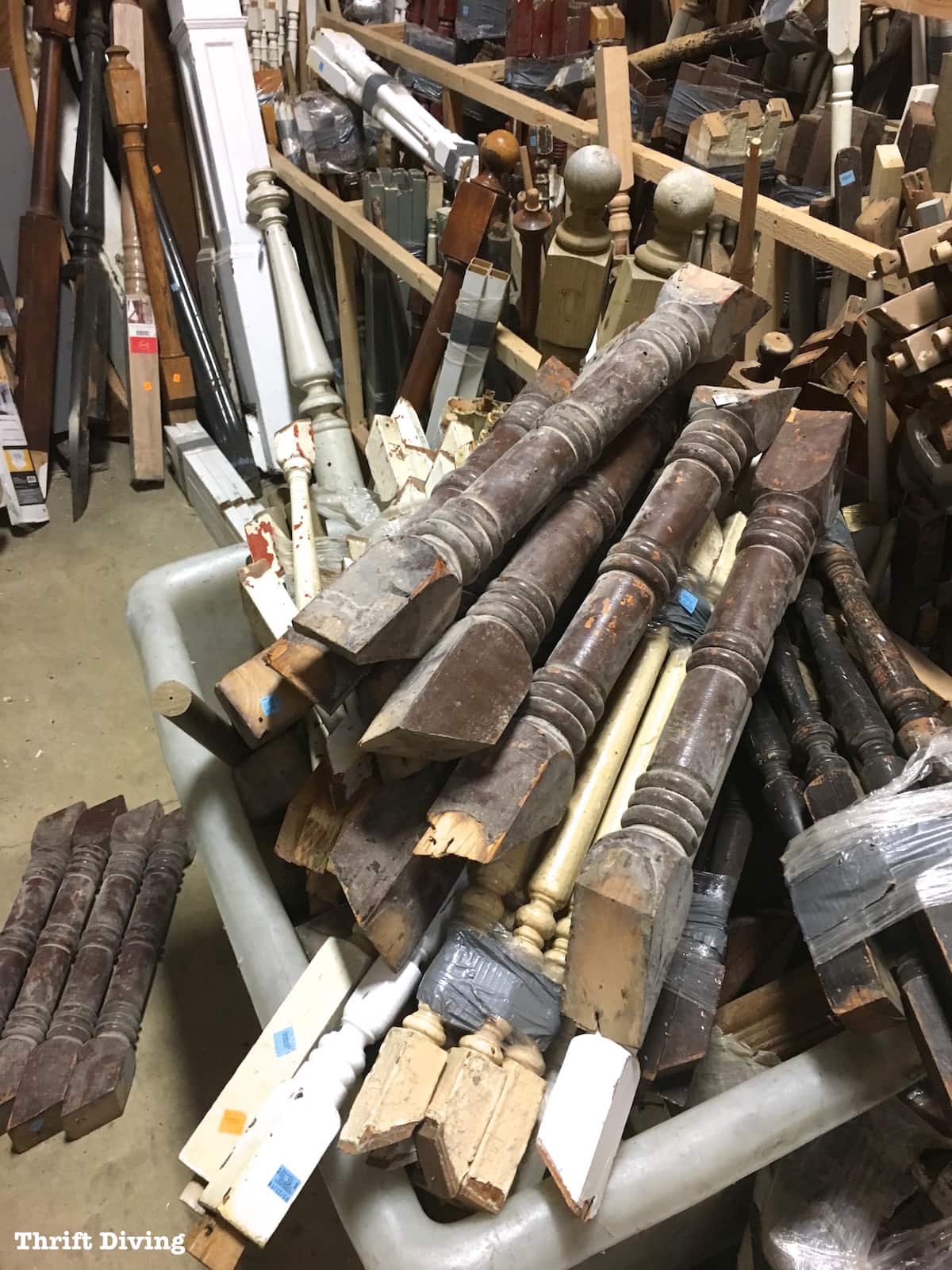 Q: How Does it Feel to Have Made Such an Impact?
Oh, Jaime, what an excellent question…. There was one story in particular that melts my heart every time I think of it. It was a woman who had suffered from postpartum depression after the birth of her 3rd child. Plus, one of her other children is special needs and it was just very difficult for her. She found my video on how to use a jigsaw and used that video to teach herself how to use it and build her special needs child a bed. The child was waking up multiple times per night, and needed a specialized bed that would allow the little girl to self-soothe back to sleep (which usually involved climbing under the bed). This mom was able to make the bed and as a result, her child started self-soothing and would go back to bed. The mom was happier, more rested, and felt amazing at having a new hobby to help pull her out of her depression.
Sometimes when I get negative comments or "thumbs down" on a video, it makes me question myself: Am I not very creative? What did I do wrong? What can I improve next time? But when I see the positive comments, they overshadow the negativity and highlight that what I'm doing is giving people the skills to be creative, which is like therapy. It feels good to make, create, to decorate.
Most people go through life and don't know what their purpose is, but I know what mine is: to create, inspire, and teach. And every time I hear a success story of someone who was able to do something they've been wanting to do because of something that I said, did, or taught them, it makes me realize that I am living my purpose. And it feels wonderful! Thank you for allowing me to make that happen!
Got a question, too?? Leave your own question below and I'll respond!

Download the 5 freebies!
Thrift Diving inspires women to decorate, improve, and maintain their home themselves...using paint, power tools, and thrift stores! Use these 5 printables, checklists, and ebooks to get started!