This is the tragic tale of a DIY gone wrong. Oh, yes, my friends… a DIY fail happens even in the blogosphere. They happen all the time.
We usually don't put out PSAs (public service announcements) about every fail. But you can bet that quietly behind workshop doors, there are many a muttering "$%*@!" and occasionally a "%&$#!!!"
And this is a recent DIY fail that happened to me.
You see, I had found these amazing lamps for $7.00 each at the thrift store some time ago. And like all amazing finds, I buy it then shove it in the garage for when inspiration strikes.
Yes, they were a little outdated, but metal lamps?? I loved them! Very unique!
I figured I would paint them, but I wasn't ready to decide.
Then September rolled around and I thought they looked really pretty for my cozy family room makeover.
In this grainy "teaster" pic I had shown you while the makeover was in progress, you can see them sitting on my thrifted sofa table. I really loved the look of the gold!
Then I Got Lucky
It's not often this happens, but I happened to find their perfect match on a separate shopping trip to the thrift store, also $7.00!
It was all covered in bird doo-doo, but a match is a match. This baby was coming home with me! Nothing a little soap, water, and paint couldn't restore!
BEFORE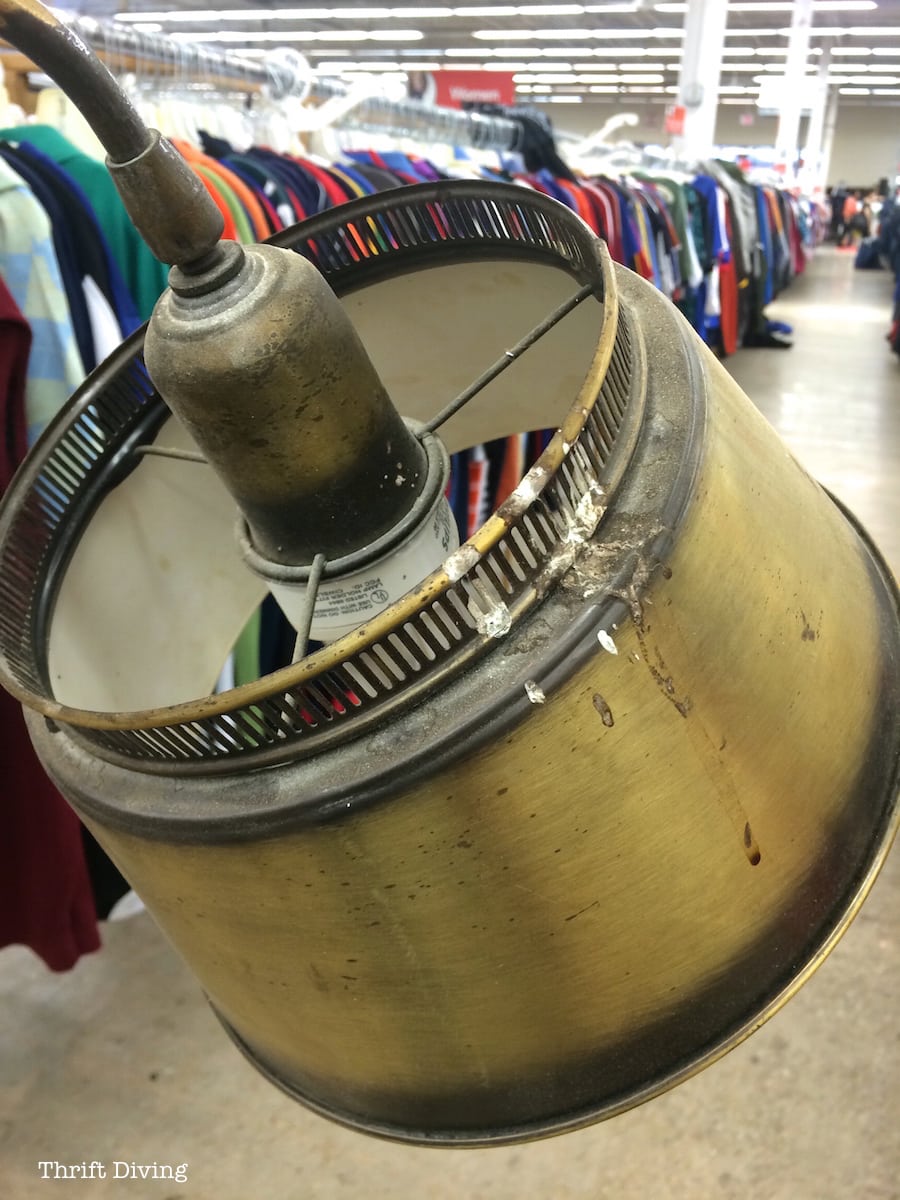 With a set of 3 in hand, I got the "brilliant" idea to paint them hammered black so that they'd all match for my family room.
I pitched my painting shelter and got started.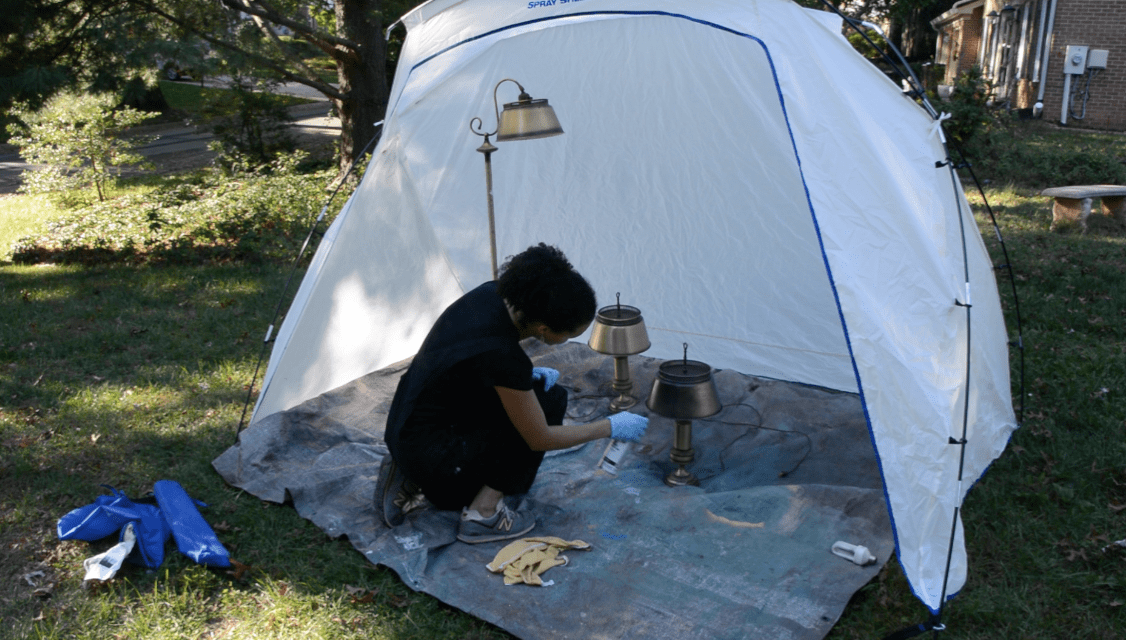 Aaaannnnnndddd……I Hated It
What used to be shiny gold was now a dull black that had absolutely no life whatsoever.
In fact, if I had seen these black lamps at the thrift store, I probably would have walked right by them.
But instead of putting down the spray paint, I kept painting.
Stupid me didn't even take an "AFTER" picture of the small ones, if you can believe it. That's how much I hated them.
The odd thing is that I really liked how the taller lamp turned out!
I think because it was uglier than the smaller two, and not quite so shiny.
So that one went into my family room, where we get to enjoy it every day.
AFTER!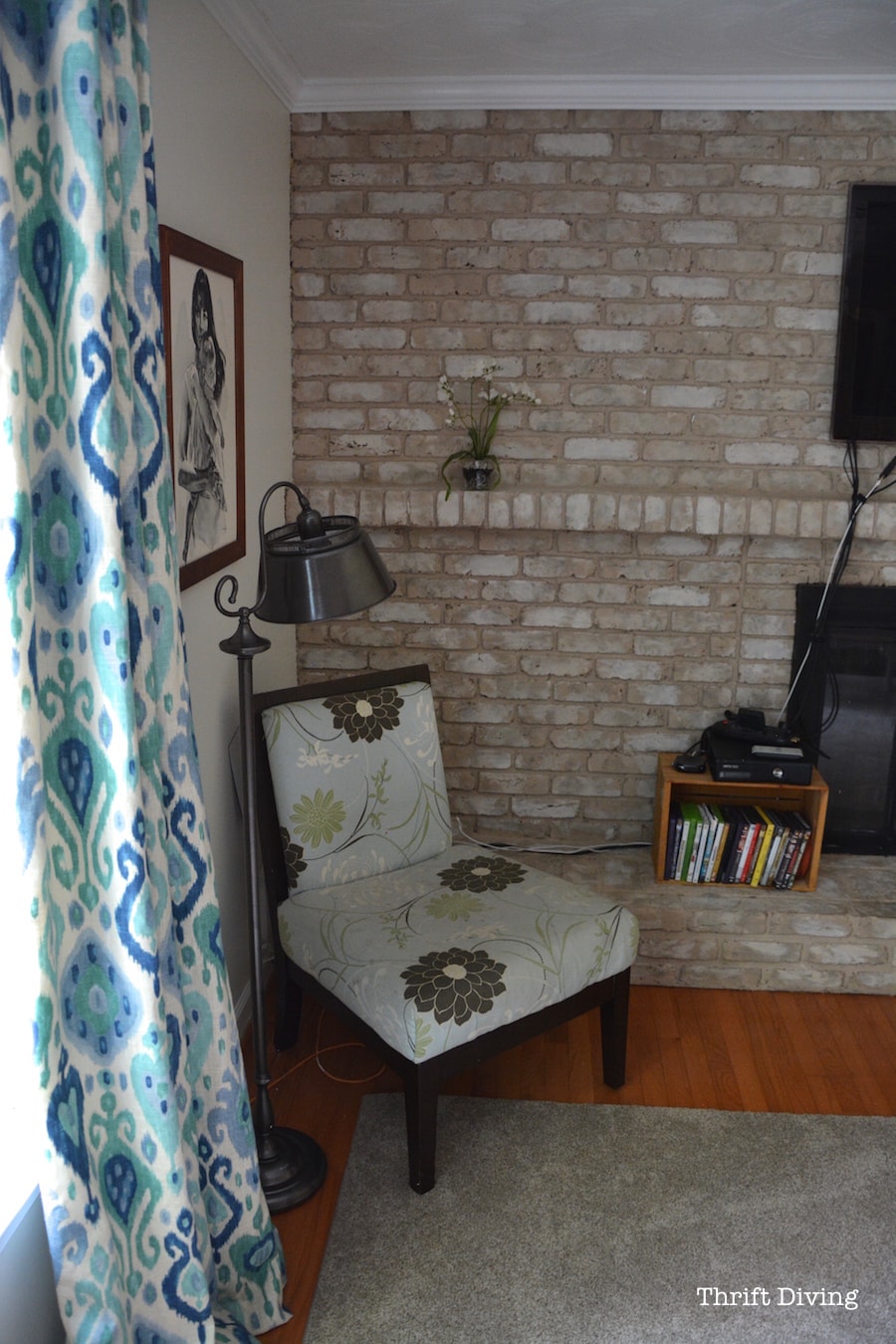 I did the most unthinkable time-consuming thing: I stripped them.
I slathered Citristrip on them (which stays wet for a good 24 hours) and let them sit overnight.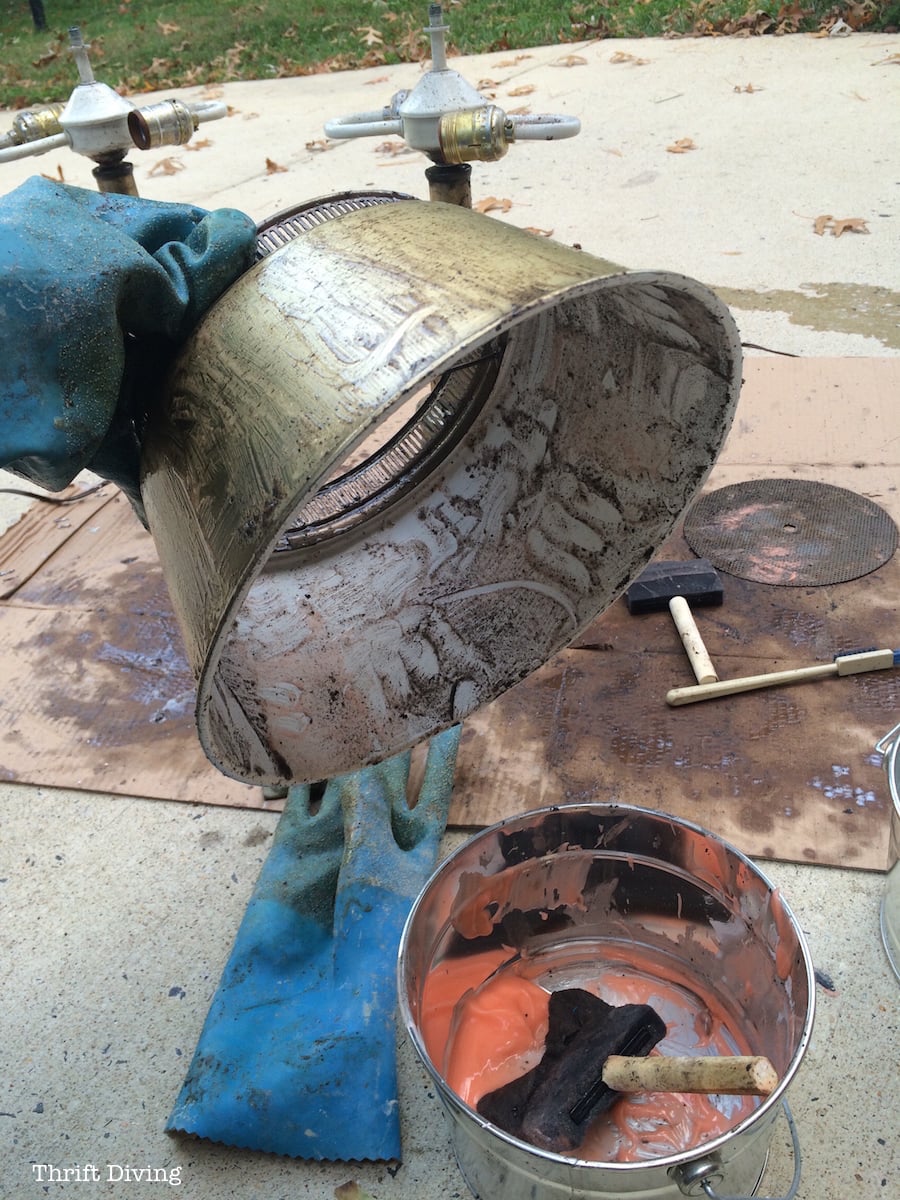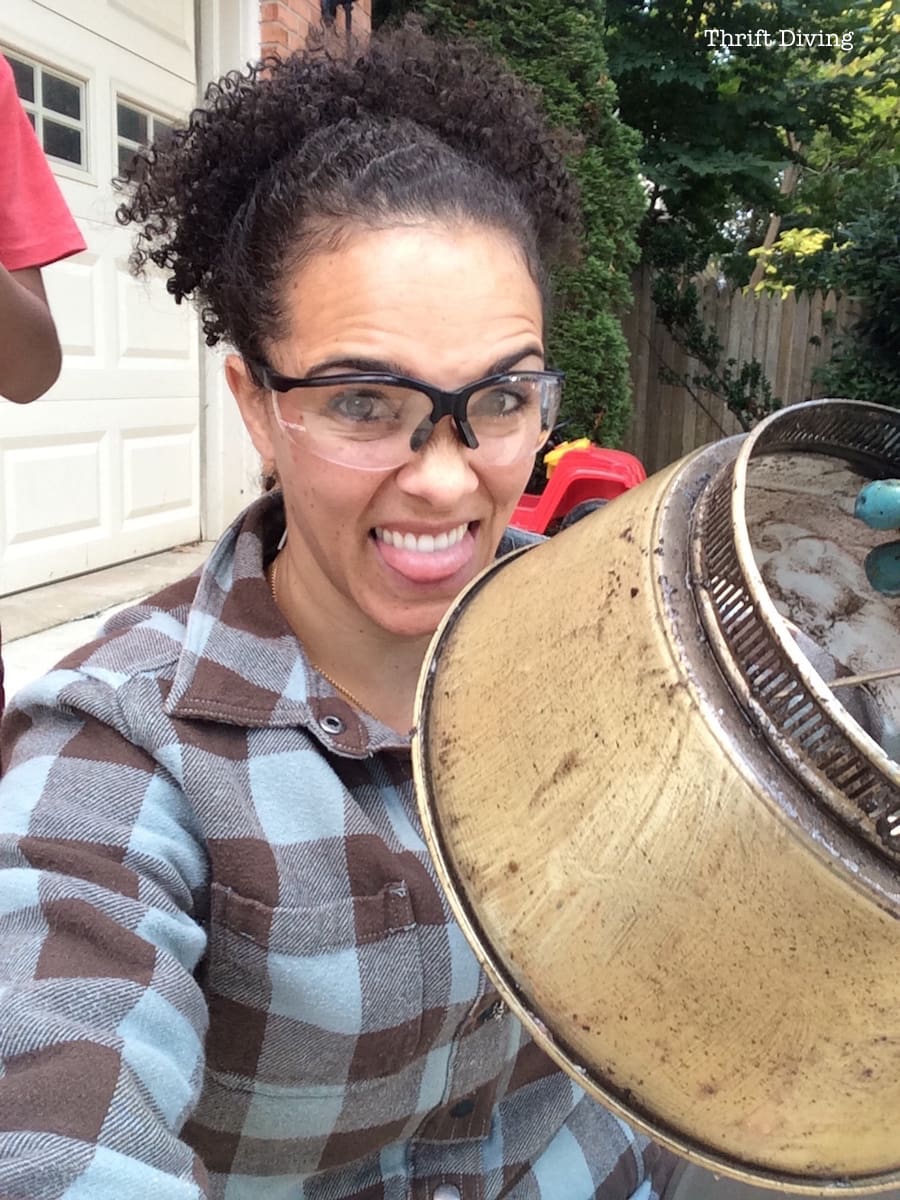 While the paint easily came off, there were parts where I had to break out the wired brushes to get it off. As a result, the finish of the lamps afterwards was dull and a bit scratched from where I had to use the wired brush.
Not only was it messy, but I must have wasted at least 1.5 – 2 hours trying to restore them back to the gold that I had ruined.
Did I Save Them?
Well, by this next picture, it looks like I did, but what you can't see is the bits of paint that are still on them and the scratches in the metal from where I ruined them.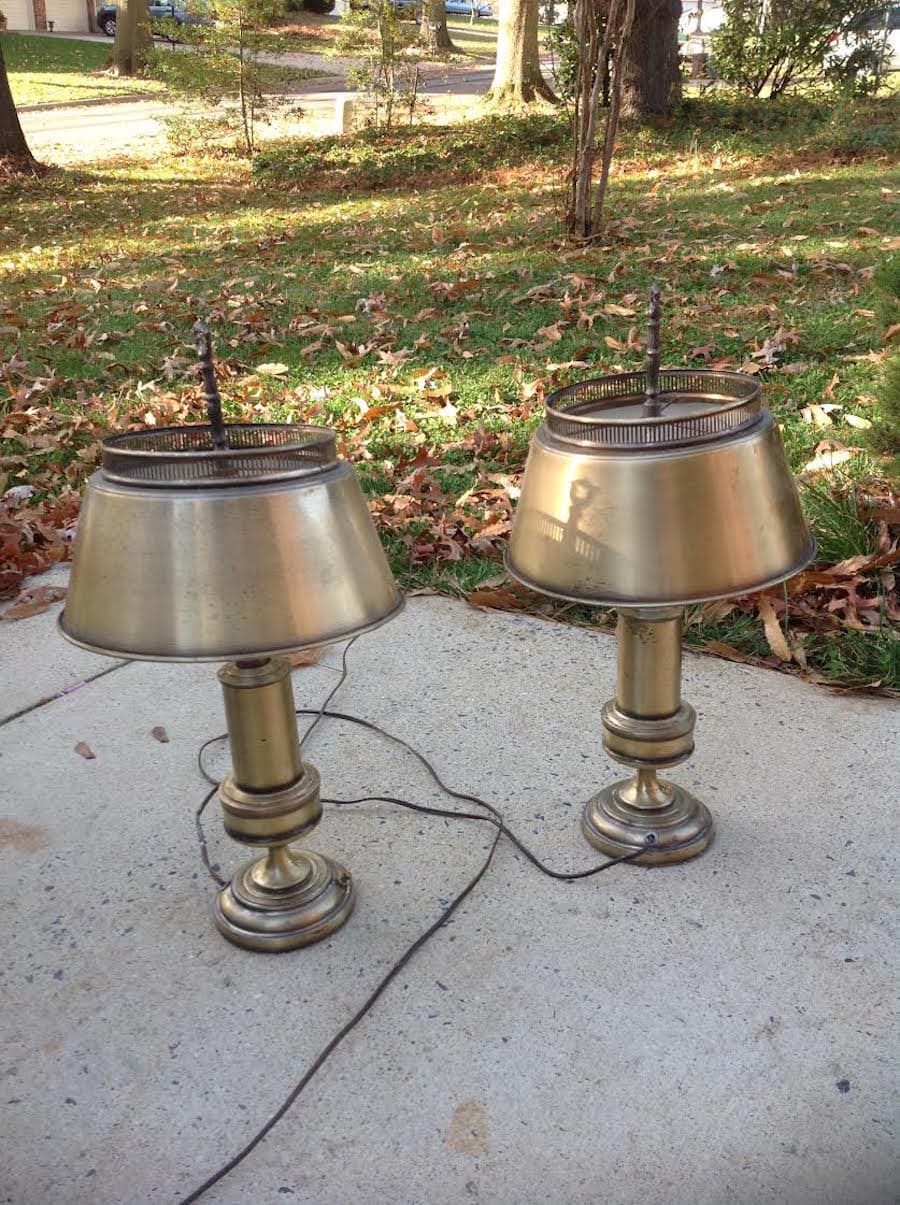 With a closer look (and a look at my piggy pajamas…HA!), you see that the metal is all scratched up and is dull.
SOOO……I'll end up having to paint these again, just to cover the ruined metal.
Which means I wasted time and money.
SIGH…..
Tips For YOUR Next DIY Fail
If you find yourself with a DIY fail on your hands like I did, here are some tips to help:
TIP #1 – Don't feel like a loser. Trust me, we all have DIY fails. Look at the bright side: us creative people are the only ones willing to try new things!
TIP #2 – Laugh at yourself. Even better, send a picture of it to your best friend and say, "You won't believe what I did…." They'll enjoy the laugh, too!
TIP #3 – Prepare yourself for fame. Post a picture of your fail on Facebook and –hey!–you might even get famous and have your DIY fail end up on one of those BuzzFeed "Nailed it!" features! Instant stardom, baby!
TIP #4 – Chuck it back to the thrift store or roadside where you found it. I've been known to re-donate things becuase I either changed my mind or just never used it. Same goes for DIY rejects. Some lucky person will be happy to rescue it for you.
All jokes aside, don't beat yourself up! I hate when projects go awry, too. But it's all part of the learning process. It's what makes DIY fun! You never know how something is going to turn out. And look at it this way, sometimes the most unexpected things end up being the most creative features of a project!
So have you ever had a total DIY fail?? Better yet, email me a picture of your DIY fail and let's have a laugh together! 😉

Download the 5 freebies!
Thrift Diving inspires women to decorate, improve, and maintain their home themselves...using paint, power tools, and thrift stores! Use these 5 printables, checklists, and ebooks to get started!