What's the Purpose of a Formal Living Room, Anyway?
Who in the heck invented formal living rooms??
Remember back in the day when people left plastic on the formal living room furniture or roped off the area, and you knew you'd get your butt whooped for even stepping foot in there?? It was a place to entertain visitors. But nowadays, formal living rooms are so 70's.
So if you bought an older home (like my home, which was built in 1973), most likely, you've got a formal living room that you can turn into something cooler.
Here are some ideas for things you can do with that space.
1. Turn a formal living room into a craft room.
When I polled my readers and asked them about their biggest DIY challenge, a lot of them said they don't have a space to craft.
Turn that wasted space into a place to get your craft on!
I'd recommend finding cabinets that you can hang on the wall to organize stuff or stow away things so that it's not so messy.
2. Turn a formal living room into an office.
Even if you don't want to use the entire formal living room for an office, you can dedicate a little corner like this. Isn't this so pretty?!
3. Turn a formal living room into a playroom.
Kids need a place to play, out of their parents' hair. Trust me–they'll still be following you around like rockstars, I'm sure, but if you've got a place designated for them, you might be able to keep the toy clutter out of the family room! Add some DIY chalkboards to the wall and let them get creative!
4. Turn a formal living room into a library or reading room.
I absolutely love to read. Here's what my "formal" living room looks like. I haven't gotten around to decorating it much with pictures, and I still need to reupholster the $100 Ethan Allen estate sale sofa I found. But it's a perfect place to unwind with a book!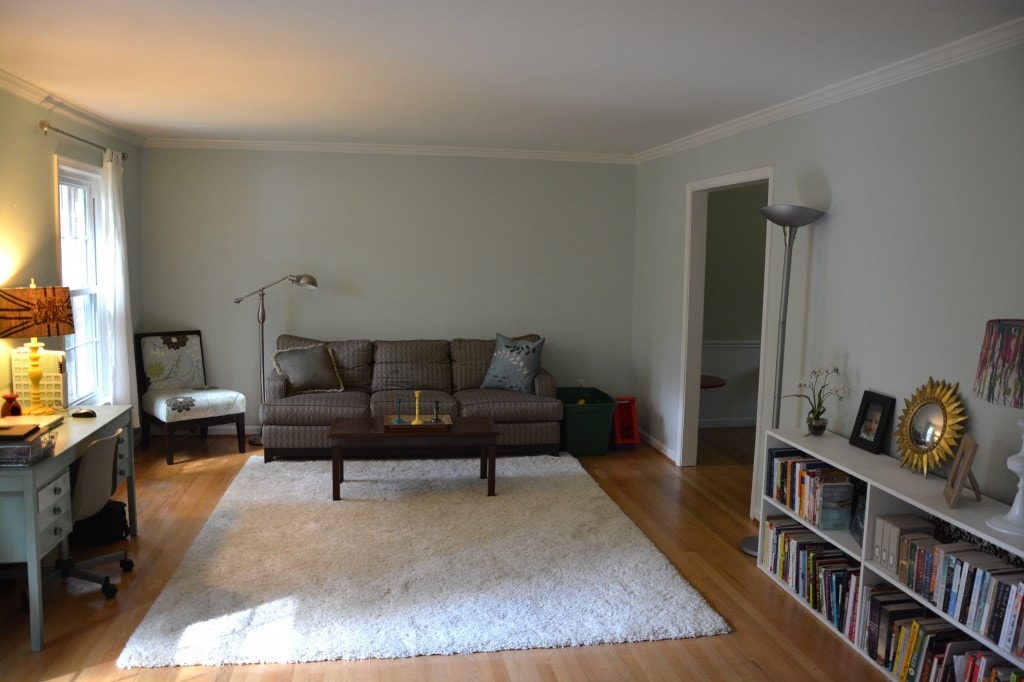 5. Turn a formal living room into an informal living room!
Have it be the place where guests aren't scared to step on the carpet. Have it be a place where they feel welcomed to come over and sit and relax. Don't put a TV in there. Just make it as informal and cozy as possible!

So what are some ideas that you have for turning a formal living room into living space for your family?
Download the 5 freebies!
Thrift Diving inspires women to decorate, improve, and maintain their home themselves...using paint, power tools, and thrift stores! Use these 5 printables, checklists, and ebooks to get started!