This post about my walkout basement makeover is sponsored by The Home Depot.
The biggest reason that we never finish DIY projects is because we're scared of something: scared it won't turn out, scared that we won't know how to fix it, scared it will cost more money than we can afford, or scared that we'll fail miserably. Let me tell you the story of how I left an important project sitting for an entire year.
You see….I've been scared to tackle my walkout basement. Last year I laid vinyl plank flooring in my basement, over the old linoleum tiles, as part of a basement makeover project. But it was more than just laying new flooring, throwing down a new rug, and painting. The bigger problem was that I had to stop the leaks from the walkout basement doors (AKA "Wizard of Oz" doors) that plagued us for years before I could even think about prettying up the basement.
BEFORE
Even after having this Bilco walkout basement door replaced years ago shortly after moving in, there were still leaks that lead to years of "emergency" towels kept in front of the door, just in case. It wasn't uncommon to come down to the basement in a heavy storm and find puddles dribbling onto my floor.
BEFORE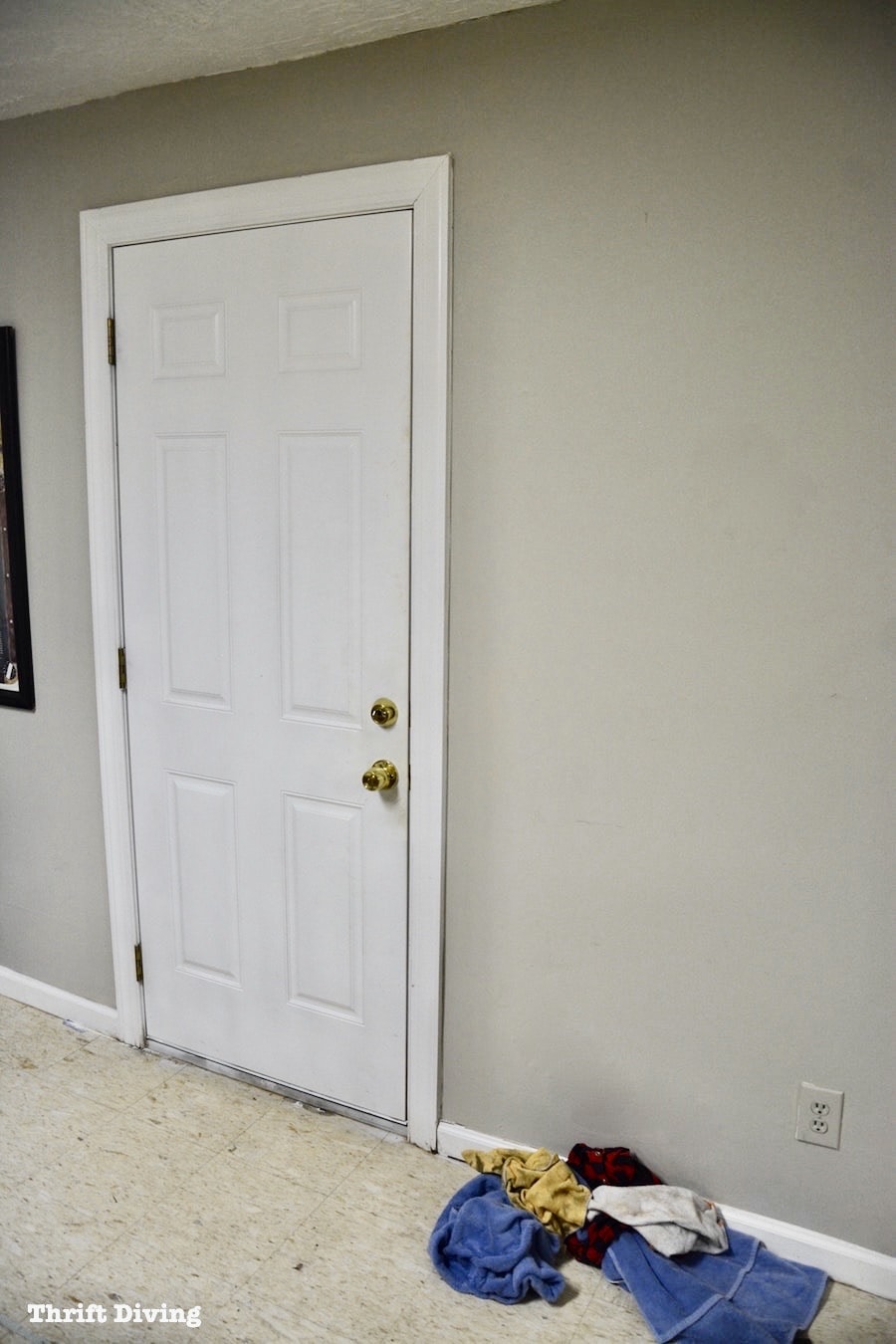 The Mold Problem
What you can't see in this picture is the mold growing behind the base of the drywall and the rotted wooden base plates near the door. I decided to tackle the leak and the mold once and for all. No more excuses about "being busy" and "not having time." It meant a lot caulking, carefully removing the mold, replacing some drywall, replacing some wall framing, and installing a new walkout basement door. You can see the entire process in this video on my YouTube channel. Everything looked and felt amazing once it was all fixed!
Later, when enough time had passed and I felt confident that no more leaks were coming in, I felt confident enough to install vinyl plank flooring over the linoleum. It looked fantastic! Finally, this messy, dingy basement was getting the much needed improvement it needed! You can watch the entire installation of my vinyl plank flooring here on my YouTube channel:
What You Didn't See
What you didn't get to see is what happened when the video was over. All appeared fine until one day when I went to install the baseboards so that I could finally call this project a wrap. As I neared the door on my hands and knees, fitting the baseboards, I heard a squish, squish every time I shifted. Water! Again?! How?!
I worriedly (and carefully) pulled up a few rows of the freshly installed vinyl planks (breaking a few in the process) to discover that during a heavy rain, sure enough, water was still coming into my basement. You can imagine my disappointment. And my fear. What if all of these repairs were for nothing? What if it keeps leaking and I have to rip out the entire $2,000 vinyl plank floor I just purchased and installed?!
I thoroughly inspected the walkout basement concrete walls to discover that there was a slight leak coming through the concrete wall, dribbling down to the floor, and then finding its way under the door. The fix was to patch up the area with some hydraulic cement. And then I did what I didn't want to do: covered up the walkout basement door with a tarp and called it a day.
Well, calling it "a day" was actually more like "12 months." Because for an entire year, I'm embarrassed to admit that I was scared to deal with it anymore and left the flooring peeled back, exposing the linoleum tile. Part of the reasoning was that I wanted to make sure there were no more leaks. We even got new gutters (which can be a reason for basement leaks; it was time for an upgrade for us, anyhow). After months of spring showers, either my quick patch worked, the tarp was helping, or the new gutters were helping (or all three). There were no more leaks coming into my basement. I could now finish off this lingering project. But I'll admit that I was nervous. Would I be able to fix the vinyl tiles easily? Will I spring a new leak down the road?
I wasn't going to worry about all of that. All I knew is that it was ridiculous to leave this project sitting like this for any longer. I was finally going to finish it off.
Fixing the Floor
Before I could fix the vinyl plank flooring, I needed to fill in some of the linoleum cracks. I mixed up some hydraulic cement (where gloves and a dust mask) to fill in the low spot around the door, where water was seeping in. Plus, it would help the vinyl planks to sit better.
(Here's an FYI about hydraulic cement: this stuff is awesome!! If you've got any leaking in cement, if stops the leaks like nothing else I have ever heard of. I have also used it to fill in some cement around the front of my steps. But be careful: it dries darker than regular cement, so once it dries, you may have to go over it with a lighter regular cement to disguise it).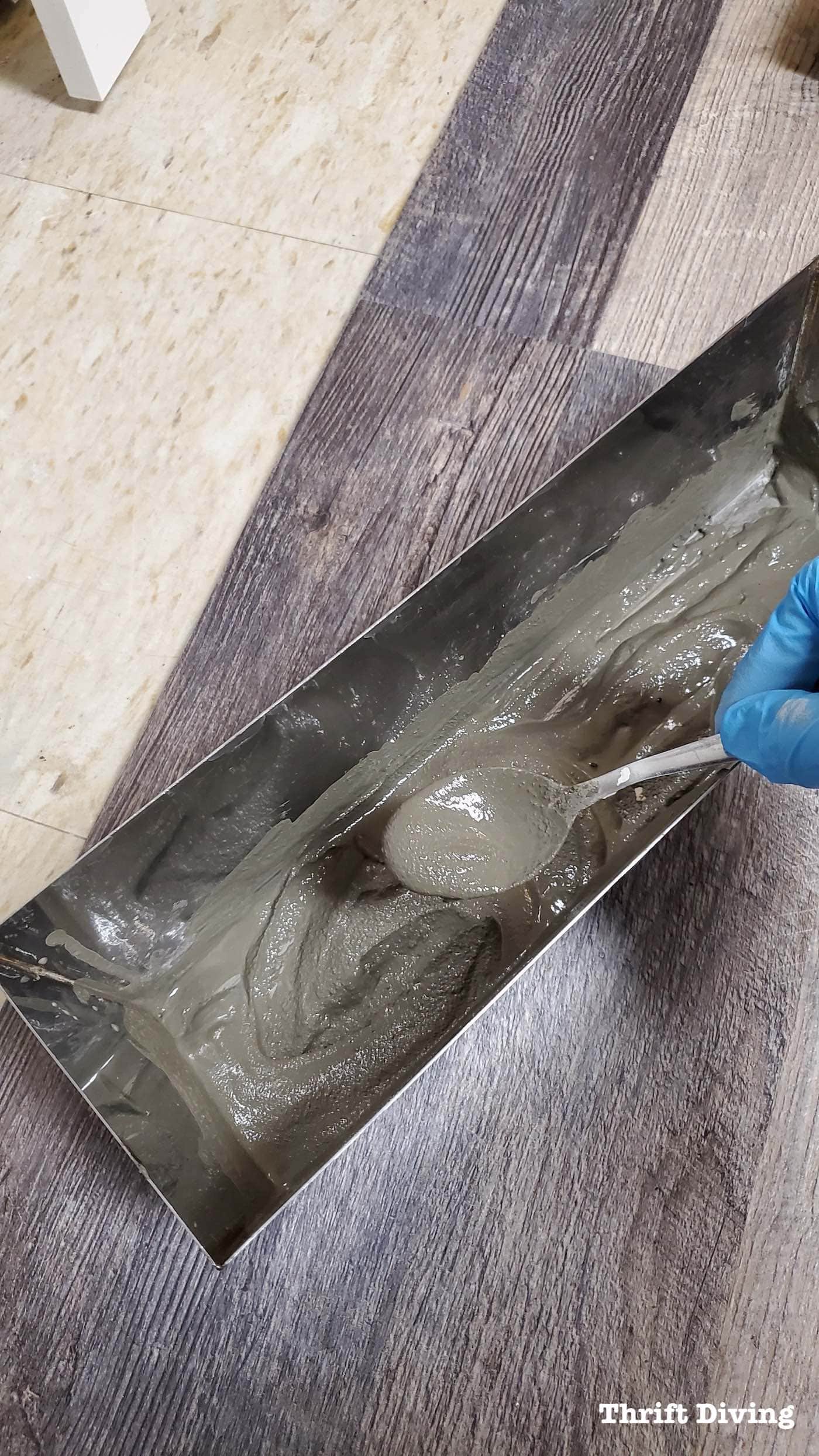 Using a 6″ putty knife, I filled in the linoleum cracks along the door, smoothing them out to make sure they're flat enough for the vinyl plank tiles to go over top of it once it dried.
While the hydraulic cement dried, I started fixing the vinyl plank tiles, being careful not to break the delicate rubber edges that lock them together. Thankfully, some of the vinyl tiles I removed could be reused, but I also had 1 extra box left over from when I installed the vinyl plank tiles. Whew! (Always buy 10% more materials than you need for times like this!).
(Just as an aside, I would also say that I likely would never install a floating vinyl plank floor like this again in a basement, because if there is a larger leak or flood, this whole vinyl floor would have to be removed. While the material is waterproof, it wouldn't be wise to leave water under a floating floor where mold could grow. Next time, I would install a tile floor with a cement HardieBacker board, which would be soooo much better in a leaky basement. Let's just hope I never have a water issue down here again! Use this helpful tutorial on how to install Hardie backer board).
In the walkout basement stairwell, the original stairs were in really bad condition. Not only were they dry-rotted, but they were all marred up and pretty ratty looking.
The walkout basement stairwell is protected from the elements, but it gets very humid in the spring and summer. Over the years, the humidity has damaged the wood. So those needed to be replaced. I know that no one ever "sees" these stairs, but for me, getting the basement stairwell freshened up and made over was pretty important to me.
For this project, The Home Depot provided me with this Milwaukee Rear Handle Circular Saw so that I could cut new walkout basement stairs using fresh 2 x 6 boards. I needed 10 of them.
I've used and owned several circular saws in the past 7 years since I started using power tools, but I have to admit, this one is the most powerful I have ever used (and heavy!). The best part is that all this power is run on battery–no cords to worry about. It generates the same power of 15 amp corded circular saws, but actually cuts faster. It cuts like butter! I anticipate that this will be the only circular saw that I'll never need in my DIY toolbox.
They also provided this Milwaukee Super Battery Charger to keep the battery powered through the project. I've also owned my share of battery chargers for power tools and many of them can a while to charge. With this charger, though, it charges the M18 battery packs up to 4 times faster than standard chargers (it also works with M12 batteries). It only takes 1 hour to charge this M18 High Output HD 12.0AH battery! I had more than enough power to get the job done.
Once the pieces were all cut, I sanded them down with 180-grit sandpaper. Then I used some Behr Porch & Patio Floor Paint to paint the boards. I needed something that would hold up to moisture and was specially made for these walkout basement steps that would be in a humid environment but wouldn't necessary be exposed to the elements. I added 2 coats of paint.
I began removing the old boards so that I prepare to clean up and paint.
I also did some patching of spots that needed reinforced with hydraulic cement. But I couldn't go any further on this project until the temps increase a bit. Right now, the temps on the walls have to be at least 50 degrees, and I'm not sure they are. So I'll hold off a bit to make sure I get the best results possible with the paint that needs to be done.

Does your walkout basement need a little DIY, too? Stay tuned to see how this walk-out basement turns outs!

Download the 5 freebies!
Thrift Diving inspires women to decorate, improve, and maintain their home themselves...using paint, power tools, and thrift stores! Use these 5 printables, checklists, and ebooks to get started!