Strength Has No Gender™: What It's Like Being a Woman DIYer
This shop has been compensated by Collective Bias, Inc. and its advertiser. All opinions are mine alone. #StrengthHasNoGender #CollectiveBias
My husband looked at me strangely as I excitedly jumped up and down after learning that a huge woodworking show was coming to our area, and said, "Can't you just be normal??"
By "normal," I assumed he meant that, as a woman, I should be excited about typical "woman" things, like makeup, clothes, and shoes–not about "typical manly things" such as woodworking.
I mulled the comment around for some time, partly annoyed and insulted that he couldn't understand or appreciate my excitement.
But the other part of me felt proud that I'm not your typical wife and mother.
In fact, I am a power-tool-wielding, sawdust-covered, cargo-pants-wearing, thrift-store-shopping, furniture-paintin', plaid-shirt-sportin' mom and wife.
And not only is this do-it-yourself lifestyle an intense passion of mine, but I'm also blessed to call it my career. In other words, I earned a living doing exciting do-it-yourself (DIY) projects and then teaching others how to do them.
In reality, what I do isn't all that unusual within the crowds I run.
I am part of an emergence of women woodworkers, women DIYers, and women who aren't afraid to challenge themselves to transform their home with paint, power tools, and thrift stores.
It's happening slowly, but finally, the world is beginning to understand (and eventually, hubby will catch on, too, I suppose…) that strength really has no gender.
The Good News: Brands Are Catching On
Even if husbands around the world haven't quite caught on yet, one thing is evident: brands are catching on to this phenomenon of women are rocking it out in male-dominated fields.
One brand that has impressed me with their dedication to strong women is Brawny® paper towels, who totally revolutionized how strong women are celebrated.
Who doesn't know the iconic, original Brawny® man, Eric Solie, who has graced the packaging of the paper towels since the brand started??
But in honor of Women's History Month this month, (with International Woman's Day this past March 8th), it looks like Mr. Brawny® decided to give strong women the spotlight. He has stepped aside–has taken the top shelf, if you will–and it's time for ladies to shine.
And can I just say, hellllllo, Brawny® woman!
This month while picking up some supplies for upcoming DIY projects, I stopped by the paper towel aisle and was happy to see the new packaging of Brawny® Pick-a-Size 8 Giant Plus, which is exclusive to Walmart, has hit the shelves.
My first impression was that this limited-edition Strength Has No Gender™ pack has attitude!
I don't know about you, but I think this strong woman's face has a slight smirk as if to say, "I got this. Don't worry. Go sit down."
Brawny® launched its Strength Has No Gender™ campaign to highlight the inspirational stories of everyday women in cities across America who have been breaking down these barriers.
It's a phenomenon that I can understand because women in male-dominated fields (such as home improvement) have to explain, complain, restrain, and refrain in ways that a man may never have to.
We each have stories to tell, and people are listening, soaking in our words, our experiences, our truths.
It's exciting to see Brawny® putting such dedication into this effort!
The Winding Road
It's always interesting to learn how a woman landed into a male-dominated field.
For me, landing into this career wasn't a straight shot; it was more like a winding road.
When I graduated from the University of Maryland with an undergraduate degree in Psychology, I never imagined I'd be working in the home improvement industry as a professional blogger and do-it-yourself (DIY) model. At the time, I felt like a lost soul who accidentally got roped up into the wrong career of clinical research and government contracts, swimming in a field in which I didn't know how to emerge.
Shortly after graduation, my love of writing and creating, which have been evident since I was a little girl, morphed into blogging, and later, into chronically my home improvement projects about our old 1973 home online.
Out of necessity, and then passion, I began tackling projects around the home that I knew would cost way too much to hire professionals to do.
Rooms were slowly filled with cast-off furniture from my favorite thrift shops.
Wood top dressers were stripped and re-stained, as rows of neatly folded clothes finally had an affordable place to call without spending a fortune.
BEFORE
AFTER
Sofas were adorned with colorful pillows with the promise to turn barren rooms into warm, cozy places to cuddle up with a good book.
Eventually, power tools landed in my hands, and the opportunity to improve my home in ways I had never before imaged were within reach.
I consumed hours of online tutorials, teaching myself how to hang crown molding, cut floor tile with a wet saw, install decorative wall treatments, and much more. I even taught myself how to remove and install toilets, which I have done twice now in my home.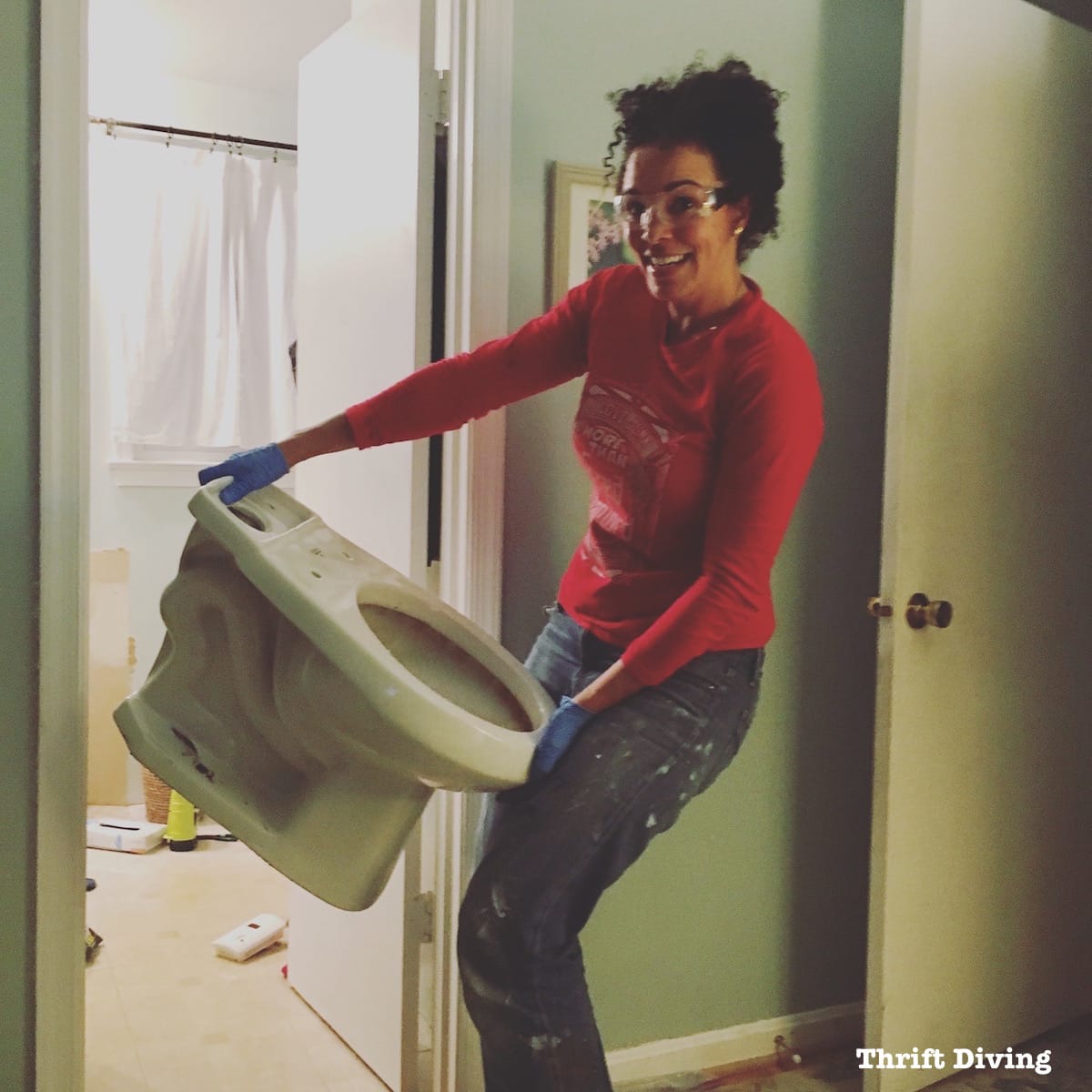 It wasn't that I was a professional and thousands flocked to my blog to learn how to do it with professional results.
It's that thousands of (mostly) women began to see that I was an everyday mom and wife who was relatable and inspirational for those times when she, herself, didn't feel she could pull off a project.
Watching me tackle power tools and home improvement projects, while working a full-time job as a Project Manager, demonstrated that if Serena can learn to do it, so could she!
The pivotal point in my career was the day that I lost my "day-job" as a Project Manager in January 2015.
I jumped for joy and never looked back.
Strength is Celebrated
Flip through any magazine and you can still see women's role in advertisements: beauty is top priority; how we look matters most, and nothing else matters quite as much. We're usually doing stereotypical "women" things.
But the good news is that this is changing!
Being in the do-it-yourself industry for the past five years, we women DIYer's have become a cohort to be celebrated.
It used to be that you'd only see advertisements of men wielding power tools. But I've personally worked with companies that promote women power tool users like myself and the projects we use to create with those tools.
In 2015 I was a winner in a model search contest for a brand that makes work wear for men and women! What's inspiring is that this brand uses real women as their models–women in hardworking, blue-collar careers where she isn't afraid to get her hands dirty. Each photo shoot is an authentic depiction of how we spend our days.
Finally, women's strength is beginning to be celebrated.
Overcoming the Challenges
Back to the woodworking show…
Indeed, I attended the woodworking show, which was amazing the amount of information I learned!
But even while at the show, my attendance was questioned by the instructor of the Understanding Wood seminar I attended.
The instructor looked at me inquisitively and congenially asked, "You're atypical. Why are you here? Are you a student coming for class credit?"
I simply laughed, explained my love of woodworking and my DIY blog, and the fact that I was building a DIY bathroom vanity from scratch and needed some additional information about wood so that it doesn't fall apart on me.
I stuck out like a sore thumb in a class full of old men, but there was no hostility, only curiosity. I actually felt honored to be given the opportunity to break down their stereotypes.
It was worth attending, despite my husband's negativity, because I learned some valuable information that helped me to create my DIY bathroom vanity that I built with my own two hands!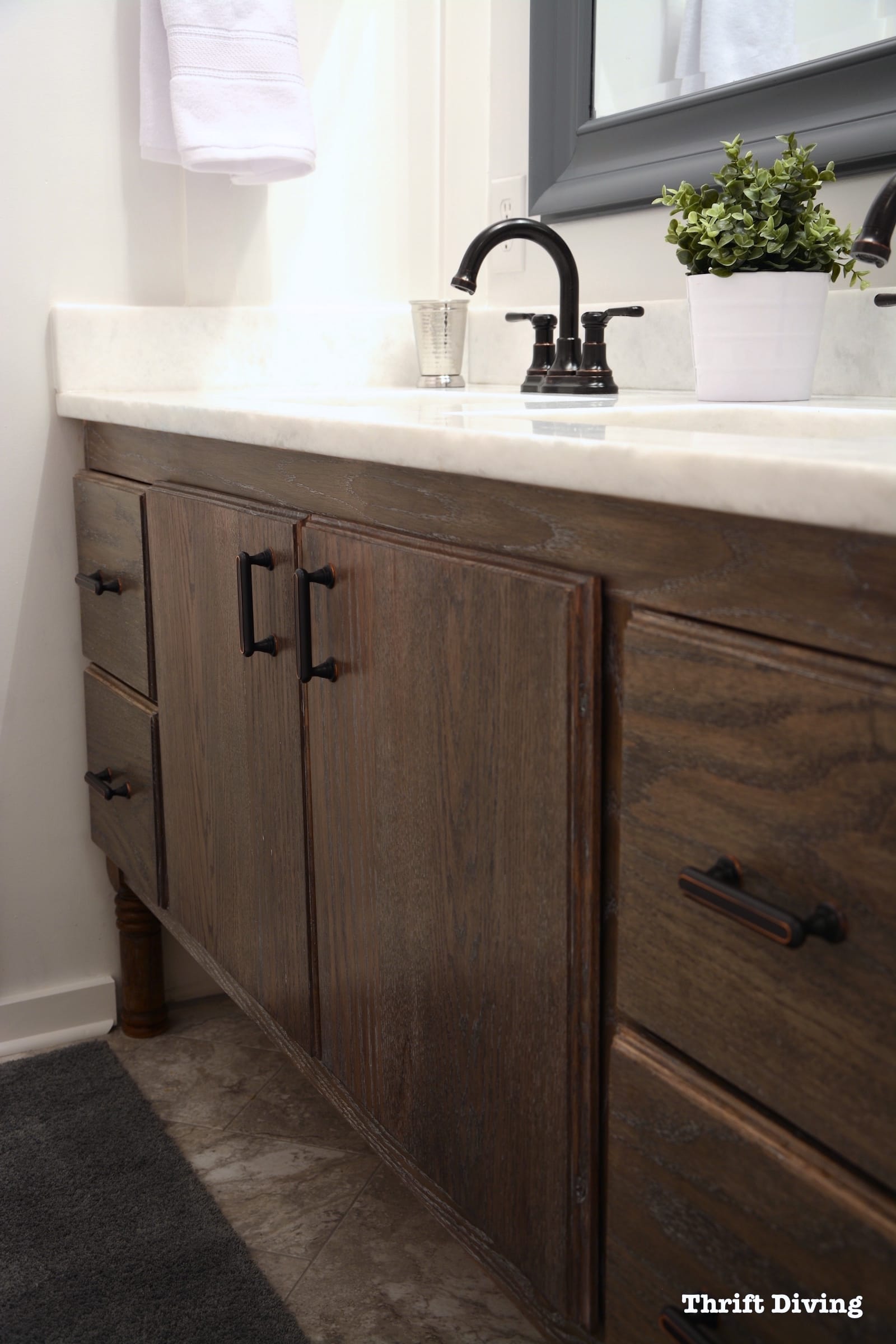 In fact, the whole lavender master bathroom makeover turned out amazing!
BEFORE
AFTER!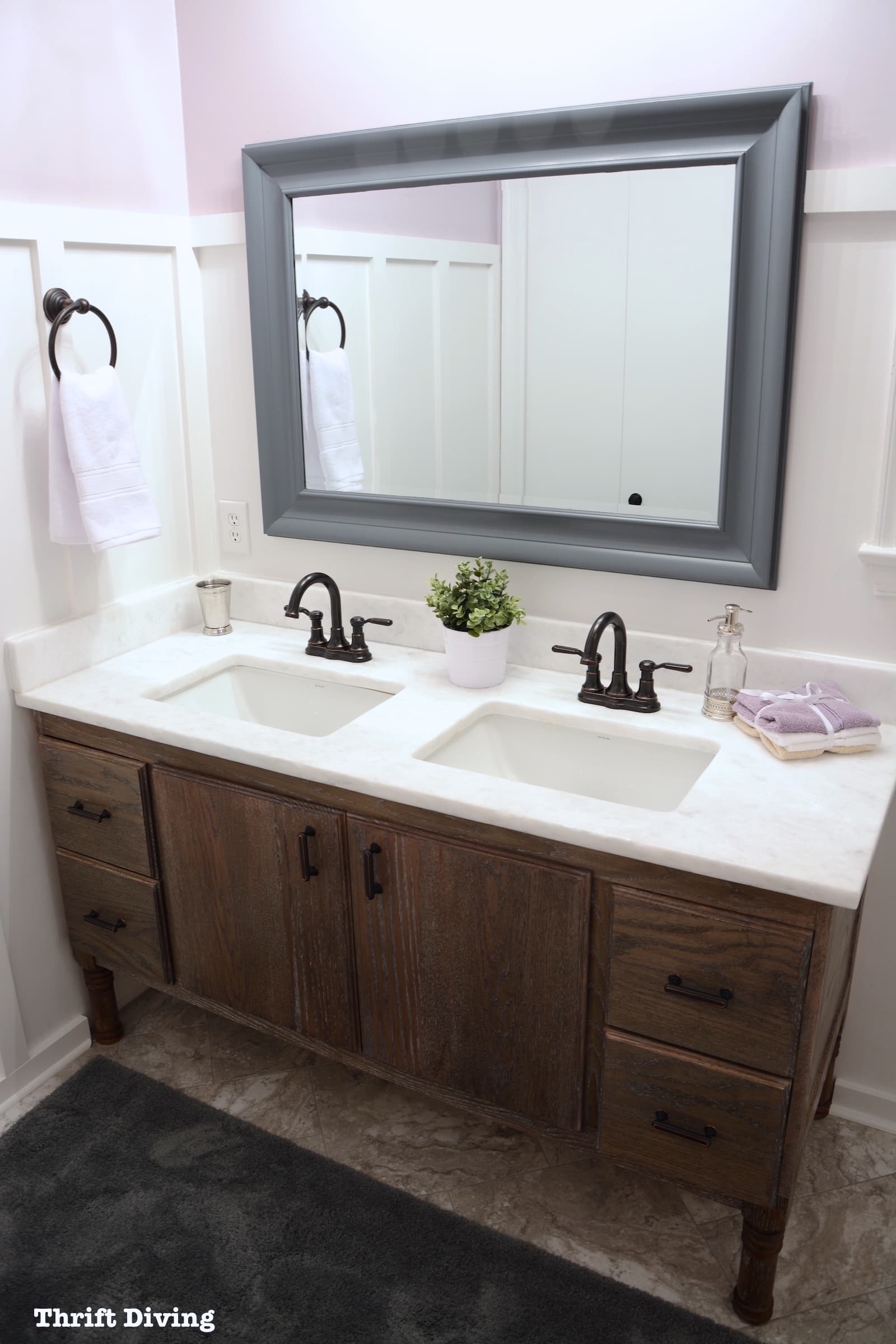 BEFORE
AFTER!
A strong woman challenges herself, which is what I did with this bathroom makeover. I had never before built such a large piece of furniture, especially one that will be used daily by my family in this capacity.
But every time I complete a project that I didn't think I could ever do, my Confidence Meter shoots up by 10 points, and I begin challenging myself, "Okay, what can I try next??"

Strength in the Workshop
I like supporting brands, such as Brawny®, that support and recognize me, which is why I'm excited about the opportunity to share my own story of strength!
Not to mention their towels are the best!
I tried out some of the Brawny® paper towels to see just how absorbent they were with the wood dyes I've been experimenting with lately. (I used wood dyes on the DIY bathroom vanity).
They soaked up so much of the mess!
Now that I've got a huge pack of Brawny® paper towels, I'll be keeping them handy for when I have spills and things that need cleaning up. Brawny® offers more sheets on every roll (vs. leading national brand comparable roll and sheet size) and helps you clean up whatever life throws down.
And trust me, in this workshop, there are a lot of throwdowns! LOL
And Last But Not Least
…..Has anyone noticed that the new Brawny® woman is wearing lipstick??
Yassssss……
Although I'm not a diva and I don't wear a full face of makeup, I do attest to the transformational power of lipstick. 🙂
So it's exciting to see that the Brawny® woman didn't forget hers, either.
If your lips are "on fleek," you always look pulled together.
Even with paint in your hair and wood dye stains on your hands. 😉
Your Own Story
So do you have a personal story about being a strong woman in a male-dominated world?
Leave a comment below and let's chat about it!
Also, be sure to check out the new limited-edition Strength Has No Gender™ pack of Brawny® Pick-a-Size 8 Giant Plus, exclusive to Walmart. Follow them on Facebook and Twitter to keep up with their commitment to women!

Download the 5 freebies!
Thrift Diving inspires women to decorate, improve, and maintain their home themselves...using paint, power tools, and thrift stores! Use these 5 printables, checklists, and ebooks to get started!