Painting and Stenciling My Exterior Door
When we moved into our home in 2010, the first thing I wanted was a door makeover.
Lots of door makeovers!
But it was too expensive!
Not just the cost of the door, but to pay someone to do it.
So I asked a friend to help me replace my kitchen exterior door (click here to read How to Replace and Paint an Exterior Door for that tutorial). Bless him!! Because I couldn't have done it myself!
Here's what my kitchen exterior door looked like.
(Post updated September 2016 to include video!)
BEFORE
And after we were done installing it, I painted it and stenciled it, and this is what it looks like now!
AFTER!
Aside from materials you'll need for installing the exterior door, this is what you need to paint and stencil it!
Materials
Exterior paint (I used Behr Exterior in Quiet Teal)
Paint brush or roller
Primer (if you're painting your old door; otherwise, your new installed door should already come primed)
Stencil
Painter's tape
Small foam brush
Simple Green
Paper towels or rags
STEP 1: Get It Clean!
I'm notorious for trying to skip this part sometimes, but it really makes a difference in getting paint to stick! Clean it with Simple Green with is a great degreaser and cleaner.
STEP 2: Tape Off Your Door
This is my least favorite part. But if it doesn't get done, you're left with a mess to clean off the windows. The better the tape job, the better the paint job!
STEP 3: Put on Two Coats of Exterior Paint
If you have to prime your door first, now's the time to do it!
Be sure that you use a primer that says "Interior/Exterior." I love using Kilz 2 primer.
You can use a brush or a roller, but you'll definitely need a brush around the window panels.
Always put two coats of paint on for good coverage!
STEP 4: Cut Out a Stencil
I used my Silhouette Cameo personal vinyl crafting cutting machine and transfer paper to cut out the words "There's No Place Like Home," but if you don't have a Silhouette, you can buy a stencil, like these stencils.
STEP 5: Paint the Stencil on the Door
If you're using your own vinyl stencil, you'll need to use transfer paper to apply it straight. Otherwise, tape it to your door so it doesn't move while painting.
Put 2 coats of paint over your stencil.
STEP 6: Remove All the Tape and Stencils
If you got some paint on the windows, just use a glass scraper with a razor blade to remove the bits of paint that may have gotten on the window.
And voila! You've got a beautiful new door!
Here's the BEFORE again.
BEFORE
AFTER!
So what do you think?! Easy enough, right?
Before You Go!
You might want to check out how I painted my front doors with a punch of color!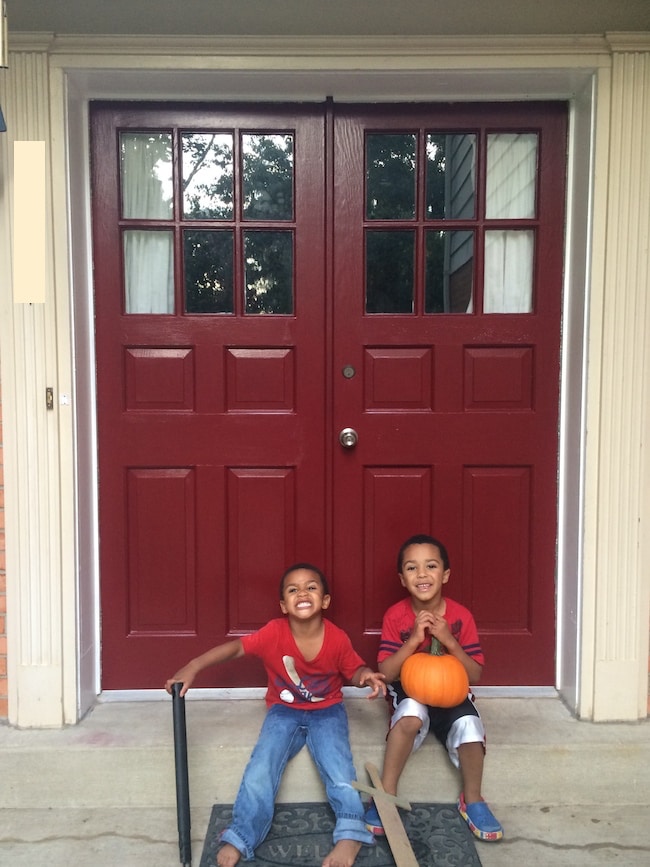 Have you ever thought about painting your exterior door for a DIY door makeover? Leave a comment below and let's chat about it!
Download the 5 freebies!
Thrift Diving inspires women to decorate, improve, and maintain their home themselves...using paint, power tools, and thrift stores! Use these 5 printables, checklists, and ebooks to get started!