My Second-Hand Reading Room
Well…more like my blogging room since this is where the "magic" happens past midnight when I am falling asleep, writing blog posts before getting up for my "9-to-5." LOL. Although I am not actively working on this room because in my last post about how to finish a DIY project, I took a vow to start on my garage (and I have! woot!). But in between my upcoming garage posts, I want to show you more of my house. The reason I haven't done it sooner…..well, honestly, I didn't feel there was much to show! Some of these blogger chicks have AH-MAY-ZING homes, and they out-trump mine by a million, so I haven't been touting my home all over the 'net.
But you know what?
I'm going to be proud of what I have done in this house, and I'm going to show it off to the world!
Because, chances are, you're doing your best to pull your house together, too (AND on a budget!). So, hopefully my pics and projects can be inspiration to you, as well!
So here goes…..
This is what my Reading/Blogging room looked like when first saw our home listed for sale, three years ago……Ya know….Looking at it now, it doesn't look too bad, actually! Those drapes are awful, but that antique furniture??? TO DIE FOR. The people who lived here were probably about 75 years old or older, and loved antiques. I wish I had had a greater appreciation for antique-y stuff back then. Maybe I could have bartered for some of it to have been left behind…. 😉
BEFORE – Previous Tenants
But that dreadful wallpaper….Thankfully it wasn't patterned much, but still–WALLPAPER, you guys! ICK!! Not only that, it was–GASP!–vinyl!
And the crazy part was that every part of this house was covered in wallpaper. I'll be showing you more pics of that in other posts….don't worry ;).
Removing the wallpaper left gouges in the wall where the brown paper bag part of the wall became exposed. Not only that, the wallpaper left the stickiest glue that required us to use hot steam to go over the walls twice more just to remove the stickiness. Yikes!!
(Sorry so grainy. I took them with my old camera phone–hey–three years is a long time. It was probably 5 megapix. LOL)
It was a harrowing job. My family and I were staying at my mother-in-law's while hubby and I got the house "ready" for move in. Funny, because it was never "ready." Crap, even NOW it's not "ready"! And it's three years later! LOL. But you know what I mean….So anyhow, hubby and I would work on the wallpaper removal from 9 p.m. until 3 a.m…..Crazy times, yo. You should go back through my earlier archives and see where this whole house and blog started from. You wouldn't believe it!
So, moving on with the story…..
I don't know what I was thinking about painting this room NEUTRAL beige. I have come to absolutely HATE this color of beige! LOL. It made the walls look dingy. And, all the crap and toys surely didn't lend to the "I love this room!" feeling.
I'm almost embarrassed to show you THESE "in between" pics, because it's horrible how we left the room while we tried to finish painting and to figure out what we were going to do with the room. So it had become a junk room for the kids' toys.
READING ROOM BEFORE
Do you have any rooms like this?? You know, the ones that just house all your crap because you don't know what else to do with it? Well, that's how this room was! I almost forget it was ever like that…..
READING ROOM BEFORE
…because here's what it looks like present day!
Big improvement, huh?!
And this room still isn't done. (Is any room ever really "done," though??)
READING ROOM – IN PROGRESS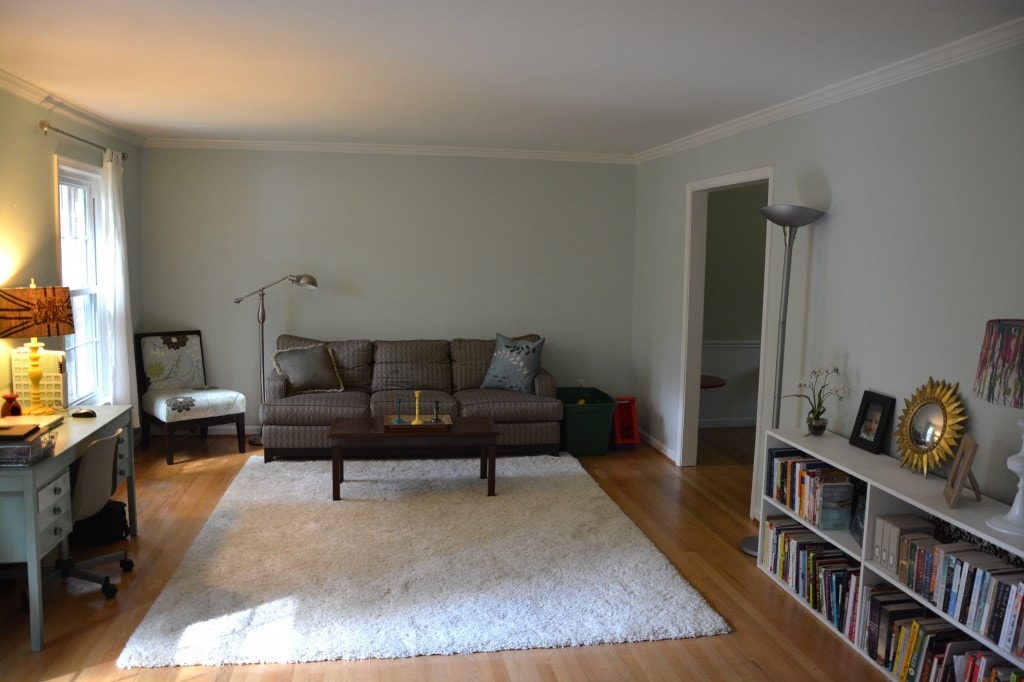 The cool thing is that nearly everything in this room is second-hand! (except the rug, which came from Home Goods).
Here's what's in the room now (with links to project details):
Blogging Desk – Otherise known as the "Dumpster Desk" because I found this baby next to the dumpster in our old condo development YEARS ago, even before I knew where I'd ever use it. It sat in a storage shed for 2 years! COST = FREE
Burlap Lamp – I picked up the lamp from the thrift store, and on another trip, found the lamp shade at the thrift store! COST = $10 for lamp, $2 for shade
Floral Chair – I picked this up from a yard sale and reupholstered it. COST = $25 for chair, $15 for fabric
Sofa – An Ethan Allen sofa I scored from an estate sale! Brand new they cost over $1,800! I'm not fond of the print, so I plan to reupholster it. But it's in perfect condition! COST = $100
Coffee table – A sturdy table from the thrift store! I want to do something creative to it, but haven't decided yet. COST = $10
Bookshelf – Solid wood, found TWO of them, actually, on the side of the road for sale, and scooped them up quick! Painted white and mod podged scrapbook paper inside. COST = $35
Rug – I looooove white shag rugs! This one is particularly cozy. Picked it up from Home Goods. COST = $300
Paint color – Sherwin Williams Window Pane, which is actually right up there in my "FAVES" along with Sherwin Williams Rainwashed and Sea Salt!
Spray painted lamp shade – This lamp here is one of my favorites! I spray painted a $5.00 hooka from the thrift store and then spray painted the lamp shade and let the paint dribble down the side. I love it! COST = $5.00 lamp base, $15 shade from Walmart.
P.S. Nearly all those books were bought second-hand, too ;).
And this awesome sunburst mirror–yep, you guessed right–THRIFT STORE, for about $10-$15. I can't remember exactly! But isn't it amazing?!
This reading lamp I scored at Home Goods with the rug for $60. It's heavy and solid!
French Provincial desk – Over there in the corner, it's just a temporarily holding spot until I can wax it and attempt to sell it! Scored it from the thrift store. Refinished it with chalk paint. COST = $12.00
The yellow-framed pic – From the thrift store, too. I painted the frame yellow. COST = $15

Floral framed pic – I'm the photographer 🙂 I used Shutterfly to enlarge it. Super cheap way to personalize walls, and show off your own photography skillz! I picked up the frame from the thrift store. COST = $15 to enlarge, $2.00 frame.
Here is a close-up of the framed DIY photography I shot. Not sure what type of plant, but it was so pretty! I love the lavender and green together!
View from the reading/blogging room into my dining room, which has my $12.00 dining room table that I refinished, from the thrift store! WOOT! Love that table. Still need to find 4 chairs, and to refinish that bench, which ALSO came from the thrift store, $15.
(But again, short curtains! UGH! I will be changing those, too, some day….)
This rug came from Home Goods, about $150 for a 5'x7′.
UGH…..there are no words for this picture. HA!!!! Just laughs….and, oh, yeah, EMBARRASSMENT! But don't act like you don't have SOME area in your house that looks like this while it's in transition!!
CRAZY READING ROOM BEFORE
But sometimes the "AFTER" is worth the wait….And considering that I'm still not done in this room (need to hang pics, and I am thinking of doing some decorative molding), it doesn't even matter. This is a big, pretty improvement!
READING ROOM IN PROGRESS…..
It's getting there….slowly but surely….
So what rooms are you working on right now? And do you have any HOT MESSES right now that you'd be embarrassed for anyone to see? (You should TOTALLY send me a picture to [email protected] I would love to see!)
Leave a comment below and share!
Download the 5 freebies!
Thrift Diving inspires women to decorate, improve, and maintain their home themselves...using paint, power tools, and thrift stores! Use these 5 printables, checklists, and ebooks to get started!