BEFORE & AFTER: Letty's Wainscoting Makeover
When you buy a house from the 70's and 80's or 90's, there's a pretty high risk of buying a house with wrought iron.
I guess at some point it was fashionable. ?
Just as fashionable as pink wallpaper. Ahem.
BEFORE
Letty has been doing every single one of our room makeover challenges, which is awesome! I couldn't wait to see what she was working on for our Make It Happen March challenge!
Well…this railing, for starters.
Not to mention this hallways.
She wanted to do some wainscoting in the hallway, along with knocking down that wrought iron railing and wall and replace it with a waintscotted (is that even a word??) knee wall.
They'd already had the floors professionally done.
Now they just needed what would be the icing on the cake.
She's super lucky to have such a handy hubby!
It actually doesn't look too hard to do!
Hopefully, some of you reading this will be inspired by its simplicity to get rid of your own wrought iron railings.
Once they were done, the knee wall looked fabulous!
AFTER!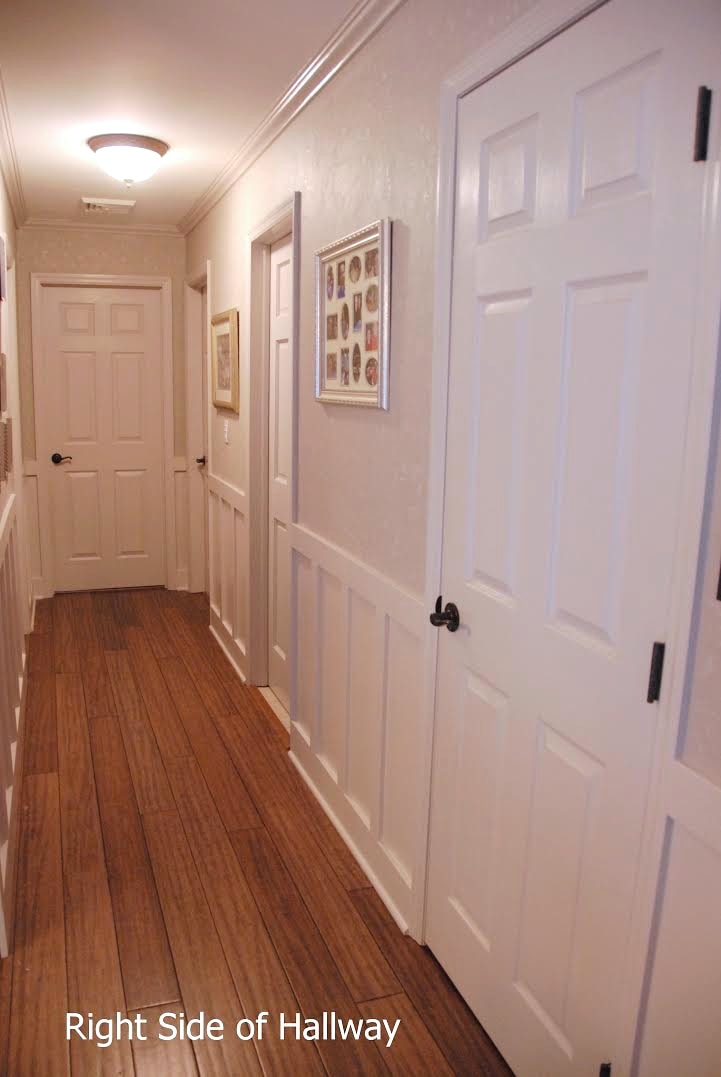 Her walls and floor look so fresh now!
And can I just say that I love her doors and handles?
My house was built in 1973 and I think the doors had been replaced with those flat, hollow boring doors. I really love how upgrades these doors feel, especially with the fresh white of the wall treatments.
Your house rocks, Letty!!
Her Other Goals
Letty was pretty ambitious with this challenge, because not only was this working on her walls, but she also set a goal of refinishing a lamp and tray, but she planned on reaching 300 items listed in her Etsy store!
Sure enough, she met her goals! Way to go, Letty!
Go check out her Etsy store, Lexy Lady Treasures if you love vintage stuff (of course you do!).
Want to Be Inspired, Too?
Then sign up for our next 30-Day Room Challenge Makeover! It doesn't cost you a thing, and the motivation is priceless!

Download the 5 freebies!
Thrift Diving inspires women to decorate, improve, and maintain their home themselves...using paint, power tools, and thrift stores! Use these 5 printables, checklists, and ebooks to get started!