This is a sponsored conversation written by me on behalf of Always Discreet. The opinions and text are all mine.
Six months ago I did something I never thought I'd be able to pull off:
I built a DIY bathroom vanity from scratch.
(Surprisingly, it hasn't fallen apart! YAY!)
And I know this is "mean," but since I built the vanity, it's mine. All that drawer space? Yep, that's mine, too. Sorry, hubby!
It's exciting that I finally have personal drawer space to fill with makeup, face cleaners, and personal women's products–all the stuff my husband doesn't care about and honestly, doesn't need to see.
The drawers are pretty deep and actually pull all the way out, so I can store a lot of stuff here.
But drawer organizers are so expensive and hard to buy them in customizable sizes.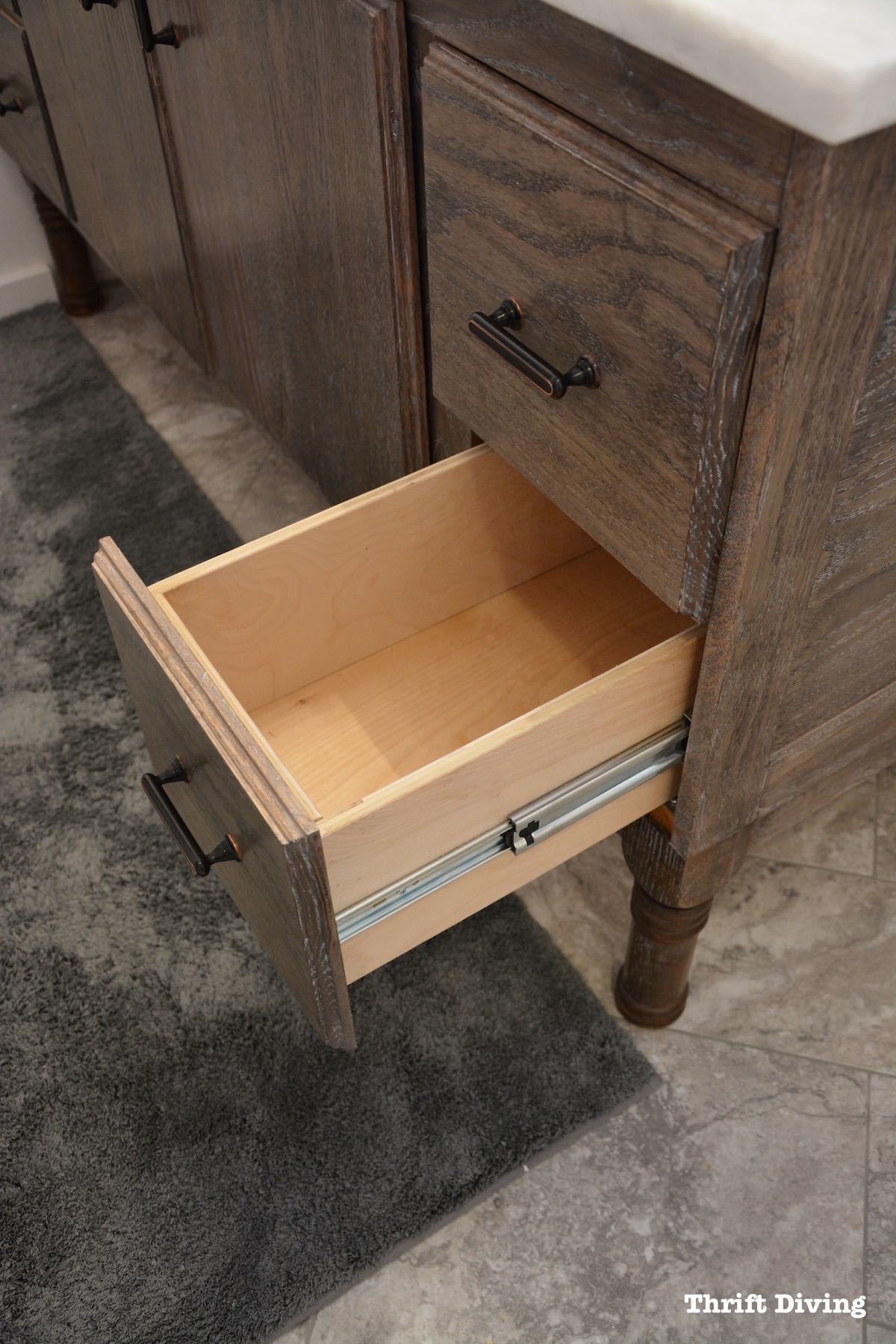 So I decided to make some DIY drawer organizers that only took about 30 minutes or less using pretty black-and-white scrapbooking paper.
The top drawer is for makeup and cleaners and the bottom drawer is for women's personal products.
A Confession
The folks at Always Discreet reached out and asked if I would post about a problem that affects 1-in-3 women: bladder leaks.
At first, I thought, "No way! I'm not posting about bladder leaks! That's embarrassing!"
But the truth is that I also experience them. Why shouldn't I be honest about it? I don't get embarrassed easily. And if there is someone that can relate to my experience, then all the better.
After having three kids, my body was never the same. Thankfully, the leaks I experience aren't a regular occurrence and if they do happen, it's in the early morning soon after I wake up, before my day really gets started.
I'm thankful they're minor, but I know for many women, that's not the case.
In fact, 1-in-3-women experience bladder leakers. And the statistics are more dire for African-American women: 1-in-2 experience leaks!!
As embarrassing as it may seem, it's pretty common.
Most women (only 1-in-9), however, don't use any feminine products for incontinence. I'm not really sure what they're using if anything at all.
But Always Discreet wants women to know that bladder leaks are a normal part of life and to remind those of us that experience this that there are products that can enable women to live their lives to the fullest and without compromise.
So I thought I would take a moment in today's post and share with you a quick and easy little tutorial on how to make a drawer organizer out of scrapbook paper where you can easily organize your feminine care products in drawers so they're not sitting out in plain view for your family to see.
(Plus, these organizers are awesome for holding your lipsticks, blush, and more!)
How to Make a DIY Drawer Organizer Out of Scrapbook Paper
Materials Needed
12 x 12 scrapbook paper
Scissors
Hot glue
Pencil
Ruler
STEP 1: Determine the size of your drawer
Using 12 x 12 scrapbook paper will result in a single paper box that's 4.5″ x 4.5″ square. After measuring my drawer, I realized I had just enough space to get two of them to fit the width.
If you want smaller paper boxes, just trim an equal amount from the LEFT and BOTTOM of your 12 x 12 scrapbook paper. This will make the square a bit smaller.
STEP 2: Draw an X on the diamond.
Rotate your paper to a diamond shape and then use your ruler and pencil to draw an X.
I did all 6 sheets of paper for my 6-drawer organizer at the same time.
STEP 3: Turn in all the corners to meet in the middle.
Again, when you're making multiple paper boxes, it makes sense to do the same step to all the sheets of scrapbook paper at the same time.
STEP 4: Open up the top and bottom corners.
Leave the left and right side folded in, but open the top and bottom corners.
STEP 5: Fold in the sides.
Next, you'll fold in the sides in on themselves, creasing it along the sides and center.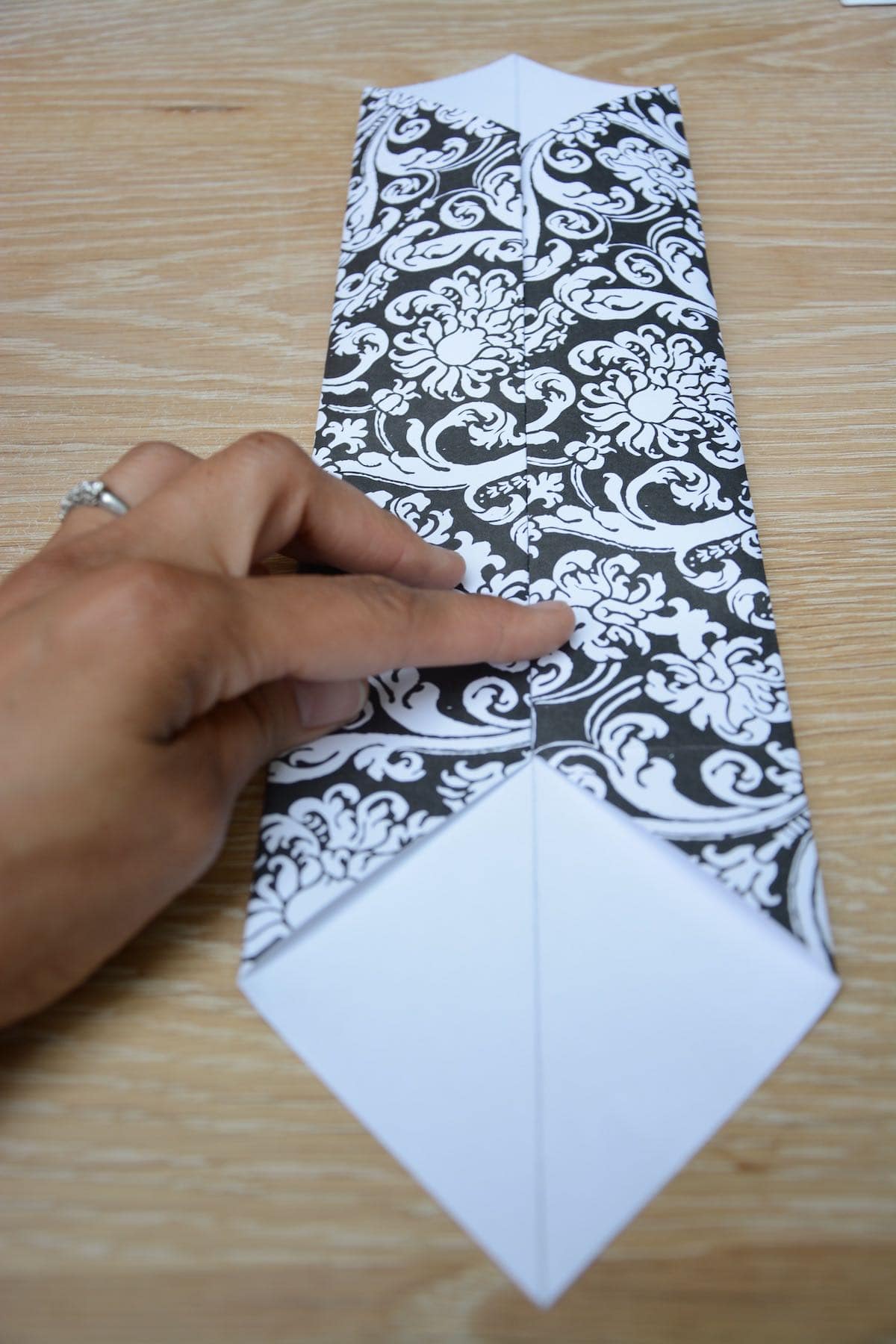 STEP 6: Open up the creases.
Open up the creases and secure the flaps in the center with a little hot glue. It's just easier to fold if the flaps aren't shifting around.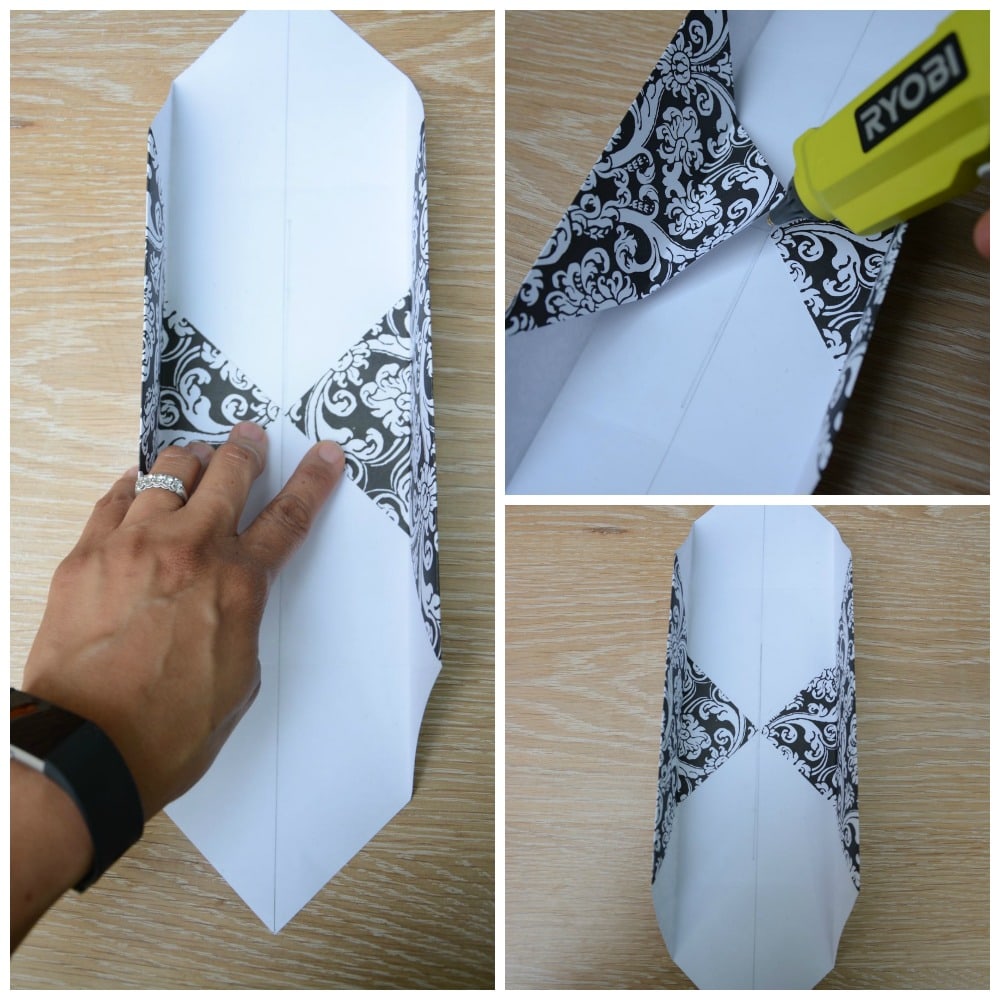 I like to hot glue the wings down so they don't move but you don't have to.
STEP 7: Fold the bottom corner to the center again.
Slightly open the creased sides and then fold the bottom corner to the center again.
STEP 8: Use scissors to snip the crease up to the edge.
Only snip up to where the edge of the papers meet together.
Do this for all four creases (2 on each end).
Once snipped and unfolded, it should look like this:
STEP 9: Make a small folder line.
Now that the pieces have been snipped, create a fold on the red dotted line for both sides.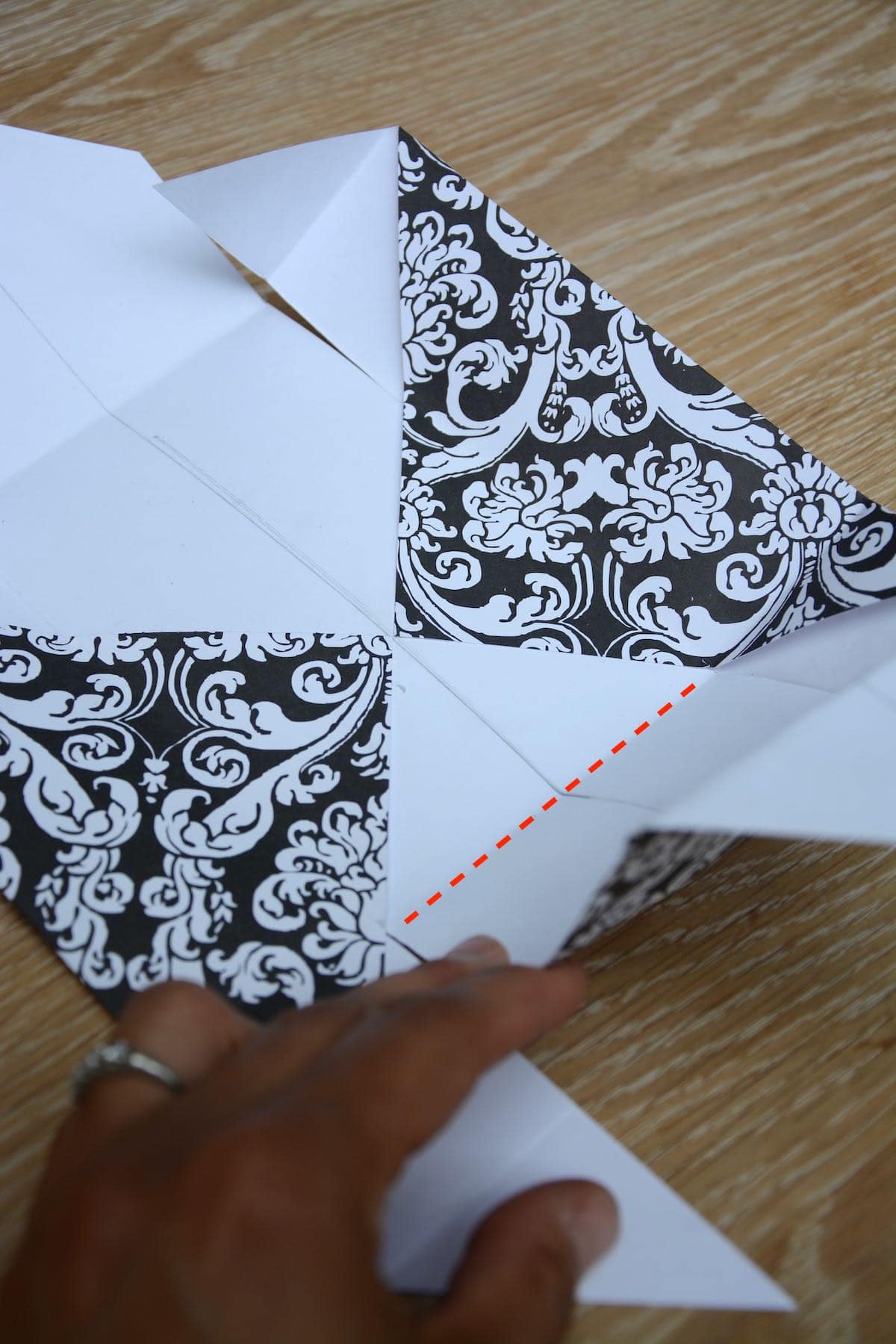 STEP 10: Overlap the flaps to create the edge of the box.
Overlap the flaps to form the edge of the box, and then lift the piece up and over the flaps. Tuck it under and secure the flap with a little glue.
Once one side is folded and tucked under, rotate the box around and fold and tuck the other side, too.
You can also use a dab of hot glue to secure the flaps of the boxes on the inside.
VOILA!
You've got a pretty little box!

STEP 11: Now make more!
I was planning to do a 6-box drawer organizer so I folded 5 more boxes the same way.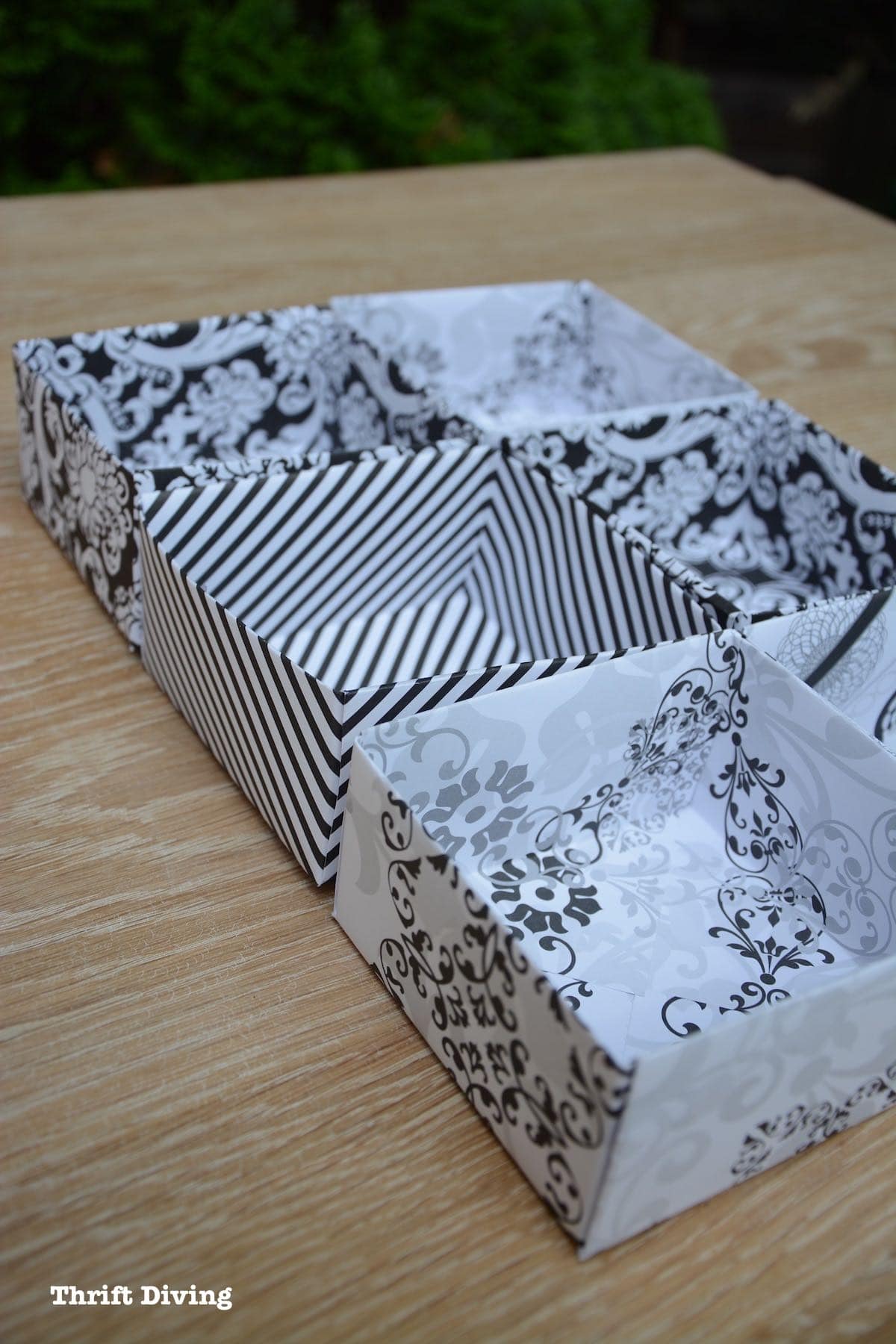 STEP 12: Hot glue the boxes together.
With hot glue on the sides, all the boxes stick together to create a drawer organizer!
Once I was done, I filled the boxes with Always Discreet pads.
The DIY paper drawer organizer juuuusssst fit! I probably could have made it a little more narrow, but it still works well.
Here's a great idea:
Keep a couple of the organizer containers free to hold extra pairs of undies in case you need a quick, discreet change!
Better than having to run buck-naked to your panty drawer for a change, right?? 😉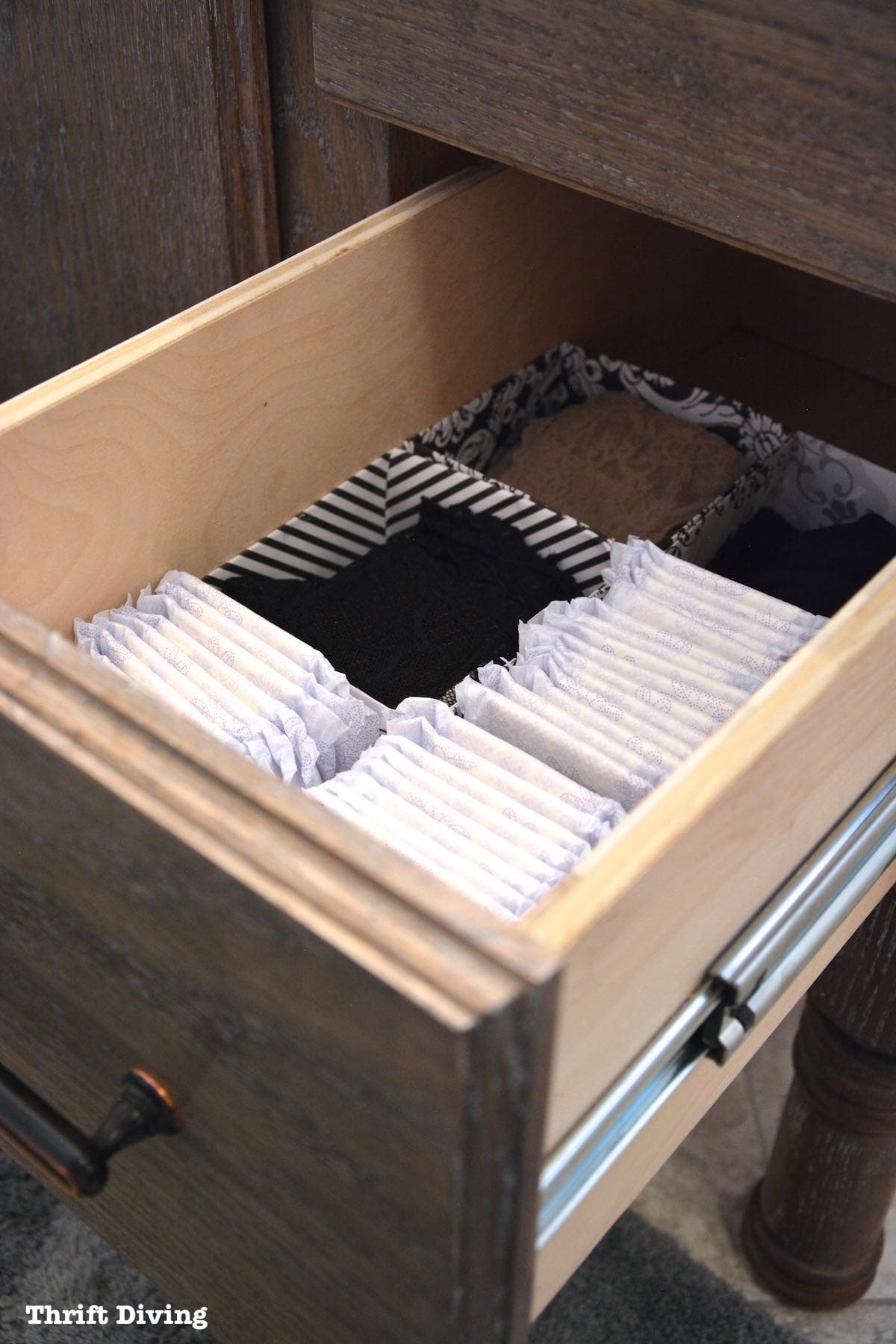 I absolutely love this vanity and the pockets of space I have for organizing life's little necessities, including women's products that my husband and kids don't need to see sitting out in plain open!
These drawer organizers are perfect for keeping all your personal items neatly organized and out of the way. And you can also use them for all the other spaces of your home. 🙂
Be sure to check out Always Discreet!

[leadpages_leadbox leadbox_id=1422ee846639c5] [/leadpages_leadbox]
Download the 5 freebies!
Thrift Diving inspires women to decorate, improve, and maintain their home themselves...using paint, power tools, and thrift stores! Use these 5 printables, checklists, and ebooks to get started!