DIY Fails: How to Prevent Things From Going Wrong!
Nationwide provided me with information regarding its blog post, "DIY Fails: How to Do It Your Way But Right."
Imagine painting your entire living room and dining room in your open floor plan, only the next day to wake up and absolutely hate it.
The once-well-lit space was suddenly dark, dreary, and closed in.
All because of paint.
I'm talking 500+ square feet of space, including the 15-foot tall vaulted ceiling.
This isn't a scenario to incite nightmares; it's a true story–my true story!–to make you understand that sometimes with DIY, things just go wrong. (And yes, that's a picture of our gorgeous condo above!).
I definitely have not been exempt!
I tell you this because as I was reading Nationwide's latest blog post titled "DIY Fails: How to Do It Your Way but Right" a flood of memories came back surrounding that horrific DIY painting fail years ago when hubby and I lived in our quaint, 2-bedroom top-level condo.
If I had known how to properly tackle the DIY painting job, I could have saved myself a lot of headaches, time, and money (not to mention it was dangerously teetering on furniture to reach those tall ceilings!).
There is a better way to handle not only that DIY project but many more projects that we do around the house.
Painting Tips to Avoid Wasting Time and Money
According to the blog post, before painting a room, you should:
Paint a 2-foot square to see what it looks like in your light
Harmonize the colors so your home flows and the colors work well together.
Choose the right finish (e.g. satin, semi-gloss, etc.)
Choose interior paints for interiors
Choose exterior paints for exteriors
Prep the walls properly before painting
I know that sometimes you don't want to pay the extra $5 – $13 for a small quart of paint to use as a sample, and you just want to jump right in. But by doing some prepping and planning, you can prevent having a major DIY painting fail like mine!
The Common Cabinet Mistakes That People Make
Another big problem people encounter during DIY projects are wrongly choosing and hanging cabinets and shelving, according to the Nationwide blog post.
While this wasn't a DIY project (we had a contractor put in cabinets when we moved in), our cabinets illustrate exactly what the Nationwide blog post talked about: making sure your cabinets don't interfere with each other or with other kitchen features, like ceilings, islands, or appliances.
You can see the angle at which our cabinets are situated.
When the middle and left cabinet open together, they bang into each other, creating a pinching point for fingers! OUCH!
You can see how the two cabinets hit each other and require us to open one at a time so they don't overlap.
Although a contractor installed these, this very same thing could happen in DIY projects, too.
Be mindful of where your cabinets are opening and hitting so that they aren't obstructed!
The articled cited some other recommendations prior to ordering your cabinets, like taking an inventory of your kitchen and thinking about how you really live.
I would also add to make sure that you pick a finish or color that you'll want to live with for years to come.
We ended up with a dark cabinet which was not what I wanted. But it's what we ended up with. New cabinets cost a lot of money and it's an improvement you'll keep for years to come. Choose a finish and color that you'll know you love for at least 10 years until you can either replace or paint them.
Plumbing Tips
When you're a DIY'er, our first inclination is to attempt a project ourselves. There's nothing wrong with that, but we must know what we're getting ourselves into–for safety-sake, money-wise, and for downright common sense reasons!
There are some jobs I won't tackle myself, such as electrical. But I've been known to install my own toilets. Those plumbing jobs are pretty easy. You've got to make sure you're using the right materials, however, and you're not rushing to get it done and making poor choices that can cost you. Be sure to check for leaks or water seepage, especially slow leaks that aren't very obvious!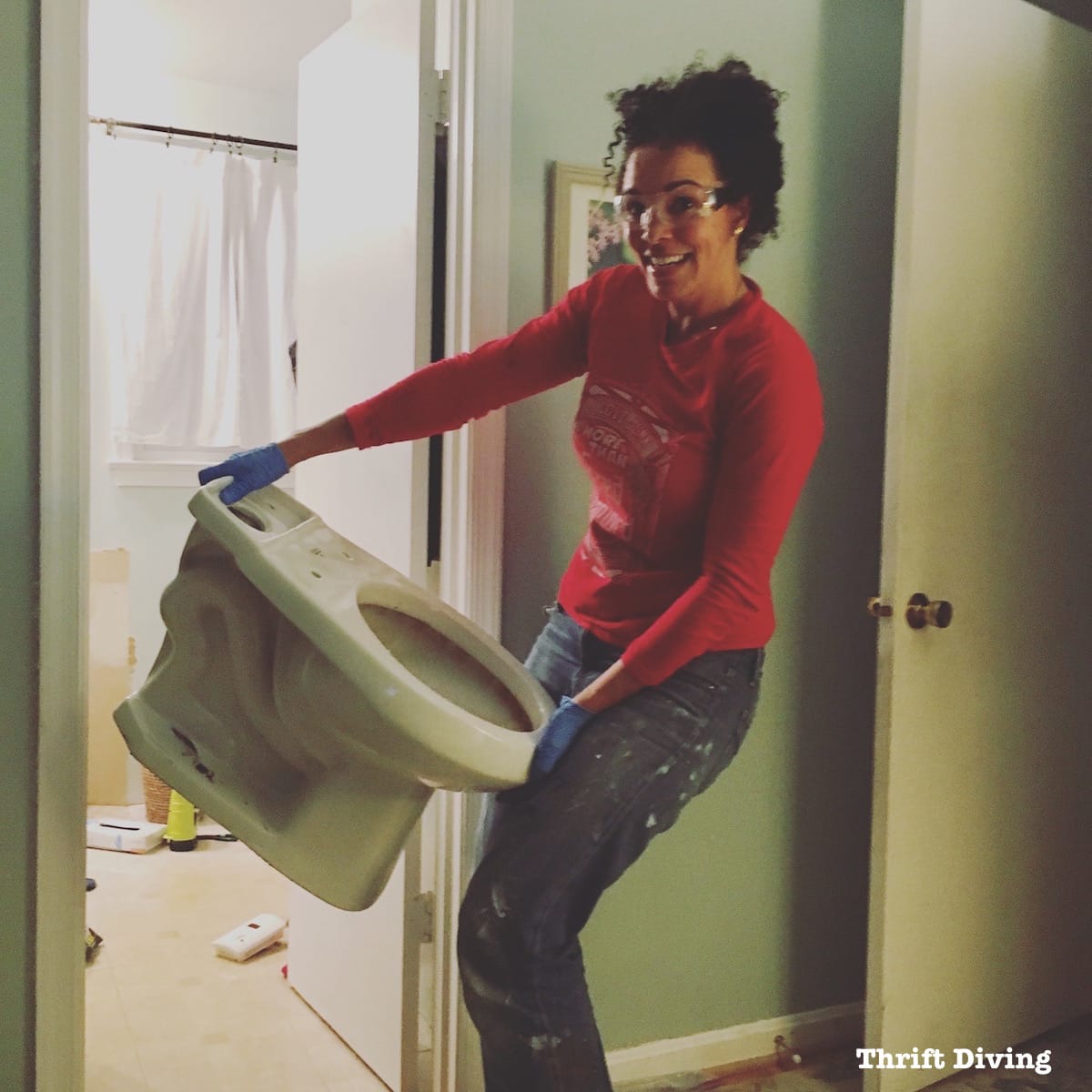 Know What's Underneath, Behind, and Above!
Before you dig, drill, or smash…make sure you know what's underneath, behind, and above!
For example, when I built my DIY mailbox, one piece of advice I offered was to call 811 before you dig. By doing so, utility companies who have potential facilities where you'll be digging will be notified about your intent to dig.
Even if you're "only" digging shallow depths, you don't know how shallow those utilities can be buried! It's best to check first, just to be sure!
As the Nationwide post How to Do It Your Way but Right pointed out, the same is true before you start tearing into your walls: know where the pipes are, the electrical wiring, whether your wall is load-bearing or not, etc. Hire a structural engineer if necessary to help you figure out whether it's load-bearing.
When I was making DIY drywall repairs behind my DIY bathroom vanity that I built, I had to make sure that I knew exactly where the piping was so that I didn't cut into it during repairs! Once I located them, I cut and drilled carefully to not disturb them.
Permits, Permits, Permits
Lastly, make sure that you get permits when you're building new additions or making structural changes to your house, including any electrical or plumbing changes. As the blog post points out, adding a kitchen island or building a deck may require a permit, depending on its location.
If you build or make those changes without approval by your city, you could be required to remove it or tear down that new deck when your house is put on the market because those improvements weren't built to code! Gasp! Imagine that…
Bottom Line: Be Safe and Be Smart
Some things are common sense, but some things you simply have to research and learn. Reading up on the types of projects you plan to do is the best way to arm yourself again things going wrong.
Start pinning articles like Nationwide's "DIY Fails: How To Do It Your Way But Right" and start a Pinterest board with all the research you've found on taking the right steps when doing a project properly. And consult them often along the way so that you don't waste time, money, or (quite possibly) your life.
And when in doubt, don't be afraid to hire a professional contractor to get your projects done!
So have you ever had a DIY project go awry? What happened, and what would you have done differently?
Leave a comment below and let's chat about it!

Download the 5 freebies!
Thrift Diving inspires women to decorate, improve, and maintain their home themselves...using paint, power tools, and thrift stores! Use these 5 printables, checklists, and ebooks to get started!