Carve, Sand, Engrave: The Dremel Cordless Rotary Tool Review
This review of the Dremel Cordless Rotary Tool is sponsored by The Home Depot.
One of the coolest things about teaming up with The Home Depot as part of their Home Depot ProSpective program for bloggers is that we get to try out some of their most popular tools. Every quarter they send me a list of tools to use for projects or to do review one and sometimes they're new tools that haven't even been released yet (or tools that were newly released).
Two of the tools and accessories I received this quarter that I am absolutely gaga over is the Dremel Lite 7760 Variable Speed 4-Volt Lithium Ion Cordless Rotary Tool with 10 Accessories and the Dremel 130-piece rotary accessory set!
Included in the set, it's got all the following accessories in a carrying case:
Cutting

Sanding

Polishing

Grinding

Cleaning
I can't tell you how many times I have needed a small hand-held sander to smooth out curves and edges, but had no way of getting into those spots. Remember that amazing DIY word light sign that I cut out with a jigsaw that spelled "family"?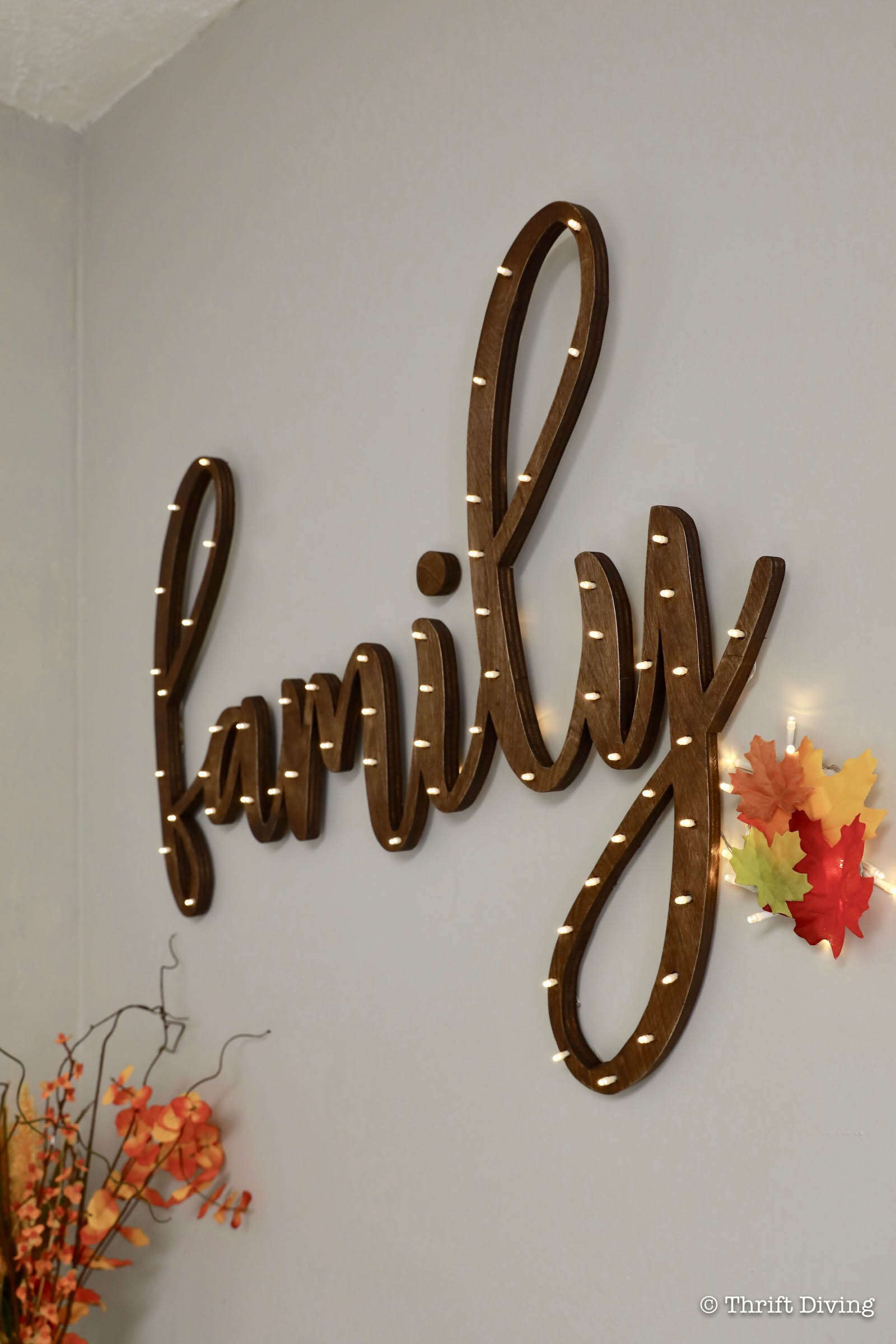 Sanding around those inside edges of the letters was challenging. If I had my Dremel rotary tool at that time, I could have used the small sanding disks to clean up the roughness.
I've also made DIY wooden journals and used a wood burning tool to engrave names on the front. I'm excited to try the Dremel rotary tool for engraving into wood journals!
The coolest thing is that it's cordless! When it needs to recharge, simply plug it in with the included USB cord. This rotary tool is Dremel's first integrated battery and charges pretty quickly! If you notice on the front, there are four different speed settings that allow you to better control the tool in different applications (e.g. sanding, polishing, etc.).
When I first picked it up, my first inclination was to hold it in a grasp, until I realized that it has a soft rubber grip that allows me hold it like a thick pencil. So when I wanted to try precise carving on this sample piece of painted blue wood, it had amazing control.
I really wanted to test out the engraving accessory on a piece of furniture and do a cool carving on the top. But on one of those rare occasions, I couldn't find the perfect piece of thrifted furniture for the project! So the sample board had to do. But don't you love this effect?? Painted wood, and then going over it with the Dremel rotary tool and carving out cool designs! You could use tracing paper and copy a fancy design onto a wood surface and then carve it out!
One of my favorite attachments was the rust remover attachment! It's this little wheel with delicate steel bristles that, when rotating and lightly touching the tool, the rust comes right off!
When my grandfather passed, I inherited many of his dirty and rusty hand tools. They were perfect for testing out! The LEFT end of the tools are the "BEFORE" and the RIGHT end is the "AFTER." See how much cleaner they are?? I couldn't believe how well the rust remover accessory worked! Be careful, though. I applied a little too much pressure and some of the bristles came out. This is why you must read the instructions first. 😉 All you need is a light touch to remove the rust.
If you're looking for a tool that has all the accessories to make small cuts, polishes metal, removes rust, and more, head over to The Home Depot to buy the Dremel rotary tool and accessory kit!

Download the 5 freebies!
Thrift Diving inspires women to decorate, improve, and maintain their home themselves...using paint, power tools, and thrift stores! Use these 5 printables, checklists, and ebooks to get started!