How to Build a DIY Raised Garden Bed and Protect it With a Metal Fence
If you enjoyed this post on how to build DIY raised garden beds, be sure to check out how to create landscape beds, how to build a DIY fire pit in your backyard, and learn how to make a stone walkway.
If you'd told me last year I would build a DIY raised garden bed with my own two hands, I would have laughed in your face.
Yeah….right! I have a reputation for murdering plants, in fact. "Black thumb" would be too kind of an adjective to describe me.
But this video proves that sometimes we surprise ourselves.
Watch These Raised Garden Beds in Action!
But last year I got the ingenious idea to build a hanging fence garden with strawberries, kale, and oregano, and–gasp!–if you can believe it, the plants didn't die! Not that we yielded much….In fact, the strawberries were sour. The slugs devoured the kale. And the oregano–who needs that much oregano, anyhow?!
Let's not forget that the neighborhood strays used the planters as makeshift bunk beds…
So eating plants with cat hair on them really wasn't that appetizing.
But the plants grew.
And this year, my confidence grew. Maybe…just maybe….I could grow some food that our family could enjoy. In April my reader and YouTube viewers kicked off the 30-Day April Outdoor Overhaul Makeover Challenge. With the challenge underway, it felt right to try my hand at building a raised garden bed.
Not just one, but two. And big ones at that! (These raised garden planters are a bit smaller than the standard 4×8. I made these ones 3×8 and they are just about 12″ deep!).
And to think that my the hours of sweating and wheelbarrowing may very well yield some yummy food for my family this summer–that is exciting.
This is the wonderfulness that happened!
Ta-da!
Now let me show you how I build these raised garden beds!
Why Build a Raised Garden Bed, Anyhow?
When I told my friend I was building a raised garden bed, she asked, "Why build a raised garden bed? Just plant in the ground!" Easier said than done. The earth here in Maryland is so full of clay, it's a wonder anything grows! If you live in an area where you've got rich soil, or if you know have the ability to optimize your soil, then great–just plant in the ground! But if you're like me, with a lawn full of clay-like soil, raised garden beds are an awesome option. Building upon the ground and packing it with nutrient-rich soil from a nursery (they mixed the dirt and compost and then delivered it for super cheap) means my chances of success just went up 1000%. LOL. Especially as a beginner who doesn't know diddly squat about gardening I need the easiest option.
So let's talk about materials….
Raised Garden Bed Materials
This materials list is for creating two raised garden beds, so just divide these in half if you want to make just one, or figure out the calculations if you want them to be smaller.
(FYI….I participant in the Amazon Services LLC Associates Program and other affiliate advertising programs designed to provide a means for me to earn fees by linking to Amazon.com and affiliated sites).
(12) – 1″ x 6″ x 8 feet cedar boards*
Miter saw, circular saw, or jigsaw
Power drill with driving bits and drilling bits
Exterior screws (1-1/4″) or corner brackets for exterior use (optional)
Corner clamps (optional)
Newspaper or lawn/leaf bags
1 yard of soil (delivered by a nursery, they mixed in compost)
Shovel
Wheelbarrow
Level
Tape measure
Hammer
There is really no "right" size of cedar boards to use for your raised garden beds because how you want to create them is entirely up to you. I actually used 10 1″ x 6″ x 8′ boards and 4 smaller 1″ x 4″ x 6′ boards for the ends. It's whatever works for you! 🙂
STEP 1: Cut Your Cedar Boards
If you're wondering what wood to use for raised garden beds, I would recommend cedar because it doesn't rot. You don't want to use pressure treated wood because there are chemicals that could leach into the soil. I don't know enough about using pallets, either, because I have heard they can also be treated with chemicals. Raised garden bed with rocks, tin, pavers, stones–those are all good options, too! I like the look of the cedar, so that's what I went with.
Anyhow, back to the cutting of the cedar boards….
We're making large rectangles here, so the easiest way to do was for me to use the 8-foot 1″ x 6″ boards for the sides without having to cut them. But I did have to cut down the short sides into 3-foot pieces. Most standard sized raised garden planters are 4×8, but I didn't have the extra foot available. So mine are 3×8.
STEP 2: Create a Rectangle or Square Box
First, though, you've got a figure out where to put your raised garden bed. In my yard, we have a huge maple that blocks much of the sun, but thankfully, on the side of the house, near the fence, it gets full exposure to the sun all day long. So be sure to place your garden beds where they'll thrive.
And I don't know about you, but I kinda suck at evenly creating 90-degree rectangles and squares when I build boxes, especially on a lumpy lawn. LOL.
So I use these old corner clamps that my grandfather owned. I found in his shed when he passed away. It always makes me happy to think of how proud he'd be to see me using his old tools. 🙂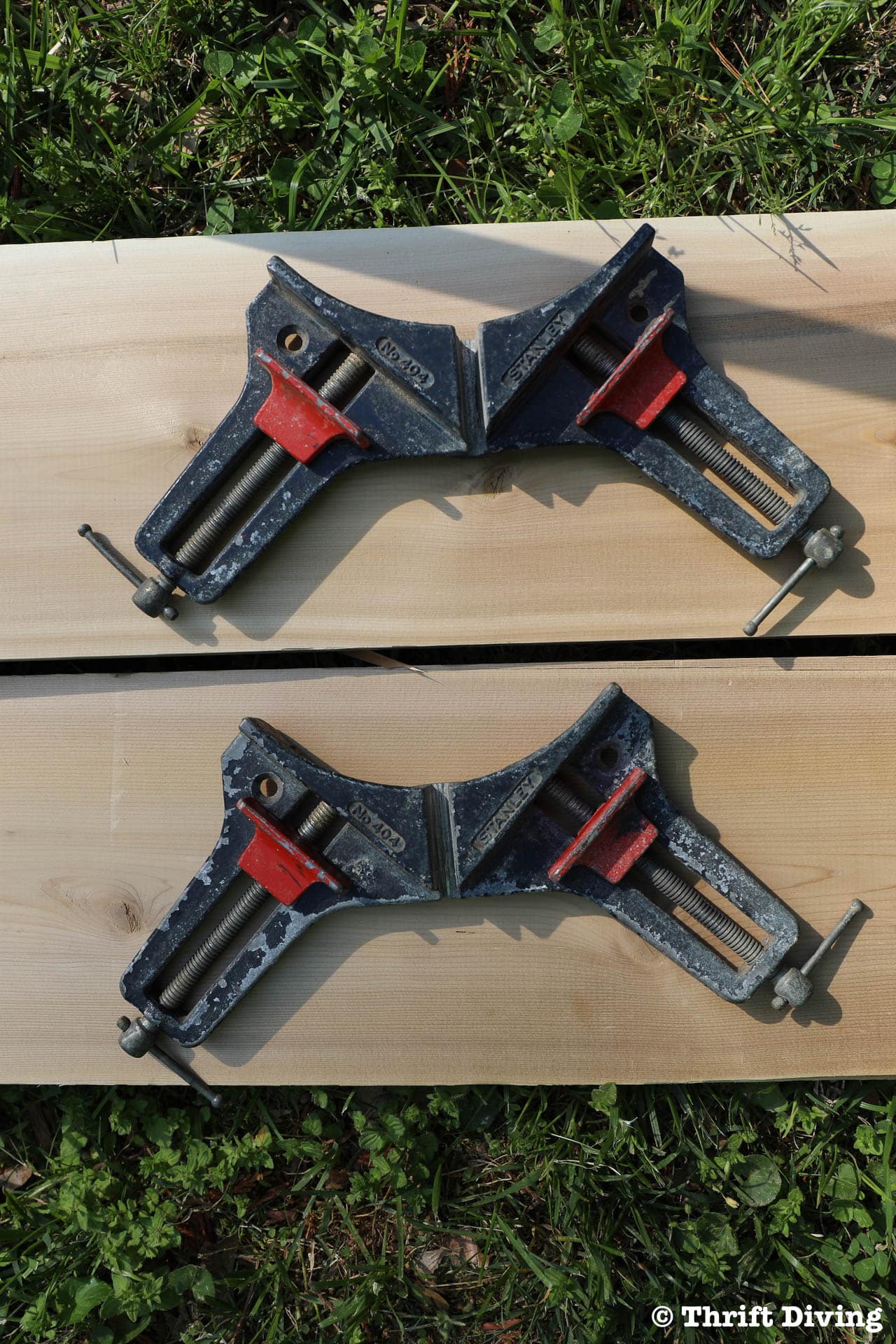 So I find it easier just using the clamps.
They old the corners in place nicely.
Now, I do have to say: if you're a true woodworker, you wouldn't join your corners like this. Joining a board to the end grain of another board isn't really the correct way to build, but for me, it will work for this project. But the alternative would be to use a corner brace or even use the Kreg Pockethole Jig to securely fasten these boards together.
STEP 3: You Must Drill Pilot Holes!
If you've never worked with cedar before, just know this: any amount of pressure from the screws, and the boards will simply crack. They're that soft and fragile.
Yikes!
As expensive as this stuff is, cracking is the last thing you want to happen!
So after clamping your wood together (you can also use interior/exterior wood glue if you'd like) then you'll need to drill pilot holes for the exterior screws (where you see the red arrow). Once you've drilled a pilot hole, you can slowly drive your exterior screw.
STEP 4: Screw the Exterior Screws
Exterior screws won't rust, so be sure to use the ones that are coated and say they're for exterior use!
I used these coated Grip Rite screws, 1 – 1/4″ long.
I've read that whenever you're doing exterior projects, always use screws, not nails, because screws are able to hold materials together that will likely expand and shrink due to the environment.
Related: Understanding Wood: 7 Things You MUST Know Before Building or Refinishing Your Next Project!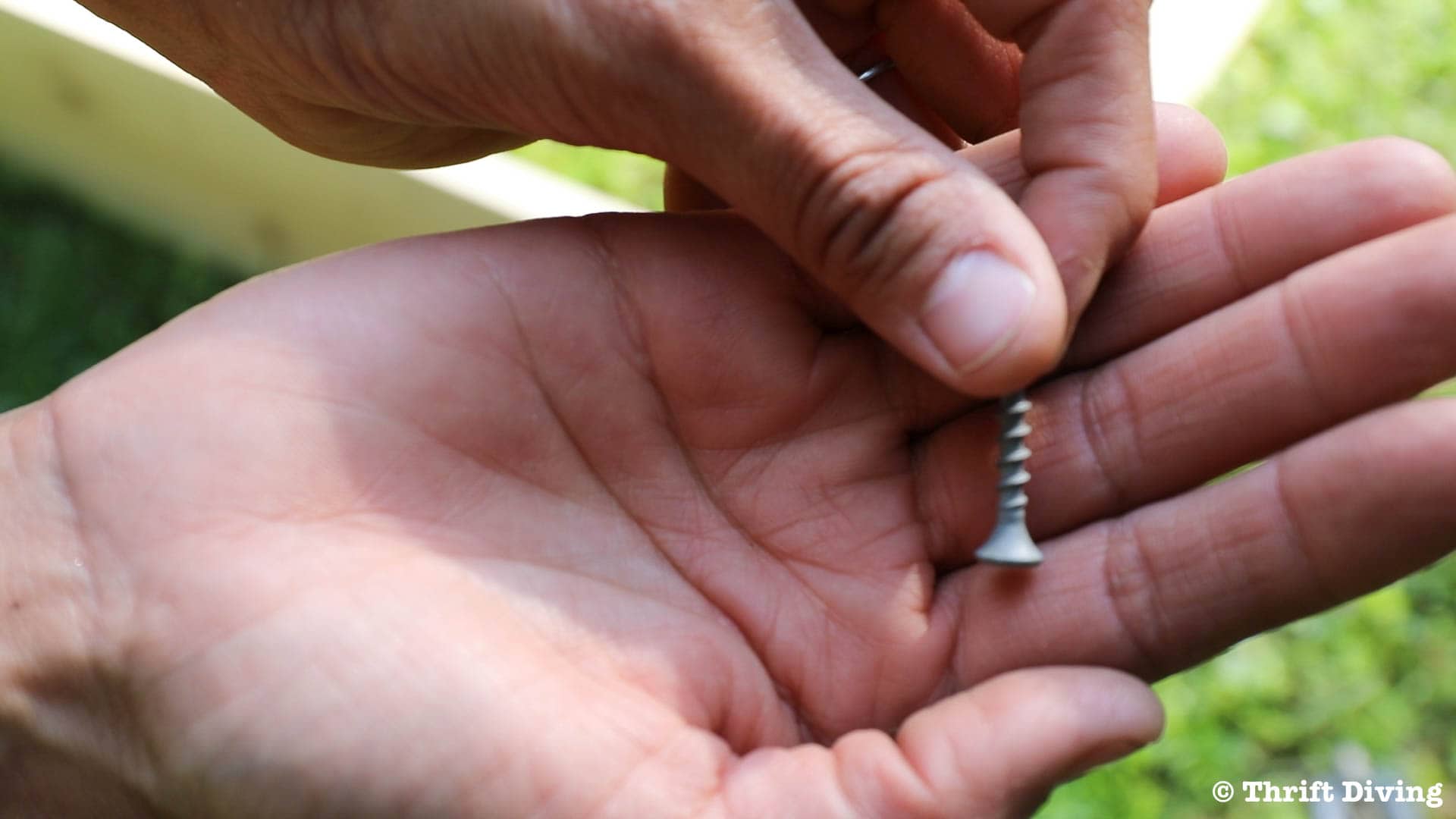 STEP 5: Add the Wooden Stakes and Second Layer of Cedar
A box of these wooden garden stakes is perfect!
We have a ton of deer and stray cats in this neighborhood so a fence is a must.
I really wasn't sure how I was going to build this fence, but I knew these stakes would be a great idea.
They were about $8.00 per box. I bought 2 boxes.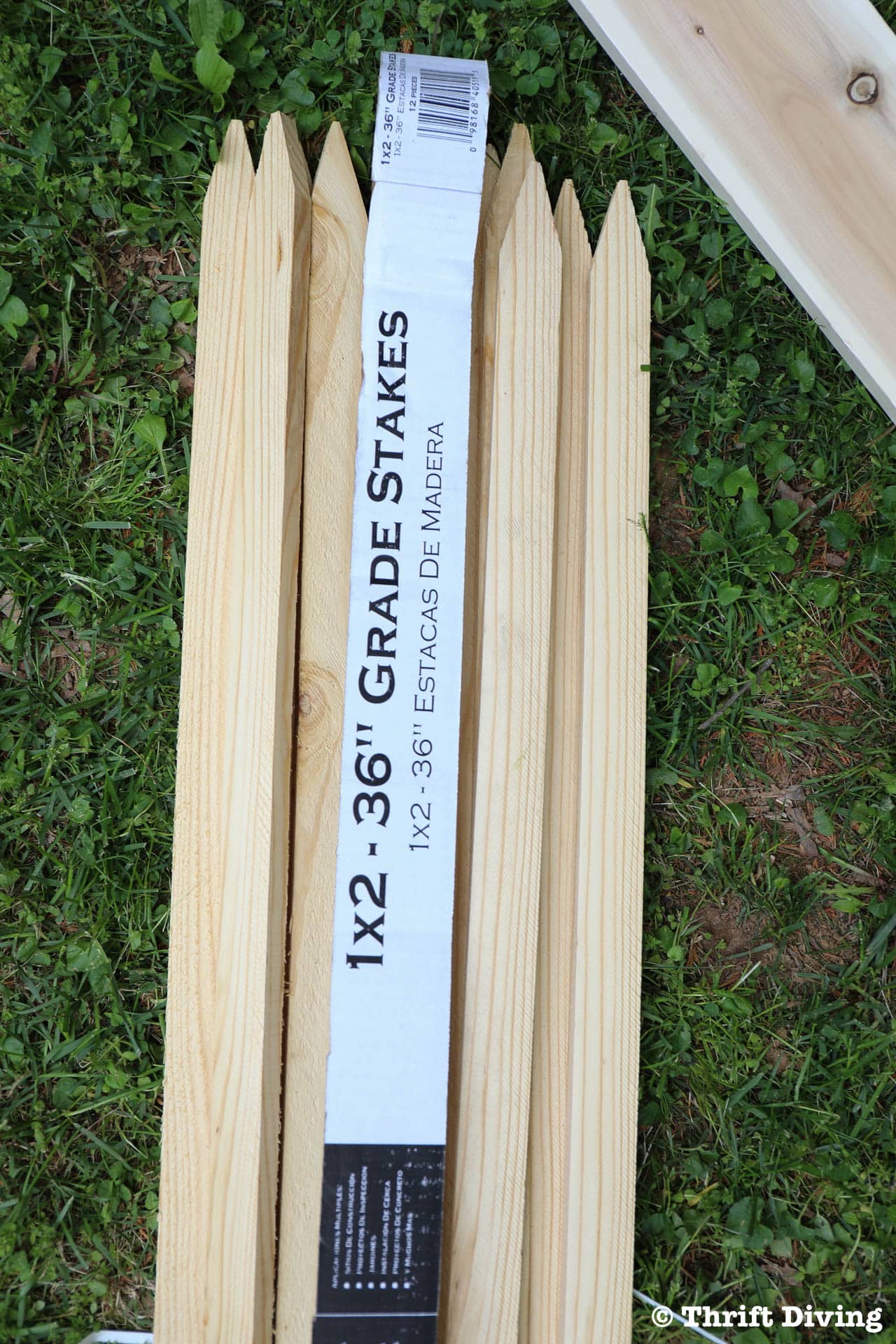 I placed the 36″ wooden garden stakes around the inside perimeter of the raised garden bed, using a hammer to tap them into the ground. I made sure that the stakes were all about 32″ deep for stability, so they were 4″ deep.
Then I added the second layer of cedar that sits on top of the rectangle base, with the wooden stakes helping to give the raised garden beds structure.
You'll want to make sure that the stakes are all even and plumb, so use a level.
The second layer of cedar was then secured to the stakes with pilot holes, then screws.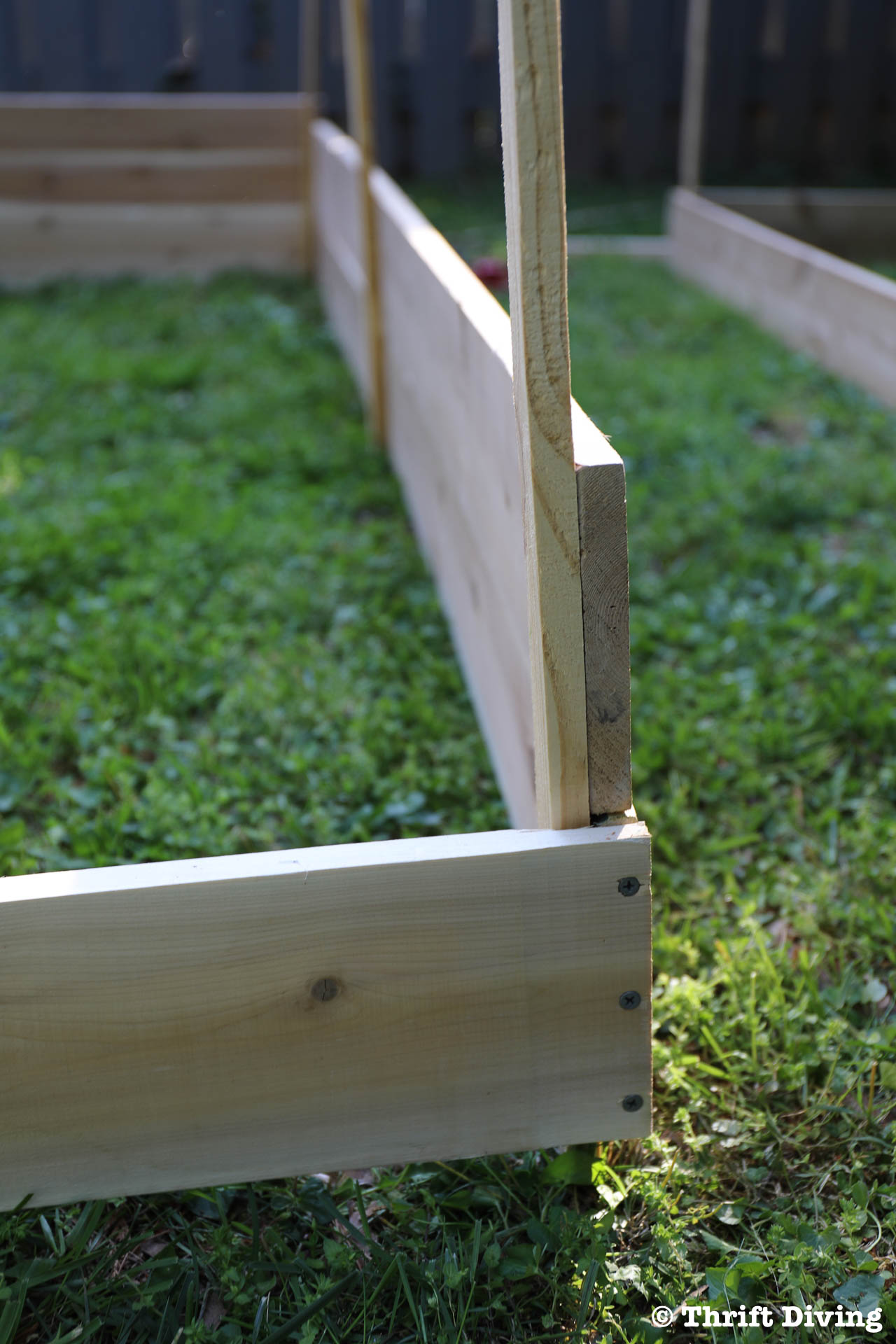 STEP 6: Line Raised Garden Beds with Newspaper or Lawn/Leaf Bags
I wasn't sure what to line raised garden beds with because everything I researched said you can use thin wood…newspaper…or even just cultivating the soil underneath and having no lining. I didn't know what to do. We get a lot of weeds in our yard so I decided to line them.
I didn't have any newspaper, but these lawn and leaf bags were perfect! We always get tons of leaves on our property, so I usually have stacks of these bags.
Lining them up 6″ or more along the sides was important to help prevent weeds from growing up through the cracks.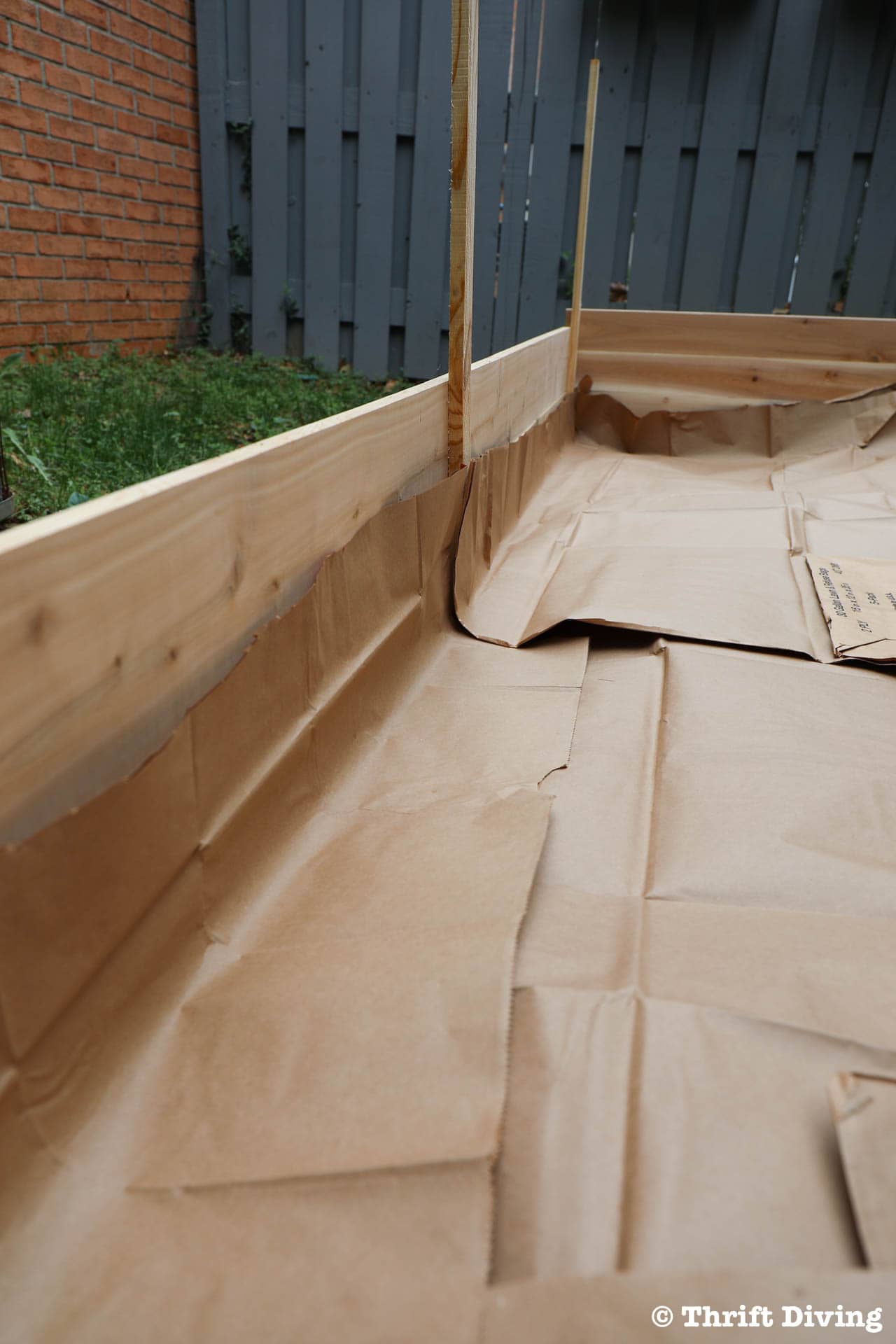 The raised garden beds were now ready for soil!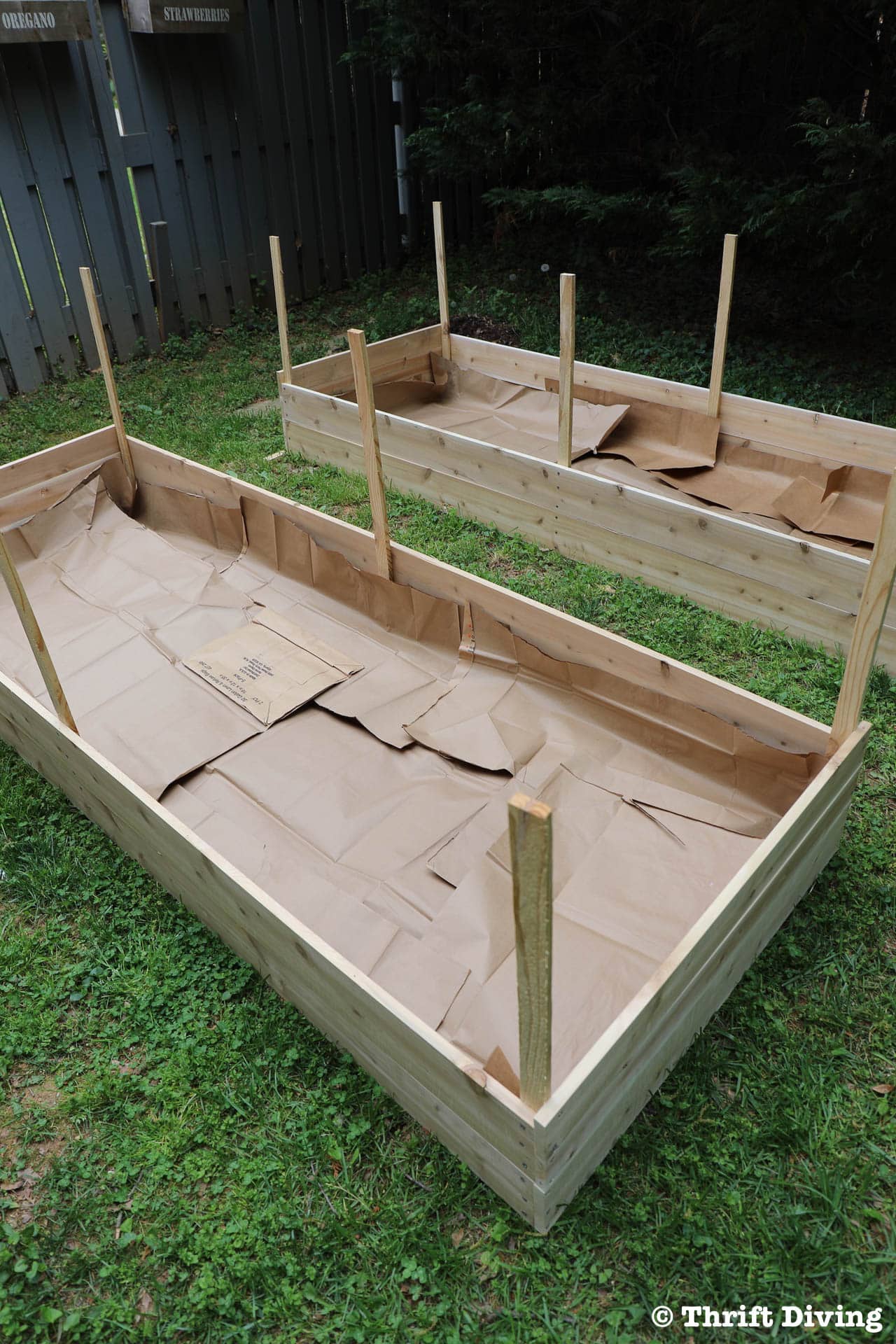 STEP 7: Fill the Raised Garden Bed With Soil
Filling the garden beds was the "scariest" part of this project. How many bags of soil will I have to buy??!! Umm….yeah, I needed a better option. I'm not lugging home 30 bags of soil at $6 a bag!
The best option for how to fill a raised garden bed is to order the soil from your local nursery. They'll deliver it with a big truck and dump it in your driveway, so be sure to have a tarp for them to dump it on.
My local nursery had a 2-yard minimum, but these two garden beds (3′ x 8′ x 1′) combined only needed 1 yard. So I ordered 1 yard of mulch for the flower beds in order to meet the 2-yard minimum. With the delivery fee included, the soil, mulch, and fee came to $110. Not bad at all!
The soil had some compost mixed in with it so there wasn't anything I added to it. However, fellow gardeners have been suggesting I fertilize the plants now, so I'll have to figure that part out now. 🙂
You will need a wheelbarrow, though! I'm not kidding when I say I made about 20 trips. Brutal, I tell ya….just brutal! Next time, I'm hiring someone to do it for me. I'll stand back and take pictures and videos. HA!
But it was an exciting moment to see them all filled in and ready for plants!
STEP 8: Plant Your Veggies and Fruits!
Again–I know nothing about gardening. I probably should have researched it a bit more to find out which plants grow well together….how much spacing they really need….but I guess I'll figure all that out as I move along in this gardening journey!
I planted Brussel sprouts, peppers, tomatoes, kale, watermelon (although I am doubtful what that will yield….), cantaloupe, and a couple other things. I still have space for more to plant, so I want to get some strawberries!
While I was planting, I had this moment of happiness and a smile broke out on my face when I realized what I had done: creating something that will hopefully give back to my family for years to come….something that I built with my own two hands…
It felt amazing, I'll admit! People say that gardening is addicting, and I can very well see the truth in that statement!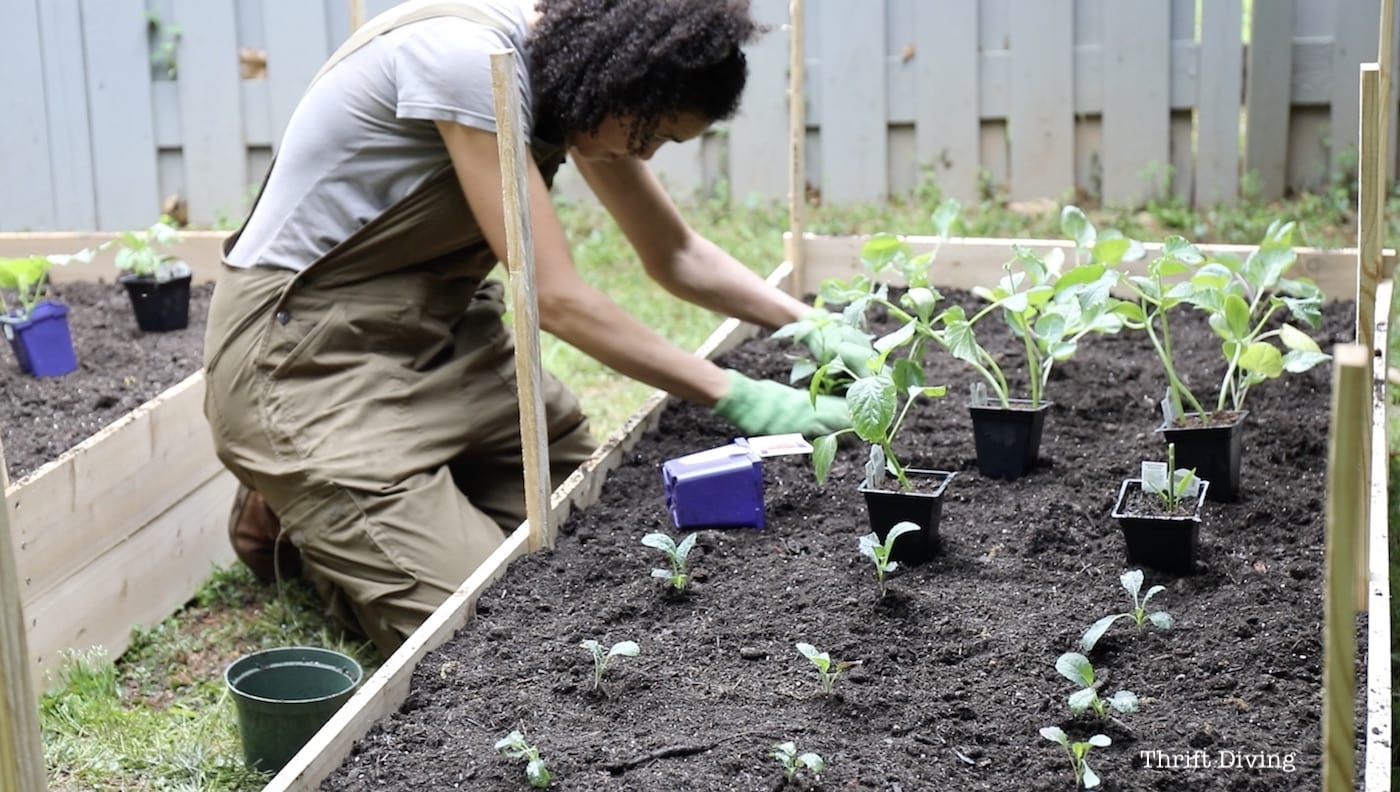 The kids were involved throughout the entire process, and it was a joy to see them get so involved in watering the plants after I planted them.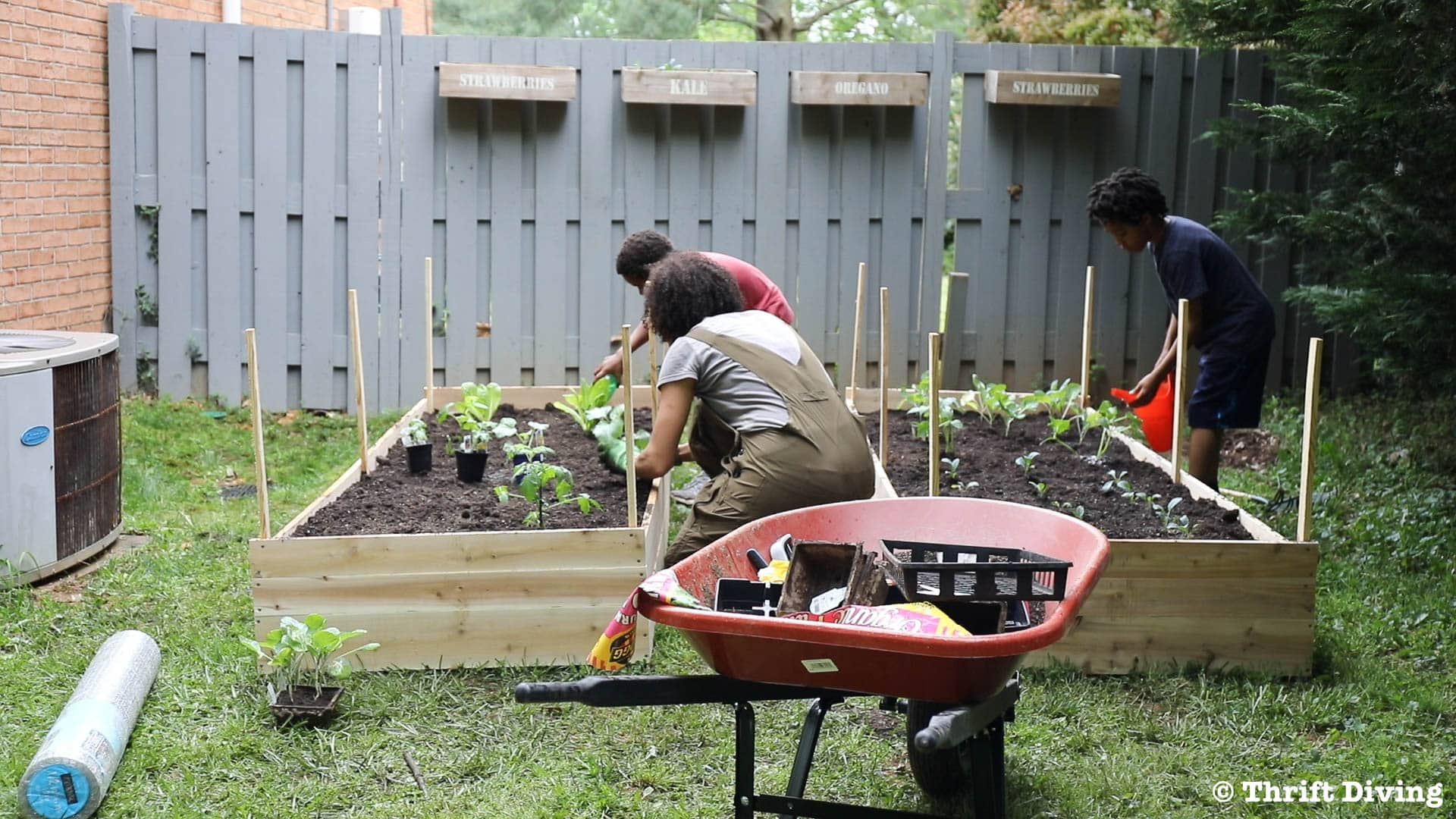 STEP 9: Wrap Metal Fencing Around the Raised Garden Beds
The last step of this project was trying to protect everything I had just created!
We have a ton of stray cats in this neighborhood, along with so many deer you'd think it was Christmas year-round. HA! So I knew that I would need a strategy to keep them out.
I wrapped metal fencing around each raised garden bed and stapled it into place on the stakes.
That night, I was in a rush to meet my friend for her birthday, so I haphazardly wrapped each (I bought 2 rolls) around the garden beds, adding temporary staples here and there.
One roll was 25 feet and was just enough to encase one entire garden bed.
To keep it in place, I hooked a few of the metal spokes at the end of the roll into itself, and it's been staying in place.
I'll need to go back and secure it better at the bottom to keep out rabbits and mice (if the cats haven't already eaten them!).
I've got some deer netting that will go over the top, too.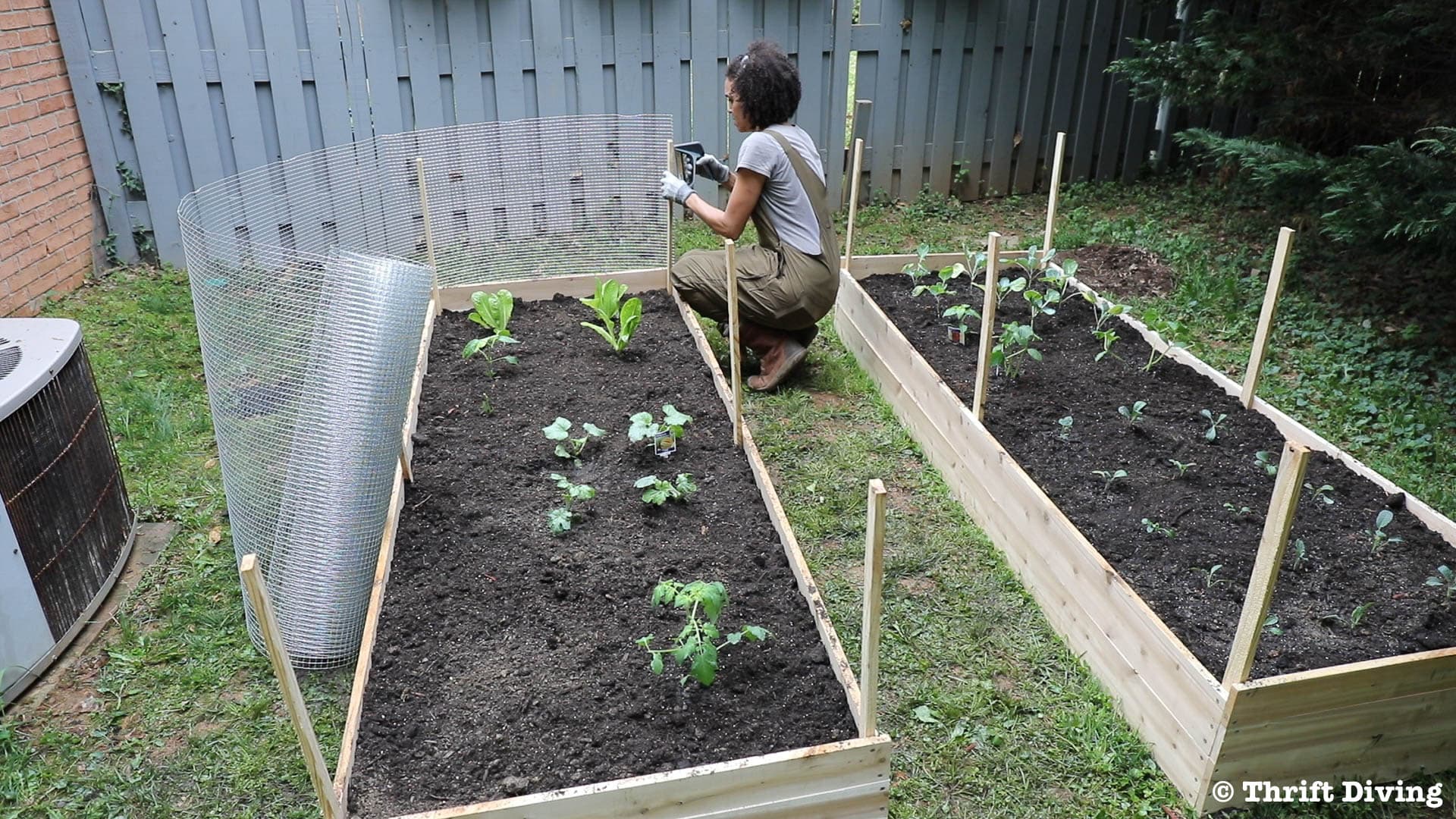 Overall, they look great so far!!
I don't know much about gardening, but I am going to spend some time learning.
So if you've got any tips that I should know about, like when and how to fertilize….how often I should be watering…how to keep bugs away naturally….I'm all ears!
How Much Did These Raised Garden Beds Cost?
Well, this is where I start cracking jokes that for the amount I paid to build raised garden beds, I could have probably bought enough fruits and veggies to feed my family all summer long. For maybe a few years, in fact. HA!
It's true. I found this project to be very expensive and I questioned whether it was really worth it. But the pride I felt as I was planting erased the amount of money that I had spent. Because not only did I enjoy it, but it will last for years (I hope!!), and I also taught my children that planting your own food is a possibility.
Some things are simply invaluable.
Here's approximately what I spent:
Cedar boards – $170
Fencing – $80
Plants – $60
Total: $310
Ouch.
The bright side is that I'll start early enough next seasons to buy seeds and germinate them myself and I won't have to buy "ready to plant" plants. Plus, the structure and fencing is in place for years to come. Let's hope it pays me back ten-fold. LOL
Oh! And I almost forgot to add that I want to find some stepping stones (or faux stepping stones) to place in between and leading up to the garden beds! That will look awesome!
Update on My New "Earth Day" Ferns!
On Earth Day, I bought these cute little baby ferns.
Remember I planted the ferns on my YouTube channel?
Well, they're growing!!!
I was skeptical they'd survive. But when I saw these little leaves sprouting and growing, I tell you…I'm like a proud new mom. I've since mulched them and will water them daily until they've really taken root. But I'm so happy to see them thriving!
Anyhow, remember to watch this DIY raised garden beds tutorial on my YouTube channel or click PLAY to watch below!
This 30-Day Outdoor Overhaul Makeover Challenge has been amazing. It really has.
Without these challenges, I probably wouldn't have built a DIY firepit in my backyard…
…or pressure washed my patio….
….or planted those ferns…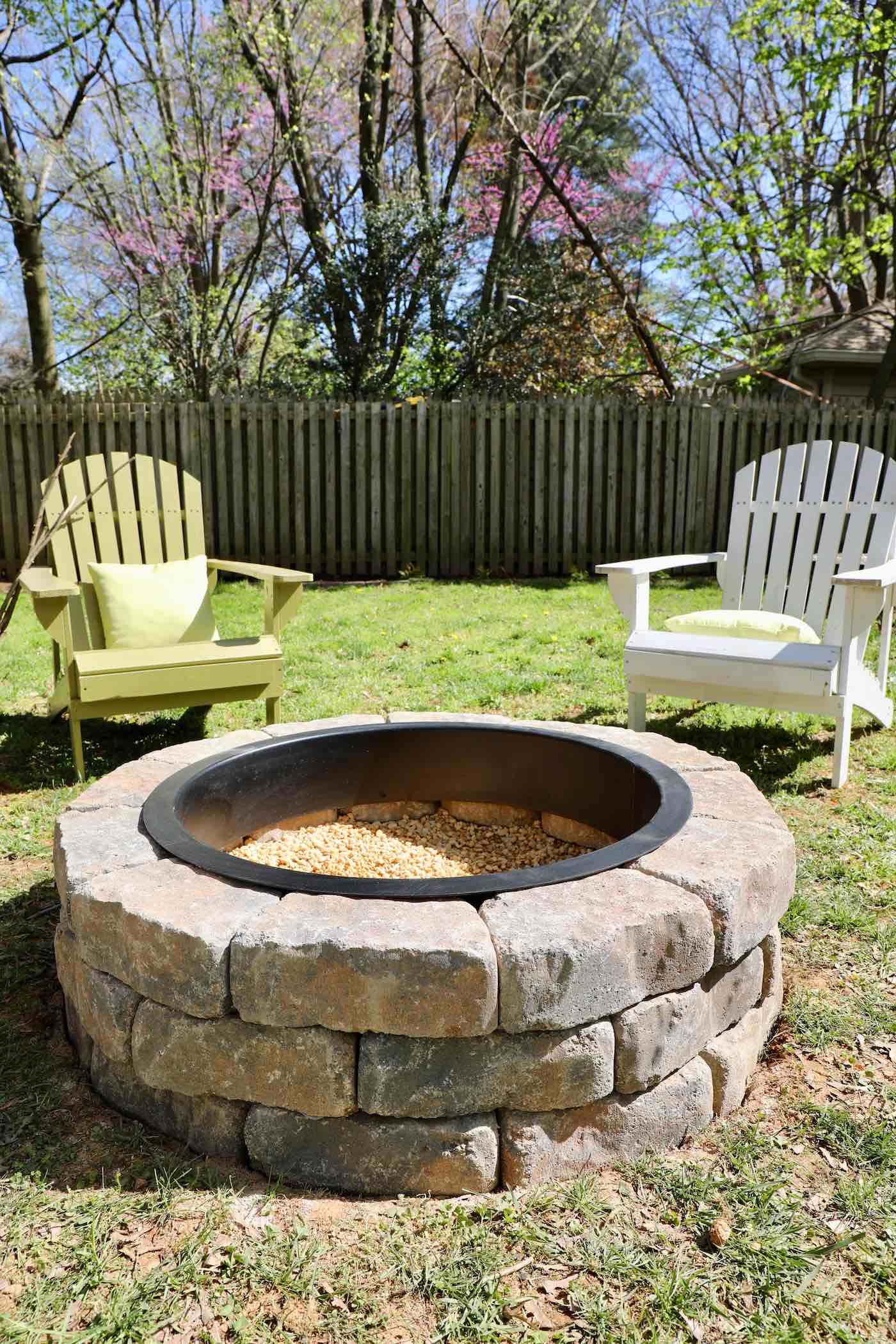 …and I probably wouldn't do half of the projects around this house if it weren't for you guys doing the challenges with me! There's something about doing something with other people that motivates you, doesn't it?? People are counting on you to finish, to do something big, and then you have to deliver. If no one is expecting it, it doesn't get done. I'm glad that we're able to support each other. (If you think you'd like to join us for our next 30-Day Makeover Challenge, sign up on the challenge signup page!)
And a huge thank you to RYOBI Landscapes for sponsoring our Outdoor Makeover Challenge! These makeovers take a lot of time, so with sponsors like RYOBI Outdoors, financially we're able to do these challenges. So be sure to check out RYOBI Landscapes as a way of saying "thanks!" and find out how to reclaim your yard this spring and summer!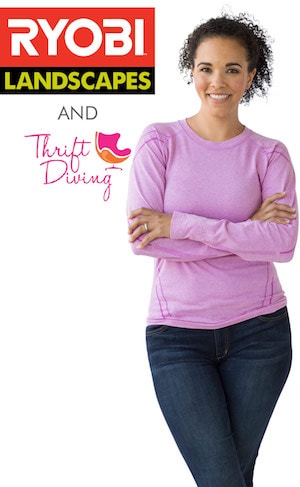 If you enjoyed this tutorial and video, I would love if you clicked here to save it on Pinterest!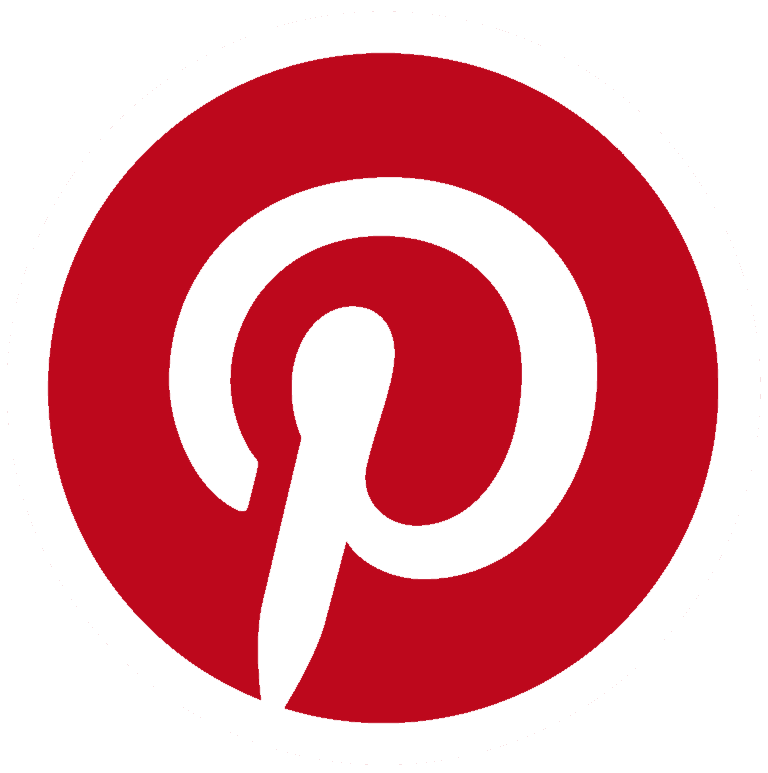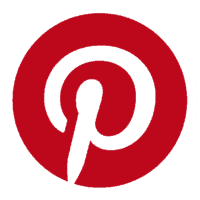 So do you have some awesome gardening tips you can share so after we all build a raised garden bed our plants don't die? LOL Please let your gardening tip below! 🙂

Download the 5 freebies!
Thrift Diving inspires women to decorate, improve, and maintain their home themselves...using paint, power tools, and thrift stores! Use these 5 printables, checklists, and ebooks to get started!