How to Build a DIY Bat House For Your Backyard and Get Rid of Mosquitoes
This DIY bat house post is sponsored by The Home Depot.
There's an old saying that you learn something new every day. Isn't
that
the truth. I recently found myself up past midnight researching how to build a bat house, how to install a bat house, and why bat houses are even "a thing."
I'll admit that I was clueless about these little creatures, which often convey feelings of "ICK!" the moment you even mutter the word bats.
But after learning that bats slurp up mosquitos quicker than my kids can down a candy bar, I was all ears. Could it be that a bat house was the solution our family is looking for??
We've had terrible mosquito problems ever since moving into this house 8 years ago. Each spring and summer, walking outside is a guaranteed attack unless you slather your body in sticky mosquito spray. And wearing shorts?? Oooh, that's risky, my friend. Verrrry risky. You'll often find me sauntering around my garage in thick jeans to avoid being bitten.
Recently the Home Depot challenged my kids and me to make a bat cave and I gladly waved my DIY flag, proclaiming, "Bring it on!" I don't get much opportunity to build with my kids. But beyond that, I was excited that we may have found a solution to our mosquito-ridden yard.
And the awesome thing is that we didn't have to think up the project ourselves because the detailed instructions were on ScienceFairCentral.com. Home Depot has teamed up with Discovery Education to inspire kids to make, create, and explore science, technology, engineering, art, and math.
This bat cave tutorial is just one of many fun projects you can find on Science Fair Central if you're a parent, teacher, or grandparent.
So let's jump into this awesome DIY bat cave!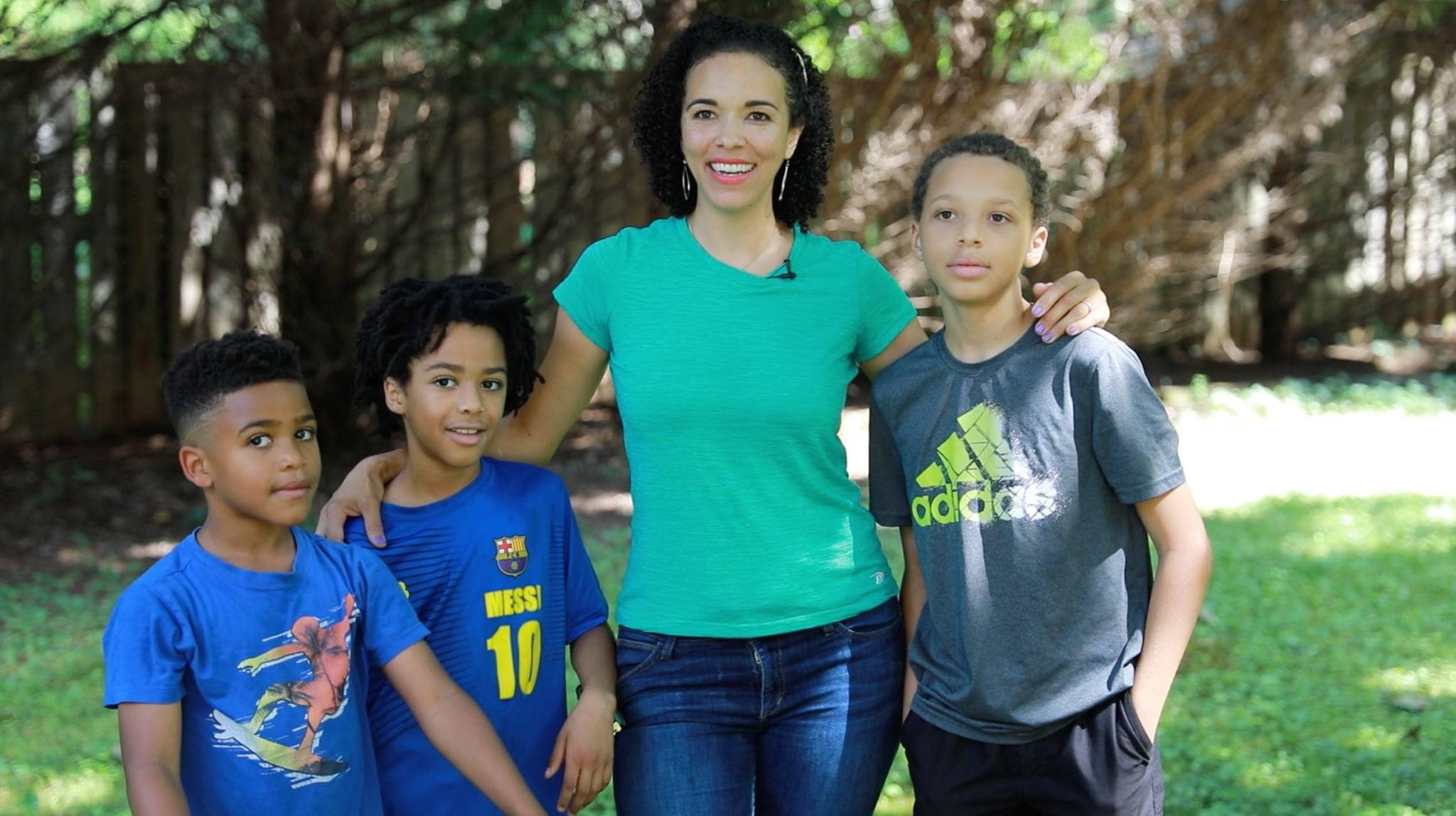 How to Build a DIY Bat House
This project should take you about 2 hours or less and costs about $50. Here are the materials we used:
Red oak plywood (Home Depot can cut this)
2 pieces of cedar fencing
1 piece of 1″ x 2″ x 8″ cedar for the sides
Exterior screws (1-1/4″)
Caulk
Leaf gutter guard plastic mesh
Heavy duty stapler with staples
Ebony stain
Miter saw
Jigsaw
Circular saw
Power drill with drilling and driving bits
Bat stencil
White craft paint
Lint-free rags
Scissors
Measuring Tape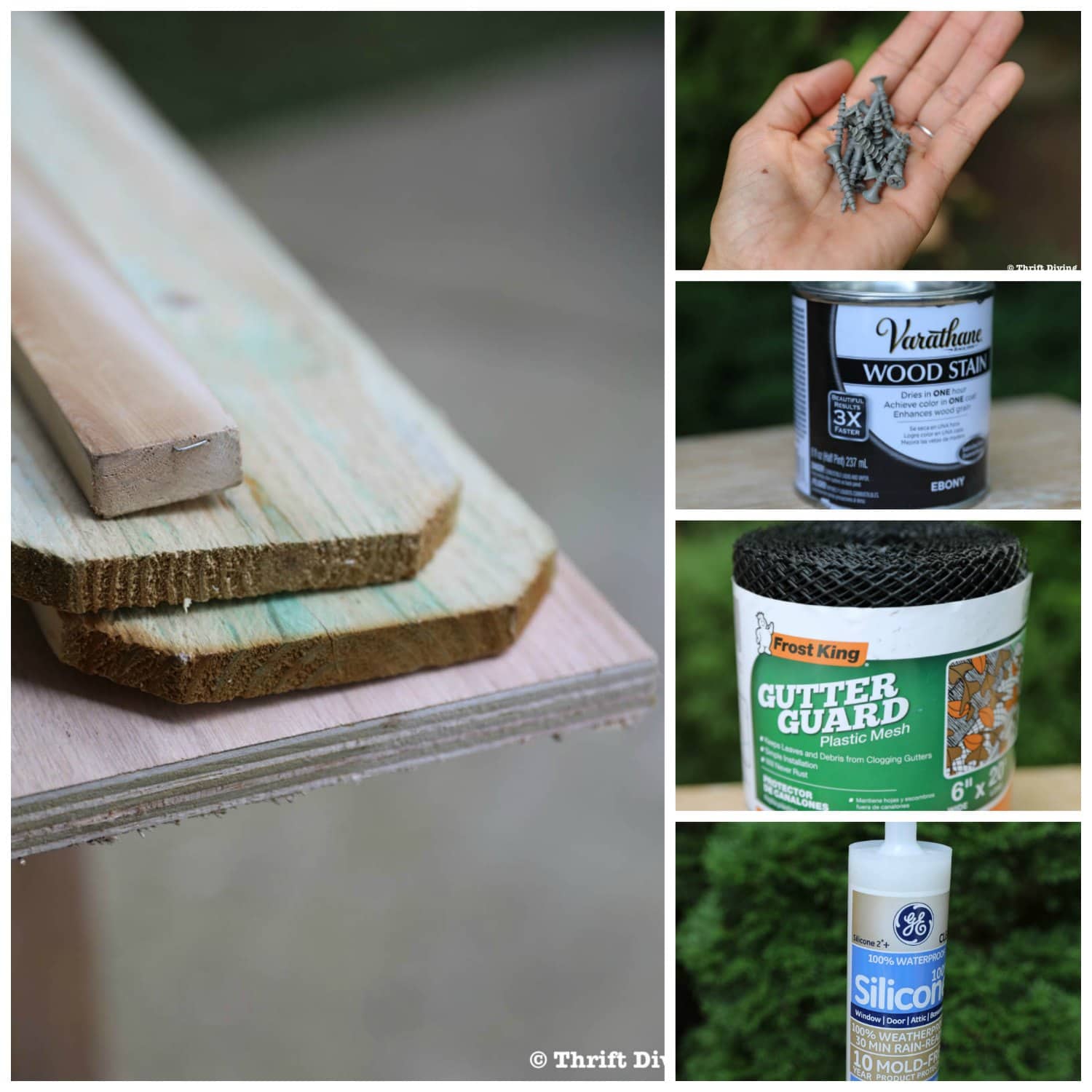 STEP 1: Measure and Cut the Wood for Your DIY Bat House
For this project, Kwabena, my 12-year-old, was the "measurer." Although kids learn in school how to measure, I don't think they actually get to use it in a real-world setting! (Am I right??)
I was pretty excited to see my "baby" learning how to use a tape measure and how to draw straight lines.
Here are the measurements and cuts we made:
15″ x 34″ red oak plywood which will make up the back of the bat house.
6 pieces of 15″ cedar boards cut from the cedar fencing boards.
2 pieces of 1″ x 2″ x 4″ (we just cut the 1″ x 2″ x 8″ in half)
3/4″ thick piece of wood 13.5″ long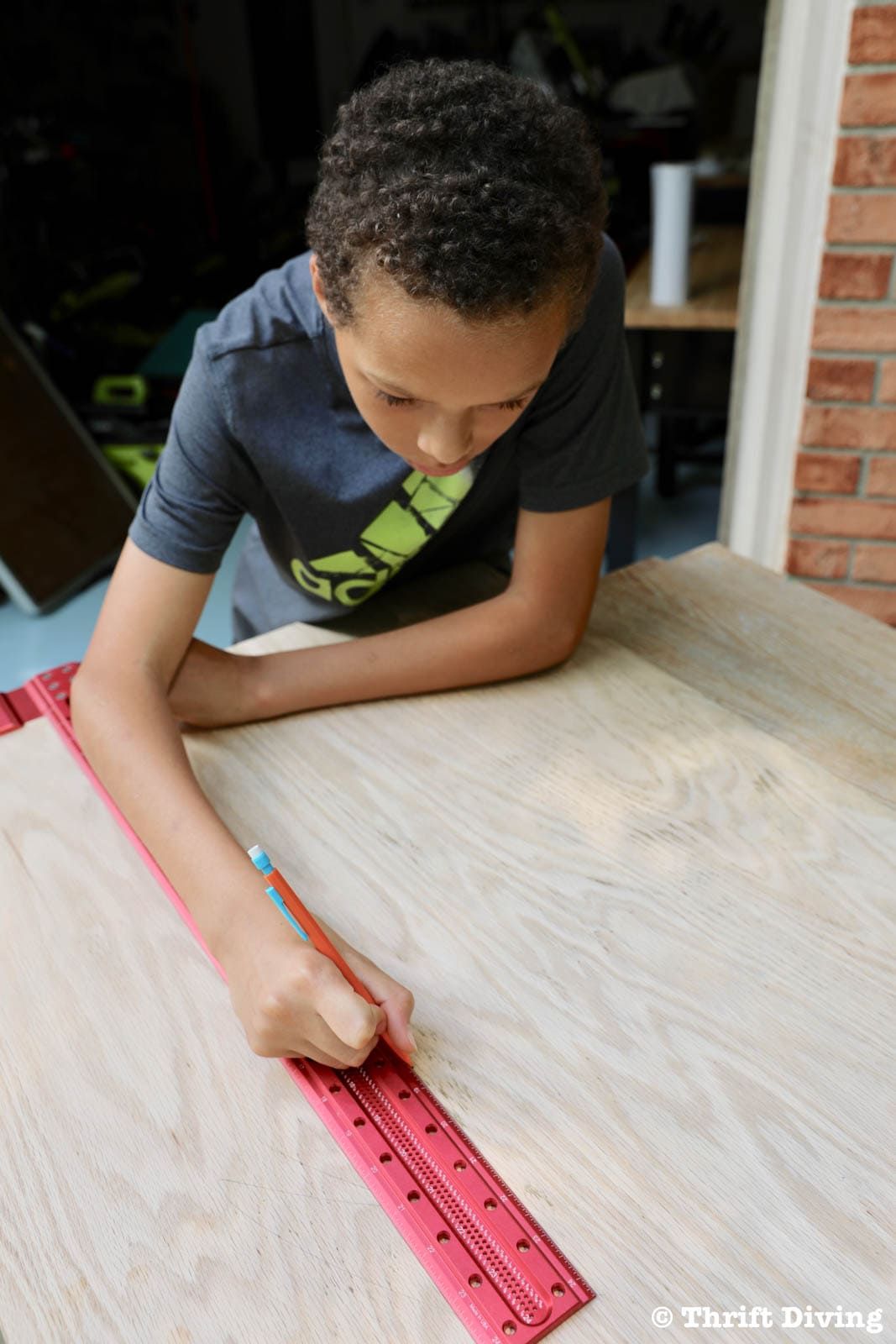 After everything was cut, here were all the pieces ready to move on to the next steps: sanding and staining.

STEP 2: Sand All Wood Pieces Smooth
Every cut piece of wood should be sanded smooth. Ohene was the sander! Using 150-grit sandpaper, he smoothed out all the edges of the cut pieces of wood for the bat house.
STEP 3: Stain the Interior of the Bat House Ebony or Dark Brown
Kojo, my 6-year-old, told me that he doesn't really like doing projects except for the staining and painting parts. LOL. That was tragic to my ears, but I was glad there was at least some part of DIY that he enjoys! He truly gets excited whenever he sees the stain and paints in front of him.
The interior of the bat house needed to be dark brown or ebony so that the bats are kept warm from the morning sun during the day. I read that it's best to hang your bat house 12 to 15 feet from the ground (so that bats have enough clearance to drop before picking up flight). And the south-east location, along with the dark stain, retains a lot of that morning heat.
STEP 4: Do You Want a Sloped or Straight Bat House Roof?
I love the look of bat houses with a sloped roof. To create that look, I cut the sides at a 10-degree angle, I cut one of the long sides of the roof cedar board at 10 degrees, and one long side of the front cedar board at 10 degrees, in order to create this sloped look. It's best to bevel the edges before applying the dark stain.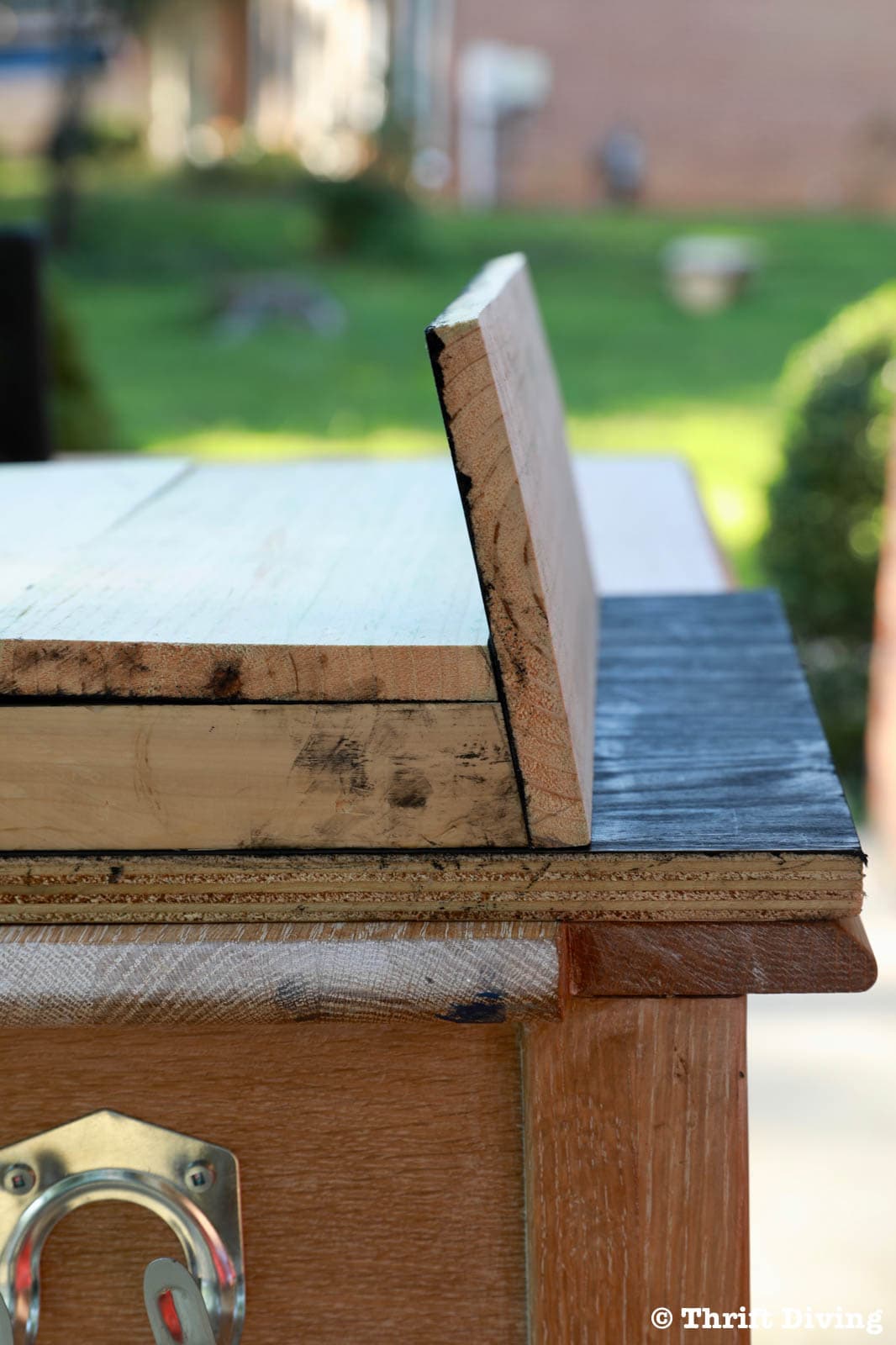 STEP 5: Attach the Gutter Guard Mesh
The project instructions at Science Fair Central call for gutter guard mesh and staples. Although we followed those directions, I was a little concerned that the plastic mesh and staples could tear fragile bat wings. Next time, I'd likely use a fiberglass screen and find another way to secure the screen, just in case a staple would loose or a piece of plastic was too pointy.
But definitely, the bats need something to latch on to in order to climb up into the bat house. Whatever material you use, be sure it's securely in place.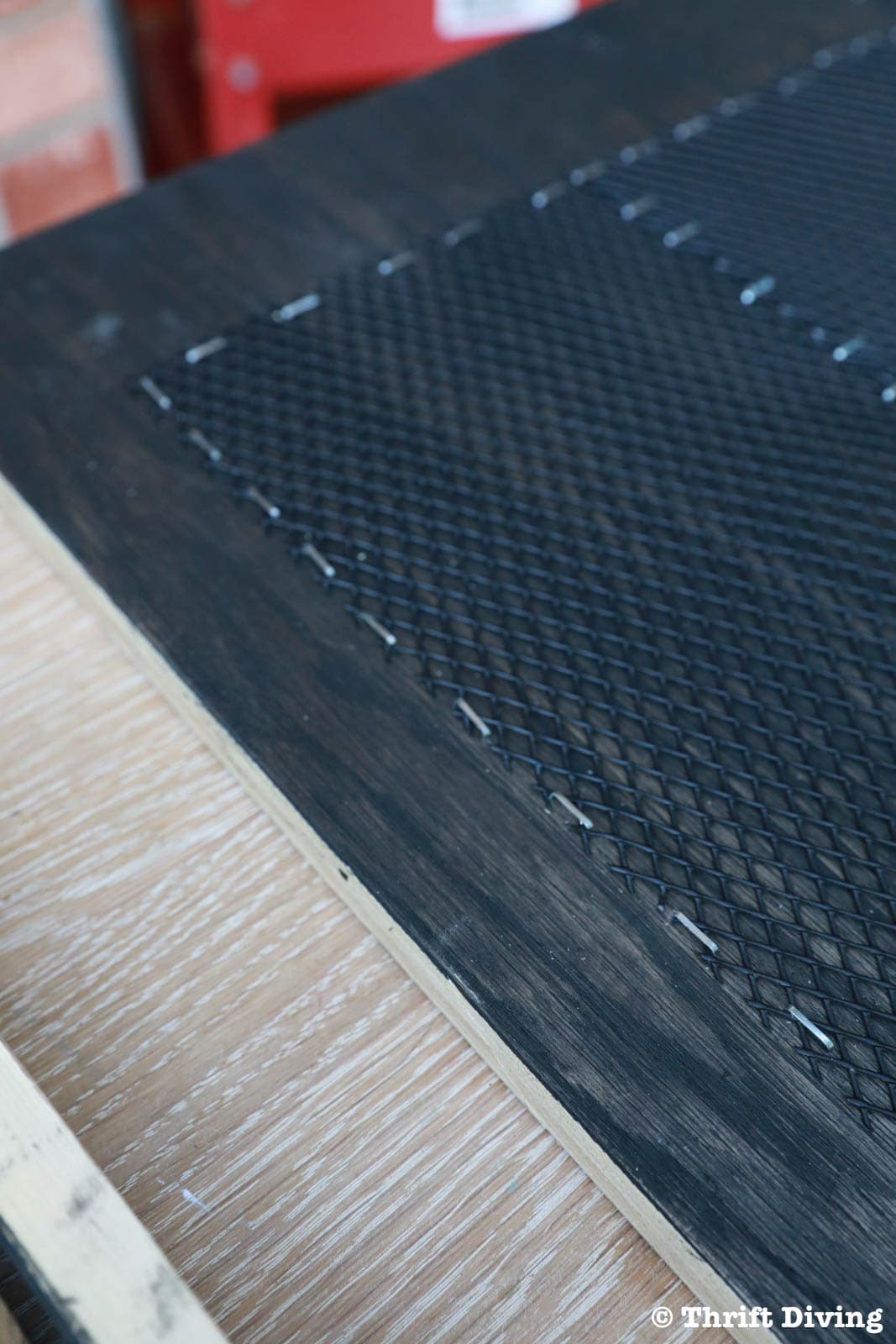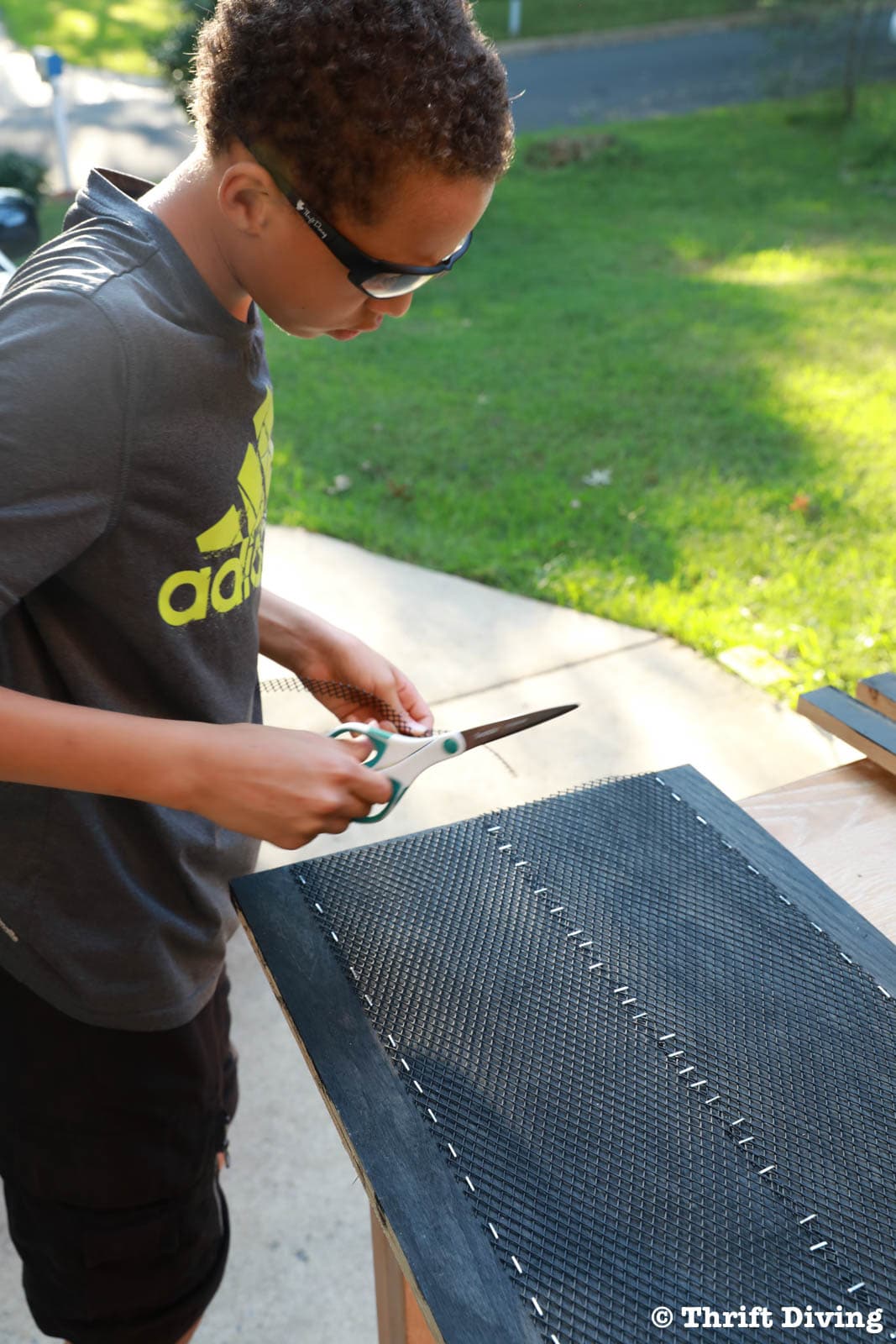 You'll also need to attach the mesh to the backside of the front cedar board pieces.
Very Important!
Bats need ventilation in their new bat house. So be sure to leave a 1/8″ to 1/4″ space between the bottom and next to last cedar board pieces which comprise the front of the bat house.
Leave that spacing when attaching the mesh. I also added some caulk between the cedar boards to keep out moisture. Next time, I would leave the caulk to the end because getting the caulk caused some of the stain to not adhere.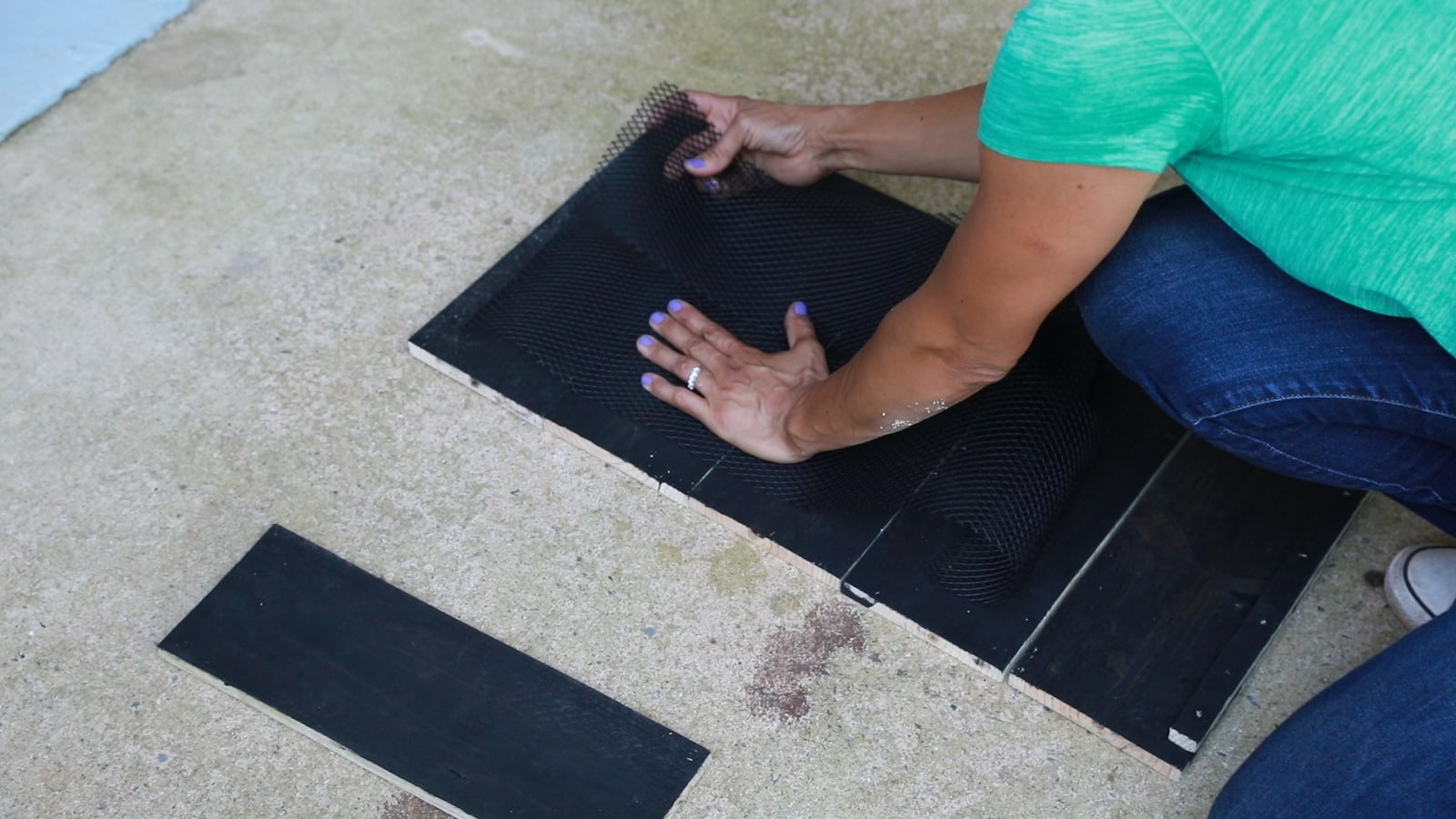 STEP 6: Keep Out Predators!
Next, you'll want to glue or nail that 3/4″ thick piece of wood to the bottom cedar board on the front. This will help to create a smaller opening in the bat house and prevent predators from disturbing the bats!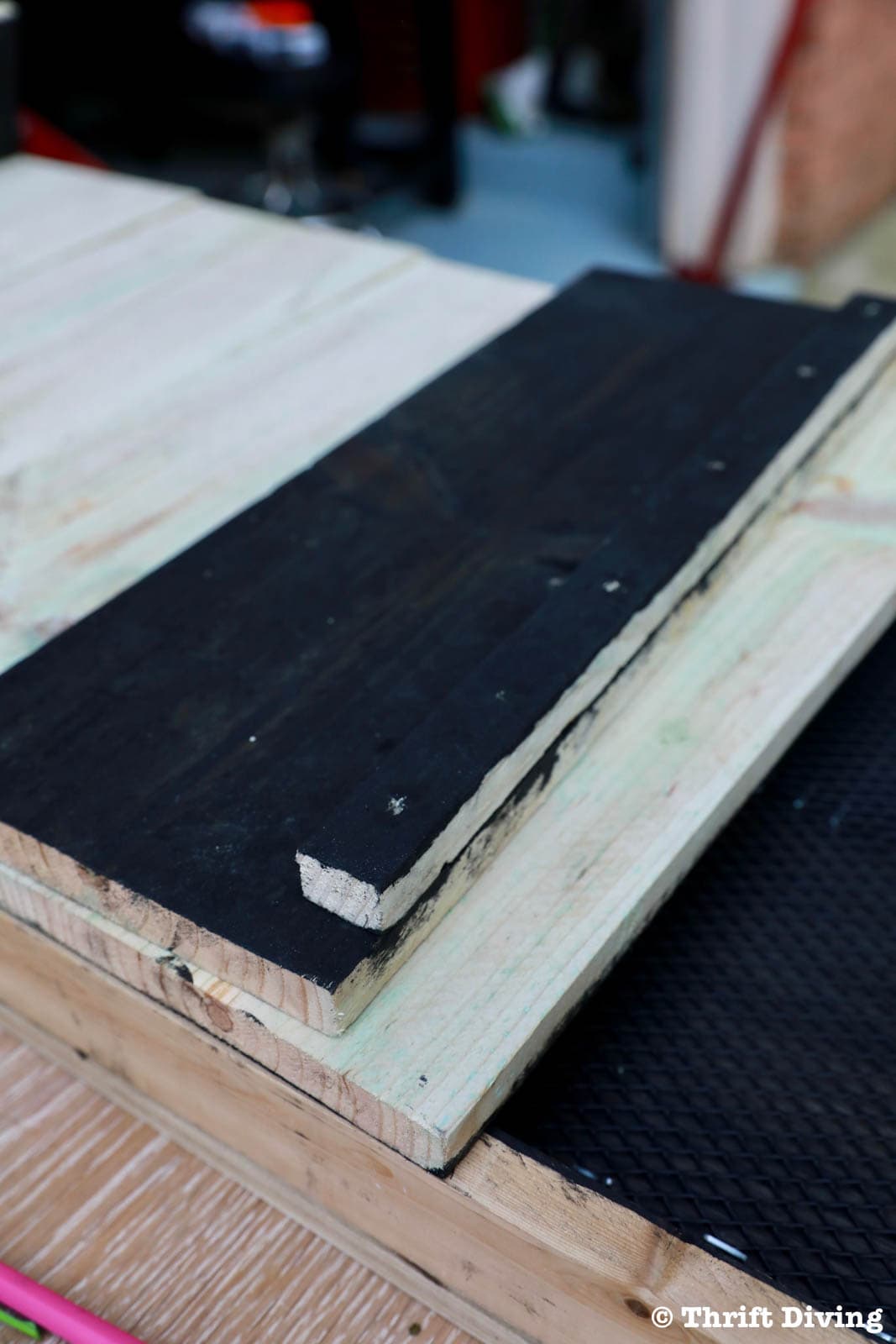 You can see below how the opening is smaller–just enough space for bats to squeeze through, but not squirrels or other predators (or so we hope!).
STEP 7: Screw the Bat House Together
You'll want to use those exterior screws to assemble the bat house because this thing will be hanging outside in the elements. We don't want rusty screws or having it fall apart.
Before screwing it together, though, make sure you caulk along all the seams first. The bat house needs to be water resistant.
***Just remember, wherever you caulk, the stain won't adhere to that portion of the board, so don't make a total mess with it. Wipe up whatever caulk you can.
You'll also want to drill pilot holes, which are little starter holes, especially when dealing with cedar. There's nothing worse than building something with cedar, only to drive in a screw and–ccccrracccckkk!–your delicate cedar splits!
Trust me, we had a couple of incidents with this project. That's experience talking right there…. 😉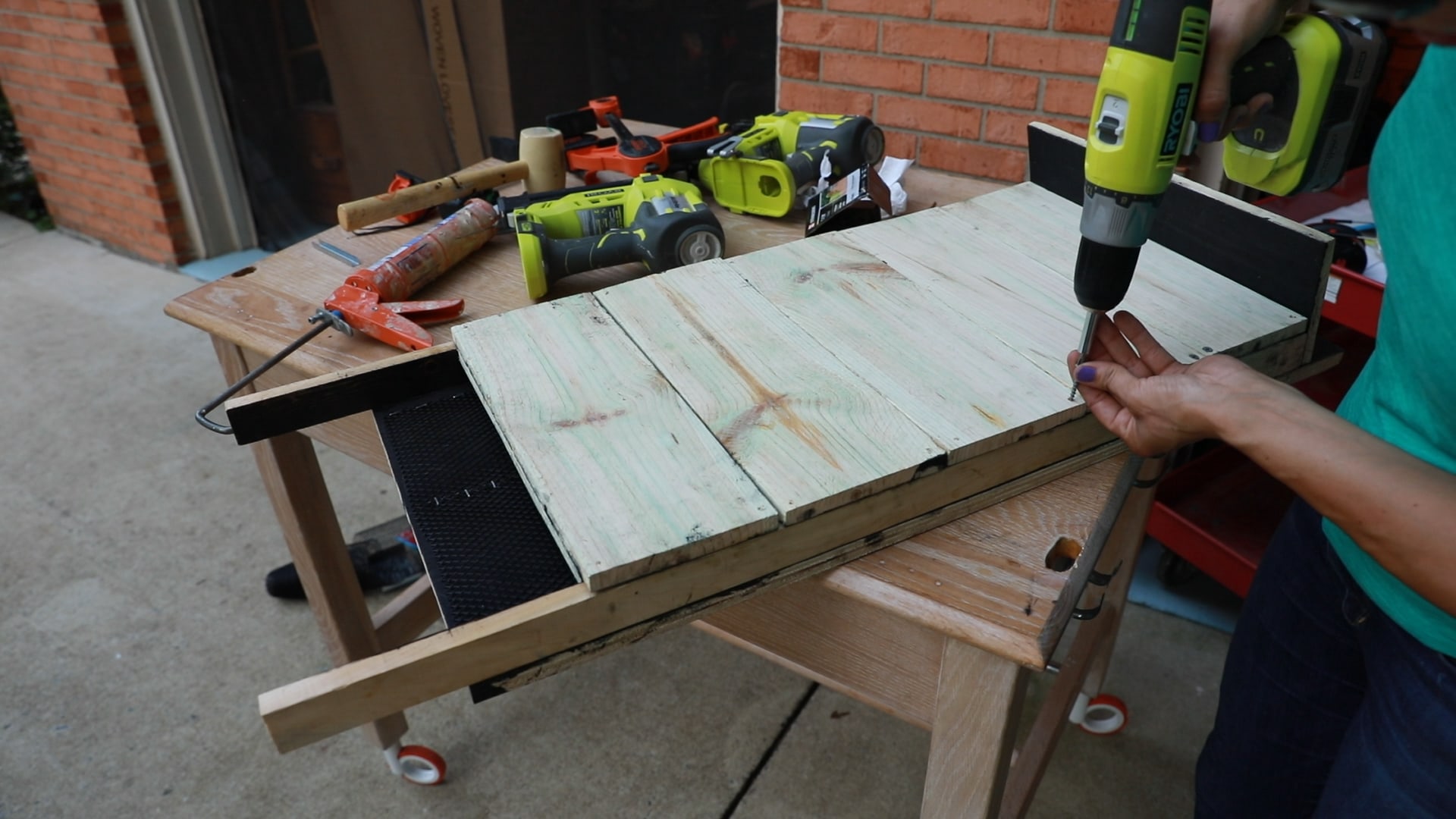 The legs will likely be a little too long, as you can see above. You can cut them flush with the bat house, using a jigsaw.
STEP 8: Sanding the Bat House
It's good to give the bat house another sanding. I used my orbital sander, but 220 grit sandpaper by hand will work just as well.
STEP 9: How Are You Hanging Your Bat House?
I'll admit that I struuuugggled with this step, my friend! I had done enough research to know that bat houses are best hung from your house 12-15 feet off the ground, but I didn't know how in the world this one was going to be attached. I won't lie–I even considered a mighty strong hook and loop tape. HA! That's how desperate I was.
Finally, I decided that the strongest method would be cutting and attaching a french cleat, just like how I hung my fence garden planters.
You can see below, with one side of the french cleat attached to the back of the bat house, and the other side hung on the house, this could work.
I glued the french cleat, then secured it with exterior screws.
STEP 10: Stain and Stencil the Bat House!
We went with a dark mahogany stain so that the bat house heats up nicely during the day. But we also wanted a nice bat stencil on the front! I used my Cricut cutting machine to add a bat stencil and Kwabena helped me stencil it. You should have heard him squealing as we peeled it away! OMG, that was super cute. He was so pleased it turned out, as I am, too!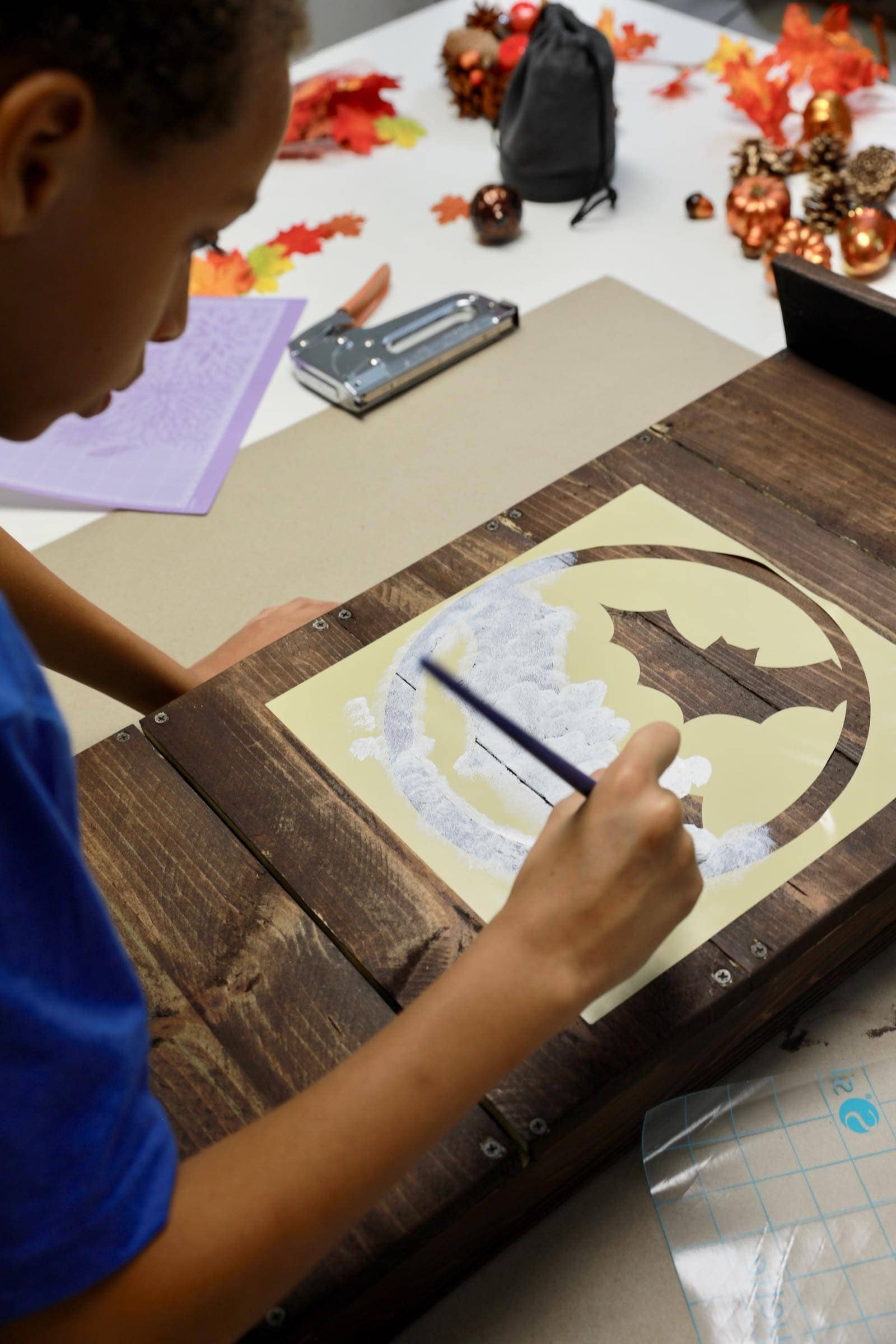 Rustic DIY Bat House!
I call this "rustic" because the wood definitely didn't stain us as nice and beautiful as I would have hoped, but we really do love it!
Typically, bat houses shouldn't be hung on trees, so this one here is just hanging so that I could snap a lovely little pic of it! 😉 Bat houses hung in trees expose bats to predators, such as owls, squirrels–you name it. So it's best to hang it on your home or a pole 12′ to 15′ high.
We will need to hire someone with a really tall ladder to come and install our bat house! I tried climbing up our 16-ft ladder but it totally wasn't tall enough and wasn't going to work. Plus, it was dangerous. So be extra cautious when installing a bat house and when in doubt, call in professionals who don't mind climbing up obscene feet into the air.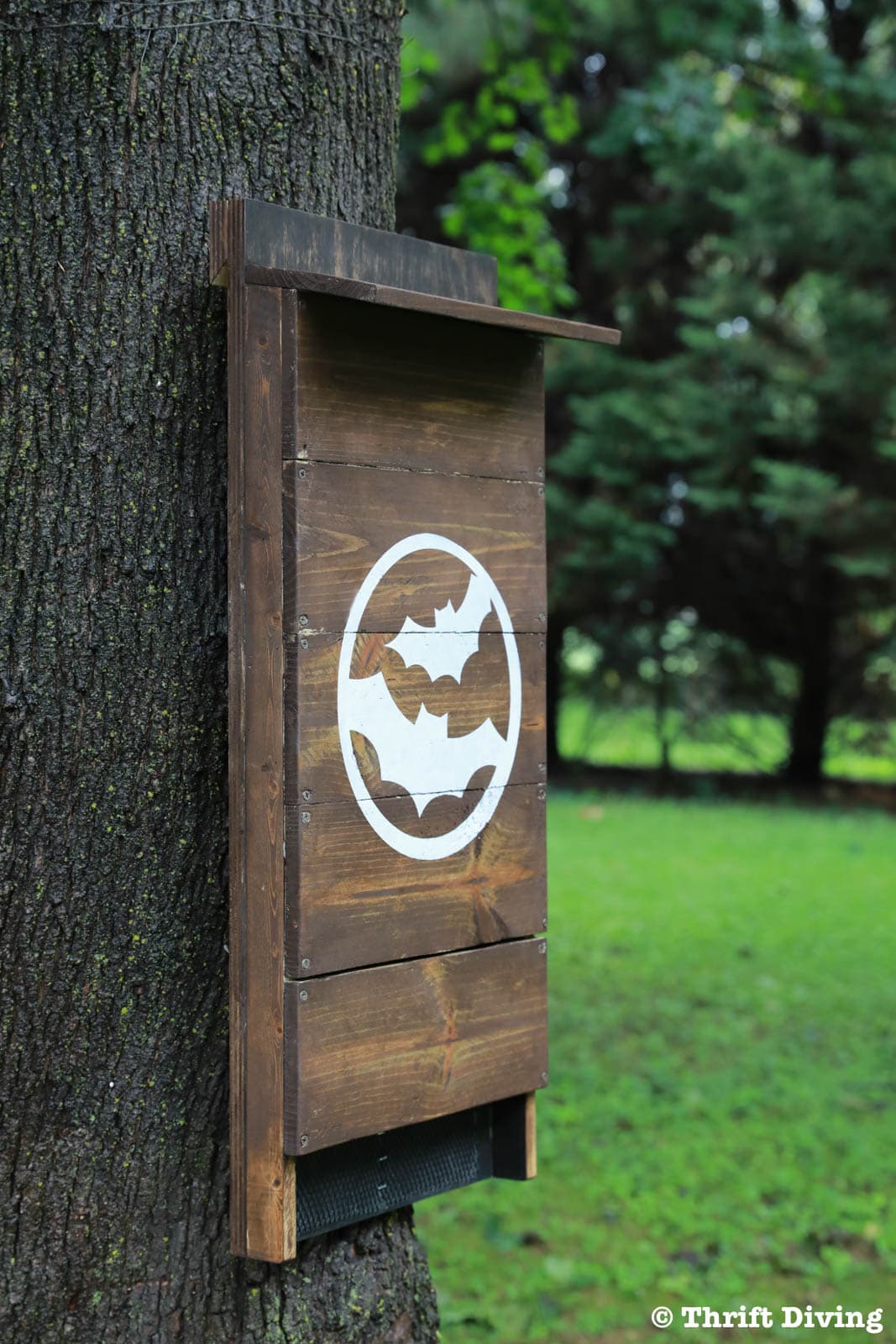 Other Stuff You MUST Know About Installing a Bat House
I'm serious when I tell you that I have been researching bats for weeks! Didn't matter if it was 2 a.m. and I was wide awake with heartburn or if it was a lazy Sunday morning. 😉 I feel like I have my PhD in "batology" now. HA!
It can take time for bats to discover their new bat house. They'll often start seeking shelter in the spring, so it's best to have your house up and ready for bats by the spring.
Single-chamber bat houses are likely to be inhabited by a limited amount of single male bats. If you'd like to attract lots of moms and baby bat pups, build a multi-chamber bat house (the one we built is a single-chamber bat house).
You might want to consider attaching a "pup catcher" which is a bit of mesh that is located below the bat house in order to catch babies that may fall out when learning to fly.
Bat houses must be 12-15 feet in the air in order to have enough clearance for them to drop and then take flight.
Wherever you place your bat house, remember that bats poop. Guano is what it's called when it builds up. Don't install your bat house anywhere where you'll be complaining about having to clean up after the bats, like over patios, windows, or walkways. I plan to install mine over an area that is mulched. It's actually considered great fertilizer.
Research the area you live in and what color to paint your bat house (or stain it). Very warm areas will require different colors compared to cooler climates.

Do you love this DIY bat house? Click here to save it!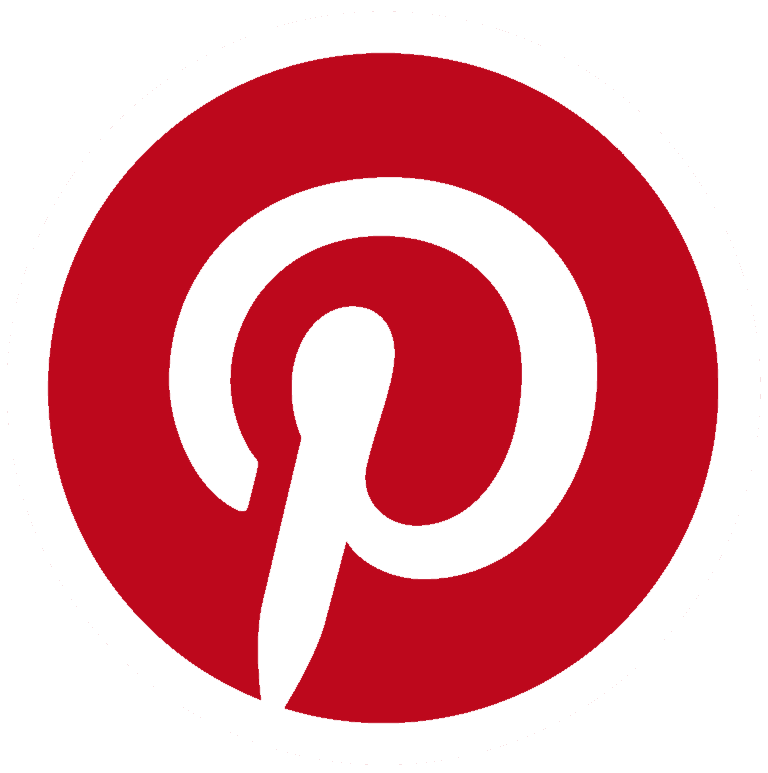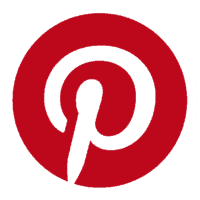 Overall, this was such a fun project to do with the kids! And I'm also stoked about the possibility of reducing the insane mosquito population around our property! While it's a bit too late this year to attract bats to it, we will be ready in the spring! Guaranteed.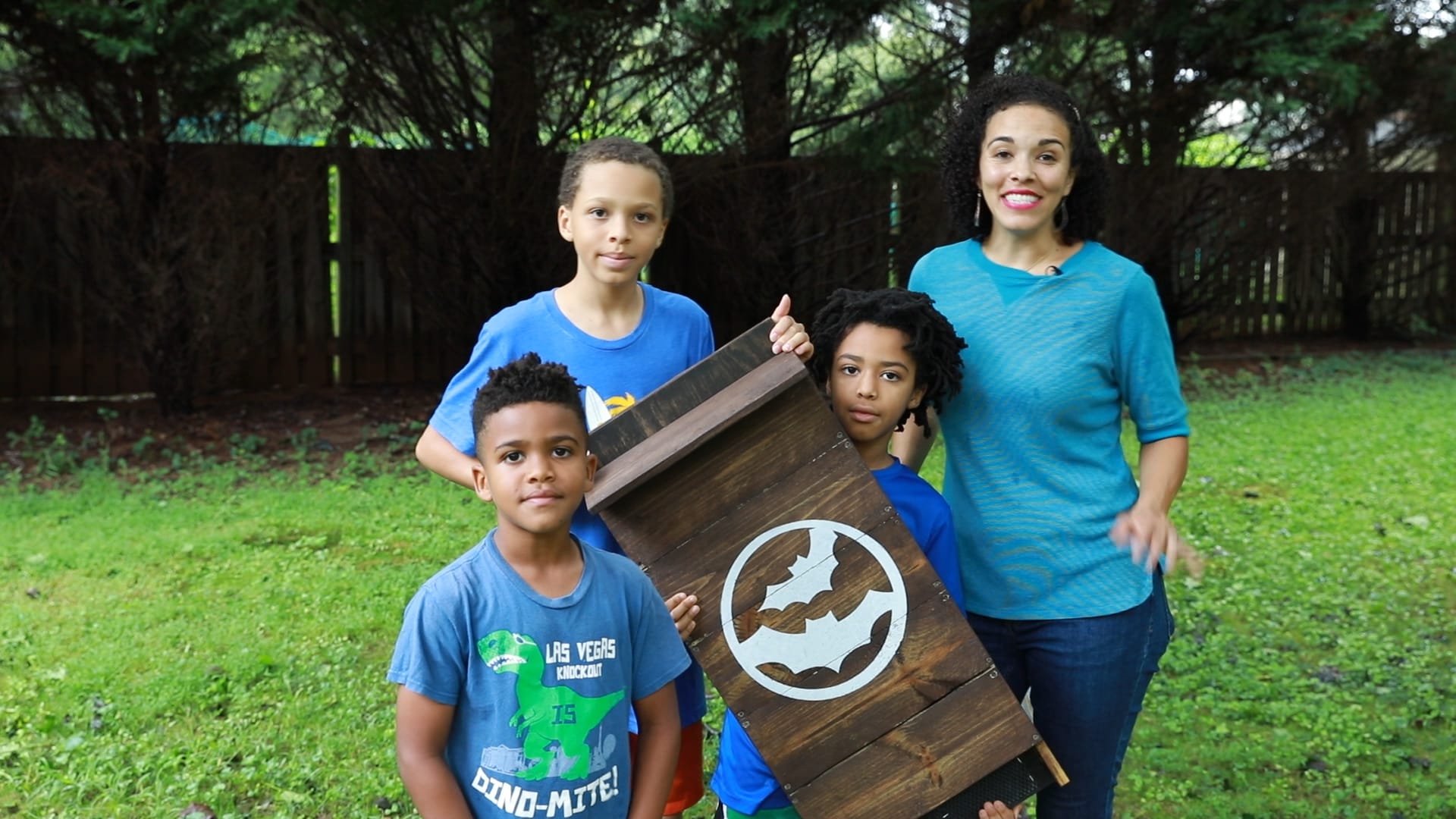 For more awesome science, technology, engineering, art, and math projects for kids, be sure to head over to Science Fair Central for projects that kids will love! Also, a big thanks to The Home Depot for sponsoring this fun activity!
So are you ready to build a DIY bat house with your family or grandkids? Leave a comment below and let me know if your home could benefit from this eco-friendly project!

I acknowledge that The Home Depot is partnering with me to participate in the promotional program described above (the "Program"). As a part of the Program, I am receiving compensation in the form of products and services, for the purpose of promoting The Home Depot. All expressed opinions and experiences are my own words. My post complies with the Word Of Mouth Marketing Association (WOMMA) Ethics Code and applicable Federal Trade Commission guidelines.
Download the 5 freebies!
Thrift Diving inspires women to decorate, improve, and maintain their home themselves...using paint, power tools, and thrift stores! Use these 5 printables, checklists, and ebooks to get started!