Unique Thrift stores are a huge opportunity to outfit your home and life without committing what I refer to as "financial suicide." There's a huge Unique Thrift near me here in the DC metropolitan area of Maryland, with an adjoining Value Village housed under one warehouse-sized roof.
I kid you not when I say that 95% of my home furnishings have come from Unique Thrift and Value Village: my dining room table, my china cabinet, my son's desk, and more. Let's just say I know how to find me a good deal. And Unique and Value Village make it super easy because their inventory is the best!
If you're just getting started (or just interested in adding a few more tips to your thrift store repertoire), I've got you covered. Keep reading, my friend!
How do you get the best deals at the thrift store? How do you know what to look for?
Let's chat about that, shall we?
Click here to SAVE these tips on Pinterest.
1. Never take "SOLD" as an answer.
Just because it has a "SOLD" sticker on it doesn't mean it's always "SOLD." Customers change their mind often. I can't tell you how many times I would get a sales ticket for something and then change my mind and just leave.
If you find the most perfect thing, don't be afraid to ask if it's really sold (just don't border on being stalker-ish and annoying).
Twice it's happened to me that something was marked SOLD but I ended up getting it. One item was a $30 foyer table, and the other was this $60 thrifted dresser that's in my bedroom!
I drooled over it the moment I laid eyes on it. There was a huge "SOLD" sticker on top. No one could tell whether the customer had paid or not. Long story short, they wouldn't sell it to me. I came back at noon the next day to see if the customer had come to collect the dresser, and—[insert musical harp here]—there it was! No "SOLD" sticker! I bought that dresser so quickly, then wiped the drool from my lips.
BEFORE
AFTER!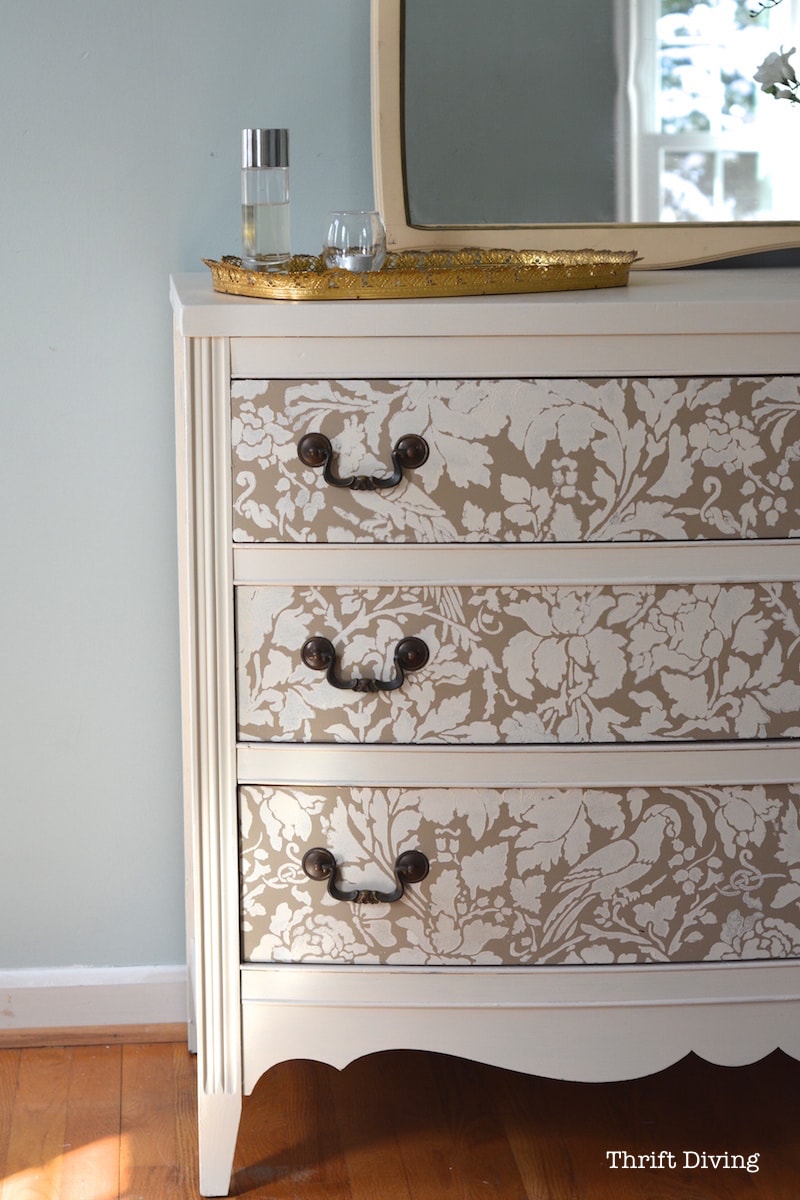 2. Always ask for a discount. Always.
This doesn't always work. My thrift store is pretty solid with their prices, but hey–you never know. When I bought my awesome vintage drafting table for only $30, they were doing some "flash" 50% off sale that only lasted for 30 minutes. Just my luck I should miss it by 15 minutes. But I simply asked them to include the drafting table in the 50% deal, and–score!–they did! (And can I just add that I later found that the drafting table had sold for over $300 on eBay?? Just sayin').
I love having this drafting table in my pretty basement office!
3. Tag along with your "frugal" friends.
You know the saying: "Birds of a feather flock together," which means, in DIY-speak, "You ain't the only cheap person in your circle!" I bet your friends know of some pretty awesome thrift stores. And you haven't even asked them. I'm quilty of this!! You may even organize a thrift-diving day-trip with your friends and just spend the day hitting up all your favorite thrift shops.
4. Get social (and emails!)
In the age of social media, nearly every business has a mailing list, a Facebook page, and a Twitter account. Yes, even thrift stores. At my favorite thrift store, email notifications are how I find out when they're featuring a "50% off at the thrift store" special sale.
5. Sign up for a "store card."
Find out if your local thrift store has a "Value Card" or customer appreciation card. For the longest time I didn't realize that my Unique Thrift and Value Village had customer appreciation cards. Usually there are special days where customers with the card save extra. I have scored some major stuff for next to nothing because of this deal. And don't forget to see if they've got some special stamped cards! Unique and Value Village give out punched cards with percentages off based on the number of bags you donate at curbside. Each time I make a donation, I walk away with a 30% off coupon punch card!
Unique Thrift and Value Villiage typically have the following sales days:
Mondays: 20% off the items they've selected, not the entire store. Each week the sales items change.
Tuesdays: Seniors 55+ save 25% off everything
Wednesdays: No discount
Thursdays: 20% off
Fridays: No discount
Saturdays: No discount
Sundays: Typically no discount, but if it's the Sunday before a major holiday, they'll usually do 50% off the entire store.
Holidays: 50% off the entire store (Holidays such as Columbus Day, Memorial Day, etc.)
6. Throw some elbows.
Sometimes you'll just have to fight for your awesome discovery—you found it first! I call them thrift store vultures. And I'm sure that I've been one a time or two. LOL. When I found my dining room table for only $12, the table was buried under a pile of toys. No one saw it but me. I cleared the clutter, and while it sat there in all its glory, there was a woman shaking it, testing its fitness, like, "Wow!!" I quickly said, "Oh, this table is already SOLD!" Funny if she had pulled the "Never take 'SOLD' as an answer" move back at me! 😉
I later sanded it and restained it and it was the best $12 ever spent!
7. Be-friend the staff
Make friends with the staff. They know the inventory; they can hold things for you; they can contact you when things come in that they know you've been looking for. The people at Unique and Value Village may not know my name, but they surely know my face! LOL
8. Look it up….with caution!
When you're thrift diving, use your cell phone to look up name brands of items you like, to see if what you've found is a great deal. But here's the catch: don't just buy it because what you found is valuable and you're finding it at a cheap price! I've suckered myself into doing that too many times to count.
I once made the mistake of doing that with this Vintage Victrola that I bought from the thrift store for (gasp!) $150 (which was the most expensive thing I have ever bought from there).
I bought it just because it was, like, $400 on eBay.
And my mind said, "You can sell it for a profit!" Um, no.
It sat in my garage, taking up space, collecting dust for years. I actually just ended up redonating it during a Salvation Army pickup. Sigh….
I also stupidly did this with a commuter bike–surprise!–which was such a great deal (insert sarcasm) according to my Google search. HAHA
I ended up paying $100 for it at the thrift store (!!!!), only to get it home to find that the handlebars were locked and couldn't turn.
Slap me now. You have my permission…
I also had found these awesome thrifted Cole Haan shoes, even though I had no idea who Cole Haan was. But they looked expensive, and my cell phone searched proved they were worth to buy, despite the fact that I don't wear a size 8. HA! They were only $7.94! And super cute. Or so I thought.
My friends told me they looked like old-lady sandals and I couldn't even give them away! Lesson learned is that it doesn't matter if something is expensive. If nobody wants it, it's not valuable.
9. Shop for solidly constructed wood furniture.
If you're buying furniture at the thrift store, buy items that are real wood and not particleboard. Or items that have amazing grain and are heavy, solid pieces of furniture that will last for years to come. I love how solid furniture feels! And getting it for such a great price–it's enough to make you literally squeal.
I had picked up this mid-century modern dresser for about $25 at Unique Thrift because it was heavy. I didn't imagine that all that amazing wood grain was underneath there until I stripped it away. What a great find!
10. Beware the hoarding bug!
I've always been a proponent of hoarding. :).
My motto was, "If you love it, buy it!" Even if you didn't have an immediate need for it. Because if you find something you love, I guarantee you that someone else will come along that loves it as just as much as you do. The next day it will be gone.
But because I have lived by that motto, this is what happened to my garage over the years:
No one should live such a cluttered life! It starts to weigh on you and causes anxiety whenever you think about the mess!
Stick with buying only the things you absolutely love and literally can't walk away from.
And make sure you've got a purpose for it immediately. If you buy something you plan to use in…..ohhh…..4 months, I guarantee you won't use it for 4 years.
If you aren't using it immediately or aren't planning to paint or refinish it in the next 7 days, keep it movin', sister!
Other Posts You May Love
What Are YOUR Favorite Thrift Tips?
Have you picked up any favorite tips along the way? Leave a comment below and share!
Click here to SAVE this post on Pinterest.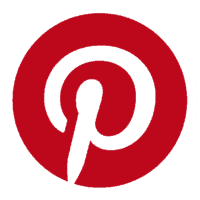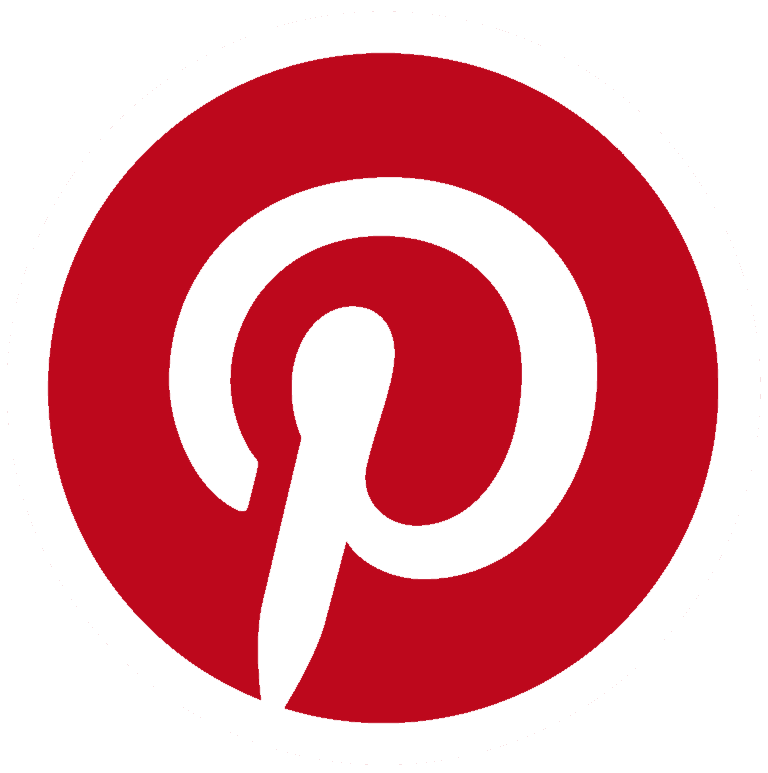 Download the 5 freebies!
Thrift Diving inspires women to decorate, improve, and maintain their home themselves...using paint, power tools, and thrift stores! Use these 5 printables, checklists, and ebooks to get started!