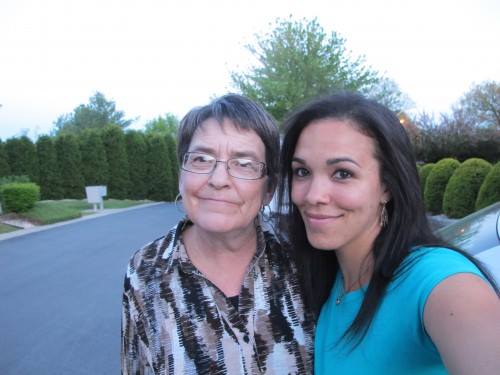 Mother's Day poems are a great DIY gift idea because they're so personal, aren't they?? As much as I love electronics and other store-bought (or thrifted!) gifts, there's nothing like the gift of poetry!
I like to pick up frames from the thrift store for a couple dollars. And if you use high-quality paper (think resume paper!) and then frame a poem in a thrifted frame, I guarantee you it's a gift that any Mom would remember!
Here's a Mother's Day poem I wrote for my mom a few years ago, which I framed and is hanging on her bedroom wall.
A Mother's Day Poem
Thank You

When one's child becomes a parent,
It opens up many memories and doors,
Thoughts, feelings, and gratitude,
Surface that were never present before.
Reflections ensue,
And "ah ha" moments come to light,
Such as the endless depth of unconditional parental love,
And the tireless effort to always do right.
Like when rations are tight,
But leaving nothing for yourself,
Ensuring your child's belly is warm and full,
Because the importance is on their life and health.
Like respecting your child to make,
Decisions on their own,
And reinforcing and encouraging them that,
Their life should always set its own tone.
These are the things you did for me,
And the things, for my own, I will do.
There's nothing as great as the unbounded love of parenting,
And for that, and everything, I say, "Thank You."
Happy Mother's Day!!
Here's a version you can save on Pinterest!
If you like this gift idea, check out some of these other DIY gift ideas for Mother's Day and other holidays!
How to Make a Gift Box Out of Scrapbook Paper
10 DIY Gift Ideas That Won't Break the Bank

Download the 5 freebies!
Thrift Diving inspires women to decorate, improve, and maintain their home themselves...using paint, power tools, and thrift stores! Use these 5 printables, checklists, and ebooks to get started!