5 Things You Should Recycle From the Thrift Store
My love of thrift stores is three-fold: not only do I love finding a diamond in the rough, but they also help me decorate my home on a DIY budget, and to live a greener lifestyle. I'm not super crunchy, but I try to do my best to recycle when I can. Just imagine if all the stuff that people didn't want ended up in landfills. Suddenly we'd be swamped with trash like Earth in that Disney movie, Wall-E, and we'd all be forced to start over on the moon or some other unscathed planet. HA!
So it makes me so excited when I see new products hit the market that support recycling and making our environment more green! I like supporting these products.
I wanted to put together a post to honor green living, my friends. I wanted to share my favorite 5 things to buy from the thrift store to support a green environment (some of in which you can actually use the Eco Advanced batteries without guilt!). Actually, there are a ton of things to buy at the thrift store, but here are my favorite 5.
1. Clocks
As much as I love clocks and how simple they can be to make a bare wall feel less bare, would you believe we haven't hung a clock for nearly 4 years? I'm still drawn to them, though, and am always looking for cool ones, like this vintage clock I had scored.
When we moved to this house, we just started using our phones, microwave clock, and stove clock. But I wanted a clock for my new basement office for when I am doing projects and I can easily glance up and see what time it is without having to spread paint everywhere.
I went to the thrift store yesterday to see what they had on hand (25% off–yeah!), and wouldn't you believe they had the perfect clock just waiting there for me?? I wanted it the moment I saw it.
I loved the metal surrounding the dials, and thought it would compliment the wall chain art hanging up over my drafting table:
TIP: When buying clocks from the thrift store, you should carry your batteries along in various sizes to ensure the clock actually works (before you buy it), as most thrift stores won't do refunds (maybe only exchanges). You don't want to waste your money.
TIP: Although the hands may start moving when you insert a fresh battery, walk around the thrift store for at least 15 minutes and then see if the clock is showing the correct time. If the hands have fallen behind, the clock doesn't work properly. Considering another clock, make your own, or replace the hands!
I took the clock home and hung it up in my new pretty basement office and craft area that I just completed, and I love it!
Here you can see how well it goes with my DIY chain wall art! Maybe I can also use it to teach my 5-year-old how to tell time :).
2. Dressers
Dressers are a dime a dozen at the thrift store (at least they are at my thrift store!). And it's one piece of furniture that everyone in your house will need, so you can justify buying multiple of them ;). This amazing dresser here I had found in 2012 and it sat in my garage for a whopping 2-3 years. I'm making over my bedroom for March and knew it was the perfect time to paint it. I just completed it last week!
P.S. Don't miss the bloopers part! 😉 For some reason I couldn't say "brush strokes" and kept saying "breast strokes." HA!
BEFORE
AFTER!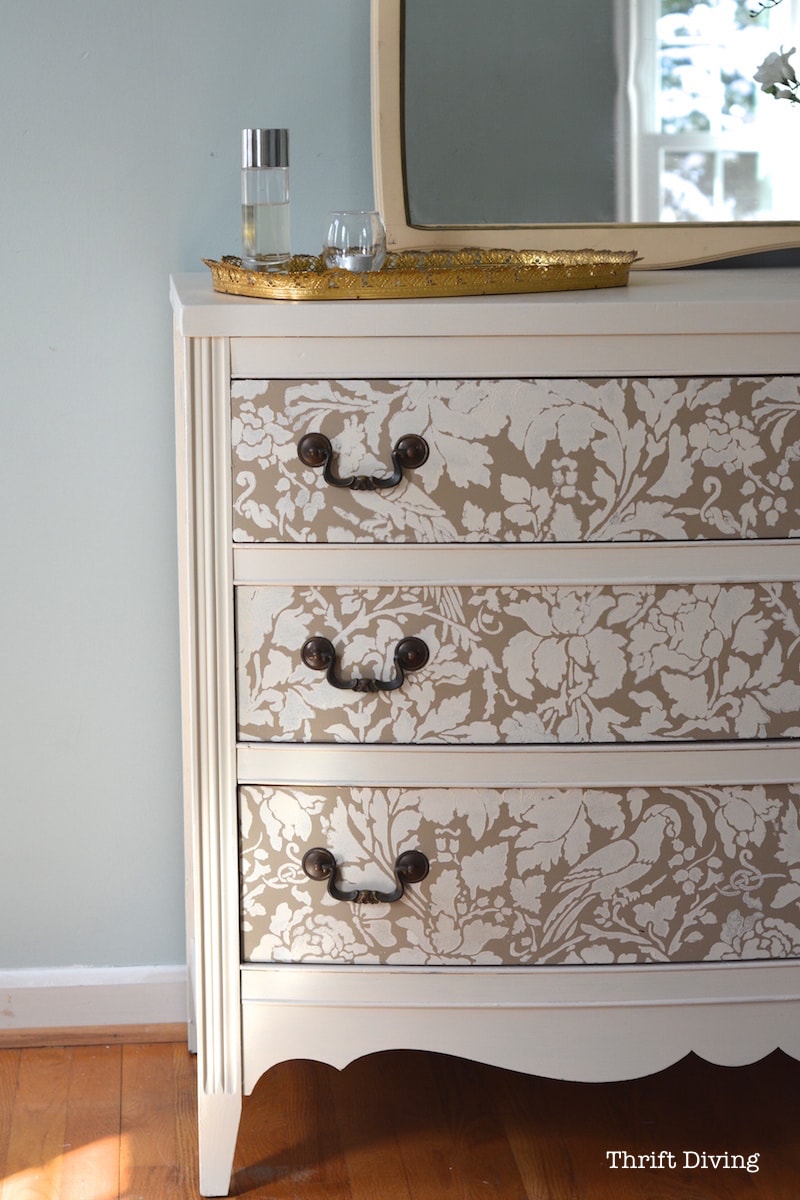 3. Children's Recycled Toys
Before I started having kids, I used to joke that when I finally gave birth, I would take my kids to the thrift store and their "treat" would be to buy them 10 cent bag of toys. HA! Here it is 10 years later and–by golly–I hadn't called it more accurately! That's exactly what I do. Only now, those bags cost $1.00 – $3.00. Inflation……
Kids' toys at the thrift store are so unbelievably cheap compared to buying them full price. Often times, they're missing small pieces or may be a little dirty. But if you look for the right ones, you'll be surprised you can find a good deal. Kids love recycled toys!
When looking for toys at the thrift store, be sure to take along some Energizer Eco Advanced batteries to test out whether the toy works. Better to know if it works before wasting money on that Light Saber that doesn't work, or that motorized Batman car that won't move forward or fire missiles! (P.S. This is one of my kids' favorite thrifted toys we bought 7 years ago, and it's still going strong!)
4. Emergency Preparedness Gadgets
Oh, how I love putting emergency kits together…. Give me a recycled metal container from the thrift store, and I'll make it into some emergency preparedness kit! A couple months ago I put together a car emergency kit. By using one of the metal boxes from the thrift store, you can easily create kits without spending a lot of money. Flashlights, knives, ropes, lanterns, etc. are easy to find at the thrift store. The rest you can buy from Walmart like I did, including the batteries. And you know they'll hold for 12 years, so no worries about losing power when you need it most.
BEFORE
AFTER!
Toss in some batteries with your thrifted flashlight and supplies and you've got power when you need it.
5. Clothes! (Of Course!!)
You know I couldn't list my favorite 5 things to recycle from the thrift store and not mention clothing! As much as I love browsing regular stores, I find it wasteful to go and buy a whole new wardrobe when there are perfectly good (although ya gotta pick through) clothing at the thrift store. This is one of my favorite designer dresses I scored from the thrift store–some expensive designer named Rachel Pally. Whoever she is, she makes a darn good quality dress! And I think I paid all of $10.00 for it….??
So what does living a green lifestyle mean for you? And, of course, I want to know, what are your favorite things to recycle from the thrift store for a greener environment?? Leave a comment below and add to the discussion!

Download the 5 freebies!
Thrift Diving inspires women to decorate, improve, and maintain their home themselves...using paint, power tools, and thrift stores! Use these 5 printables, checklists, and ebooks to get started!