What's Old is New: Retro Kitchens With Big Chill
It's funny how things are cyclical: hairstyles… clothing… and most definitely home furnishings!
Right now, 1950's, 60's, and 70's home decor is hot, and with good reason: it was a time when things were well-made, right?? There was a certain charm that I think is lacking now with contemporary decor.
Back then, furniture was made of the heaviest, sturdiest wood you could imagine. Probably hand-constructed.
Kitchen appliances were built to last 30+ years.
Heck–even cars were made of heavy steel back in the day!
It's no wonder that those good times have come rollin' back again.
It's easy to refinish many of these vintage items, like furniture and other home decor items, but it may not be the best idea to take Grandma's hand-me-down vintage refrigerator from 1950. The EPA may hunt you down for sucking up all that energy and destroying the ozone along the way. 😉
Going Retro With Big Chill
Thankfully, companies such as Big Chill are recognizing that people are nostalgic for retro kitchens but that can offer modern functionality (and many of the appliances are energy star rated to keep utility bills down!)
Like this kitchen here. Isn't it so cute?? Even though this kitchen is retro with its Big Chill dishwasher and chrome-edged counter tops, it still looks fresh and current, not dated. It's gorgeous!
I could feel very homey here. Even with a red brick building next door and peepers peeking in my windows. 😉
Remember having to defrost your freezer? I remember my mom opening the freezer and after a couple hours or so, we'd be left with a sloshy mess.
Those days are long gone!
It's about classic but with modern functionality!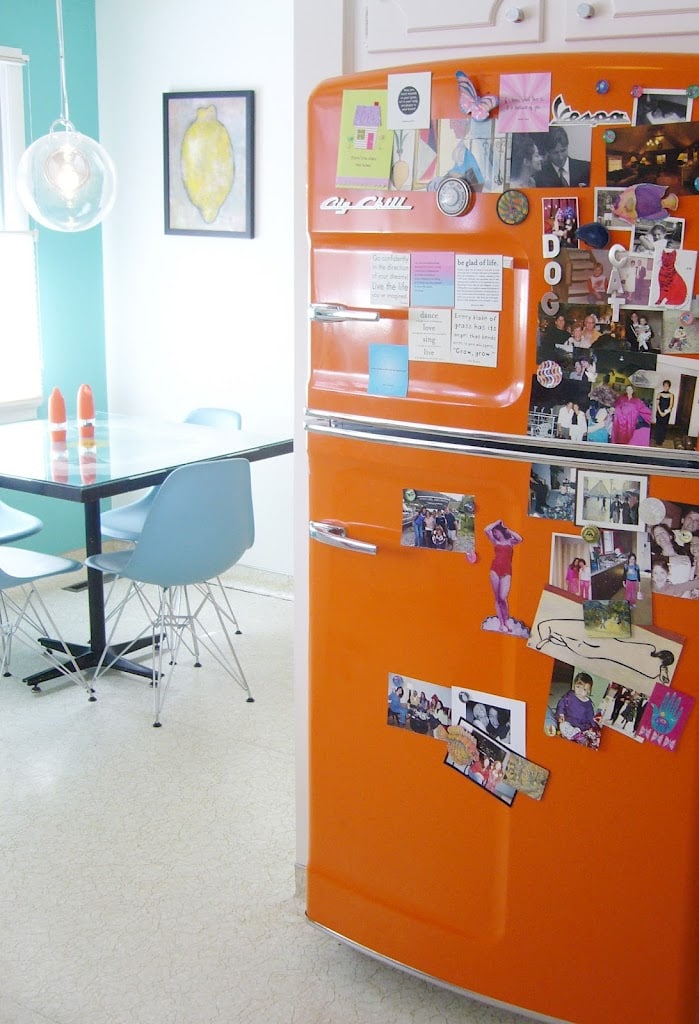 Big Chill also makes microwaves, stoves, hoods, and wall ovens to match your refrigerator and dishwasher, too, with a steel body and chrome trim.
Super sleek!
What Color Would You Choose??
Umm….all of them? 🙂
Okay, well, if the Decorating Fairy Godmother paid me a visit, and if I had to pick just one, I would snag me a Beach Blue!
I mean….if Big Chill ever wanted me to be a real-life blogger-tester (ahem….hint hint….), I would be more than willing to take one of these babies off their hands! 🙂
There are over 200 custom colors to choose from, too. That's pretty impressive, considering I always thought that appliances came in just white, cream, black, and stainless steel :).
Creating a Retro Kitchen
Big Chill may be out of your price range. But then again, when have you ever known kitchen appliances to be cheap?? 🙂
Here at Thrift Diving you know we're all penny pinchers. But I'm not opposed to dropping a little cash for things we really want and then skimping on the other stuff.
For example, I found these retro chairs from the thrift store for just $20 each!
Call it luck.
I'm not sure what brand they are (they weren't marked with a brand), but I've seen them range from $90 – $130 each, so that's a steal!
But they're fabulous. I've been wanting to find a retro table to go along with it.
Here's a great clock I picked up for $5.00, too! I'm talking made-front-metal vintage! They don't make clocks like that anymore.
Anyhow, by hitting up thrift stores, and maybe eBay, you can find deal son the other stuff, and save up your cash for the big-ticket items like Big Chill!
Balancing its cost with the other more affordable furnishings might just work.
And you can also mix the retro look with a more traditional look like this:
So what do you think? Do you love retro kitchens, too? What color Big Chill appliance would you pick? Leave a comment below and tell me what you think!

Download the 5 freebies!
Thrift Diving inspires women to decorate, improve, and maintain their home themselves...using paint, power tools, and thrift stores! Use these 5 printables, checklists, and ebooks to get started!