You know that moment when you walk into the thrift store and see something and get excited about upcycling it?
That's what happened to me a couple months ago when I saw these dainty little things or $1.99 each, just screaming for me to upcycle ceiling fan lights into candle holders!
BEFORE
And that's exactly what I did!
They were too cute to pass up!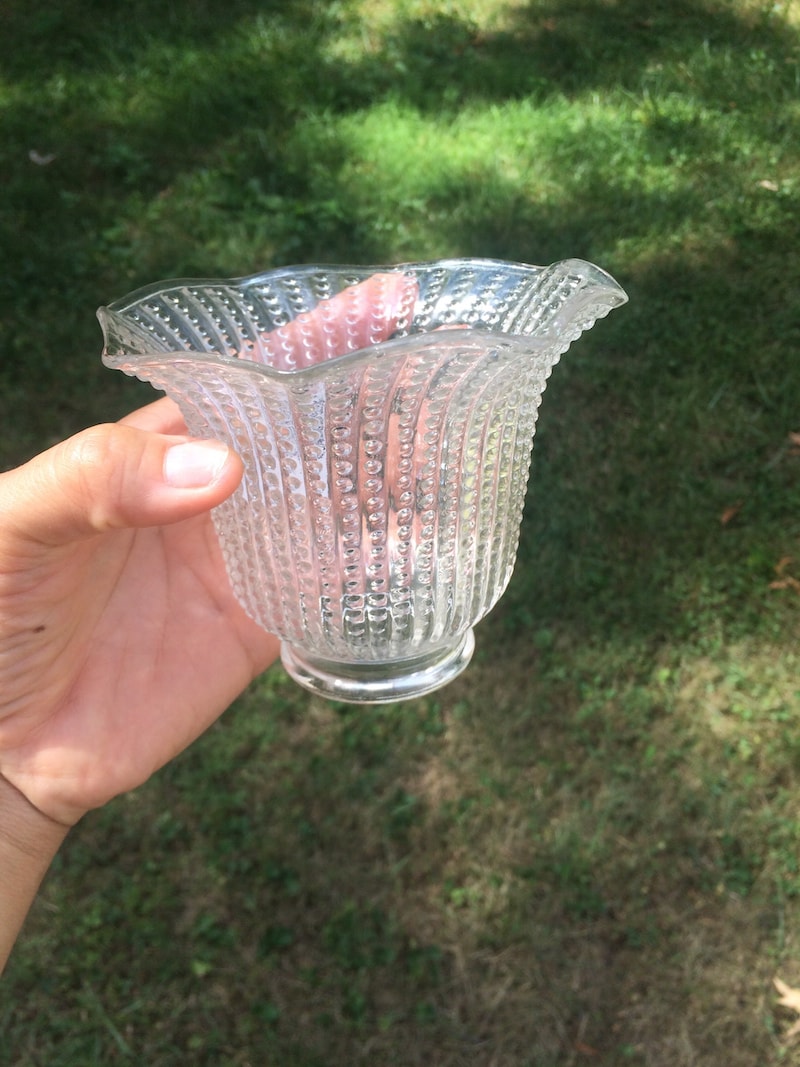 AFTER!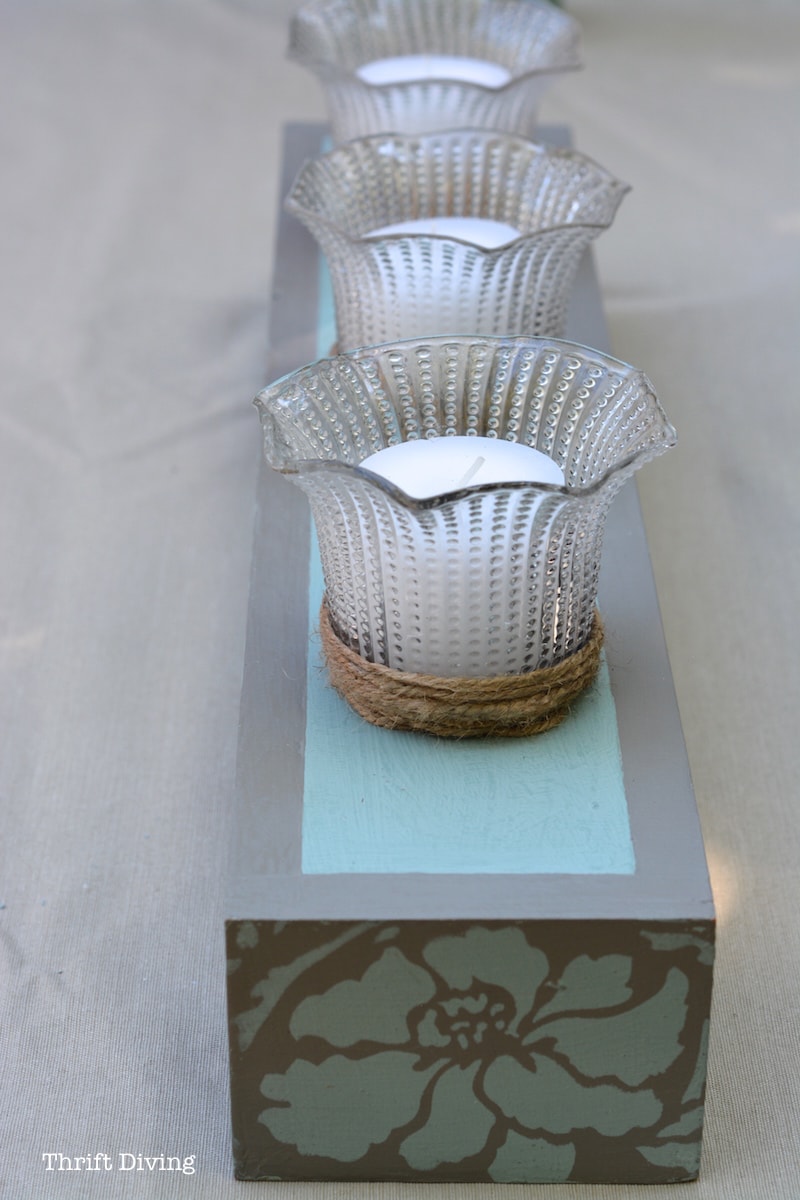 Some of my blogger friends and I do these monthly Power Tools Challenges, and I love them because they inspire me to get crafty with my power tools. So this month was a "Fall" theme.
Well. I hate orange.
And I don't decorate for the fall.
But I do love me some candles, so I made this platform (for detailed step-by-step instructions, check out the 10-min. video tutorial on my YouTube channel).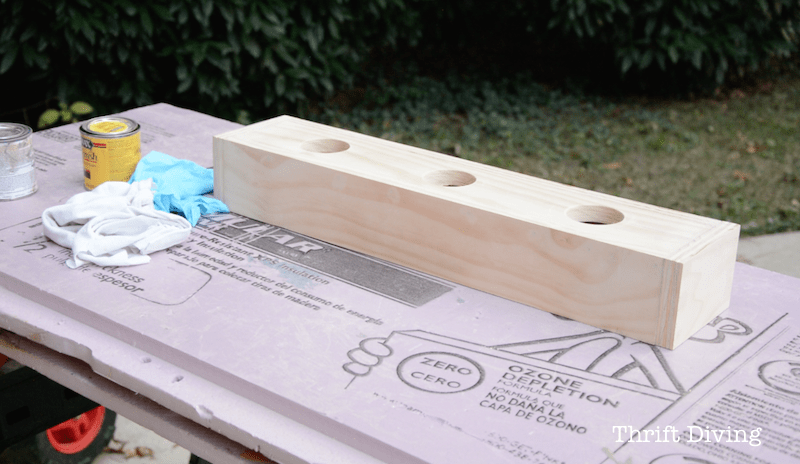 But I really struggled with how to decorate this project (don't I always run into misfortune?!?)
First, I tested out staining it.
HORRIBLE.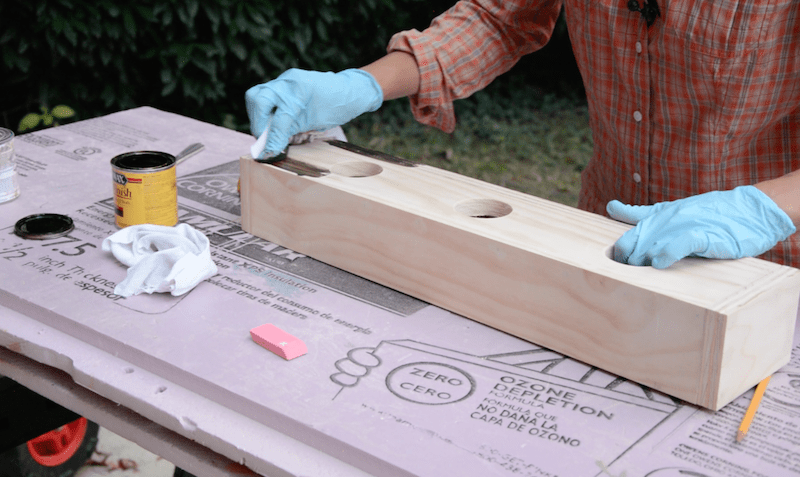 And while I love fall, but I hate orange (did I mention to you that I hate orange??)
But since this was supposed to be "Fall" themed, I thought I would give it a try.
Daggonit if it didn't look like crap! It was reminiscent of a giant Lego!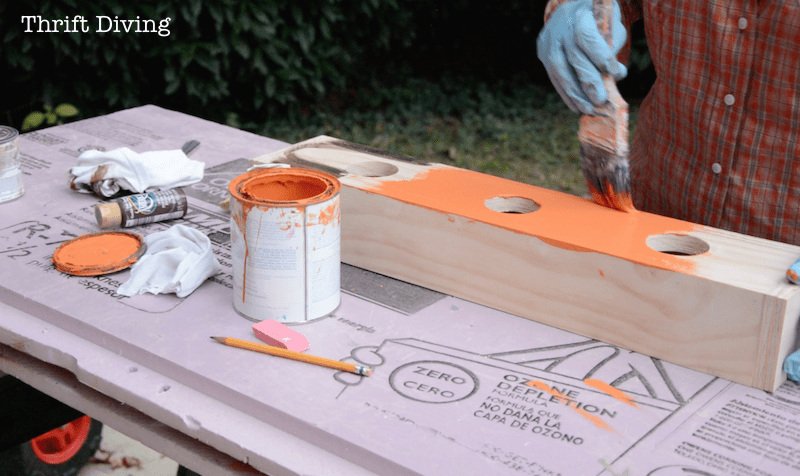 I kept going though…'cause I'm tenacious like that, yo…..
Only…it was still horrible!
What in the world was I going to do with a big 'ole orange block?!
I was going to trust my gut, that's what!
I asked myself, "Serena, what does Fall mean to YOU? Stop trying to create something that isn't YOU."
Candles–that's what Fall means to me.
No one ever said those candles have to be orange…
So I switched out the orange Annie Sloan chalk paint for the Duck Egg and French Linen. Ahhhhh…….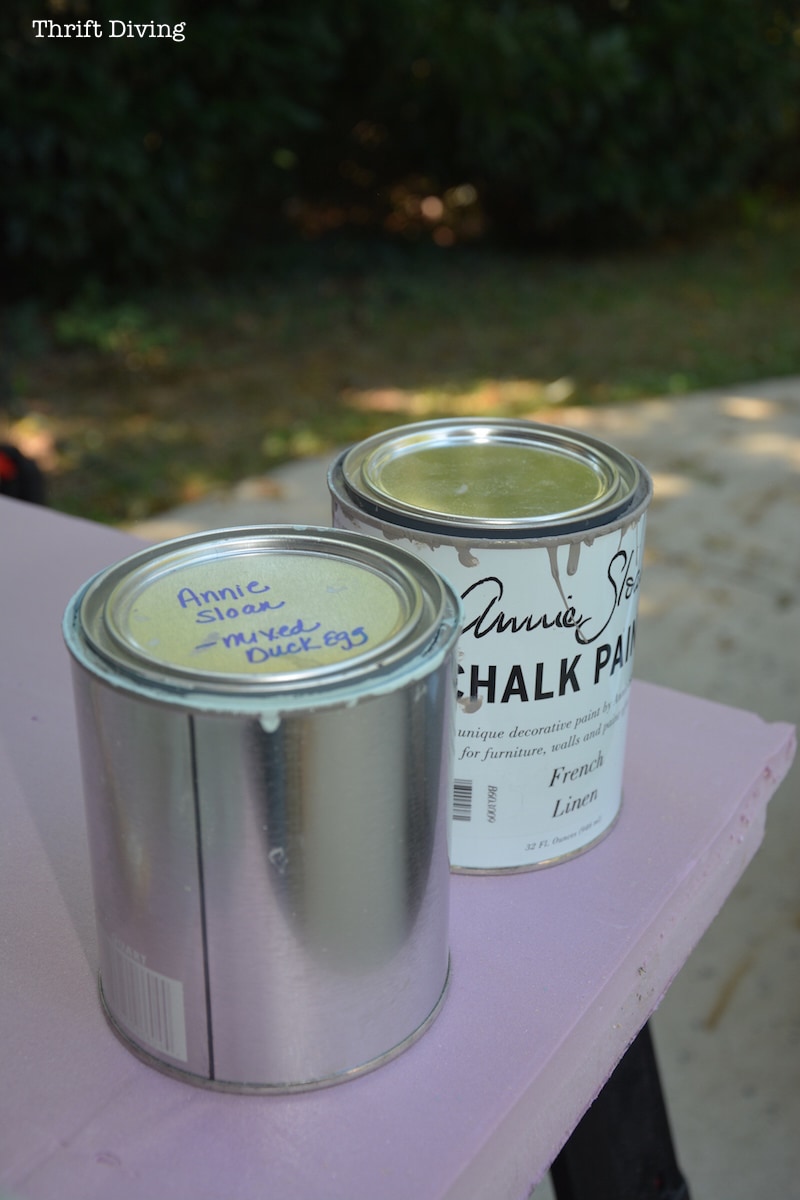 Pulled out my favorite stencil (see my jewelry box and laundry folding table where I also used this same stencil).
I wrapped some jute around the base, too. Much better!!!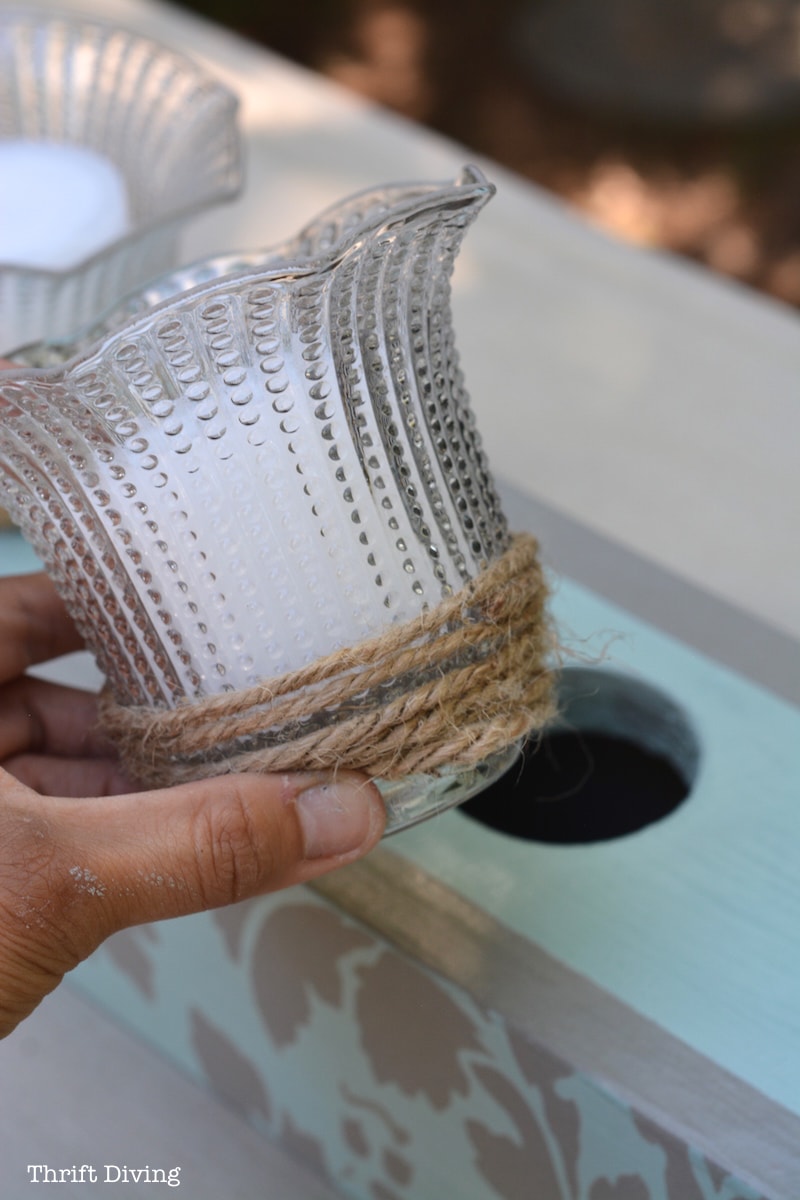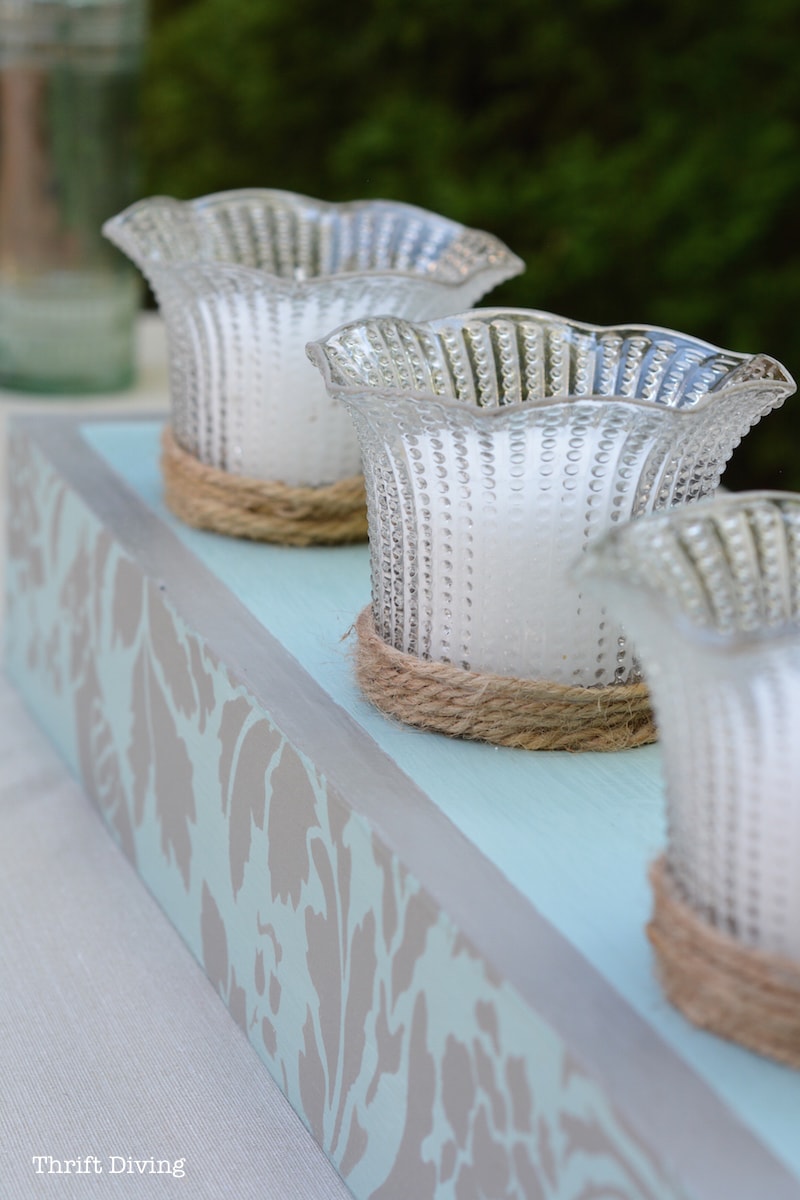 And then I lit a fire on top of my vintage buffet, the temporary holding spot until I get my family room together and this pretty little upcycled candle holder can get a place on my mantle!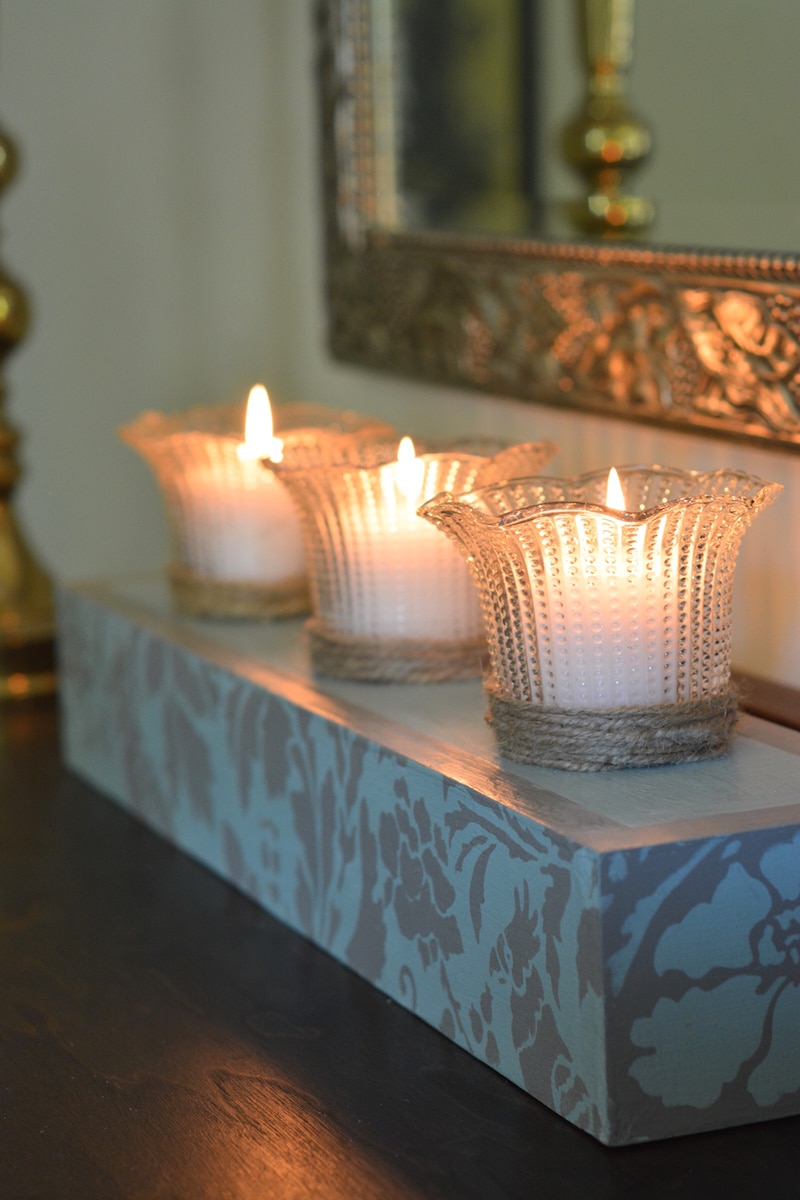 And what almost became THE worse project in the history of Thrift Diving (well, maybe not THE worse… remember that custom tiled table top near-disaster??), is now one of my favorite projects and upcycles!
How to Turn Ceiling Fan Lights Into Candle Holders
I'm going to do this post a little different. Instead of posting 10 million pictures here, you'll love the video tutorial instead! for all the instructions and step-by-step details. It's about 10 minutes long and I walk you through everything with how to build it. Not so much the stenciling, but you can watch my other videos on how to stencil if you want help with that!
Watch the Tutorial!!!
Materials Needed to Turn Ceiling Fan Lights Into Candle Holders
Thrifted ceiling fan light covers
Get a 1×4 pine board from the home improvement store
Power drill
Hole saw accessory (use whichever diameter you'd like)
Jig saw (or a miter saw as optional)
Nailer (or hammer and nails if you don't have a nailer)
Sandpaper
Paint or stain with a brush
Wax or polyurethane
Click here to SHARE this project on Pinterest! 🙂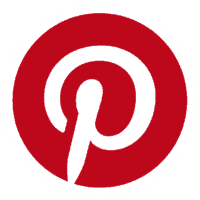 Okay, so I want to know, have you guys ever thought about turning old ceiling fan lights into something? Let me know if you have! I'd love to know!
Be sure to check out all the other Fall projects from my friends!